April 2012 Articles
Cover Story
Kevin Gibson
Features
Eddy Metal
Columns
Berk Bryant
Mike Stout
Paul Moffett
Nelson Grube
Martin Z. Kasdan Jr.
Eddy Metal
Alexander Campbell
CD Reviews
Kevin Gibson
Kevin Gibson
Performance Reviews
Djinn Shockley
Blogs
Got Shows?
Send Them To Us
Bookmark Louisville Music News.net with these handy
social bookmarking tools:
Available RSS Feeds
- Top Picks
- Today's Music
- Editor's Blog
- Articles
Add Louisville Music News' RSS Feed to Your Yahoo!

Issue: April 2012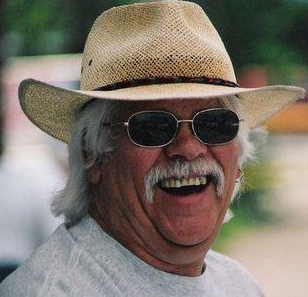 I've Got A Mind To Ramble
On February 15, 2012, two new members were inducted into the Stevie Ray's Blues Bar Hall of Fame: Rick Cain, current vocalist and harpist of The King Bees, and Eddy Weigleb, current vocalist and harpist with The Travlin' Mojos. This honor included hand-painted pictures of both Rick and Eddy that now hang on the wall at Stevie Ray's. The portraits were painted by Jim Masterson as a remembrance of their contributions to the Louisville music scene.
Rick's story will be told in a future article, as he ran back to Florida as soon as the awards were given. Who could blame him for having a February hideout in a climate much warmer than in the Ohio River Valley?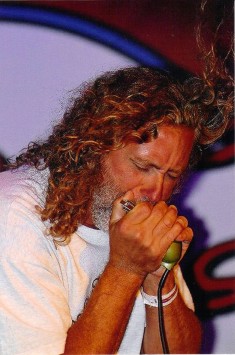 Eddy Weigleb
Eddy and I met at The New Albany Winery to talk about his playing and how he got started as a performer. From our time together there is one thing that really sticks out: He always prefaces what he tells you with "I've been very lucky in the music business."
In the tenth grade, the sixteen-year-old Eddy was on the football team. One day, his friend Mark Anderson was playing a harmonica in the locker room. It caught Eddy's caught. He borrowed a harmonica and soon was hooked.
At that time, everybody around was playing (or trying to play) guitar while Eddy was the only harp player. The guitar players would sit around taking turns playing riffs and seeing what would fit in. Eddy was looking to hook up with someone that would tolerate an inexperienced harp player. He needed to sit in with musicians to figure out what noises went with what other noises and how to get the sound right. Jeff Thomas let him do that and he learned a lot, sitting around campfires and just having fun with it. Eddy played any place that he went. "I have always been lucky in this music thing."
During Derby week in 1982, Eddy was going to watch the boat race, playing his harmonica while he walked. He ran into a cat named Jim Stevens, who was walking along playing his Dobro. Eddy "played at him" as they were walking towards each other. They jammed for maybe five minutes, then went on their respective ways. It turned out that Stevens was the more seasoned player and turned Eddy onto Muddy Waters, Sonny Boy Williamson and Slim Harpo, and others. "I've sure been lucky in this music business."
Jim Stevens later called Eddy and asked if he'd like to play with Bo Diddley - at the Convention Center, on the stage. So Eddy went to meet and rehearse with Diddley, who was using all local musicians. The rehearsal lasted all of thirty minutes and Bo offered this advice: "Hold your hand over your harp and when I hit these strings, you do that noise that you so fond of doing over there for the last 20 minutes." And advice from the road player to the new guy: "Stay with me and you'll get more women than you ever dreamed of." They played for ninety minutes and Eddy got two harp leads and no money was offered. Eddy says "I am always lucky in this music stuff and it was pay enough just to get to stand next to Bo Diddley."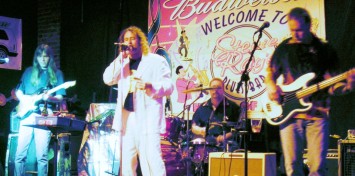 Eddy Weigleb
The first time that Eddy got with Eddie Anderson and his Sixth Street Blues Band, a rock 'n roll band based in New Albany, they jammed for two hours straight. The band line-up consisted of Eddie Anderson on lead guitar, Eddy on harp, Chris Combs on drums and Donnie Bauman on bass. All the bands before this one had been "sit in" bands with no thoughts of being paid in anything other than experience. "This was the first band where I was on the payroll and didn't have to leave the stage after I played something."
Sixth Street played together for only one month and when they were invited to play on the roof of "The Horseshoe" in downtown New Albany, Bill Robinson, owner of the 'Shoe, hired them for six weekends straight. There were many other nights playing on the roof of the 'Shoe. When the roof of the 'Shoe fell in, Sixth Street Blues Band got a song out right away named "Luck Ran Out When the Shoe Fell Down."
Eddy has a long list of accomplishments and places that he has performed including: two Tumbleweed commercials, special performances with Bo Diddley and Cross Tye Walker with Rick Eisman, and Ribberfest, Germantown, and Garvin Gate Blues Festivals. His bands include the Sixth Street Blues Band, Seldom Heard (a six-piece band that lasted five years) and the Travelin' Mojos. The Travelin' Mojos began in 1997 and has had over twenty different musicians. Eddy named the band after Jacob Dylan's group, the Traveling Wilburys.
Eddy tells of playing at Huber's Winery in the Knobs of Southern Indiana – a playing job that lasted eight years – that grew out of the workers there going out around the lake after hours and jamming until all hours of the morning. Now that age has put more years on all of us than we care to tell about and the fact that most of us work day jobs, most of the shows booked are early or afternoon shows. He likes playing the early shows because "nothing good comes out of us after midnight." He likes to book the Chow Wagon, Indiana events like Harvest Homecoming, and the Strawberry Festival at Huber's and the Lanesville Heritage Weekend. He also likes to play at Stevie Ray's early show, Pastime's, the Hitching Post, Hogg's in Lanesville and all kinds of places like that.
"Afternoon jobs make more sense – play from one o'clock until five and go home. If you stay late people may get into fights and stuff. One night, a guy pushed a microphone into my mouth while I was singing. Better to have left before that stuff starts."
The Red Devils with Lester Butler on harmonica is the group whose sound he is most likely to imitate. The Red Devils are no longer together, as Lester has passed on. The CD King King, (1992 DEF American Recordings, Inc.) shows they do share a similar approach and style to their respective sounds. The Travelin' Mojos sound has been influenced by the local groups The Stray Cat Band with Mason, Lamont and that piano player and The Saints. Other local favorites include of Screamin' John and Jimmy D. and Jimmy Gardner.
Eddy met Sam Meyers, the harmonica player with Anson Funderburgh, to whom he said, "I seem to wear my harmonica out really fast. You got any idea of why?" Sam advised him to stop spitting in them.
The Mojos are riding around in a limo these days. A very generous friend from Greenville, Mr. McGee, bought a used limo just to drive them around. For his efforts, he gets to be the fellow on stage playing rug board. They practice at Mom's Music under the tutelage of music teacher Rick Eisman. It costs them by the hour "but is well worth it." Rick is going with them to Memphis, Tennessee to cut a CD at Sun Studios on the 24th of September.
As our interview time was getting short (the pizza was gone), Eddy turned more serious. When he first started in the music business, he checked out every CD the New Albany Library had from the Beach Boys through Frank Sinatra and on to Zappa. He played with them all to find out how each was different and how those differences made songs.
Eddy says that he ended up being a pretty good harp player. He stayed with it and kept at it no matter what happened and no matter what anybody said. "When we first started playing at Stevie Rays, I wanted to be accepted so bad that I would get so nervous that I would run to the bathroom and empty my stomach. I would want to do good so bad."
"I don't know what it is, I don't know why playing – it just feels good. Whatever comes out of you, it's the true fun of music. It's seeing people dance to something that you are playing or one that you wrote that makes it fun. As long as it's fun, I'll keep doing it. It's a tight circuit for a harp player – and you have to stay in that circle, but there are plenty of places to play."
I left wondering about Sam Meyers' advice not to spit into your harmonica.