April 2012 Articles
Cover Story
Kevin Gibson
Features
Eddy Metal
Columns
Berk Bryant
Mike Stout
Paul Moffett
Nelson Grube
Martin Z. Kasdan Jr.
Eddy Metal
Alexander Campbell
CD Reviews
Kevin Gibson
Kevin Gibson
Performance Reviews
Djinn Shockley
Blogs
Got Shows?
Send Them To Us
Bookmark Louisville Music News.net with these handy
social bookmarking tools:
Available RSS Feeds
- Top Picks
- Today's Music
- Editor's Blog
- Articles
Add Louisville Music News' RSS Feed to Your Yahoo!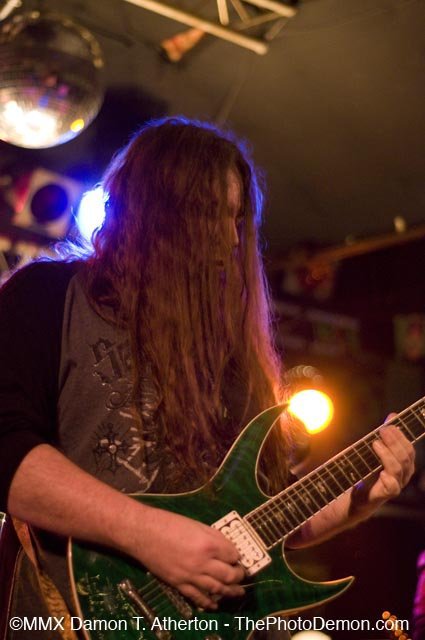 News From the Pit
2012 Louevil Venue Update
Greetings all. How has life been treating you? To a lot of you, it hasn't been so kind of late, and I can relate, but I try to not let "things that you cannot control" get to me. It's rough, though.
At least spring is in full swing and things are looking up, or at least are not so depressing. I've been one busy cowpoke – playing shows almost every weekend, so I have some up-close insight to a few newer venues that I've played recently and perhaps if you like what you read here, your band can book a show at one of these cool new venues. There is a significant surge of new Louevil music, – new bands and new venues – and we if all communicate/get along better/support one another, then I think we could have one heck of a summer as far as the Louevil music scene goes.
I'm talking about what I see/hear at some new Louevil Music Facility. Is it cool? Does the PA suck? Are the owners A-holes? Let's face it, who would you rather hear this stuff from? Some nerdy kid out of college at one of the bigger, yet watered-down newspapers, with no knowledge of our music scene whatsoever (which is what you get with the other guys), or someone who has played this scene since 1995, who knows our city's music scene like the back of his hand?
I just got to play The Vernon Club again, and that is one cool venue. Great people. Great PA system. We had a blast, and the very nice bowling alley above the venue is way cool. I want to bowl there soon! It looked small yet cozy. Perfect.
Promoter Terry Harper has started doing a lot of regional original shows there and it's kicking into high gear. Terry has named his original music series "The Five Dolla No Holla Series"! Terry understands the bad economy and has tried to make things more affordable for the average Louevil rock fan. It's a fact; nobody wants to pay $10 and up each person to see Louevil original music shows, at any venue. My Phoenix Hill shows have been $5 since January of 2000, and I plan on keeping it that way. So, props to us promoters who try to make things a bit more affordable in these troubled times.
I also recently played a Saint Patrick's Day Outdoor Music Fest at Baxter's on Baxter Ave (formerly Willie's) and it was a madhouse. I had no idea that the Highlands were going to be so darn packed full of people! After I unloaded my guitar gear, I had to park half-a-mile away and walk back to the club because the whole area was just wall-to-wall people out partying and having fun. And the women? OMG. Super hotties everywhere, all in Irish green. (Maybe I should hang out in the Highlands more often.) It rained pretty hard though, and everyone got soaked, but it wasn't so bad, because the people just piled in under the tent where we were playing, and watched us rock out. I got soaked, but the show, PA system, and the staff at Baxter's was awesome. Thanks to Billy Slusher for inviting all of us original music groups. Every band that played sounded great.
I hope Baxter's will have more original music shows this summer. Hint, hint.
I also just played a venue called Louisville Billiards Club in Fern Creek. It's a place that I have wanted to play for a year or so, and we finally got in there. The PA was minimalist, no mics for guitars or drums, so that was kind of a letdown. We haven't played a show without miked instruments in 15 years, but I made 100% sure we did a good sound check for volume levels before we played, so it was all good. It was surprisingly good. The stage is kinda wild and oddly shaped. A double-level type deal, with stripper poles at both ends of the bottom level. I almost wanted to put my guitar down and swing my big azz around that stripper pole, but knowing my bad luck, my large frame would dislodge the bottom stripper pole, thus catapulting me into the middle of the club. The place held about 15 to 20 pool tables, a band room that was of good size, and a outdoor section people hung out in. The people who worked there were very nice, except for one grumpy female bartender who mouthed off to my friend. I thought my female friend was going to drag her over the bar for the smartass attitude/remarks the bartender had. Other than that, everyone was great. And the food was delicious too! Try the quesadilla. Louisville Billiards Club is a club for rock, acoustic bands, and cover bands. We played the night of a big basketball game; it wasn't bad at all, but the attendance could have been a bit better. It was nice seeing a lot of newer faces, regardless. Gaining a few new fans. We gave away some of our CDs. The club is in the process of building a sound booth and upgrading the PA system a bit, so it should be up a notch or three in upcoming months, hopefully by summer. But even with no miked instruments, it wasn't so bad, if you do a good volume check.
The room has good acoustics. You didn't really need to be blasting out of a monster PA system to be heard at Louisville Billiards. We hope to play there again soon. Check out Louisville Billiards Club on the corner of Hurstbourne Lane and Bardstown Road in the Piccadilly Shopping Center near Ryan's Steak House.
There are also a few more new venues that I haven't checked out yet, including The Irish Exit and The Bank in New Albany, Siggy's Pizza in Valley Station, and, of course, there are a few venues that have been around a bit, The Boondocks in Sheperdsville, Cahoots, Wick's Pizza (which has started booking original music again after a short break), the Union Station out in Okolona. Mom's Music has started a original music showcase, too, at their store locations and last but not least, the good ole Phoenix Hill Tavern, whom has been booking original music consistently going on 12 years now, especially now more than ever.
I hope you bands might find a new play to play by my words here. If not? I tried. It's the thought that counts, I reckon.
I think I might take a month off from playing shows, at least in one of my bands. A little break from the jamming isn't a bad thing. Sometimes it can be just what the doctor ordered.
The Metal Grapevine
Prong/Crowbar coming:
Two old-school metal powerhouses will be hitting the Phoenix Hill Tavern on Thursday, April 19. I've always liked both of these bands, and to see both together would be a treat for any metal fan, regardless of their age! I saw Prong at the old Zodiac/Mercury Paw club on Main street and at Phoenix Hill waaaay back in the day! Early Nineties! It's good to see the Phoenix Hill still bringing in a wide variety of music, even old classics like these two kickass bands! Get your tickets now, this shall be one sick, heavy, metal/hardcore show! Oh yeah, a very good local band, Maltese Cross , will be opening the show, so come out early and see them kick some butt.
Children Of Bodom, Eluveitie, Threat Signal Review:
Wow, what a great show. I am very glad I went to this death metal show at Expo Five. I had a lot going on at this time and almost didn't make it out. I had been wanting to see Threat Signal for quite a long time, as I had heard great stuff about them. I also heard good things about the folk metal band Eluveitie, and I always liked Children Of Bodom, so why not check it out, I thought.
The first band was Threat Signal, a melodic death metal band from Canada. Good band! I really don't care for much death metal these days but this band has a little more to offer. Better vocals and some memorable melodic riffs. Vocalist Jon Howard can actually sing and has a cool voice. It's a bit weak/watered down for most hardcore death metal fans, I would imagine, but I liked it. Not so much "cookie monster" style as with most death metal bands. The guitars were layered and entertaining. The drummer was a beast, too. They kinda remind me of Chimaira meets Fear Factory. They played a short set but it was good. Killer guitar riffage! The singer is quite a frontman, very confident and original. Threat Signal is worth checking into.
Next up was Revocation, from Boston, and they were much more of the usual death metal sound most are used to. Great guitar parts and solos. Vocalist/guitarist David Davidson played guitar and sang at the same time, which was impressive. Dude was shredding on guitar! Revocation is heavy metal in its raw pure form. They apparently like for it to be simple and pummeling. Good stuff is Revocation.
Next up was Eluveitie, a folk metal band from Switzerland. A buddy of mine has been mouthing about how good they are, so I was somewhat excited to see them, finally. This band is wild, as they incorporate some crazy medieval instruments into metal music and it works well together. There have been bands who have done this before, but this was the best I've heard so far. The metal part was the usual metal guitar sounds of death metal, maybe not quite as brutal, but with instruments like flute, bagpipes, whistles, violin, a mandola, and a gaita (a kind of bagpipe used in Spanish provinces), as well as the coolest ,Medieval instrument ever, the hurdy-gurdy, which I had never heard of before. The hurdy-gurdy is a hand-cranked stringed instrument that has been around for hundreds of years, and it is easily one of the coolest folk/medieval sounds I've ever heard. Something mystical and enchanting happens when all of these instruments are incorporated into the strange metal music, especially the hurdy-gurdy. I liked it so much I looked it up online when I got home and heard some old traditional hurdy-gurdy players from the old land. Very cool. Eluvietie is a very good band that has an ethereal feel. Makes you think of the Braveheart soundtrack.
The vocals of band founder Christian "Chrigel" Glanzmann aren't very impressive, but better than other folk metal bands I've heard. He has a good grating, screaming, voice with good range. The guy has some serious talent, though, that's for sure. He plays the acoustic guitar, whistles, pipes, mandola and three or four other folk instruments. The band has talented female singers that come in for a song or two, which is cool. With all the people/instruments onstage, the stage is all but packed when Eluveitie plays. (They must be a nightmare for any soundman!) The music that comes from the stage is something you are not accustomed to, and you do take notice. The big crowd of folk metal enthusiasts were really into it. Heck, I was really into it. I've always liked flute music, bagpipes, and cool foreign instruments like that.
I was searching for a newer sound from another place, and I found it in Eluveitie. It transports you back to the Middle Ages to chant, sing and dance as you run through mountains of fog and over hills and waterfalls of the ancient land. So do yourself a favor, escape these troubled modern days, and check out the sweet medieval sounds of folk/Celtic/pagan rockers Eluveitie.
Next up was headliner Children Of Bodom, Finland's highest-selling music artists of all time.
Death Metal is COB's mainstay, coupled with cool keyboards and some cool classical guitar melded into the death metal. Guitarist/founder Alexi Laiho is considered a guitar hero as he is all over the guitar neck, playing scale after scale of classical melodic music changed into molten metal riffage. Alexi's vocals were never very impressive to me, it was more of the cool guitar and sinister keyboards which drew me into Children Of Bodom's musical style. Rhythm guitarist Roope Latvala is equally good on guitar, and that makes for some very interesting guitar work, indeed, if you are a fan of the six-stringed instrument. The music may be death metal, but there is melody and plenty of emotion in the music of these wild Finns. Some of the riffs aren't too hard at first, but then they just take off and leave you in the dust thinking "What the hell happened?" I've always like keyboards mixed with metal music/guitars and COB is a great example of how this works out well. It's almost like a modern day Yngwie Malmsteen, but just a lot heavier and darker. A lot of the current American metal is lame and I tend to lean to the Euro metal for my enjoyment. Maybe it's because in Finland it's dark for six months of the year, which has to make for some depressingly dark music. The band played well, but Alexi seemed a little off. Maybe a tad sloppy this night. But not too much for me to be mad or disappointed. The cool keyboards made up for it, though. I wasn't able to get a song list, unfortunately, but I did get some great pics for you folks! COB played a good long set, but I was pooped from the marathon of death metal, so I left a bit early, but not without paying respect to all of these metal merchants that played to us Kentucky rednecks. We may be rednecks, but we love hearing good music from across the seas and that is what we got this night. Expo Five had a good crowd for such rare non-conformist music. I was pleasantly surprised by the turnout.
A true musical treat from another place/and another time with Eluveitie's medieval time-traveling music, COB's dark and heavy Finnish classical metal and Threat Signal's modern take on death metal. It was badass.
Slayer, Slipknot, Anthrax This Summer At Riverbend:
This year at the now-infamous Rockstar Energy Drink Mayhem Festival at Riverbend in Cincinnati is a BEAST of a show that many of you will not want to miss. The lineup is Slayer, Anthrax, Slipknot, As I Lay Dying, Whitechapel, The Devil Wears Prada, Asking Alexandria and High On Fire. I'm sure there will be more lesser-known bands as well and possibly some local artists on a third stage. The date is Tuesday, July 24 at Riverbend, one of my favorite places to see an outdoor show! Tickets go on sale April 6, so mark your calendars. I'll do my best to try to get you folks some free tickets to win through our LMN giveaways! So stay tuned...
Louevil's Death Metal Festival – Mayhem In May:
It will soon be time for Louevil's annual death metal extravaganza, Mayhem In May. This year, it's at Union Station, 9302 Bluelick Road and will feature a ton of brutal bands ready to pummel you into submission.
Here is the list of bands for this two-day event:
Friday May 18 – Coathanger Abortion, The Everscathed, Bless The Child, Ophiuchus, Abominant, Created to Kill, Last Question.
Saturday May 19 – Putrid Pile, Radiation Sickness, Tombstalker, Bloodcoven, Fully Consumed, Cains Rage, Solidification, Succorbenoth, Invoked, Esoteric Burial, End It With A Shotgun, Astrum, Cemetery Rapist, Intestinal Alien Reflux, Intracranial Butchery, Goremonger, Malignant Christ, Mangled Atrocity.
For more info visit the website http:
//www.facebook.com/MayhemInMay
BoneJinn – New CD In The Works:
One of Louevil's premier original hard rock bands, BoneJinn, is in the studio recording new material, and I've heard it is some pretty sick stuff. I'm anxious to hear what the guys have been up to. These guys have gone through some serious changes over the last few years, including having some unreliable members who weren't quite on the ball, but now the band has a lineup that does them justice. They sound as good as ever. BoneJinn will be recording eight songs. Vocalist Marty Triplett (in my opinion, one of the top five original hard rock singers in town) seems quite excited and says this will be the best BoneJinn ever. I'll review the music first thing when it hits the streets, in a few weeks or so. Get ready for the soul. A few of the new song titles are: "Flowers and Butterflies," "Word To The Wise," "World Control" and "Gander."
Just In – BoneJinn drummer Rob Streander was just in an auto accident and is hurt pretty bad, but will be okay. His car was totaled. So we here at LMN wish Rob a speedy recovery.
Iron Maiden/Alice Cooper Coming to Indy in July:
Man oh man do I love me some Iron Maiden!
On Thursday, July 19 at the Klipsch Music Center in Noblesville, Indiana, two rock/metal titans will be playing! Iron Maiden and Alice Cooper on one bill. Is that cool or what??
This is a rare event. Iron Maiden rarely comes this way for a show. Heck, my ex-gf and I had to drive 4 hours to see them back in 2004. So if you love Maiden, and grew up to them, you might want to drive the measly two hours and see these metal legends in concert. You never know when they could decide to call it a day and retire! It would soooo be worth the drive to see them. I know many people who are talking about going. Bruce Dickinson is one excellent singer, one of my faves and Adrian Smith's guitars and Dave Murray? Classic! I always liked seeing shows in Noblesville anyways, so you know it will be pretty good. It's their cops I could do without. Ha! I miss the Ozzfest shows something fierce. This should be a fun night!
If you can't wait to see Alice Cooper, check him out at a show at Iroquois Park Amphitheater on June 19.
Journey, Pat Benatar And Loverboy To Play Kentucky State Fair:
When I first heard about this show on Friday, August 17,, I kind of laughed. This is an old-school Eighties show to the max, that most young people wouldn't give a damn for, I'm thinking. I've never seen any of these bands, so that would be kind of cool, I guess. No Steve Perry with Journey, but the little Filipino guy, Arnel Pineda, who replaced Perry is pretty darn good, maybe even better, so it probably won't be too bad. I always liked Pat Benatar's voice, but I had no idea she still toured and did music. That could be interesting. She used to be super-hot back in the day, and a mega-star with numerous hits. Her voice made the hairs on my arm stand straight up, in a good way. Oh yeah, and she never lip-synched like these chumps do in today's music. She would probably rather be run over by Sally Struthers than to do that lame crap. Pat has an amazing voice. I would like to hear her sing.
Last but not least, Loverboy. Laugh all you want, but the fact is, Loverboy had some darn good songs! I admit I like quite a few of them. So farg off! Only because my older sister growing up listened to them 900 times a day, and her room was next to mine, and she had a bigger stereo than I did. It was an all-out music war at the Burke household, with KISS coming from my room, and Loverboy coming from her room. Dad must have been overwhelmed by teen music. My sister would swoon over a picture of Loverboy singer Mike Reno. Anyways, hearing it over and over got to me, I was starting to like Loverboy. Oh no! So yeah, this is an Eighties cheese show, but it should be good fun, and will take you back in time to another era, a fun and free era when life was much easier and carefree. Sounds good to me.
On a side note; I just checked out some recent Loverboy footage on Youtube and they sounded great, vocalist Mike Reno sounded amazing. His voice hasn't changed one bit.
Kiss and Motley Crue Coming:
Yes, it's true. These two classic rock juggernauts will be coming to Cincinatti, Ohio on August 31 at Riverbend. I've seen both in concert and they put on a good, theatrical show. No one does that better than Kiss, who was a childhood favorite of mine. And later, I got into Motley Crue! I saw both bands in their heyday (I'm 42) ,so I know what I'm talking about. It's messed up to think that wild azz Motley Crue is classic rock now.
Anyways, Riverbend is a great place to see a show like this, so get your ticket asap, as this will sell out.
Hint from Eddy:
Word is that there is a ton of money going into the stage show, so this should be something special.
New Band Alert, Southern Solstice, Acoustic 4 Life:
My old drummer Ricky Musik (formerly with Heaven Hill and my band Year Of The Gun) contacted me and said he had a good new band, and he was right. Southern Solstice is a very solid three-piece rock band that don't sound like a three-piece. These guys play originals and do some cover tunes as well. These guys are only 24, 22, and 23 but sound like very seasoned musicians. Impressive. Newcomer guitarist/singer Brandon Britton, 22, is a talented individual. He has a very natural melodic voice that sounds like just what you would like to hear. It's comfortable and soothing. Brandon plays guitar at the same time, so to have both full vocal power without distractions AND to be able to lay down the only guitars riffs of the band so flawlessly only proves that these guys have what it takes to be a great band.
Brandon makes it look so easy. His acoustic guitar tone is excellent, too. I think it's a Martin acoustic guitar, and it sounds superb. Brandon's guitar is clean but can get dirty quick when needed. I was quite surprised by the tone coming from his Kustom Amp. I haven't heard one that sounded as good as Brandon's before. But apparently Brandon knows his stuff about equipment and stuff, because he had a fat sound coming forth. Drummer Ricky Musik, also 22, is one talented rocker, a transplant from Cleveland who has made Louevil his home. Despite Ricky's young age, he absolutely kills on drums. He intimidates other drummers, as one Louevil music scene drummer said to me one night at one of our shows. Ricky is a showman and loves to play the drums. On bass is Andy Beeler, a bassist with everything in order. He has some groovin' skills and also does some singing as well. The band has been traveling lately up north in Detroit and Cleveland doing some gigs and promoting the band and will be heading down south to TN and the Carolinas towards the end of March/early April.
I'm checking out their recorded music now. "Volcano" is an acoustic endeavor that is soothing and kinda groovy. Very nice bluesy riff. Lovely tone. It kind of reminds me of Cage The Elephant. Very mellow, perfect music to chill to. Stoners and hippies would really like this music.
Brandon's vocals are great on this recording. It has a Sinatra type feel if I'm not hallucinating. The recording of this isn't bad for someone who recorded themselves. "Comedown" starts out with an Eighties sounding acoustic rock intro that sounds great, and then kicks into a ditty that sounds like a Tantric vocal. The "F" word that is said kinda threw me off a bit because I wasn't expecting it in such a laid-back song. The vocals are way too dry on this recording. Bone dry. Wet that chit up! Brandon has a great voice alone, but his vocals with proper effects would be fanfargintastic. Not a bad song, though.
The band said they were a bit rushed in the studio. That's how I feel every time I go into the studio!
"Love" is a cool and sinister, dark acoustic song. Catchy lyrics, good backups vocals and a rockin' good acoustic rhythm and some gritty melodic vocals that are memorable. Brandon's vocals are darn good. This might be my favorite. It almost has a country type feel to it. Nice little country guitar riffs, too. Excellent guitar tone all the way around. These guys mix it up so that they can play originals or covers for cash. Not a bad way to do things. But the bottom line is that they have skills and if they can direct and properly promote this cool sound they have in the right direction, then they could do well indeed. That is why the band is sooooo interested in playing out of town shows, to get word out and to expand their venues tenfold. If you like laid-back – but rockin' – mellow melodic acoustic tunes, then Southern Solstice should be right up your alley.
Mom's Music Original Showcase:
Mom's Music stores are now having regional original music showcases at their stores! At first, it was only for their rock school students, but they decided to use the space to help out the Louisville music scene out a little by allowing a monthly concert to showcase some of the region's talent. Great move, Mom's! What better place than at a Mom's store location? I think all of the locations have a place where a show could happen, but the one I think they will be using is the location at 1900 Mellwood Ave. I've been there and it's nice, indeed. A friend said it has the nicest drum department he has seen in town. The next one is April 14 and will feature Some Kind Of Saint, BoneJinn and my band Year Of The Gun. It starts at 6 p.m., so come early to see some of the city's original talent. We have some decent bands here. Bands interested in these showcases should contact Lindsay at Mom's Music.
Hunter Borowick, Young but Rockin':
There is a young man with a bright future named Hunter Borowick, who is making some serious noise lately. Aside from being a great guitarist, what is a trip is that Hunter is only 12. Taught by the incomparable bass playing demon Chip Adams (bass teacher at Moms Music), and Screamin' John Hawkins, Hunter quickly learned how to play and has been wowing people ever since. Hunter is now the guitarist for Unleashed, a rockin' band of talented young individuals (the oldest is only 18). Unleashed has been around for two years now and has played some decent gigs for such a young band. Hunter has many friends/mentors in the Louevil music scene and has even sat in with cover bands like XS and The Big Rock Show (who treat him as one of their own) at many venues around the region. There are many other bands that treat Hunter with respect as well, like The Over-Reactors, Wax Factory and Bryan Fox and the Good Chiggens.
Hunter has played R Place, Wick's, Bearno's, Headliners, Phoenix Hill, and too many other gigs to mention! He started playing piano at three, picked up a guitar at six and has not let up since. He also plays some bass, drums and keys. Sounds like Hunter is one busy 12-year-old. No GI Joes with the Kung Fu Grip for this young'un! He has rockin' to do. His father, Rick, has been a great dad and has supported his son 200%. What a super-cool dad. And I thought my dad was cool. I hope Hunter appreciates how good of a dad he has.
Hunter's band Unleashed is currently in the studio now recording two of their originals, "Punish Me" and "Undone." "Undone" is currently #23 on the local Reverbnation rock charts. I really need to see these guys play soon and do a live review, but there are not many all-ages venues anymore, which really puts a hurt on the young musicians opportunities to play out. Hunter even had the cops called on him for being at a bar playing music! "It's all good" says Hunter.
His time will come soon enough, and this young rocker will shine like the Northern Star on a cloudless night. Check out Unleashed on ReverbNation.
Rockaway Drive CD Release Show:
April 14 at Phoenix Hill will be the debut of Louevil's old-school metal band, Rockaway Drive's, CD Release. If you haven't heard Rockaway Drive and you like old-school metal Judas Priest, Iron Maiden, Malice and a lot of mid/early Eighties, no-nonsense metal, then you should attend this show, as they are a good band and have some decent metal moments to offer. Louevil's Overload will also be on the bill. Props to Overload for staying busy and constantly pushing to getting their name out there.
Upcoming Shows
The Bank (in New Albany)
Saturday, April 28 – Southern Solstice.
Expo Five
Sunday, April 1 – For Today, w/ a Skylit Drive, Stick To Your Guns, Mychildrenmybride, Make Me Famous. 6 p.m. $15
Saturday, April 7 – Asking Alexandria w/ Trivium, I See Stars, Motionless In White and The Amity Affliction. 6 p.m. $25
Thursday, April 12 – All Shall Perish w/ Carnifex, I Set My Friends On Fire, Greeley Estates, Fleshgod Apocalypse, The Contortionist, Conducting From The Grave, A Bullet For Pretty Boy and A Lot Like Birds. 5 p.m. $13.50 - $18
Thursday, April 19 – Chelsea Grin w/ Attila, For The Fallen Dreams, Chunk!, No Captain chunk! Vanna and Volumes. 6 p.m. $15
Thursday, May 3 – Whitechapel w/ Miss May I, After The Burial, Within The Ruins, The Plot In You. 6 p.m..$15
Saturday, May 12 – The All American Rejects w/ A Rocket To The Moon. 7 p.m. $20
Headliners
Thursday, April 26 – The Maine w/ Lydia, Arkells. 6:30 p.m. $18
Saturday, May 12 Christina Perri. 7 p.m. $20
Irish Exit
Friday, April 27 – Stonecutters, Branded By Hate, The Mighty Auroch. 8 p.m.
Mom's Music Showcase (1900 Mellwood Avenue)
Saturday, April 14 – Some Kind Of Saint, Year Of The Gun and BoneJinn. 6 p.m.sharp.
O'Neal's Sports Bar and Grill (Scottsburg IN)
Saturday, April 28 – day, Of Ruin, Stonecutters, Call Of November. 8 p.m.
Phoenix Hill Tavern
Friday, April 6 – The Original Rock Showcase series; Po Brothers w/ The Cigarittes and Fair Weather Kings, Discount Guns, Cameron Jayne and 86 Black. 9 p.m. Free before 9 p.m. $5 after 9.
Saturday, April 7 – Trust Divided. 8 p.m.
Friday, April 13 – The Bright Light Social Hour.
Friday, April 13 – Six Miles South w/ The Benjamin Davis Group and Robby Cox. 8 p.m.
Saturday, April 14 – Rockaway Drive CD Release w/ Overload. 8 p.m.$10
Thursday, April 19 – Crowbar, Prong, Witchburn, Eye Empire and Maltese Cross. 7 p.m. $15/$18
Friday, April 20 – HedPe w/ Mushroomhead and American Head Charge. 7 p.m..$20/$22
Friday, April 27 – Hellawicked presents Momma Thai, Lost In Eden , Tonic Fringe.
Saturday, April 28 – Unknown Hinson. 8 p.m.$15
Friday, May 4 – Derby Eve Bash w/ Lit.
Friday, May 11 – Original Rock Showcase Series - After Derby Hangover w/ Krosjoint, IIattatime and bands TBA. 9 p.m. Free before 9 p.m. $5 after 9.
Saturday, May 12 – Pop Evil. 8 p.m.. $12/$15
Friday, May 11 – After Derby Hangover Bash w/ Krosjoint, IIattatime,
Saturday, June 2 – Shadows Fall. 7 p.m.. $15
Union Station
Friday, May 18 – Mayhem In May day, 1: See band lineup in The Metal Grapevine above.
Saturday, May 19 – Mayhem In May day, 2: See lineup in The Metal Grapevine above.
Vernon Club
Saturday, April 7 – Turistas w/ Alestorm, Ex Deo, Arkona, Huntress, Stagecoach Inferno. 7 p.m. $20
Saturday, April 21 – The Ready Set w/ Breathe Carolina, Ashland High, Matt Toka, It Boys! 7 p.m. $15
Wednesday, April 25 – Fair To Midland w/ Dead Letter Circus, Lionize. 7 p.m. $15
Tuesday, May 8 – Rose Funeral. 7 p.m.. $10
Friday, May 18 – Sabaton. 7 p.m.$12 - $35
ZaZoo's
Wednesday, April 25 – Southern Solstice.