February 2012 Articles
Cover Story
Kevin Gibson
Features
Eddy Metal
Columns
Berk Bryant
Mike Stout
Paul Moffett
Djinn Shockley
Mike Suttles
Martin Z. Kasdan Jr.
Eddy Metal
Alexander Campbell
Blogs
Got Shows?
Send Them To Us
Bookmark Louisville Music News.net with these handy
social bookmarking tools:
Available RSS Feeds
- Top Picks
- Today's Music
- Editor's Blog
- Articles
Add Louisville Music News' RSS Feed to Your Yahoo!

Issue: February 2012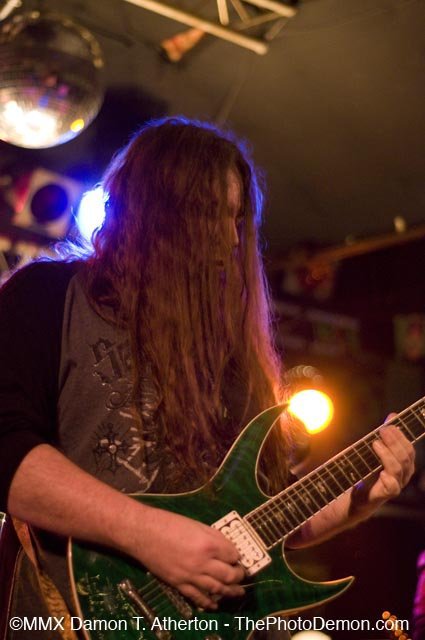 News From the Pit
Hey, everybody! I hope you liked the interviews I did last month with legendary Anthrax frontman Joey Belladonna and Five Finger Death Punch (and Kentucky-born) bassist Chris Kael. It was so cool to be able to call Joey (one of my vocal influences) on the phone at his house on Christmas break to have a chat. And Kentucky born FFDP bassist Chris Kael gave us a killer interview as well. What a pair of super cool rockstars!
I've got some good news for you fans of rock/Louevil original rock. The concerts are coming in like a tidal wave, and local music seems to be making a small comeback too, thank god! Thanks to the new KFC Yum! Center opening, we have a lot of national tours that want to come to Louisville now! Before, we used to get bypassed an awful lot, it seemed; every big show would always be in Indy or Cinci, but now it's almost as if Louisville was finally put upon the musical map of places where the big boys can stop and have a worthwhile show. So yeah, I would say that the new venue has definitely helped out our town as far as shows go. I think this is just the beginning of a long successful run at a brand-new venue designed to bring our lovely city to the forefront. Hopefully I can finally review the place finally – at the Van Halen!
Shows, shows, shows: Van Halen, Jane's Addiction, Nickleback/Seether, The Red Hot Chili Peppers, Anthrax/Testament, Children Of Bodom; it looks as though 2012 is starting out to be a busy year for music lovers here in town, and it couldn't have come at a better time. I just hope we can land some heavier shows as well. LiveNation doesn't mess around, they support metal, too, so hold your horses and be patient, my loyal readers. I predict that many metal shows will also be included in the Yum! Center's future.
We just have to give them some time to get settled in:)
As far as Louevil original music goes – More good news! I've noticed that we now have some newcomer promoters/fans of Louevil rock who are some real go-getters, and they have been busy as heck trying to land some new venues and places for us rockers to jam out at. That's how I got started promoting shows – I went out to places that I thought were good/decent possible spots to have a concert, talked to the owner/manager until we figured out the details and before you knew it, bands were playing in the new place all the time. Bands had a new place to play. It had become a new hangout for our music scene. These new go-getters are adopting that same reasoning and have gone out of their way to try to find some good, new, positive venues for us Louevil bands. I have a funny feeling that some new venues will pop up in the coming months. I applaud you go-getters for your effort to resurrect our dwindling scene/venues and I'm telling you right now, we fargin need it!
Speaking of new venues. Yay! Jillian's is back! Um … Sorta. (see below)
Me? I've been kinda bummed because both my bands have members that work out of town together!
The bassist for Krosjoint, Marcus Goldsmith, and singer for Year Of The Gun, Steve Sawyers, have been working up in Indiana in Amish country, doing some painting, so that has been leaving me with nowhere near the band practices that I'm used to, and it's driving me crazy! I love playing music with my bands, and I'm ready to jam almost every other day! I'm starting to be bored to death. But I reckon I understand, you gotta pay those darn bills! I just have a hard time seeing my bandmates working with/hanging out with the Amish.
If they come back with one of those funky beards, it's over.
If you get the chance, come see the return of Krosjoint on Friday, February 3 at PHT w/ BoneJinn, Lexington's Pownd (a band you folks REALLY need to see!!!), Some Kind Of Saint and Southern Solstice. Thank you for reading my column. Peace.
P.S – Those of you reading the newspaper! The Anthrax/Testament/Death Angel review should be up and online on February 1 or 2! It was too late in the month to get in the February newspaper, so we will put it up on the website ASAP! Don't miss it. It should be a classic!!
The Metal Grapevine
Finland's Children Of Bodom to play Louevil (WIN TIX!):
Finland's top-selling band of all time, Children Of Bodom, will be coming to our small hamlet on Friday, February 24 at Expo 5. I've seen these guys once or twice and I like it quite a bit. I'm kind of stoked to be able to see them once again!
The last time they played Louisville, I arrived a little too late to see them. I was mad, so this time I shall be there early! What makes COB so special is the guitar playing. It's some crazy azz Mozart-on-Meth guitar madness! COB's guitarists Alexi Laiho and Roopa Latvala are incredibly talented and even have their own line of guitars and instructional videos! Call it black metal, Nordic metal, Viking metal, melodic metal, whatever! But know that this is not noise. There are beautiful classical influences at work here, ethereal keyboard parts, super-hard classical guitar scales, sick harmonies and all of it really comes across in the music they play.
I've heard great things about the bands opening up as well. Eluveitie, Revocation and Threat Signal are all supposed to kick some serious butt. I will not miss this one if I can help it, and I urge you to not miss the Finnish metal masters in action! They don't come to Louisville often! This is a guitar lovers dream show, so come for the six-string theatrics if anything.
To win t, email me at EDDYMETAL1@aol.com on Sunday, February 19 at exactly 9 p.m. In Subject line put "Viking Metal!" First one at exactly 9 p.m. wins!
Anthrax/Testament/Death Angel Review:
What a night! It's been rather slow these last few months in the Louevil scene, so this show was exactly what we needed. It was a chance to get out and see a great show and spend some quality time with good friends. Ever since hearing of this event at Expo 5, I've been one stoked mofo. I grew up listening to these classic metal icons. I knew it was going to be one excellent show, and I was right. First off – Thanks to my photographer friend/bandmate Chuck Skibo for taking these killer pics for us! Great job!
A Close Call – With Anthrax guitarist Scott Ian sick as a dog and Anthrax drummer Charlie Benante having to leave the tour for a family emergency, it was almost looking like this show might not happen. I was scared and my heart skipped a beat! But Scott Ian isn't no wussy by any means, and soldiered onward through illness to perform just for us and, luckily, Testament drummer Gene Hoglan was able to fill in for Charlie Benante. Two brutal sets of drumming in one night? Gene Hoglan, you are the man:)
Late start … There were a few PA changes that had the show start time running a bit late. But all was worked out. Death Angel might have had to cut their set back a little, though.
Death Angel – I like these guys, but I think I had only one or two albums by them. I've never seen these guys, before so I was anxious to finally see them live. They played a shorter set because of the slight delay, but they did not disappoint as they unleashed monsters like "Mistress Of Pain," off Ultra Violence, "Claws In So Deep," off of the newer album Relentess Retribution, "The Art Of Dying," ending with "Ultra Violence" and "Thrown To The Wolves." The band sounded tight as hell, and after their set, they hung out with fans quite a long time, taking pictures and chatting/signing stuff. Vocalist Mark Osegueda is a fireball of energy and a full on metal maniac. He is metal to the max and has his own sound style that I've yet to see rehashed. He does the growls, and some higher pitched screams that are out of this world. He has the vocal highs and lows on his roster. His timing was right on and he has a good singing voice, too , with good power. No complaints here. He also seemed like a great guy as he spent a lot of time with fans.
However, a few fans were grumbling about them not playing "Bored," "Room With A View," "3rd Floor." No, "Bored" was kinda a bummer to me. "Bored" was probably their most known song. Oh well, these guys are underground and don't give a farg what's the most popular song. I really dug "Mistress Of Pain." The guitars of Rob Cavastany and Ted Aguilar were crunchy and brutal and had great tone. It was a short rockin' set of some darn good, oldschool metal. One fan told me they sounded much better than back in the day. I'm glad I got there early. Many folks didn't get to see them because they came too late, and also because of the long line to get in. I knew better. I got there when the doors opened.
Testament – What can you say about these Bay Athrashers? I have loved this band from the get-go. They have been rocking the world since 1983. I've traveled hundreds of miles just to see them. Almost got stomped to death in the moshpit at one of their shows at Bogart's waaaay back in the day. This is the quintessential Bay Area metal band. Not those other Metallica sellouts, whose show I felt like walking out on because I was soooo bored. No. These guys have made their mark and have never sold out or compromised their sound to make more money. They don't need retarded masks and stage show gimmicks to rely on. Pure talent got them where they are!
As always, Testament came out smokin', kicking off with some older stuff, including "The Preacher" and "The New Order" off The New Order album, "The Persecuted Won't Forget," off their newest album, The Formation Of Damnation, plus one the band's oldest songs, "Over The Wall." Bassist Greg Christian's classic intro solo to "Souls Of Black" was killer. "Into The Pit," off of The New Order, one of my favorite songs and with some of Chuck's best vocals. "Electric Crown" and "Disciples Of The Watch" was particularly sick. The band wrapped up with three tunes "D.N.R (Do Not Resuscitate)" and "3 Days In Darkness," off of The Gathering and ending the night with the title track from their last album, The Formation Of Damnation.
Guitarists Alex Skolnick and Eric Peterson were in fine form this night! Alex was wailing away and seemed to be getting some serious squeals/pinch harmonics from his Gibson Les Paul. As a guitarist, I really love what Alex Skolnick does on the guitar. It's very hard to not like this metal guitar duo. Such emotion for such heaviness. Alex has been a guitar fave of mine forever it seems, and Eric Peterson (whom everyone says I look like, someone even asked if I was him at the show!) is the constant rhythmic hammer that keeps everything in order. He is the imperative, sturdy backdrop of canvas to showcase Skolnicks' bright paints. It doesn't get much better metal guitar wise!
Chuck Billy is a special metal singer, no doubt about it. No, he is no Rob Halford, Bruce Dickinson or Ronnie James Dio. Chuck sings in a much lower octave range than those guys, but Chuck does have equally great singing skills and creativity when it comes to providing lyrics and melodies for songs. That is one of Testament's high points. Yes, his voice is growl-y a lot of the time, but he still writes where there are actual musical notes to hit and difficult melodies to achieve. In other words, it's not noise and 'cookie monster' vocals all the time like waaaay too many bands do now, but carefully planned singing. It's a lot more challenging than screaming nonstop. That's one thing I always admired about Chuck. He put the work in to do it right. Such heavy music with really intelligent, meaningful vocals. Chuck can go from a relaxing beautiful drawn out clean note to a seriously brutal growl in no time. Chuck Billy's growls are unholy. The lyrics are great too. Chuck is The Man in my opinion, and a big time vocal influence to me, not to mention a good, friendly guy!And he always sounds good in concert. Bassist Greg Christian is always right on the money as well. I talked to Greg before the show for about 10 minutes. He is a super nice guy. Not the average "holier than thou" attitudes that us lowly rock columnist usually get from the rockstars. Drumwise, the band has been touring with drummer Gene Hoglan since former drummer Paul Bostaph left the band in December. Gene is a drum god and can play anything. Testament didn't miss a beat. Nuff said.
Testament sounded excellent as usual and didn't look their age at all. They were like psyched little kids. They still felt the spark and haven't lost the hunger. The out-of-control pit was going nuts for Testament, even on a Sunday night! People were pouring over the barricade one after the other. Those security guards were kept busy.
I was kinda bummed they didn't play a few of my favorites, like "The Legacy," "Trial By Fire" and "Sins Of Omission."
I wish Testament could have gotten on the 2012 Rockstar Mayhem Festival with Slayer and Anthrax. What an added bonus that would have been! The band does have a new album coming out in April, called The Dark Roots Of Earth. I can't wait to hear it. Some of the brand new tracks are "The Dark Roots Of The Earth," "True American Hate" and the first single, "Native Blood."
Anthrax – What's weird is that I love Anthrax just as much as Testament. These guys are neck-and-neck as favorites! To me, these New York hardcore legends, particularly guitarist Scott Ian, invented moshing, and that crisp, tight, punchy, hardcore, mosh guitar sound. Then you have the vocals of Joey Belladonna. Another guy like Chuck Billy who has made a mark in metal history by being himself and being creative and not giving a flying farg whether you like his unusual vocal style or not. I've seen them twice since Joey got back with them, and both times were great. Death Angel and Testament got the crowd totally pumped up, so when Anthrax hit the stage it was mayhem.
Anthrax launched into songs like new tunes "Earth On Hell" and "Fight 'Em 'Till You Can't," then they broke into their classic "Caught In A Mosh" off their Among The Living album. Ahhhhhh. The real Anthrax! As I said before, seeing Anthrax back together is like seeing an old dear friend after a long, long time! Anyone growing up in Eighties was bombarded with Anthrax, as if they were a disease or something! I was a fan from Fistful Of Metal. I remember spending my allowance buying it because the cover looked cool.
Then they rocked the popular Trust cover "Antisocial." The crowd was moving as they tore into another new one "The Devil You K," and a song that everyone loves, "Indians," with an extended and super-rocking wardance part. Because some people were not participating, guitarist Scot Ian stopped the show and would not continue any longer until everyone went crazy, which they did. "In The End" is a song dedicated to the late metal icons Ronnie James Dio and Dimebag Darrell. The new Anthrax rocks! Oldschool classic metal is alive and well with these unreal bands. Joey's vocals on "In The End" are darn good. He has incredible stage stamina and range for an older guy. Both times I've seem him since returning he really did well. It shocked me to be honest. He has the goods now more than ever. I interviewed Joey during Christmas break and he was so cool. A pleasure to talk to. They then played "Got The Time" off Persistence Of Time, and an oldie that was requested by fill-in drummer Gene Hoglan, "Death Rider," from Fistful Of Metal, which totally shredded and got the fans of the older Anthrax stuff all worked up. It was fast and furious. Then they played one of my favorites, "Medusa." I love Joey's vocals in this one and it might be my favorite vocal work by Joey. The soaring vocal highs mixed with the uber chunky guitars and heavy groove of "Medusa" made my day. Joey made that song his beeyatche! Nailed it like it was child's play. Good ole Joey. Joey remarked that this was the coolest Flea Market in the world. Ha! And he was happy with the turnout on a Sunday night! He was like "YEEEEAH!"
Then they played the title track of Among The Living, complete with the cool, spooky, clean guitar intro. Then the show was over. Um...NOT!
The band played an all-out powerhouse and barnburner of a closing triple encore: "Madhouse." which soooo rocked, "Metal Thrashing Mad" and last but not least, the classic "I Am The Law." The packed crowd at Expo 5 friggin loved it. Anthrax was tight, youthful, entertaining and played quite well considering Scott was ill and Gene was thrown in at the last minute. I didn't hear one mess-up, but a few parts were particularly thrashy in that Gene Hoglan double bass sort of way! Like an Anthrax cranked up on Meth or something! That's a good thing, though.
Guitarists Scott Ian and Rob Caggiano work well together and I am happy with Dan Spitz's replacement, although I was a tad skeptical before first hearing Caggiano a few years back. I love Scott Ian's crunchy guitar tone and powerhouse rhythms. Such powerful memorable groove! What kind of amp is that man using? Enquiring minds want to know. I got to get one of those! Bassist Frank Bello always sounds good and has magnificent bass tone, too. Pounding! You couldn't hear Frank's backup vocals that well, though, they should have turned that chit up! Drummer Gene Hoglan tore it up and did a fantastic job of filling in for Anthrax's Charlie Benante in a time of need. Now that is a good friend. I imagine it was rough to play drums to two long sets of super-shredding metal back-to-back for a guy in his late forties. I guarantee Gene has been sore as heck since he started doing double duty! Strong man!
Anthrax drummer Charlie Benante (who is wicked on drums) left the tour to be with his terminally ill mother. Right on, brother! We don't blame you there one bit. In fact, we fans wish you our deepest sympathies during this difficult time in your family. God bless the Benante Family. Take all the time you need dude, your fans will be here when you are ready, however long it takes!
Metal is definitely alive. These three bands proved that without a doubt. Expo 5 sold out, I'm thinking. If not it was right on the cusp of selling out. That place was jammed and hot as hell. I saw so many people I know it was ridiculous. Lots of good friends. Overflowing with cool people who love metal music. I saw friends from all over the region there. Many drove a good distance to see this show! Getting to the toilet was a fargin epic journey though, and god help you if you had to pee bad. Louie The Local Guy stated "From the pit....it was one of the largest and most intense pits I have been in a while....surpasses Hatebreed, Five Finger, Clutch, Asking Alexa , All That Remains, Disturbed, Korn, .....going back almost a year including Lou, Indy, Nash, and Cinci." Another big fan, Mark Doss, who was in the pit, said "there were NO slamdancin' spin kickin', douchebags there to ruin a good ole fashion moshpit. That is what a true pit should be at any metal show." It was a helluva time all around.
Total props and much thanks to: the good people at Expo 5 (especially the super-cool managers who always treat me well), the staff and security there too – good job! The band's label and indispensable PR people, Maria, Julie and Brian. Keep up the excellent work:)
And last but not least, thanks to promoter Terry Harper for giving Louevil one of the baddest MF'ing shows we've had in a long while. Dude is the Heavy Metal Savior of this Region. Without him we would be screwed.
I hope you peeps enjoy the pictures that my buddy Chuck Skibo took! Check them out, they are cool.
On a local note: I saw a few songs on the second stage by regional rockers Maltese Cross and The Stonecutters and both bands were rockin'. Soundguy Brian Daniels is the man! He ran sound for my band Krosjoint a few months back when we opened for Down, and he is one of the best in town for sure. Brian knows that PA well and had The Stonecutters sounding absolutely thunderous. I was digging it. They have never sounded better with guitarist Chris Leffler on board now! Overload played too, and I heard they rocked, but I didn't get a chance to see them. These local bands playing on these big bills like this are very cool. I had a blast playing on the Down bill. I hope Terry knows how much we appreciate him making it so that Louevil talent can be heard on a larger scale.
Bride to play The Steve Osborne Tribute Show:
On Sunday, February 19th at Phoenix Hill, there will be a tribute show celebrating the life of the late Louevil guitarist Steve Osborne. It's from 4 p.m. to 10 p.m. and includes Louisville Christian rock legends Bride w/ Broke By Tuesday, The Big Rock Show w/ Kevin McCreery and Dave Osborne. All proceeds go to Kosair Charities! So come out and pay your respects to a heck of a guy who truly rocked Louisville!
Louevil Music Staple P.M.C. to Close:
It saddens me to report that Professional Musicians Center, a music store that has been around forever, is closing. I liked that store a lot and like someone else said, I can't imagine Preston Highway without the big guitar out front! It was one of the very few music stores that I do business with. You could go in there and owner Bill Sutherland would fix/setup your guitar right in front of you – while you wait! Very nice people at that store and very helpful. Bill even participated in the Rock for Kosair Benefit by giving away guitars to raise money for the kids. Nowadays you rarely find service like that. Instead you get big cheese-ball corporate music stores like you-know-who. Louisville will surely miss a Louevil landmark like P.M.C.
Owner Bill Sutherland stated
"After much consideration and soul searching I have decided to close Professional Musicians Center.
I wish to express my thanks to you and to all my loyal customers. I appreciate your patronage over the years. It was serving you that made this all worthwhile.
I know this decision may be confusing to you, but in life as well as in music timing is everything. As a musician I have always felt it was best to end a performance on a high note and I wish to do the same with the store.
Starting February we will begin liquidating the stores merchandise and store fixtures. I want to let you know now because I want my family, good friends and loyal customers to have the first consideration of the current store stock before the general public is made aware.
Thank you again allowing me the privilege of serving you and living out my dreams." - Bill Sutherland
Van Halen in FEB:
Live at the Yum! Center Saturday, February 18. It has been 28 years since Van Halen last played in Louisville. I know because I was there! I was 14 and it was Van Halen and Autograph at Freedom Hall. The 1984 tour was a classic that gave us such hits as "Panama," "Hot For Teacher," "Jump" and "I'll Wait." It was an unbelievable show for such a young person to see and really left a mark on me, a memory I'll take with me to the grave. So, yeah, I am an authority on Van Halen and their music! David Lee Roth is back and the guys are making some serious noise with this concert happening right here in our own backyard. It is a sweet feeling, and I, for one, welcome it. Still, questions abound. Can Roth still sing? Does Eddie still have his mojo? Can Wolfie sing Michael Anthony's backups? These questions and more will be answered on Saturday, February 18 at Yum! Center. Get your tickets now before all the good ones are gone! I'm quite stoked about covering this event in the newspaper and getting some pictures for you folks. I hope I don't get dissed like I did for Rush. After I helped with some excellent advance exposure for months leading up to the show. I wasn't too happy with my treatment with that event. I have to be honest people, Kool and The Gang opening the show is a huge mismatch that people aren't too thrilled about at all. But it's Van Halen who people want to see, so the people who are complaining can just show up late! Ha. Hopefully I will have an in-depth review and pics for you in the March Issue. Get those tickets before you are too late, people. These guys do not come around very often. Don't miss out!
Nickleback, Bush, Seether, My Darkest Days - coming to Yum! Center in May:
Saturday, May 26 should be a day to mark on your calendars, as this should be one cool show to attend if you like radio rock giants such as these bands! South African rockers Seether are my favorite among these, and probably worth the price of the ticket along. I've covered them in the paper several times. Such a great band. I've never seen Nickleback or Bush before, so that should be interesting. To the single fellas out there, even if you hate these bands, trust Mr Metal on this one – I would go just to see all the super hotties that will surely be there. I predict this shall be an event in which more women attend than menfolk. There will be hordes of beautiful women at this concert. Dudes might get sexually abused when all those hot and bothered females exit the arena, so be careful! Radio rock love song icons tend to make the ladies more open to suggestion :)
Red Hot Chili Peppers in June at The Yum! Center:
On June 7, The Red Hot Chili Peppers will be at Yum! Center. Another great show in the making! I've never seen them and would love to finally see this funk-laden band. I want to see some Flea theatrics. Flea is one mean bass player! I'll keep you informed when I hear more news regarding the show, and the opening act.
Jane's Addiction coming to Louisville Palace:
The show is on March 23 at Louisville Palace! Alternative rockers should love this news! I'm not a big fan of the band and know nothing of their music, but I know quite a few people who are. Get your tickets now because this should do well.
Signal The Revolution News:
Premier Louevil rock band Signal The Revolution has entered the studio to write and record a new album. They have added guitar player Chris Marple (formerly with Flaw, Caldera, Kentucky Deathwish) to the lineup to take over for singer/guitar player Josh Carter, who will still be singing. The band is trying to take their music to the next level, and in order to do so, they said they had to make some changes. Adding Chris Marple to the roster will definitely diversify and beef up the music! I told Chris that this was the perfect gig for him, and he seems stoked to unleash some of the new riffs he has been writing. I've heard some of it over at my house and it's really good. Fargin perfect for Signal The Revolution. We just gotta get him off the shredding death-metal guitar thingie! Ha. Not having to focus on playing and singing at the same time will allow vocalist Josh Carter to concentrate fully on excellent melodies and to be more creative with his vocals. I think you will see a huge difference in Josh's vocals once he is freed up from guitar! Also, having Chris Marple and Zach Bandy focused on guitar only will help the music have more depth. One thing is for sure; STR is going to sound better than ever once they emerge from their cocoon-like status that they will be in for a month or two. Look for the new improved STR in mid-spring or so, along with some new recorded music!
The Cigarittes, a great new band:
I saw a really good young Louevil band recently and, boy, am I impressed. The band is The Cigarittes, a young trio of talented musicians who are brothers.
Guitarist Rio Brittany, 22, drummer Jagger Brittany, 17 and bassist Gunnar, 19, formed the band in 2008, starting out as a cover band, but soon moved to playing originals. Their style is a bluesy, hard rock soulful endeavor that has much magic in it. Harmonica, keyboards, wailing guitar, rockin' vocals, shee-it, what else ya need? The brothers Brittany grew up listening to rock classics like Zeppelin and The Stones, and you can tell that by the music they make. There is a definite classic rock feel to their music. Despite their young ages, these guys know how to rock, and well! I was very impressed with the tones, songwriting and musicianship they have going for them. Rio Brittany's guitar work was pretty darn good and he was as confident as could be. Über bluesy leads, rhythms, clean funk-style picking, charisma – Rio was on the money in all aspects. And what's crazy is that he had a little guitar amp of some kind, but the amp was rockin'. Small, but big tone! I was trippin'. Usually small amps mean crappy tone and overly distorted/muddled sound. Not with Rio. His tone was smokin'. Gunnar Brittany's vocals are tasteful and soulful (much too soulful for someone that young! ha. In a past life his name must have been close to Blind Dog Melon Chetland), and he plays bass, harmonica and keyboards, too. It may not be the heaviest music, but it certainly is entertaining and holds much promise. The guys have been busy as heck playing out in the region, and hope to take The Cigarittes to a new level soon. And with these musical tools I think they have a bright future with their hooky bluesy rock music. Check out The Cigarittes at a club near you. These young-uns wail.
Deadstandstill, A New Beginning for Louevil Rock Veterans:
Another good new band consists of experienced Louevil players. I finally got to see Deadstandstill, featuring former members of Louevil hardcore legends My Own Victim, in action for the first time, and I'm digging it. Gone are the hardcore vocals for which these guys are known for in previous bands. I'm glad too, because these guys have got some soul and serious groove happening and always have had! It's nice to see them trying something new. I'm listening to the new demo, a song called "Resurrection" and this is so much different from what they've done. It's kind of laid back at first, utilizing clean guitar parts (something they rarely used), yet still ballsy when called upon and the heaviness kicks in. It's not all-out metal, but more of a Southern hard rock/metal soulful endeavor. Jeff Toy's guitar solos have gotten better, which I noticed when I saw them live not long ago. Vocalist Josh Holcomb sounds good on this song. Really humble and down-to-earth, yet displaying feeling and genuine Kentucky homegrown sounds. A good medium between redneck rasp, clean and letting loose. Fans of My Own Victim or Snake-Eyed Savior might not like the new stuff because it's not near as heavy, and there's singing, but I don't think the band cares one bit.
Sometimes it's good to try some new stuff musically. "Alone" has a very nice breakdown and a very hooky melody coming out of the solo that I like very much. Then another cool solo! Jeff has become addicted to soloing with his pickup in the neck position! It does give the guitar lead a nice low Malmsteen-type full tone. (I may have to copy that!) A few years back, Josh Holcomb's vocals were over-busy to the point where I thought his head might explode with the red face and all, but he has gotten a bit older and calmed down a bit and is now content to just enjoy the ride. "All For Nothing" starts out fast. A nice little semi-hard riff that could possibly be an old MOV tune? Then it progressed into a groovy riff with some cool jazzy guitar chords/playing that is memorable. It's upbeat and energetic and hard rock all the way, with some metal mixed in. I can't help but hear MOV's old singer over this riff at times. I think a few screams in this song wouldn't hurt. I found myself adding some lovely screams for backups. The music rocks. Killer musicianship. Good vocals. Creative songwriting. A good effort from a Louevil original band. Check out some soulful Kentucky southern hard rock/groove metal, check out Deadstandstill on Reverbnation.
The Villebillies "Rearview":
I'm listening to a new song called "Rearview" by The Villebillies off their album Appetite For Dysfunction. Not bad at all. It's a lil' tune about traveling around, playing music town to town, but the gist is that apparently the heart lies back in Kentucky. It's about proudly representing Kentucky. Or getting the farg out of Dodge! It's a keyboards and drums track, musically, with the usual Villebillies-style rap singing. The song has a few clever hooks and some decent lyrics, if somewhat off-the-wall at parts. Like "I'm like a river runnin, and you can't stop my flow, I'm like an eagle hunting- eyes can see whats down below. I'm like a witches titty - some say I'm extra cold. I think this game is shi**y - welcome to the toilet bowl." However off-the-wall, it works. There is always some catchy and ingenious rap syllable-usage going on with The Villebillies. They know their trade well.
You can tell they take their time when recording their vocals, a luxury that most of us musicians cannot afford in an expensive studio. I'm starting to think vocalist Demi Demaree could make something good out of any riff you throw at him. You could take a chicken, and set it on a guitar, and Demi would come up with a good riff for the scratching it had made.
While the "Rearview" is not as good as "One Shot," it has potential. Even an old-school metalhead like me can find an enjoyable aspect to this Louevil hip hop/rap rock icon of a band. I would like to hear some more new songs from The Villebillies. Stay tuned for more info.
Jillian's is back, as Diamonds Pub and Billiards:
Remember Jillian's? Louisville had a real good venue for years there on Baxter Avenue, before they closed down. Well, I just learned that they are re-opening as a new Diamonds Pub and Billiards location. I don't know about you people but when Jillian's closed, it bummed me out! I really liked the stage/venue layout there, and the sound wasn't bad, either. It did need some soundproofing there in the basement, but other than that, the place was good to go! I saw some really cool concerts there (Queensryche, Ministry, Sevendust, Damageplan, Lacuna Coil, Staind). I hope they try to get some big names back in there real soon. As soon as I know of some cool events, I will surely let you folks know. This could be great for our scene if they play ball and support Louevil original music. I've contacted them, so we will soon see!
The Tool Experience – Opiate:
I've heard some good things about Opiate, The Tool Experience. I know a lot of you peeps out there love Tool, so here is your chance to see a darn good cover band in action. Supposedly, they nail it! The band's reviews are very good.
You can see them Saturday, March 3 at Phoenix Hill Tavern. One night only, so mark your calendars for this one.
Jeremy Dennison Benefit Fundraiser:
Former Flatlyne drummer Jeremy Dennison has been diagnosed with a neurological disorder and has fallen very ill. It is not looking very good for Jeremy at all. As you can imagine, this has caused much stress and financial problems for Jeremy and his family.
So some good people are throwing a benefit for the Dennison family on February 24 at Union Station night club. Bands donating performances are Red Eyed Lies, Branded By Hate, Debridement and Granshaw. Any financial help would be greatly appreciated by the Dennison family.
If you can't attend this show but want to help Jeremy and his family out, you could go get a tattoo from SinFul Pleasure BodyArt by Heather Brown.
Year Of The Gun Video:
Shameless plug: Louevil melodic rockers Year Of The Gun will be recording a new song called "The Fallout" soon and will also be making a video of the song. It's my first video, so I am quite excited about the prospect of it. Drummer Chuck Skibo, who is also an amateur filmmaker on the side, has some good ideas and it should be completed by late spring.
Execrate Reunion in May:
Who remembers the band Execrate? Quite a few peeps, I'm betting. These very young, original nu-metal rockers existed from 1996-2001 and did quite well for such a young band. After Execrate broke up, a few of the guys ended up playing for such bands as 7 Day Sun, Caldera, Flaw and Kentucky Deathwish. The band decided to do a reunion show on May 12 at Trixie's on Preston! That should bring back some fond memories from way back in the Tek World day. I'll let you know the others bands when I find out.
Upcoming Shows
Brownies The Shed
February 11 – 10 Cent Toll Booth.
Bungalow Joe's
Saturday, February 4 – 10 Cent Toll Booth.
Expo 5
Friday, February 24 – Children Of Bodom w/ Eluveitie, Revocation and Threat Signal. 6:30 p.m. $15-$20
Sunday, April 1 – For Today, A Skylit Drive, Stick to Your Guns, Mychildren Mybride, and Make Me Famous. 6 p.m. $15
Saturday, April 7 – Asking Alexandria w/ Trivium, Dir En Grey, I See Stars, Motionless In White, The Amity Affliction. 6:30 p.m. $25
Thursday, April 12 – All Shall Perish w/ Carnifex, I Set My Friends On Fire, Greeley Estates, Fleshgod Apocalypse, The Contortionist, Conducting From The Grave, A Bullet For Pretty Boy, A Lot Like Birds. 5 p.m. $13.50 - $18.
Gerstle's
Friday, February 10 – Soul Circus.
Headliners
Thursday, February 2 – Mayday, Parade w/ We Are Kings, The Downtown Fiction and Anarbor. Doors at 5:30 p.m., show at 6:30 p.m. $15
Karem's Pub and Grill
Saturday, February 24 – 10 Cent Toll Booth.
Magbar
Friday, February 11 – Old Vikings, Beast In The Field, Voyage Of Slaves, Braintrust, Damaged Goods, Kentucky Goddamn. 8 p.m.
Mojo's (Frankfort)
Friday, February 11 – Cancer Benefit Show w/ Pownd, Unreserved and Bury The Wicked.
Phoenix Hill Tavern
Friday, February 3rd – The Original Rock Showcase series w/ Krosjoint, BoneJinn, Pownd, Some Kind Of Saint and Southern Solstice. Free before 9p.m. Only $5 after 9.
Saturday, February 18 – Rehab.
Sunday, February 19 – The Steve Osborne Tribute Show w/ Bride, Broke By Tuesday, , The Big Rock Show, David Osborne. 4 p.m. – 10 p.m. Proceeds go to Kosair Charities.
Friday, March 2 – The Original Rock Showcase series w/ Popkiss Chainsaw, Boozer and TBA.
Saturday, March 3 – Opiate - The Tool Experience. (Tool cover band)
The Vernon Club
Monday, February 6 – Goatwhore w/ TBA. 7 p.m. $10
Friday, March 23 – A Great Big Pile Of Leaves w/ Mansions, Young Statues, The American Dream, Begging Victoria and A Mustache Divided. 7 p.m. $10
Saturday, April 7 – Turistas w/ Alestorm, Ex Deo, Arkona, Huntress, Stagecoach Inferno. 7 p.m. $20