February 2012 Articles
Cover Story
Kevin Gibson
Features
Eddy Metal
Columns
Berk Bryant
Mike Stout
Paul Moffett
Djinn Shockley
Mike Suttles
Martin Z. Kasdan Jr.
Eddy Metal
Alexander Campbell
Blogs
Got Shows?
Send Them To Us
Bookmark Louisville Music News.net with these handy
social bookmarking tools:
Available RSS Feeds
- Top Picks
- Today's Music
- Editor's Blog
- Articles
Add Louisville Music News' RSS Feed to Your Yahoo!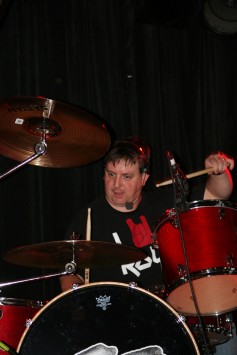 Chuck Skibo
Name: Chuck Skibo
Age: 42
Instrument - Drums
Band/Former Bands: Current: Year of the Gun Prior: Those Sensational Bastardz, Screaming Through December/The Jones Gang, Paradise City (G'n'R tribute), Shattered Vow, many others.
How long on instrument: 30+ years now.
Equipment: 2001 Mapex Pro M drums, Sabian cymbals. I'm open to any endorsements, though.
Influences: Every drummer wants to say Neil Peart, Tommy Lee, Bill Bruford, Buddy Rich - great players like that. However, as much as I dig those guys, the ones who really clicked with me were the ones who looked like they were having the most fun that they could ever have just by playing the drums. Guys like Mick Brown from Dokken, Alex Van Halen, Keni Richards from Autograph. They looked like they were having the time of their lives, and that's what I wanted to do. Rock and roll is a party, after all.
My first gig: My first gig was in high school. Some friends and I started a band called Bastille (ooh, French!). We played some shows, had some parties, but nothing really came of it. My first real gig was a band called Rik Wikked. We played the East Coast club circuit, stopping at the Toy Tiger quite frequently. I started off as drum tech, and eventually worked my way onstage.
Hobbies: Playing and listening to music. I try to go see other local bands as much as I can. I'm also a filmmaker. I have a short zombie film that made the festival rounds, including Louisville's own Fright Night Film Fest. I'm about to start pre-production on a feature film very soon. I'll be working with a producer from Los Angeles. I sign the contract this week. I occasionally like to sleep, too.
Favorite movies: My favorite directors (I call them the 2 Georges) are Romero and Lucas. I love the Star Wars films – yes, even the "crappy" prequels, along with Night of the Living Dead, Dawn of the Dead, Day of the… you get the picture. Any horror, sci-fi, and action films, really.
Favorite food: If you've ever seen me, you know I haven't missed many meals. I love food, what can I say. Picking a favorite is tough. But in a pinch, the old stand-by is pizza. Especially if there's beer to go with it.
Favorite place: Hmm, if we're talking about places I've been, nothing beats my hometown of Pittsburgh, PA to me.
Bad habits: Luckily, I don't have many. I don't smoke, I don't bite my fingernails or anything like that. Maybe I procrastinate a bit.
What I'm listening to nowadays: You know, I am a simple kinda guy. I like rock. Some of it is modern, like Butch Walker or Halestorm, but mostly 70's and 80's rock.
Coolest thing I've done: Musically, the Guns & Roses tribute that I was in set the attendance record at a big club in Halifax, Nova Scotia called The Misty Moon. That was a great weekend. I've also been to several film festivals promoting my film and doing Q&A's, which was awesome to me.
Most embarrassing moment: Really any time I have to speak publicly. I'm as awkward of a speaker as you'll ever find.
Who do you love: My wife Audra, of course, along with my family and all of my great friends.
When/where did you first get some: My parents' place during my senior year in high school. With the folks are away, the kids will play!