September 2011 Articles
Cover Story
Kevin Gibson
Features
Eddie Morris
Columns
Berk Bryant
Mike Stout
Paul Moffett
Keith Clements
Martin Z. Kasdan Jr.
Eddy Metal
CD Reviews
Kevin Gibson
Kevin Gibson
Kevin Gibson
Blogs
Got Shows?
Send Them To Us
Bookmark Louisville Music News.net with these handy
social bookmarking tools:
Available RSS Feeds
- Top Picks
- Today's Music
- Editor's Blog
- Articles
Add Louisville Music News' RSS Feed to Your Yahoo!

Issue: September 2011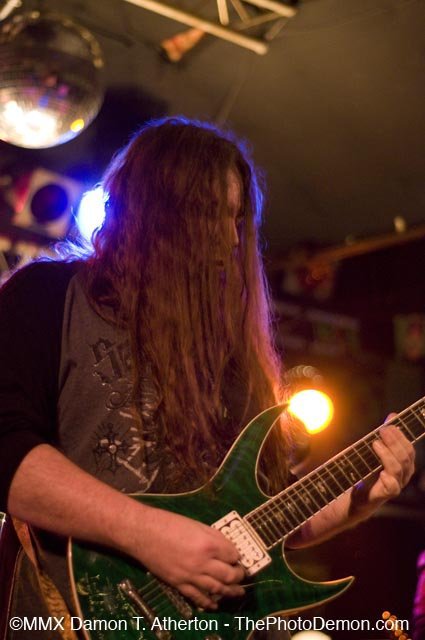 News From the Pit
Hate: don't let it eat you up inside....
OMG, trying to get people to do some good in this town is like trying to get a pack of vicious starving wolves to become vegetarians. I have tried to bring our scene together more by stating the problems that I, as a musician, promoter and columnist see in this town's music scene, hoping that people will read it, and maybe take it to heart and possibly try to be better to/more supportive of each other.
I got to be honest with you folks, there are some seriously negative aspects about our scene that don't seem like they are changing no matter how much I yak about it. It's a cutthroat time in Louisville's music scene, the worst I've ever seen it, and I have been active in this scene nonstop since 1995! Everyone is so scared of competition, and it seems that nobody wants anyone to do well anymore.
In fact, I have seen bands/people strive to make sure you don't do well.
Hate is a very bad thing. It eats you up and makes you crazy.
It sucks that we have to deal with hate in our music scene as well. I was going to give you several examples of such petty nonsense in the scene that I've heard about/witnessed recently. But to be honest, to waste speech on such people is pointless. It's a fact. People like that rarely change.
Instead I shall address one issue, but boy, is it a doozy.
*I am addressing the low people who; called WAVE 3 Troubleshooter on newcomer promoter Allen Ashbaugh (who tried his best to put on a benefit for Cancer research), solely because the promoter angered them and they wanted revenge. I know this for a fact. Someone I trust 100% overheard everything. I hope you are happy. Your revenge has made our music scene look bad.
What angers me is that there was never any real reason for WAVE 3 Troubleshooter to question Allen's integrity and honesty regarding the money made for the event in the first place! But WAVE 3 Troubleshooter reporter Erick Flack took the rotten bait like an old pro, and proceeded to make Allen and the rest of us Louisville rockers/metal lovers look like a bunch of sinning thieves.
Allen worked hard to do this event, and my band sweated gallons to play and support the cause, so it made me pretty darn mad when I saw the feature on TV. They made it sound like we were using the Cancer Benefit name for profit! The truth of the matter is that WAVE 3 Troubleshooter News was fed a total lie made purposely for vengeance.
Congrats WAVE 3 News! You just helped some liar smear the reputation of an honest man who was trying to do some actual good and you have also smeared these Louisville rock bands who have been sooooo giving to this town , for playing benefit show after another! I write my rock column and book shows, and play shows myself, so I hear about these constant benefit shows all the time! We might not all get along together as a whole sometimes, music scene-wise, but we have always done good things for the community by playing/planning benefit shows for those who need it! Why don't you call Kosair Charities and ask them if the Rock For Kosair Benefit (that happens every November) rock /metal bands are sinning thieves! They will set you straight.
We horrible, thieving, lying Louisville rock bands have taken over thirty thousand dollars in toys there in the last six years for the Children for Christmas! Check with Kosair and stick that in yer TV camera.
BTW WAVE 3 New, it's common protocol for promoters to get back the money they put into the shows they put on! Allen had spent a lot of money (2 stages, lights, security, vendors, waste management, sound guys, advertisements , flyers, etc) to get this large event going. So yeah, Metalfest had a large overhead to cover before showing a profit to the cause.
Next time, before you hurt an innocent persons reputation, please make sure the INFO you receive is legit before attacking.
With such hatred and fear of competition from our fellow scene folk, it is hard to imagine us moving forward through the dark tunnel where a sliver of light/hope exists. Eighty percent of the region's top bands have broken up. Keeping a band together in today's economy is a gargantuan feat that requires patience, the ability to accept things for what they are, tolerance, and most of all, the willpower to keep going when things don't go your way!
Fret not though, my fine music loving loyal readers, for....
The Louisville rock scene is wide open now!!!
LIGHT AT THE END OF THE TUNNEL - No Kill and RFK Benefits.
There are some good things that have been happening! Dave Moody is having his No Kill Benefit at Phoenix Hill for animals who were abused. I love this idea! I'm always seeing some sick stuff on TV that people do to animals for amusement. I like animals better than people, and if I ever caught someone doing that to a defenseless animal, I would kick some serious arse! Dave has gotten a darn good lineup to play, too, so the tally should be pretty good! The No Kill show will be over by the time you read this, but I'll let you know how it went. Total props to Dave Moody, though. This musician has given more than anyone in Louisville when it comes to benefits and helping others. If we only had a few more folks like him in the scene, I believe there could be a turnaround of sorts.
ROCK FOR KOSAIR 7
And last but not least, my annual Rock For Kosair Benefit is on November 18 at Phoenix Hill Tavern.
As usual, proceeds will go to buying toys for Kosair's Charities for Christmas, when poor families need help the most. So far the bands have raised about $30,000.00 in toys for Kosair Charities.
This is by far the best thing I have ever done in my life, and I am proud of it.
Taking those toys down to Kosair every year is a feeling that is hard to beat.
I will be looking for bands to play the event real soon, so your band might get the call to help the needy children at Kosair. So for the childrens' sake, I hope you bands will cast aside your pumpkin-headed egos and constant quest for the almighty dollar (for one day) and help out this event the very best you can. I am also looking for event helpers, and volunteers for the RFK street team. Please contact me at 502-367-2080.
Let's all pull together for the poor children of Louisville, so they can have a better Christmas. God knows that Kosair Charities has helped this city enough! It's time we show a little love back.
The Metal Grapevine
Win Free Tix to DOWN, or buy them from me!!! (LMN FREERIDE)
While I admit to never having been a big fan of Down before, I admit that after I saw them last year for the first time, I became a fan. For one, Phil Anselmo's voice was back in shape and powerful as hell. He must have been off the heavy stuff or something, because he had a new-found glory about him. The ghosts of his past have clearly departed. Heavy, down-tuned, Southern, doomy, riffage permeated Headliners that night. It was awesome. Come September 19 at Expo 5, we will have that privilege once again. Opening acts are In Solitude, Ponykiller and Louevil artists Stonecutters, Lucid Grey, Krosjoint and Factory Damage will be opening the show on a second stage.
(My new stoner groove rock band Krosjoint is selling tickets, so please buy your tickets from me, we'll deliver them personally! Call 502-367-2080. and come up early to see us!)
For a chance to win tickets to DOWN, email Eddymetal1@aol.com on Thursday, September 15 at 10 p.m. sharp. First one at exactly 10 p.m. wins! Thanks to Terry Harper for the tickets. In subject line put "Southern Discomfort."
Def Leppard/Heart review at the Fair:
What a great show. Thanks to the people at the Fair for the hookup! We appreciate it here at LMN. The Fair rocks. The best part is the food. I indulged a bit too much, I think! Brats with onions, funnel cakes, ice cream, corndogs, I was fargin' bad!
The Fair people hit a home run with this show! How can you go wrong with Def Leppard and Heart?
I love Def Leppard. I've been a fan since the beginning.
I had never seen Heart live, so I was quite curious. Turns out that Nancy Wilson is a bona fide guitar hero. Armed with her Duo Fender guitar heads, her Gretsch hollowbody electric guitar, and her top o' the line Orange cabs, she let out a can of whup-ass on Louisville this night, running around smiling, looking cute, and apparently having the time of her life! I knew she was good, but I didn't know she was that good! I was very impressed. Her guitar tone was classic! And believe me, she was letting loose this night! And vocalist Annie Wilson? What can you say about this legendary diva? I don't care if they have to eventually wheel her out onto the stage on a flatbed truck, the woman can sing like an angel. People are a bit cruel about chubby rock stars (I heard a lot of mean jokes that night) but really, if you had her money, don't tell me you would not excess in a late night Twinky or Ho Ho!
For me it would be the occasional creamy ho ho. Ha!
Chubby or not, I love her voice and music. Annie's voice soars to heights others can only dream of. Both Ann and Nancy are a force to be reckoned with, and have nigh reached legendary rock status. Their music sure sets them apart from any other female-fronted, female guitarist-led band I've ever heard. Vixen? No way! Lita Ford? Nah. Kittie? Puhleeze!
Heart takes the cake and easily wins the best female rockers award! Two thumbs up for these talented sisters. The Wilson sisters have been playing so long together that they have a magic about them that cannot be beat. Heart played Led Zeppelin's "Rock n Roll," "Magic," "Straight On," "What About Love," "These Dreams," a decent new tune called "WTF," a very cool version of "Crazy On You" that started with an absolutely killer acoustic intro by Nancy on a giant, full-bodied acoustic guitar (she was smokin' that thing, too!), and of course the classic "Barracuda." Then they ended the show with a tribute to their influences growing up. Ann said they started when Nancy was 8, and Ann was 12! They played Led Zeppelin's "Battle Of Evermore" (which sounded great with a chick's voice! Nancy even broke out a mandolin for it) and The Who's "Rain On Me."
Heart had a backing group of young whippersnappers who nailed the music to a tee. They didn't mess around, they played all the hits their fans expected them to play. Everyone was happy, including yours truly. I would go see them again in a second.
Def Leppard was next. I saw them five years ago and was impressed then, but this time might have been even better! The guitar sounds this night were off the hook. Phil Collin is a very underrated guitarist in my eyes. Someone told me he likes to recreate his solos on his albums exactly, and after seeing them for the second time, I believe it. Phil wasn't lazy, nor was he content to slop through solos the way some guitarists do because it is easier. He hit every note and every harmonic. Someone told me that vocalist Joe Elliot uses pitch correctors live in case he doesn't hit the notes. To be perfectly honest, I don't care as long as it sounds good when it comes out of those speakers! That's what counts. It's amazing the technology we have now in the music business. Thirty years ago, if a singer was off key, it sounded like doody. Now it automatically fixes the problem with no buttons to push at all! Is that cool or what? And let's be honest, Joe Elliot's high-pitched vocals are not exactly easy to sing, especially when he's touring constantly and has that much strain on his voice. Joe sounded great, pitch correction or not. I think maybe he sang better last time they were here, but not by very much at all, if at all! Guitarist Vivian Campbell (from Belfast, Ireland), whom also played with Ronnie James Dio, is an even better guitarist than Phil Collin. But the two of them together? Fuggetaboutit.
This was a guitarist's wet dream. The tones of these two guitar monsters were amazing. Phil even had a camera on his headstock facing the guitar fretboard, so you could see him playing the riffs note for note! I thought that that was pretty cool. Vivian Campbell's sound and style was so good you could cry. Drummer Rick Allen and bassist Rick Savage were on the ball as well as they waded through hit after hit. Rick Savage was all over the stage, rockin, in every square foot of the place it seemed!
The stage setup was pretty ordinary, some screens arranged randomly above and around the stage. Clips, pictures, designs, the Union Jack flag, and all sorts of stuff were seen during the band's performance on these large screens. The guys were youthful-looking and moved about like they were twenty-five. Def Leppard played a nice long set of classics like "Animal," "Foolin," "Love Bites," and killer duo guitar soloing in "Rocket," a semi-acoustic rendition of "Two Steps Behind" from the The Last Action Hero soundtrack. They also did "Bringing On The Heartbreak" (which I loved), "Hysteria," "Armageddon It," "Photograph" with pictures on the large screens of the band's history and also deceased guitarist Steve Clark, "Pour Some Sugar On Me," in which Def Lep's cameramen pointed out the hottest women in the crowd and put them on the large screens for everyone to see (and boy, were they hot! Five years ago was the same scene too, seriously hot females out for a good, old-fashioned Eighties rock 'n' roll show!), then the band wrapped up with "Rock Of Ages," which featured a tribute to rock 'n' roll history in photos on the large screens. Hendrix, The Who, The Beatles, Led Zeppelin, all the classics were paid tribute to in this last song! The people absolutely loved Def Leppard and packed the place pretty darn good, so laugh all you want about the Eighties cheese band who came back to rock the Fair. It was a blast. I saw so many old and new friends, and I'm grateful to say that my date and I were able to see the show in all its glory. I was kind of bummed they did not play "Too Late For Love," though. Hopefully it won't be another five years before they come back again! One weird thing was that I never saw even one person smoking weed. And everyone knows that you usually see people at concerts toking up like they were Cheech and Chong! Odd.
Thanks to Mike Stout for the cool pix!>
Amon Amarth, Viking Metal!!!
I had heard a few songs by this Swedish band before and I liked it. So when I had the chance to see them in concert, I thought "What the hell!" It's a Tuesday night and I don't have band practice, so I'll go see what these Swedes are like live. I'm glad I went because this band was awesome. Viking metal! Amon Amarth is pure metal, yet there is another side of them that is as an ethereal beauty. Beautiful yet deadly! At first I thought it would be total raw metal, but I found the band to be much deeper and more refined than what I expected. The songwriting is damn good and the guitars make it so much better by the layering, intricate melodic soloing, and double guitar attack. The guitar work isn't the best in metal, but they certainly do have a way of making the most of what they got. The guitar work is good though! No complaints here. The riffs were very creative and melodic to the core, even over heavy as hell rhythms. Vocalist Johann Hegg is a towering Viking-looking dude who loves his fans bigtime, you can tell. Heck, the whole band was super cool. Mr Hegg has a growly, yet powerful death metal vocal style that wasn't really to my liking very much. But then again I've always been a fan of the more melodic vocal styles like Halford, Dio and Dickinson. But as far as death metal goes, Mr Hegg was on the money and if you like that kind of vocal style, you can't go wrong with Johan's growls. His vocals were very tight with the band. The drummer Frederik Andersson was a beast on the skins, but he didn't seem to hit as hard as other drummers in metal. He was dead on as far as tightness goes! Every band member was rockin' though, and looked like they should be elves in "Lord Of The Rings." The double guitar attack of Johan Soderberg and Olavi Mikkonen was impressive, even though they didn't need to show off like a lot of other metal bands do by shredding at 900 miles an hour with no feeling whatsoever in the riffs. No, these guys take their time and do stuff right, with feeling and emotion, which is exactly what I like! Metal and emotion do mix, and these cool fellas prove it 100%!
What a pleasure it was seeing different music like this in our small town. We don't get cool music like this very often. The band played a crazy show because there was no opening band at all, and they played two complete sets!
I loved this concept, and wish more bands would do this as well. There was no being forced to endure a crappy opening band you did not want to see. Amon Amarth played a whole album, Surtur Rising, in entirety, then took a long break and came back and pummeled us with another whole set of classics from throughout their career. The band's second set consisted of "Twilight Of The Thundergod," "Runes To My Memory," "Guardians Of Asgaard," "Embrace Of The Endless Ocean" – which was dedicated to all those lost at sea – "Death In Fire," "Cry Of The Blackbirds" and ended with "Valhalla Awaits Me" and "The Pursuit Of Vikings."
Judas Priest Farewell Tour coming to Cincinnati November 8th w/ Thin Lizzy and Black Label Society:
Okay, fans of metal, this might be your last chance to see one of the greats of metal history perform. Judas Priest has been rocking for decades and they are about to call it quits, touring wise. If you have never seen Judas Priest, please take my advice and see the band that pretty much invented true heavy metal and its patented double guitar attack, before it is too late. The members of Judas Priest have forgotten more than most bands know about metal. Guitarist K.K. Downing will not be with the band on this tour, as he has already retired, but his replacement is supposed to be pretty awesome, so we'll see. Replacing the whammy-bar king K.K. would be a hard job for anyone, no matter how good they are. Of course I'm partial to K.K., as I grew up with pictures of Glen and K.K. on my wall. Yes, I can proudly say that Judas Priest is my all-time favorite band, and a band that will blow you away live. I saw them several times, even as early at 1979! I was ten and my dad took me! Is that a cool dad or what?
I'll see if I can get you some free tickets for this for our popular giveaways. Stay tuned for more info on this killer show at U.S Bank Arena in Cincinnati on November 8.
Stone Temple Pilots, up close and personal:
Yup, that's right!!! The Stone Temple Pilots at Iroquois Amphitheater on Wednesday, September 14! At first I thought someone was pulling my leg because it's such a small venue for such a big act, but it is true, thanks to Louisville promoters Production Simple! Now you Louisvillians have the chance to see a truly great band in an intimate location, right here in your back yard! I am looking forward to seeing the new renovations that the amphitheater has undergone. I've seen STP a few times the last few years and they have made me a fan for sure. To be honest, I really didn't like them all that much before, until I saw them live. It's a special thing.
Tickets are around the $55 area, I've heard, and they will go fast, so if you do not want to miss this wicked show, then you should act NOW!!!
Trust me on this. This will sell out fast!!!!
Popkiss Chainsaw, Pucker Up:
The Louevil hard rock band Popkiss Chainsaw just finished a full-length CD entitled Pucker Up. The artwork and CD packaging looks very cool. They weren't messing around with any sub-par looking cover. It's a silhouette of a hot, naked babe holding a chainsaw's blade right up to her mouth as if to kiss it. I like the purple background, too. I'm listening to the open track "Hellbilly" and, boy, does it sound, um, Kentucky-ish! Cool bluesy intro. Dirt-kickin', swamp boy boogie is what this first track is! Kentucky all the way baby! Dirty and raunchy, yet it's uptempo. This one might be a little tooooo redneck for me, though. The acoustic hillbilly guitar sound is sweet! A fun, energetic track, though for sure! Makes me think of that scene in "Deliverance." The second track, "Diluted," is much more to my liking, slower and more melodic, especially the guitar parts. I dig the clean guitar parts with the effects. The breakdown in the middle is pretty good vocally and musically. Very creative. It's a slow groovin' song with a decent chorus. And yes, "Billy Jean" is the Michael Jackson song that Popkiss covers on this CD. I like this version! It rocks pretty darn good! Vocalist Brian Goodman shines well on this one. The best so far! He reminds me of a Seven Mary Three gruffy, gritty, type vocalist who instead plays raunchy hard rock! He does write some good lyrics and melodies that are pretty original. I can't think of anyone who sounds like him around here. I do miss the high pitched heeeeee heeeeeees that Michael does in "Billy Jean" though! Popkiss left it out. I want my fargin heeeee heeeeeees! Other than no heeee heeeees, this song Popkissed is cool! The best on the CD. Michael would have been proud!
"Stepping Stone" is a hard rockin tune to be sure, and maybe the catchiest song so far. It reminds me of some of the new Guns N Roses, which I like. The chorus has some cool uptempo guitar riffs that are hooky. "The Dash" is an acoustic ballad with a heavier chorus. Nice acoustic sound on this song!" It sounds much better than the acoustic sound on my new CD!
"Fallen Again" is a metal song that reminds me of some Disturbed or something. Nice use of guitar harmonics! Decent musicianship all around. One complaint is that I do wish there was more lead guitar in Popkiss' music. These rhythms are perfect for some killer solos. It would bring out the music much better, I think. Popkiss Chainsaw likes to keep it short and sweet though, and it works for them. The quality of the recording isn't bad, but it doesn't really stand out as great. The vocal effects could have used some tweaking to enhance the mood some. I don't care for the type of effects used on Brian's voice. A delay here or there and a nice thick reverb plate would have been nice. These guys have gone in a totally different path from what their last band was. and it's working for them, so I salute them for going for what they believe in, and for putting out a solid effort of good music. Playing some ball-busting hard rock that gets the blood pumping! So break out yer cowboy hats and boots and be sure to see Popkiss Chainsaw Friday September 2 at Phoenix Hill Tavern! And buy their CD!
16 Bones w/ Bryan Fox Sneak Preview Of CD Release On September 24:
I'm checking out some new 16 Bones and it's only a preview of what's to come September 24 at Phoenix Hill Tavern, when they release their new full length CD Choke. 16 Bones has some killer acoustic rock going on, and this new tune called "Behold The R" is no different. Acoustic guitar strumming and mandolins flow through the melancholic dark and low vocals of David "Sailor" Bryant. Kind of reminds me of a modern day, suicidal Johnny Cash, but more serious and depressed. However, my female friend is nagging to me to tell you folks that she thinks he sounds like Alice In Chains' late singer Layne Staley on the Jar of Flies CD. Hmm, maybe!
Hey, either fargin way it's good! David isn't alone on this number though, Louevil musician Bryan Fox accompanied him on the guitars, mandolin, tambourine and backing vocals. Bryan also recorded the song at his house. Not bad, Bryan! Sailor played the lead rhythm guitars and writes/sings the lead vocals. Sailor always writes decent lyrics, too. There is some lovely pickin' and a'grinnin' going on here. Good job, guys! mandolins sound cool. (I always wanted to learn banjo or mandolin!) I didn't even know Bryan played one. Sailor's vocals are very good, especially towards the end when he sounds really Southern and reminiscent of a laid-back Pantera or some good ole Corrosion Of Conformity. Whatever it was, it sounded like it was powerful and came from the heart, and that's what 16 Bones is about. That is why I booked them to play RFK7 on November 18th! Not only do they rock, but the truth is that these guys always offer to help the Kosair Kids for Christmas. I don't even have to really ask them, it's a foregone conclusion! Be sure to attend these guys CD Release Bash (Bryan Fox will be playing with them!), and I'll see you there because my band Year Of The Gun is on the bill as well. Thanks for the show offer, Sailor. We can't wait to rock out.
Shatterstone Breaks Up:
This sucks. This is my favorite Louevil original band, and not only that, they are cool guys and easy to work with as well. Those SOBs could really make me laugh. I don't think these guys could be stuck up if they tried. Their drummer, Mitch Kirkpatrick, is leaving for The Musicians Institute in Hollywood, so the band is on hiatus for now. That and general frustration at the scene and what it has become (I'm right there with you, guys!). But I'm not giving up on them just yet, I've sent three great drummers their way, so you never know. I also asked them to play my Rock For Kosair 7 Benefit, even if its only an acoustic, unplugged performance. They accepted! So you can see Shatterstone at least one more time on November 18 at PHT. I made them do it!
Their defining moment/crack at me, was the South Park character they made of me on video of me and Mudd at their big Phoenix Hill CD Release Show last winter. It was just like Cartman, but with a ridiculous long heavy metal wig! Fargin hilarious.
The Centerfold Era is here:
There is a new sheriff in town partner, and his name is Centerfold. A new five-piece in town that has come out of nowhere and is instantly doing well. Their first show at Phoenix Hill was pretty much packed on a Wednesday! A great crowd I hear. The music is awesome. I'm listening to "Decency" and I'm very impressed with this music. I love the lead guitar work, and I like the vocals a lot. This music could do well on the radio, I bet! I'm already addicted to this riff after only a few minutes. That is the goal these guys have, and I think they have a darn good shot at it. Formed in April of 2011, Centerfold is a band of five musicians from Louisville, including vocalist John Hager, guitarists Bobby Naelitz and Rich Brown and a rhythm section consisting of bassist Jack Morley, and drummer Corey Sturgill. The band aims to make their mark in a big way, and they certainly are off to a good start. They might be on the RFK7 show. I sure hope they don't follow other bands that have gotten huge egos before their time. I have seen it ruin bands. With all the top bands breaking up recently, we need a great band that is both a role model for youths, and yet can still remain humble. These guys could be it.
Check them out at http://www.facebook.com/CenterfoldMusic?sk=info#!/CenterfoldMusic?sk=app_2405167945
Pat Quinney's New Dealio:
Pat is coming back. Word is that Thomas Medicine's Pat Quinney is forming a new band and things are progressing quickly and nicely! It's an all-new dealio according to Pat, but they will do a few Thomas Medicine tunes. Pat sounded pretty happy about it. So far it's Pat Quinney, Juan Chavolla, Matt Quinney, Andy Paul, Matt Quinney, Andy Paul, Billy Dale and Chris Matthews. Sounds like a great lineup.
I've asked them to play RFK7 if they can be ready by then, so stay tuned for more info next month!
Upcoming Shows
Expo 5
Monday, September 19 – Down w/ In Solitude and Ponykiller. Louisville artists on the second stage include: Stonecutters, Krosjoint, Lucid Grey and Factory Damage. 7 p.m. $20. Get your tickets from me people, I'll deliver! 502-367-2080
Wednesday, September 21 – Bass Nectar w/ DJ Laura. 8 p.m. $29
Tuesday, October 11 – We Came As Romans w/ Miss May I, Of Mice And Men, Texas In July and Close To Home. 6:30 p.m. $15
Iroquois Amphitheatre
September 14 - Stone Temple Pilots. 7 p.m.
The Levee (In Jeffersonville IND)
Saturday, September 3 – Toga Party!!! w/ Under Red Skies and Overload. 8 p.m.
Phoenix Hill Tavern
Friday, September 2 – Original Rock Showcase Series: E-Flat, Shyaway, Krosjoint, Popkiss Chainsaw and Overload. Free before 9 p.m.. $5 after
Friday, September 16 – Bizkit's Red vs Blue with 2 Pump Chump, Yunghomie, Fall Of Dusk, Succumb To Demise, Mixed Magic and Frances and the Fever. 9 p.m. $10
Thursday, September 22 – Eye Empire. 8 p.m.
Saturday, September 24 – The 16 Bones CD Release Bash w/ Year Of The Gun, Dressed In Electric and The Smoking Gorillas. 9 p.m.
Tuesday, September 27 – Opeth and Katatonia. 8 p.m. $25
Friday, October 7 – Original Rock Showcase Series: Octalux, Lucid Grey, Overload, Broke and Bleeding and 18x-Ray. Free before 9 p.m. $5 after.
Friday, November 18 – Rock For Kosair 7. Three stages of original Louevil music! Proceeds go to buy toys for the kids at Kosair Childrens Hospital and Charities! Make plans to attend this awesome party/benefit. The kids at Kosair need your support! More info next month.
Vernon Club
Friday, September 2 – All Became New w/ Stagecoach Inferno, Johari Window, Straticus, Esoteric Burial, Pazuzu and Demise Of The King. 7 p.m. $5
Friday, September 9 – MC Chris w/ MC Lars, Mega Ran, Adam Warrock. 8 p.m. $12
Props of the Month
This month goes out to band manager Frank Karaglanis. This guy, who has recently had his reputation smeared a little by people/a band he used to support 100%, is a good guy who has helped the scene and has never demanded anything in return for it.
Frank has always been easy to work with, and humble, which is much more than I can say of the band in question. Frank has a good ear for good bands and has introduced me to several good ones to book and feature in the newspaper. Bands I had never heard of before! Killer bands like Lucid Grey, Elephant Room, Diverbird, Octalux, 5th Omen and more.
These bands he works with are very cool people too. Not stuck up. I wish we had a few more easy going helpful people like Frank in the scene. Just sayin'.