September 2011 Articles
Cover Story
Kevin Gibson
Features
Eddie Morris
Columns
Berk Bryant
Mike Stout
Paul Moffett
Keith Clements
Martin Z. Kasdan Jr.
Eddy Metal
CD Reviews
Kevin Gibson
Kevin Gibson
Kevin Gibson
Blogs
Got Shows?
Send Them To Us
Bookmark Louisville Music News.net with these handy
social bookmarking tools:
Available RSS Feeds
- Top Picks
- Today's Music
- Editor's Blog
- Articles
Add Louisville Music News' RSS Feed to Your Yahoo!

Issue: September 2011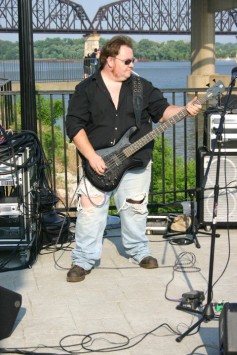 Mark Jackson
Name: Mark Jackson
Age: 28
Instrument: Bass/Vocals
Band/Former Bands: Overload, where I wouldn't be where I am without the others, I think this is where I am to stay.
How long on instrument: Well this is to be determined. I started out on guitar, however, I always wanted to play bass. So I have been playing bass for 15 years now. Vocals have always been there too, only lead vocal in the past six and always write on guitar. So I have to thank the teacher for that, RIP Ernspiker!
Equipment: Spector Legend Classic 4 stringer. On the rig, it is a special sauce that only I know how to dial in and have made it that way. As for a name of it, I like to call it "The Bastard " model 1. On the floor, I use a DOD Compressor, a Dunlop Guitar Wah, and a ModTone Speedbox.
Influences : for bass: Ian Frasier Kilmister (obviously), Geddy Lee, Gene Simmons, Jason Newstead. For Vocals: James Hetfield, Ian Frasier Kilmister, Gene Simmons, Derrick St. Holmes, Ted Nugent, Conway Twitty, Kenny Rogers and my mom.
My first gig : Many of the gigs I have a tenure to play are really messed up. This one was no different. I had a week to learn eight songs and some vocal backup and harmonies, and luckily enough the music that was written wasn't hard, so it went off without a hitch and still no one was there.
Hobbies: I like to cook, I like watching movies, I like going to the movie theater when I can afford it in this economy. Other than that, I like to try new restaurants and see bands and go dirt track racing, from three days after birth!
Favorite movies: I am a Star Wars nerd; I have a vast knowledge on the Who series and Expanded Universe. Although, I like pretty much all movies, I can handle me some chick flicks, too.
Favorite food : Wow, I like a lot, but I would have to say Italian.
Favorite place: Hmmm.... I don't really know if I can say that here, but if it were a location on a map and not anatomy, I would have to say either the fossil beds at the Falls of the Ohio, or The Highlands, I love driving through Cherokee Park and out through Lexington Rd.
Bad habits: I smoke, swear and DGAF.
What I'm listening to nowadays: Well, the usual suspects keep floating in the CD Player, yes, CD Player, not iPod or ibook or iDea. Which is, Ozzy, Nugent, Motorhead, Rush, Metallica and some newer stuff as well, like AX7, I really don't listen to a lot of new music, because, on the radio in this town .. let's just say we need a new station, which is why the "oldies " keep hitting the CD player.
Coolest thing I've done : Well, I would like to say met Fred Durst, but that dude is a douche bag and I can't be proud of that fact, but as it were, sharing the stage with Exodus last September was killer, Playing awesome halls like Headliners is up there, and just being able to play show after show and drop album for the fans out there, they are the ones that make this rewarding and make it cool for me.
Most embarrassing moment: Well, the countless times I have torn pants on stage, the weird haircuts, I think the most was looking at a non-existent watch on my wrist and being sincere about wondering how long the horrible rendition of a song was going to go on. And that is caught on video...
Who do you love: Love is a strong word that gets thrown around too easy. I love Danielle, and ALWAYS will (11/27/10 RIP baby girl), and I love my family and extended family, as it were, Donnie Cranmer and Jacob Smith, the other two members of Overload, and most of all I love the fans, because without them I am nothing.
When/where did you first get some: The first time that I got it, I was just ten years old. Got it from some Kitty next door. Sorry bro, I promise never to kiss and tell.