February 2011 Articles
Cover Story
Hunter Embry
Features
Eddy Metal
Columns
Berk Bryant
Mike Stout
Paul Moffett
Keith Clements
Martin Z. Kasdan Jr.
Eddy Metal
CD Reviews
Kevin Gibson
Kirk Kiefer
Blogs
Got Shows?
Send Them To Us
Bookmark Louisville Music News.net with these handy
social bookmarking tools:
Available RSS Feeds
- Top Picks
- Today's Music
- Editor's Blog
- Articles
Add Louisville Music News' RSS Feed to Your Yahoo!

Issue: February 2011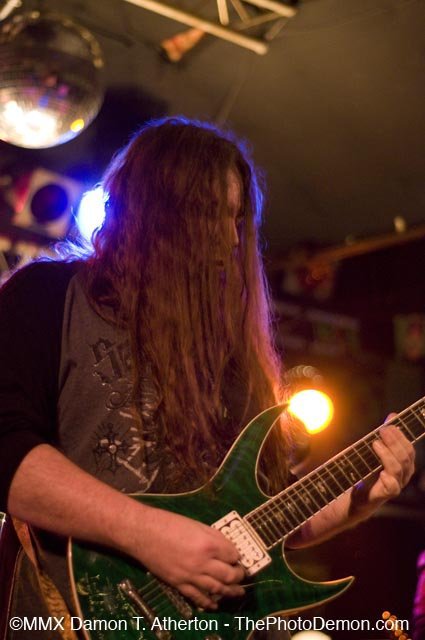 News From the Pit
Winter Is Lame!
This time of year is always dead as a doornail. Dreary old February!
I hate the cold, so going out in this freezing nonsense would only be the result of some pretty cool events, or maybe skiing! There are a few cool events coming up, though, so I might have to take my lazy butt out for a show or two. Rush at the Yum Center is going to be wicked! I hope I get to go.
UFC is coming to town. Yay. Hellyeah/All That Remains at Expo 5 is one I really want to see. Both In This Moment and Death Angel will be at The Phoenix Hill Tavern in February. I've noticed that the Hill is booking more brutal metal bands there than ever. That is awesome! It's such a cool venue, and to have the brutal stuff there as well makes it even better! Believe it or not, I remember when Anthrax played Phoenix Hill 20 years ago! Yes. Anthrax at the Phoenix Hill! This months column should be a little shorter because there isn't too much going on. I think people kinda go into hibernation during these cold months. It's like this every year in the scene, as far back as I can remember.
I friggin hate football, so there's nothing to do but play guitar and fornicate.
I'm really stoked about playing out for the first time with my new band Krosjoint! Actually playing some metal again, with dudes that rock! I've missed playing the heavy stuff, so it's almost time to let loose. I hope to see you all at our debut on Friday, March 4 at Phoenix Hill. Louisville metal veterans Faceplant (Remember them? They played out a lot during the late Nineties in Louisville and were a big part of the metal scene here) will be on that bill as well. A reunion show! Talk about a heavy brutal sound! You young metal bands need to come to this show to see the louevil old-schoolers in action once again. Louevil metal bands/musicians from Louevil's metal 'golden age' that once wreaked havoc upon our river city.
Shatterstone is doing well these days and has just put out a new CD. I'm glad these guys are finally getting the respect they deserve. I've said from the beginning that I think they are one of the best in town, and it's good that people are finally catching on to their hard work. (If at first you don't succeed, try try again!) Their CD release show is in a few days (Thomas Medicine and Trust Divided are playing, too!) and my hard rock band is also on the bill as well. I'm stoked. It's an honor to jam with such talented bands.
The scene may have been whittled back a bit, but there are still a multitude of bands and great talent in our hamlet. Yeah, the economy and some other factors have badly hurt our scene, but these bands are still here and will help rebuild the fire that is our musical lifeblood. I've made a list, a veritable Who's Who of bands who are current and relevant in the Louisville music scene. I may have forgotten a few bands, but here's who's my list: Shatterstone, BoneJinn, Factor 9, Some Kind Of Saint, Ugly, Thomas Medicine, The Zoo Kings, Shyaway, Year Of The Gun, E-Flat, Trust Divided, Ohlm, Rockaway Drive, Lost In Eden, Boozer, Faceplant, Stall Point, Broke And Bleeding, Descention, Stroker, Lucid Grey, The Revenants, 16 Bones, The Delicate, Nailgun Strategy, Poetry Of The Dead, Clowncar, Bush League, Old Vikings, Shines Negative, Grave flower, Sever This Illusion, Popkiss Chainsaw, 10TonHypeMachine, Krosjoint, Stonecutters, Seclusion, Project Sovereign, Heatherfield, 5th Omen, 2 Pump Chump, Ashes Eve and Mama Thai, plus others.
We have a whole year ahead of us. So let's all ditch the egos, insecurities, rock-star attitudes and just try to get along and help each other a little bit more than usual. The slightest effort from each of us can make a difference.
I promise to do my part in making this happen, but you have to work with me on this. Everybody try to work together. There's not much love in the scene these days. It's a dog-eat-dog scenario, and something has to be done about it if we want to regain the momentum we had as a scene a few years back. Just sayin'.
The Metal Grapevine
WIN Tickets to RUSH:
I told you peeps they would! The good people at LiveNation have agreed to hook you freaks up with some free tickets! LiveNation has been nothingbut awesome.
April 5 at Yum Center will be a very memorable night, when rock legends Rush will be doing their Moving Pictures CD in it's entirety, plus a few other tunes, I'm sure.
I recently saw Rush performing on TV, and boy did they sound great! If the Yum Center's sound system sounds anything like what I heard on TV, then you folks are in for a real musical treat. Musicians might want to bring a bunch of tissues to wipe away the drool from seeing legendary progressive music icons live, in action on such a new stage/venue/sound system. This shall be the breaking-in period for The Yum Center and who better to christen this beeyatch, than Geddy Lee, Alex Lifeson and Neil 'Fargin' Pert?
Talk about Baptism By Fire!?
I'm anxious to see the place and what the future holds for it. Who knows if Rush will be around in a year or two, so if I were you, I'd bite the bullet and get the tickets before it's too late.
I predict fans from quite far away will be converging upon Yum Center in anticipation for this rare event, so do not think they'll have tickets at the last minute!
For a chance to win tickets to Rush, email me at EDDYMETAL1@aol.com on Sunday, March 27 at 9 p.m. sharp. Closest one to 9p.m. wins!
In subject line put"Show Of The Year!"And don't forget who hooks you people up: Louisville Music News, LiveNation and Eddy Metal.
WIN Tickets to BuckCherry/All That Remains/Hellyeah:
These bands friggin rock. I love ATR and Hellyeah (featuring members of Mudvayne and Pantera), so I'm psyched about this show! I've never seen BuckCherry before, so that's kinda cool too. The date is Wednesday February 9 at Expo 5. Winter sucks, so this should be a perfect little excuse to get us out of the house for even a few hours. I expect to see all you rockers at this one. Let's make this one big winter get-out-of-the-house party.
I love Expo 5. The guys who run the place are super cool, and they have done a lot to make it better for you, so show your support to the fellas who thought of YOU, the Louevil rock/metal fan, by going to this show! For a chance to win free tickets to this monster of a show, email me at EDDYMETAL1@aol.com on Sunday, February 6 at exactly 9 p.m. Closest one to 9 p.m. wins! In subject line, put "Hellyeah, All That Cherry Remains!" Props to Terry Harper for hooking you people up with these free tickets!!!
Heaven Hill's "State Of The Union" Song Review:
This song has a very nice Southern groove. Pretty good songwriting too. I'm digging the guitar work by Kris Kerr. It's almost got an "oh, brother" folksy sound (which is awesome) until it kicks in to some rockin' hooky stuff. This is so much better than "Going Down", the other song that was on the radio for a while here in town. This song has their own stamp on it, times ten! One problem the other single had was that the guitar riff just sounded way too much like "I'm Broken" by Pantera. It killed it for me on that song.
This new stuff is good ole fashioned down-home Kentucky rock. The chorus in this tune is nice and much more memorable than previous efforts. Good job! A very good quality recording, too, which must have cost a pretty penny! I don't know whats up with HH, as they haven't been very active in our scene the last nine months or so, so we'll see what happens. Theyhave been getting a few out-of-town shows recently, which isn't a bad thing. I wouldn't mind hitting the road for a few shows myself.
I'd like to hear the whole CD, but nobody has sent me one (hint hint)! Now I'm all sad and neglected. Jokes aside, sounds great. I wanna hear some mo'.
Rockstar Energy Drink Mayhem Festival announces 2011 lineup:
Mark your calendars, freaks! The 4th Annual Rockstar/LiveNation Mayhem Festival 2011 lineup will be; Megadeth, Disturbed, Godsmack, Trivium, Machine Head, In Flames, Suicide Silence, Unearth, Kingdom Of Sorrow, Red Fang, All Shall Perish and Straight Line Stitch (from TN). The potential dates you could see are July 20 at Riverbend in Cincinnati, or August 7 in Indy at Verizon Wireless Music Center. I just got this news in from the promoters, so I thought I would let you know what's up immediately. This lineup is a great mix of new metal and older metal. Heavier brutal metal like Suicide Silence and Megadeth, mixed with radio friendly metal like Godsmack and Disturbed.
Variety is always a good thing in music. I saw Godsmack at Riverbend last year and it was an amazing show. Don't judge Godsmack by their radio songs; Godsmack's performance is far better/deeper/trippier than the stuff you hear on the radio, and the double drum solo is not to be missed. Neither is the double guitar attack of Megadeth's Dave Mustaine and Chris Broderick. That is a guitar lovers/shredders delight. So make plans now! I'm giving you plenty of notice.
I'll get you folks some free tickets to this event, so stay tuned! And don't forget where you heard this from first! LMN and Eddy Metal.
Shatterstone, Louevil's Best Band?
Well, after seeing Southern Indiana melodic hard rockers Shatterstone at their CD Release bash a week or so ago, I have to say I think they move up to the number one spot as far as Louevil bands go.
Shatterstone had the Phoenix Hill packed for this Lively Productions event. The band brought in many extra lights and equipment for this show, and it looked killer in there. Those guys in Shatterstone are a trip. They are funny and love to cut up and act a fool, but that never takes away from the talent that these guys show whenever they perform. I've always gotten along with these guys in a world where rampant egos and stuck-up musicians are unfortunately at the forefront of our beloved scene. Thank god Shatterstone has never acted like some of the bigger bands have. No, Shatterstone has worked their way up from nobody knowing who the farg they are, to one of the top bands in town, if not 'the' top band! Other top band's inactivity, crappy attitudes, and reluctance to participate with us other lowly bands/promoters has forced me to reevaluate the top dawgs in this scene. As far as talent and overall attitude, Shatterstone's time has come. I'm very glad to be able to say this. The powerful vocals and melodic guitar leads of Ricky Payne, the thunderous bass of Rob Payne, the insane drumming of underage drummer Mitch Kirkpatrick...yeah, it's pretty hard to beat that combo.
Together, they are super tight as a band. Shatterstone had a big surprise for the crowd and Mudd and me that night. They had a movie made with me and Mudd from 93.1 the Fox in it, in cartoon form, introducing them! Mudd's head was pasted on a cartoon crackhead's body, a la South Park, which was funny as heck looking, THEN a cartoon version of me walked in the picture! It was awesome! It had my head, of course with my long hair, pasted on Cartman's (South Park) body.
I was short, fat and with a big pumpkin head! I was dying it was so funny. To add to the goofiness, Rob Payne added the brilliantly goofy voice-overs for me and Mudd, so we sounded really retarded.
The band totally rocked the hill playing all their popular songs and even busted out a new cover, "When the Levee Breaks," by Led Zeppelin, which sounded good with the slide guitar wailing and all. This is what a CD Release should be all about. What a good night for these guys. I do wish they would bring back the song "Nothings R" though (hint hint). I like that tune!
The other bands on the bill were Trust Divided (another band who is moving up the ladder), Thomas Medicine (wow this is one different sounding band! Pat Quinney's voice could cut through steel if he wanted it to I bet. Kind of like Superman's laser vision.) didn't have the best sound that night, maybe because there were so many things going on onstage with so many people. The sound guy was probably ready to murder someone. I think there were like eight people onstage jamming. Chad Omen's bass tone/playing really impressed me, though. Killer sound from his equipment. He has gotten darn good as a jazz/funk player these last few years.
New lighter rock band Sub-Urban Situation sounded very good. I'll have to book them sometime soon. Brent James and the Contraband were good, but not really my style. My band Year Of The Gun (added at the last minute) closed out the night with a decent set, playing to the ashtrays. Oh well, you win some, you lose some!
Regardless, it was a fun time playing with so many good bands, and people I actually enjoy being around.
So congrats to Shatterstone and Jeanette Lively for a very cool Louevil music event.
See next month's issue for the CD Review!
Lexington's Lucid Grey, New CD Review:
I really like this band from Lexington. I'm checking out their new CD,Eucatastrophe, and it's very impressive. They played my show a few months back and I really enjoyed their set. This ethereal, hard rock band has a great sound, musicianship and songwriting skills. Good vocals and a great groove make Lucid Grey a Central Kentucky current favorite for me. Two of the guys do live in Louisville, though! The vocals of a guy who calls himself Mr. C remind me of Tool. The guy totally rocks, though, and mixes things up nicely. Dude has the goods. Range, power, the highs, the lows, and a helluva singing voice. Imagine Maynard with more balls! That would be Mr. C. The musicianship in Lucid Grey is off the charts. I could tell that right away. The duo guitars of Blue and Jmac work well, and these guys have a connection when they play. It comes across in the music. Great sound quality recording, too. "Free" starts off with a great laid-back sound, acoustics, orchestral instruments and some gong too. Wow, this sounds amazing! These guys got it going on.Killer background vocals too. Man, I need to book these guys back soon!
"Eucatastrophe" is the CD's title track. It starts off slow and doesn't impress at first, but then comes in rocking with some lovely choruses. Cool tempo changes, too. I love when bands break it down with slower beats. This song reminds me of the before-their-time, Nineties band Ultraspank.
Ultraspank rocked, so that is a major compliment. This song has a lot of elements, but I wouldn't call it metal or straight out hard rock. It's a lot more thought-provoking, and layered. There is a lot of stuff going on in Lucid Grey's music. The producer was excellent on this CD.
I like how "Out Of Focus" starts. Melodic, entrancing, mellow intro riffing, and then "Pow!", a fist to the piehole. Leaves quite an impression on those listening. Great groove. Smooth as silk.
This one kinda has a FFDP type sound, with the intro riffing sticking around the sound a little bit even over the heavy parts. I love that style of songwriting. A nice breakdown again, ending with pure power and the background riffing adding melody. Excellent. These guys need to play Louevil more often and will if I have anything to say about it. "The treatment" starts off a bit happy sounding. A Kentucky acoustic vintage folk vibe permeates this guitar tone in a way I find most appealing. What the hell is that? Some weird guitar like a Dobro or something folksy? A banjo? That doesn't sound like a normal acoustic. I'm a city slicker, so I'm perplexed. Whatever it is sounds killer. This song is way cool.
The guys don't write short simple songs like most of us. They make each song a journey or story that has many chapters to it. Lucid Grey is like a box of chocolates. You never know what you are going to get, but you are pretty sure it will be good when all is said and done.
You want to hear a great newer band? Lucid Grey is a band to check out! Yes, they sound quite a bit like Tool at times, but there is no denying the musicianship/skills on this original music CD.
I am very impressed with these Lexington rockers. Myspace.com/lucidgreymusic
Overthrone, Demo Review:
Wow, this new four-song demo rocks! These newer Louevil thrashers have some nice chops! The Testament cover, "Disciples Of The Watch," sounds killer. If this had better recording quality, look out, because this is slammin'! Great riffing/guitar tone on this classic metal cover. The recording just sounds thin and tinny, though. Too much treble/compression for my liking.
Jack Massacre's bass and the bass tone is pumping on this tune. I've seen him play in Sonic Epitaph, and the guy can play.
"Shadow" is a chuggy, Megadeth-sounding endeavor. Wow. Nice vocals! I really am digging the mixture of the low and high vocals mixed together in perfect fashion. The lyrics of this song are good and the vocals are memorable. A lot of the times in unsigned music, the vocals are sub par. Not with these guys, though.
"Prepare For War" is sooooo old-school, it's way cool. Ryan Preston's vocals are entertaining and through all that is metal. The guy likes to mix it up when they shred. It's Metal Church meets Helloween meets Judas Priest! Vocal notes that sound like a guy with his scrotum caught in a mouse trap, which is more than fine by me! I was always partial to vocalists like Rob Halford, Bruce Dickinson, Kai Hansen, Warrel Dane. Seriously? Can you hit a note like that? It's a lot more difficult than you might think!
Overthrone is early Eighties power melodic metal to the max. It's amazing to me that today's younger metalheads love the old-school obscure metal so much. I'm glad.
The solo in this is rippin! Guitarist Ryan Preston and Greg Zollman wail. Nicely mixed solos, with effects too! Finally! Someone who knows how to enhance a lead properly. Wicked, high-pitched total old-school vocals, scorching leads, good songwriting, strong musicianship. The only thing I see holding these guys back is this recordings sub-par sound quality. I am looking forward to hearing these guys play soon. They have been having drummer troubles, so hopefully they will land a new drummer soon.
I'd like to add them to the March 4 metal show at PHT. With this music's quality, I don't imagine it would be too hard finding someone interested, but more of a question of; if any mofo can keep up with these young metal speedsters?
Ear X-Tacy 'After Dark' Showcase Coming:
Starting on Saturday, February 5, ear X-Tacy is going to have original metal/hardcore/punk/rock concerts there on a regular basis, after hours! The first one is title "Vaderbomb VS Blackgod" and will be happening from 8 p.m. to 10 p.m. This could become a popular showcase and a welcome addition to the Louevil Music Scene. I just hope whoever books the shows is fair, knows what they are doing and believes in teamwork and mixing things up a bit. Be sure to drop by the first show! I hear these bands are crazy! All you young folk: you wanted an all ages venue? You got it.But behave! This could be great, so don't ruin it for the rest of us by acting like idiots/punks. Respect the venue and its decision to entertain you on a regular basis. BTW, great job to whoever thought of this! It's this kind of creative thinking and go-getter motivation that gives us a fatter scene.
Robert Plant coming to The Palace:
On Friday, April 8 a friggin legend will be in town: Led Zeppelin's Robert Plant will be performing with his band, The Band Of Joy, at Louisville Palace.
Plant is truly a vocal icon and a one- of-a-kind artist. While I've never been a serious Zeppelin fan like all those hippies I grew up with, I still respected Robert's voice and the melodies he created. His music will live on forever and now is your chance to catch him in action! That is something you don't want to miss, I'm thinking, especially at a sweet venue like Louisville Palace. Will Robert still be able to hit those super-high notes still? Will he have the stamina to recreate the old tunes to perfection?
Will Robert's band be able to pull off some old Zeppelin songs? Find out in April.
Get your tickets now as this will probably sell out. I'll try to get you buttnuggets some free tickets!
UFC Coming to Louevil:
I never in my wildest dreams dreamed that the UFC would one day come to my hometown. Now it's happening! Thursday, March 3 at The Yum Center! I have been a UFC fan since the very first PPV in 1994 I believe. My bandmates and I ordered it for like $14.95 or something, and we watched awestruck as a new era began. We watched a sumo wrestler's tooth get kicked out of his head by a Karate expert. Cool.
Beer, good smoke and teeth flying everywhere. Sign us up! We told everyone and their mother about what we saw, and they passed it on to friends who in turn passed it on, and so forth. Little did we know at the time that we were seeing history being made. We Louisvillians have a brand new venue that calls for some bloodletting! So let the gladiatorial combat begin!
I am a fargin authority on MMA! I know of all the greats. Sakuraba, Masa Funaki, Frank Shamrock, Royce Gracie, Bas Rutten, Randy Couture, Wanderlei Silva, Takanori Gomi, Minatauro Nogueira, Mario Sperry, Emelianenko Fedor, etc..
I know my stuff. At least I did, until the last few years, when fightcards/main events started to get kinda weak, and the PPV price too high. I really want to go to this, I hope the UFC people aren't A-holes like they were when I tried to cover one of their shows in Indy. They acted like I wasn't qualified, or that no one in our rock scene was interested in MMA. I've covered MMA events before at Horseshoe Casino, and everyone knows that rockers absolutely love MMA!
They go hand in hand, for gods sake, so hopefully these people will come to their senses and support those who have supported them for seventeen years and, most importantly, those who arestill willing to support them despite being treated poorly the first time.
Regardless, you should support this event, because you never know what other cool events we could get in Louevil if this works out well. I'm willing to forgive and forget. Hopefully they will do the right thing this time.
Sepultura and Nevermore in May:
Get ready for a serious metal attack in May, folks.
Brazilian metal legends Sepultura, and Seattle progressive thrashers Nevermore will be at Expo 5 in May with a slew of super-heavy bands in tow. This sounds like one killer concert. If you haven't seen Nevermore, make sure you see this second performance in Louisville, ever! And I haven't seen Sepultura since Max Cavalera left. The new singer jams pretty good, too, so it will be worth going to. Thanks for bringing great music to Louevil, Terry Harper.
I'm sure Terry will give you peeps some free tickets to win. I'll keep you posted.
New Band Alert, Clowncar:
So far I like the music. "Insane" is kind of trippy with the clean guitar and delay muted picking. Sounds cool. This is a rock band with some lighter influences that comes across in the playing. Female frontwoman Suzi Hagan can sing and seems to be pretty good. You can tell she is influenced by Evanescence and Lacuna Coil.
I'm checking out their website and a few tunes on here. It's some decent music. The guitar riffs are subtle yet appealing. "Running Away" sounds like some Clutch in the beginning, and then kind of loses me when the verse kicks in. I liked the first song better. The vocals were a bit disappointing in this one. It sounds a bit rushed vocally. I made that mistake myself many years ago. I do like the beginning and end riffs, though. The song "Green" starts much better, and so far this one is my favorite. Catchy classic melody on this one and some darn good guitar riffage. A harmonica would have been sweet on this song.
Guitarist Kenny Marine sings on this one, and it sounds good. Nice guitar tone on this rockin' tune!
Suzi Hagan sounds much better on "Falling To Earth." I think her vocals are way too dry. She has a decent voice, but one that demands producing! She should get one of those T.C Helicon vocal effects foot-pedals that they have now. Those are incredible! Dry vocals just get on my nerves, especially on parts where it would sound soooo much better if they had them. They make good singers sound great!
I would like to hear this band in a good studio with a halfway decent producer/engineer. I bet the result would be dramatic!
Some layering and doubling of the vocals would have been better as well. And some background vocals, too. Clowncar has a new drummer, Cristin Edlin. "Chicken Kickn" is a instrumental that just crawls with redneck charm. If redneck had a sound, this would be it! There are even chickens in the song clucking and stuff! This would be the second band in Louevil history to employ live fowl in musical endeavors! Nineties louevil rock band Dump Gang were the first psychos to try that. This band has some talent, and a somewhat different approach/style than I'm used to seeing. I need to see some new blood, so I might just have to hit up a Clowncar show here soon! See them next on February 11 at Zazoo's!
Krosjoint to Debut on March 4:
One month to go before I get to unleash some Krosjoint upon you folks. I'm excited about the sound we have going, and I think you old-school rockers will appreciate the styles we have incorporated into the Krosjoint sound. We have some darn good talent in this band! Brian 'Buzz' Pyles (formerly with Dogwater and Rathbone) on vocals, Jeff Beaven (formerly with Dogwater and Rathbone) on drums, Eddy Metal (Year Of The Gun/13th Level) on guitar, Marcus Goldsmith (Caldera, Kentucky Deathwish) on bass guitar, Matt Roeder (Year Of The Gun/13th Level) on guitar. Think Black Sabbath/old Alice In Chains/Black Label Society/Dio/Corrosion Of Conformity/Down but with our own stamp on the music as well. And that's Krosjoint.
We have the powerful stoner groove, head kicking rhythms, but with soaring vocals.
Hope you come see me play some metal once again. Friday, March 4 at PHT.
Upcoming Shows
Cahoots
Friday, February 12 – Bush League, The Revenants, The Hookers, ZCFOS. 9 p.m. . 21+ $5
Ear X-tacy
Saturday, February 5 – Vaderbomb VS Blackgod. 8 p.m. – 10 p.m
Expo 5
Wednesday, February 9 – BuckCherry, All That Remains, Hellyeah. 7 p.m. $22.50 - $30
Thursday, March 10 – Haste The Day w/ MyChildren Mybride, The Chariot, A Plea For Purging and Through Our Perception. 6:30 p.m. $15
Golden Nugget
February 18 and 19 – Strumbeat. 9 p.m.
Headliners
Wednesday, February 2 – Finntroll, Ensiferum, Rotten Sound, Barren Earth. 7 p.m. $20 - $50
Monday, February 28 – Deicide w/ Belphegor, Blackguard, Neuraxis and Pathology. 7 p.m. $15 - $50
Phoenix Hill Tavern
Thursday, February 3 – In This Moment, Intent To Kill, Bury The Wicked, Trails, Under Red Skies. 7 p.m. . $10
Friday, February 4 – Some Kind Of Saint, 16 Bones, The Delicate, Lost In Eden and Nothing Wrong. Free before 9pm.
Thursday, February 10 – Death Angel, Bonded By Blood and Lazarus AD.
Saturday, February 12 – Strumbeat.
Friday, March 4 – Nailgun Strategy, Faceplant (Reunion), the debut of Krosjoint, Rockaway Drive, Old Vikings and others TBA. Free before 9pm.
Friday, March 4 – Taproot. $12
Uncle Pleasants
Friday, February 4 – Boondox w/ John Hood, Midnight Dizturbance, Mat-E-Mat, Xcess, Smiley and Fith. 7 p.m. . $15
Saturday, February 12 – The Word Alive w/ Scarlet Smile, Death At A Dance Party, Washington and Out and Blackbelt. 7 p.m. $10
Union Station
Saturday, February 5 – Matt and Mack unplugged.
Saturday, February 12 – Shatterstone, Lost In Eden, Poetry Of The Dead, If Walls Could Talk. 8 p.m.
Zazoo's
Friday, February 11 – Clowncar.