April 2018 Articles
Cover Story
Paul Moffett
Columns
Eddy Metal
Eddy Metal
Blogs
Got Shows?
Send Them To Us
Bookmark Louisville Music News.net with these handy
social bookmarking tools:
Available RSS Feeds
- Top Picks
- Today's Music
- Editor's Blog
- Articles
Add Louisville Music News' RSS Feed to Your Yahoo!

Issue: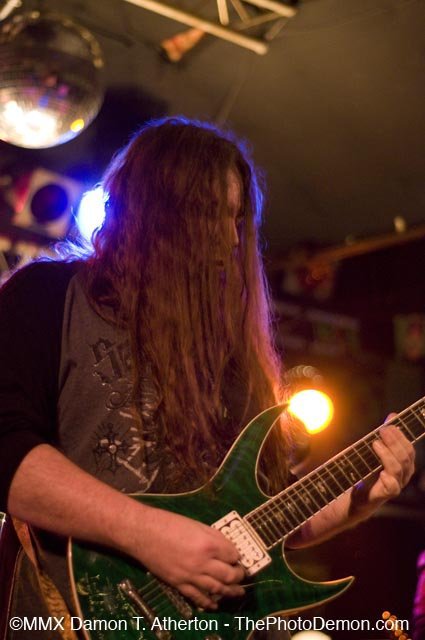 News From the Pit
First things first: I want to thank all of you people/bands who sent me nice and supportive messages about what I wrote about in last month's issue about the bigger bands in town being douchebags by not wanting to and/or supposedly too busy to participate in the Rock 4 Kosair Benefit at Phoenix Hill Tavern on Friday, November 19. It's good to know so many of you agreed with me about this, and that I wasn't out of line. With those guys help, we could have taken many more toys down to Kosair Charities, but I guess helping sick and poor kids for Christmas isn't too high on some people's list. That's okay though: Karma is a bee-yatch!
I did manage to put together a monster lineup anyway, with "cool" bands who actually care! It's a wide variety of rock for you people to enjoy. All three stages at The Hill will be original rock from Louevil.
Not only that, but we'll be giving away three guitars (from Professional Musicians Center, First Quality Music and Uncle Samm's Jamms) and also raffling off a bunch of prizes, including for the first time at RFK, a drumset (from Allen Russell at Allensdrums.com). So be sure to get there early and get your FREE numbered ticket with paid admission, while they last. Jay Mills, from Jay's Needful Things will be giving away a few super-cool Tobacco Bongs too! This is your chance to get hooked up with some very cool stuff for free, so don't miss out. I'm serious!
We start selling the tickets/giving away drawing tickets at 8 p.m. sharp! It's very important that you get there early to get a ticket for the guitar giveaways while they last.
The guitar giveaways will be around 12:20 a.m. or so, in the Saloon! Like I said last month, the kids at Kosair Children's Hospital need your help to make some kids have a better Christmas, especially with this doody economy. So please come support the cause, no matter who is playing, so we bands can take several truckloads of toys to Kosair.
I figure Kosair has helped this city so much (so many folks told me they had a child that Kosair helped), that we owe it to them to knock this one out of the ballpark, especially during Christmas time, when they need it the most. That's why I'm calling upon all of you to do the right thing for the Kosair Kids this year. I look forward to seeing all of you on Friday, November 19 at Phoenix Hill Tavern EARLY! Mudd from 93.1 the Fox will be there to help with the show as always.
Here is the lineup for the show. I hope you like it:
THE ZOO KINGS (the runner up in the "Open For KISS" contest) and a band that puts on a true high energy rock 'n' roll show!); the return of UGLY (featuring louevil rock veterans guitar wizard Kevin McCreery and bass master Frank Green); the long-awaited FACTOR 9 (reunion); the return of BONEJINN; Indie emo-ish rockers NOVA RED; the very talented AUTUMN CANVAS; Year Of The Gun; SNOTOZZY and The Crazy Babies (an amazing Ozzy Tribute band with members who are only 13 and 15 years old! Yet they can play Randy Rhodes riffs with ease! You gotta see this! Your jaws will hit the floor!!); SOME KIND OF SAINT (returning after a three-month layoff due to injury); popular hard rock funksters BURNING BABYLON; the acoustic wickedness of 16 BONES; 'our nation's finest' rockers TRUST DIVIDED; the exquisite HEATHERFIELD and foul-mouthed hooligans E-FLAT.
I've been super busy lately, working in a wicked new drummer for Year Of The Gun, jamming with 13th Level for our hardcore reunion show and attending wicked concerts like Black Label Society/Clutch, Slayer/Megadeth, Nevermore and Godsmack/FFDP/Drowning Pool. Be sure to check out the reviews/pics I was able to get. Of course, I've been fighting a cold for the last 3weeks, too, which was not fun. But I could not miss these shows for nothing, especially Slayer and Nevermore.
Coming up next month, we have the Louisville Music News Top Ten List for 2010. I started that last year.
I get to pick my favorite bands, vocalists, guitarists, etc, etc. It really don't mean anything in the long run, but it's fun to try to look at all the bands, musicians and other people to determine who is worthy for the top spots. And don't worry, I'll even give credit to the douchebags in town who think they are God's gift to louevil music. Ha. As you can probably tell, some mofos really grate on my nerves in this town, and I tell you, sometimes it's really difficult to support a-holes like these walking sphincters. I doubt a lot of you would, if you knew the stuff I do. But I try.
As much as I loathe some people in this town, I would never let my own emotions intrude upon my decision making in matters like these. I pride myself in being fair and trying to help anybody with good talent, regardless of how popular they are, how poor they are or how pretty they are.
Slayer/Megadeth/Anthrax destroyed!!!
Read the review - with pix - here!
The Metal Grapevine
Godsmack/FFDP/Drowning Pool in Cinci.
Read the review here.
Jackyl, Flaw Heaven Hill, Hot Action Cop Playing Gobblestock:
This should be a good show on Thanksgiving night at Phoenix Hill Tavern. Jackyl always puts on a great show, Flaw will be tearing it up at a hometown show (so don't miss them, these guys are back bigtime, and are busy touring for the next few months! And they have been sounding great lately!), Hot Action Cop is probably opening I'm guessing (so get there early), and Heaven Hill will be returning to the stage after a few month layoff for a drummer search.
They got a rockin' new drummer and they'll be looking to make some noise for sure! So after Thanksgiving dinner, roll your butts up to The Hill for 93.1 the Fox's Gobblestock, for some rock festivities.
Thomas Medicine's Schizophrenifesto:
This is an awesome band. And probably the most original band in town. The intro song to their latest CD Schizophrenifesto (which will be released on December 11 at Headliners Music Hall, be there!), "Taste The Dog" proves that. Very strange, but there's no denying the musical talent and genius in the lyrics. Vocalist Pat Quinney is a great singer and quite smart when it comes to writing music. Dude is a bit odd though, and it shows in his music. The band is tight and explores a wide variety of musical styles in their deliverance. The song "Latino Heat" has some interesting chord progressions and sounds like it should be rockin' on a hot night in Miami's South Beach. These guys are a trip. Latino beat rock? Cool.
It's clear that the guitarists of TM are skilled in all kinds of musical chords and styles. "The Wake" has some piano in it and some nice vocals. Quinney's voice really carries, especially live. Man, this band is difficult to classify! They make it rough on a mofo! I couldn't tell you what kind of music this is.
They got so much stuff going on, changes, tempo changes, odd timing, that you almost get a Freddie Mercury/Queen feeling somehow. It's that epic. "So You" is a bit more normal and catchy, if a bit light. I bet it took forever to arrange these songs. My hat is off to these guys, they've done something no one has in Louevil. Escaped the lame-ass trends and dared to be different. Background vocals in this song work well with the feel of the song. Quinney can sing great, going both low and high vocally and using actual singing techniques to full effect. Venturing where most dare not to go. Quinney's lyrics are deep and well thought out. I hate it when idiots throw out retarded lyrics without thinking it through. I can see Pat sitting there all night in the dark thinking up all these melodies and storylines. "No One Knows" is Pat's pick of the song that means the most. A beautiful acoustic guitar and bongos sets the mood for this laid-back tune about life and death, a touchy topic indeed. The vocal effects work well towards the end of the song. Pat's vocals are friggin perfect for some effects. I hate it when real talented singers do not use effects at all. This song is so trippy and laid-back that I might have to fire one up before I continue. Ha! okay, cough cough, I'm back! Ha.
"Angel" is more of what I expected from TM. A Clutch-y type riff starts off this song. There might be a little too much guitar going on here, it's kinda hard to comprehend. okay, I'm buzzed now and these Rand B vocal effects are messing with me. Is my stereo farged up? Never do LSD and and listen to this song! Whatever you do. Holy cow, I love this guitar solo. Perfect timing and placement. Sweet. This is the rockinest song so far.
"Sour Bones" is an acoustic rocker of a tune that so far reminds me of 16 Bones until the high vocals come in. Another work of art vocally by Quinney.
Quinney sounds like an old black man in Mississippi. I think maybe Pat is part African-American, because soul is in this white guys blood. This is one good band. Not exactly my type of music, but I can surely respect what these guys are doing and how they do it. Some of it might fly over the heads of your average Joe off the street, but as a musician myself, I see it more as a work of art than a musical CD of some local band.
Thomas Medicine is smart man's music. It's deep and not for everyone. The musicianship of this band is very good, and you can tell they mean business. I'd like to see them branch out more, and maybe hit cities like Nashville, Chicago, Cincinnati. I bet they would do well. The South End crowd is just a bit too little and cramped for such a talented entity.
Be sure to pick up their new CD at their CD Release show on December 11 at Headliners.
Black Label Society/Clutch:
Luckily, I got out of band practice early enough to go up to Expo 5 to see some of Clutch's set, and some Black Label Society. Wow, what a great show! I knew so many people there that it was like a family reunion. Sorry folks. but I don't know anything about Clutch's or BLS's music, so I can't tell you what they played. I would have gotten the set list for you peeps, but it was so packed I couldn't get near the front. You could barely reach the sound booth in the center of the room! I didn't have a photo pass for this show, and BLS's road crew/security are notorious a-holes, so I didn't even try to get up close. Clutch sounded great as usual.
I hadn't seen them in years and I had a great time watching them tear it up at Expo. They've never been a favorite, but they do got great groove and can play. They have always had a great following though, every time I've seen them! This was a whiskey-soaked affair.
I love Expo 5 and the people up there. Super nice people, and a great place to see some kickass music! I was skeptic at first, I must admit. A flea ,arket? I've heard that said so many times, in the same doubting whining voice. Yet these dedicated Expo 5 guys and promoters like Terry Harper made the chit work, and work well. Who cares if it's on a flea market's property?
The sound and PA system at Expo 5 is awesome. I don't think it's ever sounded bad there, and I've seen about 25 shows there.
Black Label Society came on and rocked much better than when they were at Coyote's a few years back. Zakk sounded much better this night, vocally and on guitar.
The stage was friggin' wicked. Stacks of amps, cool lights and one mean guitarist made this night a winner for sure. Zakk's vocal's were pretty good this night. He did have an awful lot of vocal effects on his vocals, maybe too much. But it worked for him and BLS. The crowd was rowdy and loving the BLS sound and Zakk Wylde's amazing guitar style. Thanks to Terry Harper for doing the ticket giveaways, and putting on these killer national shows. Great job, people had a blast.
SnotOZZY and The Crazy Babies:
My friend Pat Bereis, the voice behind the Ozzy Osbourne tribute band Crazy Train here in Louisville for the last 15 years, has been bragging about this new band SnotOzzy and The Crazy babies, so I booked them. Omg! Drummer Nick Denham is 13 years old, guitarist Kyle Simpson is 15 years old, yet they both nail their parts to the T. Seeing Simpson shred on some Randy Rhodes solos blew everyone's minds at the show and watching Nick Denham wail on drums was so cool. Jaws were on the floor. It was great seeing everyone tripping out at these young rockers totally shredding. The crowd ate it up. So I put them on the Rock for Kosair lineup on Friday, November 19 at Phoenix Hill. You guys got to see this. Not only are they über-talented kids, but also well-mannered and polite youngsters as well. They do Ozzy's music justice!
It was funny, the singer Pat was crackin' jokes all night; at the end of their set, he told the audience that the band was done playing because Spongebob was on TV in an hour.
It's awesome seeing these kids rock out, so be sure to check out some SnotOzzy on Nov 19!
If you get a chance check out their other band, Slakker.
Sever This Illusion's New Music Review:
I'm finally checking out Sever This Illusion's new CD Unidentified Assasins on Turkey Vulture Records. These guys have been stoked about this CD for over a year now, and here is the final result. The recording sounds pretty good, but the guitar tones are a bit muddy for my taste.
I'm not sure if I like this CD quality. In "Unidentified Assasins," the lead guitar solo quality is good, though. The drums are a little thin. Nice musicianship, it's just that something don't sound quite right, I'm afraid. I've heard better recordings in town, recorded in people's basements.
They should have gone to a better studio. It's not the playing at all. Trevor Harbolt's vocals are brutal. He has a great metal voice. If he keeps these vicious vocals up, he will lose his voice one of these days. As a former metal singer, I tell you singing this kind of stuff can really mess up your voice. Some days after back to back shows, I could barely talk.
"Battlegrounds" is a heavy tune that has some cool pull-off riffs. Trevor mixes up some singing in this one, which is good. (Screaming all the time gets on my nerves.) The guitar sounds a little better in this track. There really isn't too much melody in these songs and to me, that's a bit disappointing.
"Feast For The Eyes" starts out rather hooky, and metal to the core. I like this beat pretty good.
Trevor mixes it up well on this one, changing styles numerous times. Clean vocals to hardcore vocals to low growl vocals. Cool. Much better and more diverse. Now this is what I was expecting! I like this song the best by far! Then I get a killer guitar solo. Much much better guys! This should be their single. The other stuff was a bit one dimentional, but this song is in a different class. Nice guitar riffage in this tune. too.
Bong hits and coughing start up the pummeling "Headed To Colorado" which takes a hard turn to the death metal realm of metal. Very cool death metal riffs! Creative riffs on guitar make this interesting indeed. I wasn't into the first few songs, but these last few are killing!
"Never Back Down" kind of reminds me of old-school German thrashers Kreator, who I saw in Chicago last winter. Trevor's voice sometimes reminds me Kreator vocalist 'Mille' Petrozza's style.
The solo in this song is darn good. I didn't know that STI's guitarist Josh (no last name listed) was this good. I've always heard him play totally dry solos live, which I didn't care for. These solos are effects-laden, and sound amazing! I wish they would do that live. The solo in "Suicide In The 502" is a ripper!The sound quality seems to get better as I move through the CD, but some of the rhythm riffs sound very much alike. If you like Slipknot and brutal, no-nonsense thrash/death metal, then Louisville's Sever This Illusion might be right up your alley. They don't mess around, that's for sure. These guys have been working hard at this for a few years now and sound better than ever. They have toured, played several other states and are trying to get their name out there the best they can. Not bad at all for some Louisville metalheads! They have a decent product in Unidentified Assasins. Check out their cool site at Myspace.com/severthisillusion
Brett Michaels Coming to Horseshoe Casino:
On Thursday, November 11, former Poison singer Brett Michaels will be in town for one night. I admit to never being a Poison fan at all, but I saw Brett in concert a few years ago, and he was great. I was shocked at how good he sounded, so don't miss this chance to see a Eighties glam rock legend perform. He is a great frontman and really tries to put on a great show for all of his fans. I wouldn't mind seeing him in concert again. And this is coming from a guy who also likes Slayer! Get your tickets! And here's a tip. Go to Legend's and get some of their deep fried mushrooms. They are wicked!
Bryan Fox "Big City Lights" CD Review:
Wow. The packaging of this CD looks amazing. A killer picture of Bryan Fox holding a guitar graces the cover. The first song is "Cornfed" and it rocks. Believe it or not, I grew up to country music (my parents loved Waylon, Willie, George Jones, Patsy Cline, Kitty Wells, Marty Robbins) and love a lot of the old classics. Bryan Fox is a louevil rocker turned country musician several years back. I think Bryan has finally found his true musical calling. He sounds great!
It don't sound like Bryan at all because I'm so used to hearing Bryan play rock music. I was checking the CD to see if I put in the right one!
This is the best country music I've ever heard come out of Louisville! Great vocals and songwriting. Great CD sound quality. This must have cost a pretty penny! But it is so worth it. Bryan's vocals soar in this offering. I'll be honest, I hate new country, but with additions, like this I could be made to change my opinion. Hopefully Bryan will get this into the right hands in Nashville. I see this doing really well down South. "Daddy Was A Rebel" could be a hit. The feeling is there. I don't see new country getting much better than this. Bryan got a bunch of Louevil's top musicians to contribute to this CD.
Drummer Ryan Murphy, guitarist Kevin McCreery, bassist Chip Adams, keyboardist/vocalist Michael Sanders, and quite a few more folks as well. Such a cool endeavor from Bryan and friends. I'm very impressed. This CD has all that a good country album should offer. Feeling in the vocals, a good story, excellent picking, whether it be mandolin, Dobro, or guitar. Kimmet Cantwell laid down some backing vocals for a few tracks.
"Chicken Wang" is a fun song that should make some country folk really get down. This tune is as catchy as any of the big country hits. If this don't make it in the country world, nothing will. The lyrics of Bryan Fox are real good. Top notch.
I can tell Bryan is very happy with this CD's sound by the way he was going on about the people who helped him, including a very talented and young guy named Michael Sanders (of the band The Delicate and Jetlag Studios) who Bryan says is definitely one the best in town at recording.
Michael also laid down some keyboard and vocal tracks. Yeah, a lot of people helped make this project happen and everyone of them should be proud. What we have here is a statement of how good musicians in Louisville are. A "Top this," be-yatches!" If you will. Heck, I wish I could have played on the CD. I could have scratched a washboard or something!
Be sure to check out this amazing CD by Louisville musician Bryan Fox.
It's his best stuff ever, by a mile. Also, in case you didn't know, Fox is a dentist and a very good one! If you need work done on your chicklets, go to Bryan.
I got a funny story for you. Last year I had a tooth that needed pulling, but I've never had one pulled, ever! I went to Bryan for my first pulling. I was scared to death! Dude was awesome, though. He gave me a shot and proceeded to yank on my bad chicklet. But the chicklet was stubborn and wasn't having any of it. Bryan got aggravated and starts yanking and tugging on my head with pliers.
He said "Eddy, you have a huge tooth that don't want to come out, I got to give you a few more shots of Novacaine." I was nervous enough as it was! So now Bryan started sawing on the offensive tooth. My eyes were bugged out, I was drooling from the several shots of painkiller, and Bryan was practically standing on the chair, yanking on my stubborn tooth in a headlock hold he had on my nugget! My head was going this way and that! Finally! Success. And I didn't feel a darn thing, even with a huge stubborn tooth! However, the several shots left; me very numb, unable to properly talk, and with a line of dribble from my bottom lip to the ground, that some chick in the parking lot so readily pointed out to me.
I felt no pain, so I was happy. Bryan showed that evil chicklet who was the boss! Bryan's office is at Mortensen's Family Dental in Jefferson Mall.Great musician and dentist.
Talk Of Spring, Young and Talented:
I just saw a video of Louisville's own Talk Of Spring, a young band of energetic alternative rockers that is quite different and cool. The song is called "You're A Dream." This is some very good catchy stuff that I can see doing very well, if properly managed and given proper exposure. The vocals are good, the songwriting is great, the melodies are there and in your face. Scotty Peebles' bass is pumping. This is not even my type of music and I'm still liking it. I can see this being used on a movie soundtrack, it's that good. Impressive, guys! Vocalist Josh Napier has the goods to make something happen in the music biz. The whole band does. Hopefully they can get some out of town gigs, which is what you bands need to do to get noticed. The Louisville scene isn't as good as it has been in the past. You got to get out there and show your stuff, at all costs!
Bands today start so young and get to be good so amazingly fast, it's mind-boggling. These guys are between the ages of 18 and 23, yet they have a total pro sound on this video.
You got the thirteen and fifteen-year-old prodigies in SnotOzzy and The Crazy Babies and now another really young band that rocks. Very cool.
Yeah, with the right people behind them, I can definitely see this louisville band going somewhere.
I think Hot Action Cop should let these youngsters open for them a few times, as they would be a real good mixture of styles. Look up Talk Of Spring 'You're A Dream" on youtube.
I'll try to book them on my showcase real soon!
New Band Alert - Rockaway Drive:
I've heard some good stuff about these guys and I can't wait to hear them. One person even said singer and native Bosnian Ado Kalajdzic's voice is one of the better metal vocalists he's heard in town. Ado has a love for all thing's old-school metal vocal-wise. Judas Priest, Iron Maiden, Saxon, Helloween, you can tell that the guy truly loves metal in that style.
I met Ado a year or two back. He played in a AC/DC sounding band, but he really wanted to do something heavier, with high-pitched metal vocals like he loves, so he often talked about putting together that project. I'm glad Ado got his wish. I've heard nothing but good stuff about Rockaway Drive. I'm interested how the band's demo turns out with his cool vocals on CD with effects. The band is straight-up Eighties heavy metal. I checked out a video on Youtube but it didn't do them justice. The PA was lackluster. This is good stuff musically though. It rocks.
Very solid lineup. I can't to hear them live in action on a good PA system. The guitars seem tasteful and the solos are pretty shredding, from what I could hear on this live video. The vocals sound good too. Ado weaves in and out of vocal notes easily. The way he sings, he needs a sound man or foot pedal vocal effect unit to truly bring out the notes/melody.
You can tell Rob Halford of Judas Priest is Ado's vocal hero. Rob is my favorite singer, too, so I guess we are both oldschool metal heads.
I got them booked at my Phoenix Hill original music showcase on December 3. C'mon out!
New Band Alert - Shines Negative:
Here is a new metal band that has some promise. I gave them their first show, I think. The double guitar attack reminds me of a Black Sabbath/ Exodus-type of sound in an old school thrash doom vein. Nice hooky rhythms and chunky guitar tone make the heaviness stand out. Both guitarists had the same kind of amp, so it sounded good. Newcomer Danny Cornish's vocals are solid and hold a lot of promise! He can sing and he screams great. I liked how he extended some of the notes a good while. He has range. He's got some lungs, that young guy does. I liked the songwriting, too.
The drums and bass were rockin' bigtime. Bassist Monte Starling has some excellent bass chops. These guys put on a good show, too. So if you promote shows or have a venue, book this brand new band. I am bringing them back to PHT on December 3.
Krosjoint Coming Soon:
I miss playing metal, so Marcus Goldsmith (13th Level, Caldera, Kentucky Deathwish), and Matt Roeder (13th Level, Inhuman)" and me. (I thought up the name! Cool huh? Just like in Pineapple Express!) are forming a Sabbath-type of doom groove metal band with actual singing included. We are looking for a talented and dedicated metal singer to fit the bill, so let us know if interested. 502-367-2080
Upcoming Shows
Expo 5
Wednesday, November 3 – Danzig w/ Possessed, Marduk, Toxic Holocaust and Withered. 6 p.m. $25
Saturday, November 13 – A Day To Remember w/ Underoath, The Word Alive and Close Your Eyes. 7 p.m. $22.50
Headliners
Monday, November 1 – Nile w/ Ex-Deo, Psycroptic, Keep Of Kalessin and Pathology. 7 p.m. $13.50-$18
Tuesday, November 2 – Powerman 5000 w/ Xiting The Systm, Project Sovereign, The Tri Tones, Nothing Wrong and The Hiding. 7 p.m. $12
Monday, November 8 – CKY w/ Hourcast and Lionize. 7 p.m.
Thursday, November 11 – The Acacia Strain w/ The Red Chord, Terror, Gaza and The Contortionist. 7 p.m. $15
Saturday, November 13 – Shyaway w/ Nova red, Silent From The Struggle and Hippiedigger. 8 p.m. $10
Sunday, November 14 – Silent Like Auburn, Sacred Sorrow, The Delicate, The American Dream and Oh Early Love. 7 p.m. $8
Friday, November 26 – The Scene Aesthetic w/ Stephen Jerzak and Action Item. 5:30 p.m. $13 – $39
Saturday, November 27 – Epica w/ Scar Symmetry, Blackguard, The Agonist and Lexington's Society's Plague (an Eddy Metal regional top pic!). 7 p.m. $22-$45
Friday, December 10 – Reunion Show w/ My Own Victim, Incursion, Kallus, Faceplant and Flatlyne. 8 p.m. $10
Saturday, December 11 – Thomas Medicine CD Release show w/ Look What I Did, Born Empty, Ohlm and Grave Flower. 7 p.m. $10
Phoenix Hill Tavern
Friday, November 5 – The Original Rock Showcase Series w/ 5th Omen, Fivesecondzero, Ashes Eve, Lucid Grey (central KY) and Overload. Free before 9 p.m.. $5 after!
Friday, November 12 – Downtrend, Lost In Eden, Fall In Disquise, Stallpoint and Silent From The Struggle. 9 p.m.
Saturday, November 13 – Fred Shafer w/ Joe Hanna, Douglas Lucas and Panda Gail. 7 p.m. $10
Friday, November 19 – The 6th Annual Rock For Kosair Benefit. 15 of Louisville's premier rock bands.
Proceeds go to buy toys for the Kosair Kids for Christmas. See lineup and important guitar giveaway and drumset raffle info at top of column!!!
Friday, December 3 – The Original Rock Showcase Series. Harmageddon! Featuring (Evansville's) Deliver Us From Evil, Overthrone, Rockaway Drive, Shines Negative and Slakker. Free before 9p.m. $5 after.
Thursday, November 25/Thanksgiving Night – Gobblestock w/ Flaw, Heaven Hill, Hot Action Cop and Pop Evil. 8 p.m.
Friday, November 26 – Forbidden w/ Evile, Gama Bomb and Bonded By blood. 8 p.m. $18- $45
Skull Alley
Wednesday, November 3 – Blood On The Dance Floor w/ Let's Get It, Dot Dot Curve and Breathe Electric. 6 p.m. $10
Tuesday, November 9 – Fang Island w/ Delicate Steve.
Friday, November 26 – Brokencyde w/ Millionaires, Kill Paradise, The Hit and Death At A Dance Party. 7:30 p.m. $14
Uncle Pleasants
Monday, November 29 – Every Time I Die w/ Trap Them, How and Artifex Pereo. 7:30 p.m. $13
Props Of The Month
This months props are to the people who have given to you, our loyal readers. Our ticket giveaways are quite popular, and these are the people who have participated in these giveaways. If it wasn't for them, we would not have these ticket Giveaways.
So props to: Nederlander Promotions, Promoter Terry Harper (who has donated more than anyone), LiveNation, Riverbend in Cincinatti, Rupp Arena, Freedom Hall, Horseshoe Casino, Phoenix hill Tavern, and various other promoters and smaller venues. Thanks to you all. You rock!