August 2010 Articles
Cover Story
Tim Roberts
Features
Eddy Metal
Columns
Berk Bryant
Mike Stout
Paul Moffett
Keith Clements
Martin Z. Kasdan Jr.
Eddy Metal
CD Reviews
Kevin Gibson
Ronke Oyekunle
Performance Reviews
Roberta Campbell
Jason Ashcraft
Jason Koerner
Blogs
Got Shows?
Send Them To Us
Bookmark Louisville Music News.net with these handy
social bookmarking tools:
Available RSS Feeds
- Top Picks
- Today's Music
- Editor's Blog
- Articles
Add Louisville Music News' RSS Feed to Your Yahoo!

Issue: August 2010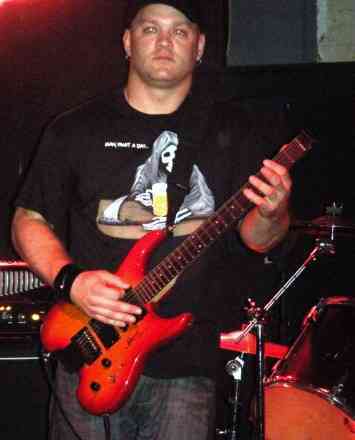 Name: Bryan Elder
Age: 31
Instrument: Guitar
Band/Former Bands: Currently I am the guitarist for Burning Babylon. I used to play with Pornofishtank.
How long on instrument: 12 years
Equipment: My choice of beastly setups is a Line 6 head with a Marshall half stack. I play it through a Steinberger headless guitar.
Influences: I have way too many musical influences to narrow it down to just a few. Almost all genres give me great ideas for creativity. EXCEPT COUNTRY. I could go the rest of my life without hearing another depressing country song.
My first gig: My first gig was at the old Maple Inn on Taylorsville Rd. where Stevie Ray once played.
Hobbies: Well, if you can consider alcohol consumption a hobby, then sign me up. I also enjoy several sports, and, of course, playing music.
Favorite movies: Boondock Saints. That movie rocks. Call me a nerd but I love all of the Star Wars movies as well.
Favorite food: Homemade chicken and dumplings, but only if you know how to cook!
Favorite place: I can't share my favorite place with you. You may just be a stalker!
Bad habits: Well isn't this question a little incriminating? What kind of bad habits do you have? I have a bad habit of sweating profusely while playing on stage. It's the lights! I swear when you're up there, you know exactly what it feels like to be a chicken nugget.
What I'm listening to nowadays: Nowadays, I listen to local music mostly. Almost everything on the radio has turned to pop to suit a generation. I like local music because its fresh, original and isn't putting out pop just to sell more albums. I like cutting edge, driven music that shines with creativity. Listening to the radio these days is a lot like that movie groundhog day. It just keeps on repeating over and over. I bet Bill Murray even got tired of acting in that flick.
Coolest thing I've done: I would say that my career as a firefighter has to rank up there as the coolest thing I have ever done. If you wanna experience the ultimate adrenaline rush, that's definitely it. Not to say that Mardi Gras and Vegas aren't cool but I'm not sure what you're looking for exactly. I could go on for days about adventures.
Most embarrassing moment: Um! I was hoping that this question wasn't on here. However, if you know me then you already know the answer to this question. Sadly, I once caught a soft ball with my face rather than the glove that was on my hand. The thing that makes it more funny is that I have been a ball player most my life and I am surrounded by friends and a family full of ball players. Its usually quite embarrassing to eat a fly ball in front of several friends and family no matter what the excuse or circumstances. The only good news is that it didn't knock me down!
Who do you love: Friends, Family, Rock and Roll
When/where did you first get some: As much as I would love to tell you that it was in a port-a-pot at some outside concert when I was 16, IT WASN'T. This question is not applicable because I am still saving myself for that special groupie hand picked out of the crowd the first time I play Madison Square Garden. NOT!