August 2010 Articles
Cover Story
Tim Roberts
Features
Eddy Metal
Columns
Berk Bryant
Mike Stout
Paul Moffett
Keith Clements
Martin Z. Kasdan Jr.
Eddy Metal
CD Reviews
Kevin Gibson
Ronke Oyekunle
Performance Reviews
Roberta Campbell
Jason Ashcraft
Jason Koerner
Blogs
Got Shows?
Send Them To Us
Bookmark Louisville Music News.net with these handy
social bookmarking tools:
Available RSS Feeds
- Top Picks
- Today's Music
- Editor's Blog
- Articles
Add Louisville Music News' RSS Feed to Your Yahoo!

Issue: August 2010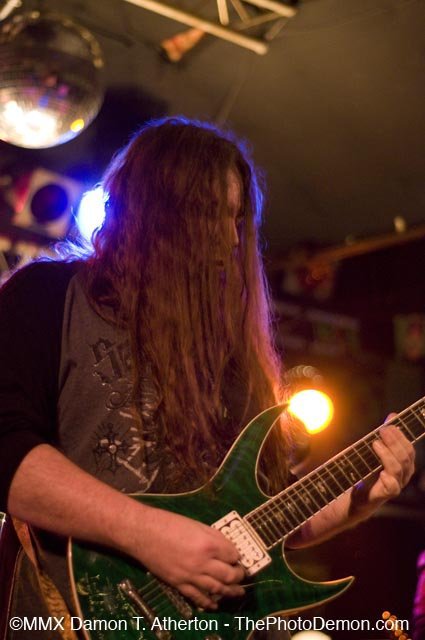 News From the Pit
Bipolar Eddy?
Well, this month I'm half happy and half mad. I think I may be turning bipolar!
Hullabaloo, Shmullabaloo. I'm glad that crap is over. I'm so sick of this city supporting every country band that comes around the bend but won't commit to a large scale outdoor concert tour of Ozzfest or Rockstar Mayhem caliber. There were 20 thousand kids at The Rockstar Mayhem Festival in Cincinnati on July 21. It was a great time for all who attended.
Louisville is a musically rich city with a wide variety of genres, and we should have these big events going on, too! These type of tours could happen at Churchill Downs.
Churchill Down doesn't like hard rock so they have pretty much shut us down to only ancient rock and country music. Why do they book all these ancient rock bands? [It's about the demographic, Eddy. Churchill wants an older crowd with money to spend. - Ed.]
Why not have a rocker of an outdoor show just once? Why not mix it up?
But instead of Ozzy, Metallica, Nickleback or Kid Rock, we get such big-time artists of Hullabaloo like Train, Kenny Chesney, Dwight Yoakam, Rick Bartlett's Rock and Soul Revival, Bon Jovi and Gladys Knight. Woo hoo, I don't think I can handle the excitement there!
Seriously though, I have an inside source that tells me Churchill Downs is scared to death to put on a real rock concert. That is why we don't have 93.1 The Fox's Annual Festival in the Field concert event is no more! They don't want the rocker element in there, either.
Churchill Downs has been very tight about distribution of tickets to press/radio stations and has acted like this concert was the birth of god. I'm sorry, but there is a lot more to good music than country and ancient rock bands that can barely perform! The promoters of this event were promising a massive turnout. Well, so far, it has not panned out that way and it doesn't look so good for your-ever-so-special show. I'm fargin glad! Maybe Churchill Downs should actually try to book a band that doesn't need walkers or someone to keep them from falling asleep onstage while playing. They will get no sympathy from me after cutting off all hard rock/metal at their place of business. You would think Churchill Downs would think dollar signs instead of "oh god, we don't want an actual rock n roll show on our precious race track!" Two hundred thousand drunks is okay for the Derby infield, but us hard rockers are too bad for their image? Whatever!!!
Your close-mindedness towards other types of music inhibits our rock scene, and the lost revenue of such ventures is substantial.
The way these big venues act is ridiculous. At Broadbent Arena, they practically had SWAT for Rob Zombie. They anticipate that any hard rock/metal show will automatically have lots of troublemakers, violence and drugs. Heck, just two days ago some big German Techno Pop Festival had 19 deaths and 342 injured. And that is as far from metal as you get.
Metal is a family affair. I see kids with their parents all the time. I saw people at the Scorpions who were 60, who were with their grand kids. My dad took me to concerts when I was a kid.
I think it's a great thing that metal can bridge the generation gaps and bring family together.
Things are looking up as far as smaller shows go. We have got a lot of good shows coming through the area – Slayer/Megadeth, Deftones, Devildriver, Death Angel and Black Label Society, among others
I've been busy as heck playing shows with my band and reviewing national shows for you folks!
I reviewed The Scorpions and Ratt in Nashville (wow, Nashville rocks!), and also The Rockstar Mayhem Tour in Cincinnati (we almost died of heatstroke!).
I love to travel and with recent drama in my life with my ailing father, it was adventure time, if only for a day. My music and these occasional trips are essential to me to remain sane in today's world and problems. The scene seems to be gathering up the pieces and putting itself back together again, thank god, after losing over half of its bands in a time span of only two months. New bands are emerging and filling the void left by the musical disembowelment we suffered. I know I've been having lots of fun playing out again after such a long lay-off from playing music. A little more support from all the people/bands I've helped in the past would be nice though (I'm starting to think some of these louevil people are selfish A-holes), but other than that I'm a happy camper. It's kinda funny that some people didn't even know I jammed. Ha ha.
The Metal Grapevine
Win Free Tix to Deftones:(Free Ride)
On Tuesday, August 31, The Deftones will be at Expo 5 with Baroness. This should be an interesting show. I always liked the music and recorded stuff, but the vocals live always let me a down. Maybe Chino can hit the notes, now! Ha. Regardless, these guys are popular and this should be a phat show for Louisville!
For a chance to win tickets to this cool show, message me on Myspace.com/eddymetalrocks on Sunday, August 22 at 9 p.m. sharp. First one at exactly 9 p.m. wins! In subject line, put "Deftones 4 Eva!"
Rob Zombie/Korn, Rockstar Mayhem Tour Review:
Forget Ozzfest. Here is the new deal:The Rockstar Energy Drink Metal Mayhem Tour is the bomb.
I've had a earache/inner ear infection for two weeks but that wasn't going to stop me from this mean of a show! Korn, Rob Zombie, Five Finger Death Punch, Lamb Of God, Chimaira, Hatebreed, Shadows Fall, Atreyu, etc, etc. Hell, naw!
So the other guitarist in my band and I went to Cincinnati looking to see a metal show, and, boy, did we.
Unfortunately, the heat and humidity of that sweltering and hideously muggy day did us in. There were so many people that we had to walk a mile to even get to the Arena!
We got there as 3 Inches Of Blood was wailing. The first thing I noticed was that the PNC Pavilion was home to both the Silver Star Stage AND the Jäger Stage.
This massive eighty-foot-long stage was shared by two full band setups. One band would play while another set up. It was a fluid and efficient idea, but it didn't sound near as good doing this rushed version, as when I saw Judas Priest /Whitesnake there last year. Then the sound was unreal. This time it was a bit distorted and hard to hear solos. The sound got a little bit better later in the day.
Shadows Fall came on and rocked. I like this band better every time I hear them, but I have to admit I do not like singer Brian Fair's voice very much. The band slams, and the guitars rock, but they need someone with more range/versatility in my opinion. How much can you go Rah rah raaaahhhhhh? And to top it off, the PA during their set was distorted the worse part of the day. They played "Thoughts Without Words," "Still I Rise" and a cool version of Ozzy's "Bark At The Moon," except that Brian couldn't hit the high notes in the song, which kind of killed it. The Jake E Lee guitar solo was ripping, though! Fair's hair, however, was cool, and probably the longest hair that I've ever seen. Dreads to a dude's feet are insane. Do you fold it up into a pillow to sleep? How do you drive? Or get laid?
In This Moment, a female-fronted metal/hard rock band from LA, came on next and played an interesting set, which I enjoyed. Frontwoman Maria Brink had a brutal metal voice as well as nice singing voice. She was cute, too. This band should do well. I liked this set better than Shadows Fall. The singing was so much better, to hear other notes and not the same monotone nonsense. The musicianship was very tight in this band. I was digging the riffs bigtime. Melodic, yet heavy. My type of stuff.
I might have to get this band's CD!
Up next was Cleveland's Chimaira, a band I really like, but again this messed up stage configuration sucked the power out of the band's true capabilities. It sounded okay, mind you, but I've seen what this stage sound can do, and it wasn't up to par. I blame the sound guys. Chimaira played "Secrets Of The Dead" off the CD Infection, "Resurrection" and "Pure Hatred" which rocked the hardest of the day so far! Slowly but surely the sound of the PA was improving, too. I don't think I could ever get tired of seeing Chimaira in concert. Right about this time, the heat was starting to get to us and the mugginess was overpowering. We felt dizzy and weakened. Maybe we should have drunk cold water, but we were sucking down beer! So my friend says "I'm think I'm dying!" Truth be told, I was feeling none too great, either. We had to get water and try to cool off, so I had to miss Hatebreed, or die.
I really wanted to see Hatebreed because they rock live! However, we got some water and found our seats at the main stage and tried to cool off.
Five Finger Death Punch was coming on and I was stoked. This is one of my favorite newer bands, and their performance was the best I've seen. The sound on Riverbend's Main stage was awesome! It always has been. I'm talking thunder! FFDP ripped through a killer set of songs like "War Is The Answer," "Salvation," their "Bad Company" cover, "Way Of The Fist" and ended with "Never Enough" (which destroyed!) and finally "The Bleeding." The crowd was losing it.
Vocalist Ivan Moody tries very hard to entertain and hit the notes on the CD, and that is what I love about him. He is not a slacker at all.
Then came Lamb Of God, and they absolutely ripped it up. The guitars were brutal and I loved every minute of it, but I'm not a big fan of their vocals. The guitars, however, made up for the lack of originality in the vocals by being an unstoppable juggernaut of an entity. It was like seeing metal guitar masters like Slayer at point blank range. Guitarist Mark Morton and Willie Adler are a great duo. Watching Morton in action is entertaining as heck. We had some darn good seats and I was watching his playing, and I'm very impressed with the rhythms he creates. That guy is a metal machine from hell. Precise technical hammering of the likes of great guitar masters. This guy's guitar rhythms are punishing and consistent as a jackhammer left on all day. They played "Walk With Me In Hell," "Now You've Got Something To Die For," "Laid To Rest," "Rednecks" and ending this wicked set with "Black Label." I like Lamb Of God's music a lot, but vocalist Randy Blythe doesn't impress me at all.
This was one mean set of brutal heavy metal, and the crowd loved it. It was finally dark but the heat was still there and the Riverbend Arena was packed with 20,000 rockers ready to be Zombified.
The king of horror rock did not let down. In fact, he brought the house down and stole the show for the night. Horror was to be the order of the night! Rob Zombie and company tore the roof off Riverbend. It was the best performance I've seen from Rob Zombie! Killer.
He had a lot of room to work with, so he brought out giant monsters, massive flame pots that I thought were going to melt my already sweating face. Rob and company cranked out tunes like "Living Dead Girl," "More Human Than Human," plus one o my faves, a new song called "Sick Bubble Gum," in which he dumped about 50 huge plastic balls that resembled balls of gum. The crowd proceeded to beat the crap out of these large balls during the whole song. I got nailed in the head twice. It was like a demented game of volleyball. "Never Gonna Stop" is when he brought out the flame pots and broiled us already hot fans. Then they played a new song called "Mars Needs Women" and Rob had his cameraman find all available boobies in the crowd, to the crowd's (and our) delight. "Thunderkiss 65" with John 5's killer guitar solo was sick!!! John 5 is wicked and perfect for the Rob Zombie band. That twisted mofo is special, his riffs memorable and unearthly.
Screw that goo-gargling pud Marilyn Manson, this is John 5's true home. I think all twenty thousand screaming freaks there would agree with me because this was one great show. They were putty in Rob Zombie's hand on this night.
The record company that was doubting Rob's new album would have been eating some major crow if they had been there! "Dragula" was the last song of the night as Rob sang from atop his fifteen-foot-tall podium of pain.
Towards the end of the night, a few tons of feathers/little white flakes of lint were dropped onto the unsuspecting crowd. These feathers (or whatever the farg they were) were sticking to our very sweaty bodies and I'd like to say that that was a bummer, and not a good idea in such hot conditions.
I didn't drive two hours to get tarred and feathered! Being covered with this crap annoyed me, and the heat from the crowd was unbearable again as my earache came back with a vengeance after the aspirin wore off. Needless to say, we were sweating like pigs, exhausted, dirty, sick with heatstroke, surrounded by thousands of screaming sweaty bodies, covered in lint/feathers, and could take no more, so we left before Korn. I did hear later that Zombie stole the show from Korn.
Zombie was a hard act to follow with all the cool stage stuff. Rob may not be the best singer around by a long shot (he was gasping for air in the heat), but the man has vision and can put on a great show, and he has an excellent team to help him retain the claim as The Lord of Horror Rock.
The gates of hell opened wide that night at Riverbend, releasing destruction, unholy heat, and a tidal wave of raw power. Rockstar Mayhem 2011, here I come.
Special thanks go out to Greg, Rosemarie and Amy.
Scorpions/Ratt in Nashville Review:
Wow, what a night! This was probably the coolest time I've had this year so far. For one, I've never really spent time in Nashville but only drove through. This trip, I delved into the historic city's famous music scene … and fell in love. Nashville rocks!
On the way down, I stopped in Adams, Tennessee to see the infamous Bell Witch Cave. The Bell Witch was a spirit/demon who tormented a pioneer family in the early 1800s. It's a crazy but true and documented case. After some trippy stuff happening at the cave, we journeyed to Nashville's happening spot.
I had VIP through the Scorpions, so I went backstage for a few. That was friggin cool. Then I hurried back to my seats so I could see all of Ratt's set.
I haven't seen Ratt since about 1987. Seeing them again put a huge smile on my face, as I have always liked Warren DeMartini's guitar work. And Carlos Cavazo (formerly with Quiet Riot), who is none other than the cat who wrote the early 80s anthem "Mental Health" (bang your head), was also on the guitar. Ratt sounded great as they made their way through a set of classic tunes. The band members did not look old, except for vocalist Stephen Pearcy, who did not look very healthy at all, and if there was anything to complain about in this whole set, it would be his performance. Pearcy was always kind of a lazy singer when it came to live performances. He tries a little bit, but it seems he doesn't put much effort into recreating the vocals exactly how they are on the CD, like most singers do. However, the twin guitarwork by Cavazo and DeMartini made up for it and had me happy to be able to witness such wicked riffage. Original drummer Bobby Blotzer was on drums, too! The only ones missing were the deceased Robin Crosby and bassist Juan Crouchier. Robbie Crane replaced Juan. Ratt tore through tunes like "Lay It Down," "You're In Love," "Lack Of Communication," "Back For More," "Wanted Man," "Slip Of The Lip," "Way Cool JR" (which was my favorite of the night as they slew this nicely in Warren's bluesy 'way cool' way.) They ended the night with "Round And Round," the song where Pearcy really struggles the most because he has to extend notes. The crowd didn't seem to mind, though. I saw all kinds of people there to see Ratt in action again. It was cool how their fans remained loyal. Despite Pearcy's lackluster vocals, I still loved the band's set and would go see them again if the chance arose. A very fun band to see in concert!
Then it was time for the Scorpions, a band I liked but never really called one of my favorite. Still, who cannot respect the talent this band has? Unfortunately. I didn't get to really concentrate on the Scorpions as much as I had hoped because the person who drove us to Nashville decided to move to another seat without telling me, so I was wondering where the heck my ride was for three-fourth of their set. I was extremely mad and stressed that I might be stranded two hours from home, but I got to see enough to know what was up. Rudolph Schenker and Mathias Jabs are badass on guitar. These guys are even older than Ratt, but you could not tell that one bit by the way they moved onstage and the effort they put forth. It was amazing. I took my butt up front to get some pictures (check them out!) and I got to see these masters at work from close up. What a rush! A very young-looking Rudolph Schenker moved around like he had snorted an eight ball of cocaine in five minutes, changing flying V's (he loves flying V's more than me!) on every song it seemed. And he looked so different. He no longer had the goofy mustache he always had and was now sporting short, spiky, dyed blonde hair. Dude was in excellent shape for an older guy like that. So was Mathias Jabs, who didn't look much different from his glory days. The guitar tones were wicked. And the guitar solos by Rudy and Mathias in the middle of the set were so thick and cutting you could almost reach out and grab the solos in mid air.
I don't know what kind of guitar amps the Scorps use, but I want one! Classic! The acoustic parts in the set were great too.
I love a good clean acoustic sound with a little reverb or chorus! And with these German rockers on it? Fugetaboutit.
Vocalist Klaus Meine is a legend. So what if you can't understand a word he says when he's talking! When the man sings, everyone listens. His vocals on "Winds Of Change" (his whistling was right on the money! And it's not easy to do either, I whistle and it's a beeyotch!), "No One Like You" and the Scorpions acoustic tribute to Ronnie James Dio, "Send Me An Angel," were killer. It sent chills up my spine! I missed "Still Loving You," though. It's one of their better songs.
The band played a bunch of stuff I've never heard. They played old stuff like "Coast To Coast," "The Zoo" (which jammed), "Loving You Sunday Morning," as well as the more popular songs like "Big City Nights," "Tease Me, Please M" and "Blackout." Native Louisvillian and Scorpions drummer James Kottak's patented 'Kottak Attack' drum solo was awesome. It doesn't get much better than that. I'm proud to have this guy come from my hometown and to be able to play for such a tight and famous band. What a ride that must have been for James. He is a nice guy, too, as he hooked me up with VIP and tickets to come cover the show for his hometown folks. I was hanging out with his family backstage. Very nice people. The Scorps ended this fun night with "Rock You Like A Hurricane," which brought down the house, of course. The sound quality was excellent, as the Bridgestone Arena has a killer sound system. But this opening the doors for an 8 p.m. concert at 7:15 p.m. was retarded and very annoying! Why would they do that? It was hot as lava, and people were dying of thirst while waiting to get in. The venue could have sold 20 grand in beer had they opened the doors earlier. Luckily, I found my ride towards the end of the show. I am so glad I got to see the legendary Scorpions in action one more time before they retire. I have to be honest though: as good as they sounded and as good of a show they put on, it's apparent they have a lot more juice in the tank than what they might think. I've seen many, many bands, but very few sound this darn good. I wish The Scorpions the best in their retirement, they have rocked the world and deserve to spend their golden years exactly how they want. I'm wondering what is next for James Kottak when this final tour is done. I'm sure James will find another great gig.
ABOUT NASHVILLE:
OMG, Nashville is off the fargin hook. I knew Nashville was the big country music capitol, but I had no idea it was this much fun and rockin'. On the popular strip. there are bars back to back for about a mile, I reckon. Live music is the big thing, and band after band was playing and making a living in these little bars on the strip. You got street performers out the wazoo, too. I really want to get my band down to Nashville ASAP.
It was surprising to me that more bands haven't targeted Nashville, since it's so cool down there.
I did see about 10 or so people from Louisville at the show. Rockin Rose, Dave Moody and wife, and a few of the guys from 2 Pump Chump.
I'm going to head back down there and try to land my band some gigs. I might be going to see Great White in mid-August in Nashville at the famous Wildhorse Saloon. I plan on giving out some demos then!
Make a Video for LMN:
I have a new idea that I'm starting to plug. It's the LMN Louevil Top 10 Video list. Ten videos of bands/clips from the best regional music that the Ohio Valley has to offer. The Videos will be featured on my News From The Pit Column in Louisville Music News. I like this idea because now people from all over can see what kind of music comes out of Louisville. The inside scoop, if you will.
Right now I have these: Flaw playing a Tom Petty cover, The Villebillies, Deliver Us From Evil, The Zoo Kings, Nova Red, Heaven Hill, Shatterstone and more. Check out some Louevil rock "live!" So bands, get me a good recording of your music in action! If I like it, I'll put it up so everyone can see it.
The Zoo Kings Band/Video Review:
The Louisville band The Zoo Kings is a three-piece band that almost won the right to open for Kiss in Cincinnati (Superunknown from Lexington won it, and congrats to those guys!). The Zoo Kings haven't even played one show yet, as this new band, but support for these guys has been unreal. Why, might you ask? The guys are very popular, for one. Bassist Dave Moody is a like-able, limelight-loving cheeseball who has played for several bands over the years, including cover and original bands and he even played with Billy Ray Cyrus for a while, touring the country and playing on the big stages! Yet despite these accomplishments, Dave is still the same humble goofball he has always been. He invited me over to the house he shares with his lovely wife one blisteringly hot afternoon for a chance to see what The Zoo Kings are all about. The jam area was in Dave's garage. Drummer Steven O'Reilly is a Atlanta transplant who moved here to kick some butt. I like this guy too, he's funny. Steven calls himself a musical prostitute, because he loves doing the cover band thing, too. Steven has played with Strumbeat and is currently the drummer for Jefferson TARC Bus and TZK. Steven was also the drummer for Heaven Hill for two years until HH decided to fire him and bring in Ivan Arnold. Apparently HH realized they made a mistake, because they've been trying to get Steven back in Heaven Hill since Ivan announced his departure not long ago. On guitar and vocals is Bobby Olliges, an original music veteran here in Louevil. Bobby has been in bands on and off for years, most recently with Magnetic Flux. Together these three guys have some firepower. So far my only introduction to their music was the video they did for their song "Shotgun Wedding" which was good. I knew there was more, so I wanted to hear the other songs to see what I was missing. I wasn't let down.
I heard three other songs: "Black Flowers," which had a good, slow groove that rocked; "Fat City," a tune that mixes stoner groove and rock-a-billy styles into one rocker of a song; "Honey" reminded me of the stoner metal group Kyuss of the early 90s! Good band. This was a heavier song and fun to jam to.
So, yeah, the guys are different and want to make an impression by being different. I can best describe The Zoo Kings as good old-fashioned uptempo rock n roll madness with a little rock-a-billy and stoner groove thrown in for good measure. I would have liked to seen them open for Kiss, but they still did great! The video these guys recorded is pretty cool. It's dark but looks pretty professional overall. The guys are running around going off just like a live show.
This is one uptempo, get-your-engine-running type song! It's like Faster Pussycat meets Kiss meets Guns N Roses during a cocaine run. I hear a lot of bands doing what I do, but there is something here in these three rockers. People see it and so do I. You can see The Zoo Kings at Phoenix Hill Tavern on Friday September 3. It's a 'thank you' show to all who voted for them in the KISS contest.
The Kiss contest winners Superunknown will be on the bill too. What a lineup! It's 100% FREE before 9 p.m. and only $5 after!
Slayer, Megadeth, Testament and Anthrax Coming to Freedom Hall on October 12:
I might be getting older and more closer to old age, but I'm not going to miss this beast of a lineup for anything! Even if I have to rent a wheelchair and push myself into the mosh pit to scrap with 300-pound guys with mohawks! I'm rather shocked that the show was rescheduled the way it was. I thought for sure we were going to get screwed over. So thanks to Slayer and Co, we have ourselves the show of the year in Louisville coming in October. It's safe to say that I'll more than likely get you freaks some free tickets to giveaway before all is said and done. Is Joey Belladonna on vocals again in Anthrax? I'll have to look that one up! I sure hope so.
Anyways, make plans now, and buy those tickets IN ADVANCE! Seriously, if there aren't enough tickets sold, the promoter can cancel the event, so do not wait around if you really want to see this concert come to louevil. I know what the farg I'm talking about!
Let's not ruin this chance to bring back a show to Freedom Hall that Louisville hasn't seen the likes of since the Clash Of The Titans tour 900 years ago. Buy your tickets NOW!
Flaw Review:
I recently caught Flaw in concert at Phoenix hill Tavern and I thought it was a darn good show. The place was rocking and had a nice crowd in attendance. They band sounded tight as heck, even with bassist Chris Marple only being in the band for two weeks. Volz sounded pretty good I have to admit as he waded through "My Letter," "Payback," 'Whole," "Get Up Again," "Medicate," "Only The Strong" and a killer cover of Tom Petty's "Breakdown." The Tom Petty thing was cool and Volz did great emulating Tom's laid-back style. I dug it so much, I put it up in my LMN Louevil Top 10 Video List. It's such a cool and out-of-the-ordinary cover to do. Good pick guys. Tom Petty rocks.
Every time I think these guys are done, they pop back up and kick some butt. Amazing resilience and dedication. I'm glad they are rocking the country again. These guys have got some seriously good songwriting skills as evidenced in songs like "The Letter" and "Whole." Lance Arny and Andy Russ are a great guitar team, and two shredding guitarists with awesome tone/gear. I wish I was near that good on guitar. I couldn't hear Lance as much as I should have, which was a bummer. Andy was a bit high in the mix. Marple did great learning all the songs on bass in only two weeks until permanent bassist Ryan Jurhs can rejoin the tour. Volz still has the vocal goods, despite some haters dogging him online. Dude is creative and has a great singing voice. Always has. The man writes some amazing stuff.
Everyone has their own personal problems/demons, but it's those who rise up to defeat those problems that are those who are remembered in history. Volz seems to be kicking his demon's ass these days.
I'm glad I went to see one of Louisville's top all-time metal bands that actually went somewhere and did something. These fellas can afford to have a little ego, unlike some of these self-proclaimed rock stars in town who haven't done chit outside of 502 but think their poo don't stink.
Um, take a lesson from Lance and Volz, maybe you'll learn something.
I Need A Roommate:
I have a room to rent in my house to the right person. Cool jungle motif, black marble bathroom. It's a cool crib. Call 502-367-2080 for details.
Upcoming Shows
Club Oasis
Sunday, August 22 The Academy Is With The Envy w/ A Lion Named Roar and Aim For The Skies. 7 P.M . $10
Expo 5
Tuesday, August 21 The Deftones w/ Baroness.
Headliners
Monday, August 2 – Hanson w/ Rooney. 6:30p.m. $28
Friday, August 6 – Phearus, Heatherfield, Breaking The Enemy, Years At Sea, Artifex, The Shadows Light and Bury The Wicked. 7:30 p.m. $10
Saturday, August 7 – Say Something Huge On Fire, Sacred Sorrow, Night Torn Mad, Aquaventure.
7:30p.m. $10
Wednesday, August 11 – Death Angel w/ Soilwork, Augury, Mutiny Within and Swashbuckle. 7:30 p.m.
Thursday, August 12 – Story Of The Year w/ American Fangs, Nova Red, They Came Bearing Arms. 7:30 p.m.
Sunday, August 15 v10 Years w/ Shyaway, Trust Divided and Kavehill. 7:30P.M $12
Wednesday, August 18 – Devildriver w/ Shadows Fall, Kataklysm, Skeletonwitch and Witness The Reckoning! 7 p.m. Tickets are $13 to $18.
Friday, August 27 – Overthrone w/ The Troodon, Dominion, Reign Of Revelation, Mister, Steel Colossus, Authority Over Death and Sinistral. 6:30 p.m. $10
Sunday, September 5 – Kottonmouth Kings w/ The Villebillies, Authority Zero and Big B. 7 p.m. $15 to $20.
Phoenix Hill Tavern
Thursday, August 5 – Soil w/ Shatterstone, Popkiss Chainsaw, Fivesecondzero and Stereotyped. 8 p.m. $10
Friday, August 6 – Original Rock Showcase Series: Burning Babylon, Fivesecondzero, Lost In Eden, Reign Of Revelation, Boozer and 2 Pump Chump. Free before 9 p.m.
Thursday, September 2 – Exodus w/ Malevolent Creation, Holy Grail, Bonded By Blood. 7 p.m. . $11 to $95.
Friday, September 3 – Original Rock Showcase Series: The Zoo Kings, Superunknown (Lexington), Year Of The Gun, Stitch Rivet (Southern KY) and Popkiss Chainsaw. 9p.m. Free before 9!
Skull Alley
Tuesday, August 31 – We Came As Romans w/ In Fear And Faith, Confide, Upon A Burning Body and Abandon All Ships. 7 p.m. $15
Wicks Pizza (on Baxter)
Friday, August 20 – Year Of The Gun
Wicks Pizza (on Dixie)
Saturday, August 28 – Year Of the Gun