May 2010 Articles
Cover Story
Kevin Gibson
Features
Eddy Metal
Columns
Berk Bryant
Mike Stout
Paul Moffett
Keith Clements
Martin Z. Kasdan Jr.
Eddy Metal
CD Reviews
Martin Z. Kasdan Jr.
Martin Z. Kasdan Jr.
Hunter Embry
Martin Z. Kasdan Jr.
Kory Wilcoxson
Hunter Embry
Blogs
Got Shows?
Send Them To Us
Bookmark Louisville Music News.net with these handy
social bookmarking tools:
Available RSS Feeds
- Top Picks
- Today's Music
- Editor's Blog
- Articles
Add Louisville Music News' RSS Feed to Your Yahoo!

Issue: May 2010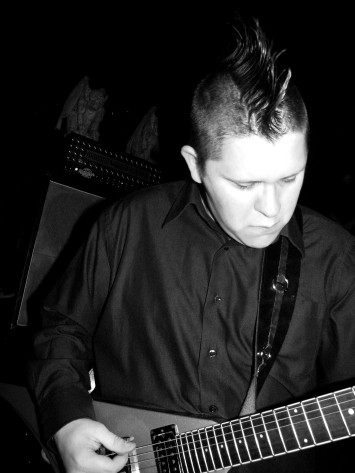 Anthony Slack
Name: Anthony Slack
Age: 26
Instrument: Bass and Guitar -- I played tuba at YPAS for a year, too, before I got the boot.
Band/Former Bands: Currently in Poetry of the Dead and Sixteen Bones. I started out playing bass in One With Misery.
How long on instrument: I started playing bass at age 12-13, so about thirteen years on that. I've been on guitar for at least five years, so my time is divided :)
Equipment: For my guitar, I have an ESP/LTD 7 string and one of the highlighter green Deans running through a Mesa Triple Rec with Mesa cabs. My bass equipment is nil, since I've been playing primarily guitar for years, but I have an Aria Pro Bass.
Influences: Iron Maiden, Black Sabbath, Tool, Cannibal Corpse, Morbid Angel, Stabbing Westward, Pimp C (UGK)
My first gig: Was at Shockers off the Outer Loop. We TP'd the hell out of that place.
Hobbies:  World of Warcraft !! I even have a Horde shirt.
Favorite movies: Fear and Loathing in Las Vegas, Beetlejuice
Favorite food: Sweet Onion Chicken Teriyaki at Subway
Favorite place: Tough call between stage and studio, but I'd have to swing with the studio.
Bad habits: Never getting enough sleep and then complaining all about it all the time.
What I'm listening to nowadays: Coheed and Cambria
Coolest thing I've done: True story - I jumped out of a moving car when I was s**tfaced and got my foot crushed. While in the hospital, I hobbled to the bathroom and was snorting lines of cocaine off a history book while on a morphine drip. I've been clean and sober for almost three years now though. JUST SAY NO!
Most embarrassing moment: Getting inebriated at Headliners and making a total ass of myself. I almost got kicked out of the show before I even played. At the time, it wasn't embarrassing, but that was probably the rotgut vodka doing what it does.
Who do you love: All the special ladies in my life, ages 9 to 64. They know who they are.
When/where did you first get some: When I was 13 and in my grandma's basement. Definitely a ho moment. P.S. If somehow you are out there reading this, sorry about the V-Card.