May 2010 Articles
Cover Story
Kevin Gibson
Features
Eddy Metal
Columns
Berk Bryant
Mike Stout
Paul Moffett
Keith Clements
Martin Z. Kasdan Jr.
Eddy Metal
CD Reviews
Martin Z. Kasdan Jr.
Martin Z. Kasdan Jr.
Hunter Embry
Martin Z. Kasdan Jr.
Kory Wilcoxson
Hunter Embry
Blogs
Got Shows?
Send Them To Us
Bookmark Louisville Music News.net with these handy
social bookmarking tools:
Available RSS Feeds
- Top Picks
- Today's Music
- Editor's Blog
- Articles
Add Louisville Music News' RSS Feed to Your Yahoo!

Issue: May 2010


Bluegrass Beat
April showers, such as they were, bring May Flowers ... hooray. Oh, spring time is here at last and not a day too soon. Oh the sun shines bright and the grass grows overnight and the dandelions are really out of sight. So keep the mower full of gas and we'll clip those fuzzy weeds until the sun goes down at night
Deadline Doings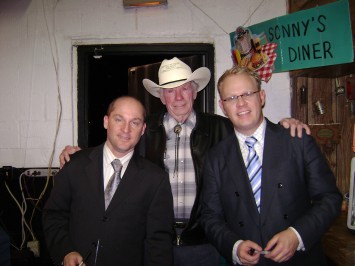 Dailey and Vincent with Berk Bryant
Regressing a bit to a little past the deadline for April's paper: A couple of my good friends (who attend the Vine Grove jams and others around) and I went to the International Bluegrass Music Museum in Owensboro. Charlie Smith and Tom Henninger had never visited the museum. They were both very impressed with displays and overall contents. While there, a couple of tourists came in and I overheard them say they were from England. That was my cue to ask what part of England they were from and a few other questions. They are from Yorkshire, which -- if I am not mistaken -- is not too far from Wolverhampton where my English friends Chris and Colin Clark live. A very nice and pleasant couple. Maybe they'll listen to Sunday Bluegrass sometime.
Bonnets, Beauties and Bluegrass
May Day and Derby Day bring out the best of bonnets and beauties, all to watch the horses run around that track at Churchill Downs. It's a big day for Louisville. There's another pretty doggone good attraction in Louisville a couple of weeks following: FOREST FEST. Yep, May 15 will be Forest Fest at Jefferson Memorial Forest -- a growing festival each year. This year's show will be another one for the books. One of the local favorites, Blue River, will perform; also up-and-comer Jeri Katherine Howell from Lexington. A group from the Norris, Tennessee, area, Earl Bull & Clinch Valley Bluegrass, will be here for the first time and I definitely hope not the last. I feel sure they will leave with a lot of new fans here in this area. I have had them on my stage at the annual Museum of Appalachia Tennessee Fall Homecoming every October. By now most of you know or have heard that this year's headliners are the crowd pleasing HOT group everywhere they go, Dailey & Vincent. As I do each year, I am very much looking forward to Forest Fest, the 15th of May. A very good festival and especially right in the context of entertainment, affordability (FREE – just a $5 parking charge per car) and designed as a family affair. Bring yours.
How O-old Are You?
Another event you will be hearing more about: a WFPK Birthday Bash for yours truly. The June 6 edition of Sunday Bluegrass will be broadcast from the Vernon Club, 1575 Story Ave., Louisville. It will be a ticketed event. Tickets are free. Beginning May 7, check WFPK.org website for more details. A couple of bands are to be finalized, but good friends Cherryholmes are coming.
May Days
May means that the Vine Grove jams will be moved outdoors to Optimist Park, beginning the first Monday, May 3. Most of the jammers and attendees are polishing up the old lawn chairs and ready to go. Other jams around the area are continuing: Colesburg Baptist Church, Friday nights at 6:30; Hillview City Hall, Thursday nights at 6 o'clock; and BA jam at Siggy's Pizza, 5620 Barrett Lane, Valley Station, Wednesdays at 7. All comers welcome to pick, listen, visit and make new friends.
Feeling Festive?
Festivals coming up: Melvin Goins 3rd Annual Homecoming in honor of our troops and veterans, May 15, Prestonsburg, Ky.,7 p.m., featuring Melvin Goins, Lost & Found, Tommy Webb, Coaltown Dixie, Larry Cordle and more. Kendallville, Ind., Memorial Day weekend, May 27-30, Town Mountain, Special Consensus, Junior Sisk, and more at Noble County Fairgrounds; Dr. Ralph Stanley's 40th annual Memorial weekend festival at the Hills of Home on Smith Ridge between Coeburn and McClure, Virginia, May 27-29. Ralph will be there all three days. Thursday, Rhonda Vincent, The VW Boys, the Clinch Mountain Boys (doing their individual recordings) and others. Friday, Ricky Skaggs, Gillian Welch, James King and others. Saturday, Dailey & Vincent, Larry Sparks, Melvin Goins, Joe Mullins and others. Bluegrass 101 Bardstown Festival, June 4 & 5, White Acres Camp Ground, Bardstown, Ky. More details in June issue of LMN or at bluegrass101.com.
Folks, got to wind this up. I am already into my deadline. Will be looking for you at one or some of these events as mentioned. Be on WFPK, 91.9 FM each Sunday night 8-11 p.m. for Sunday Bluegrass with the Country Gentleman. Thank y'all, and let's go get a doughnut sometime.