April 2010 Articles
Cover Story
Kevin Gibson
Features
Eddy Metal
Columns
Berk Bryant
Mike Stout
Paul Moffett
Keith Clements
Martin Z. Kasdan Jr.
Eddy Metal
CD Reviews
Tim Roberts
Tim Roberts
Martin Z. Kasdan Jr.
Hunter Embry
Kory Wilcoxson
Blogs
Got Shows?
Send Them To Us
Bookmark Louisville Music News.net with these handy
social bookmarking tools:
Available RSS Feeds
- Top Picks
- Today's Music
- Editor's Blog
- Articles
Add Louisville Music News' RSS Feed to Your Yahoo!

Issue: April 2010


I've Got A Mind To Ramble
Meet Cole Stevens
A week after the dramatic debut of theBryant-Stevens Band during the January 30th KBS House Party at Lisa'sLounge, I had a telephone interview with Cole Stevens to talk abouthis past, present and future. Born in Fresno, California, he sawJerry Lee Lewis performing on the Ed Sullivan Show. The five-year-oldCole was drawn to the energy of Lewis's music but Cole'sfather was disgusted with the performance and made Cole switchchannels, much to his dismay.
When Cole moved to Bakersfield, hewatched Cousin Herb's Trading Post Show, a daily half-hour TVprogram where he heard Country & Western music. Cole describedthe "Bakersfield Sound" as an unpolished, raw music withan earthiness that sang of life experiences. When Cole was nine, hemoved to Los Angeles with his three siblings and mother, who hadseparated from his father. In LA Cole met Mary Campbell, who openedCole's door to the blues and gospel. Mary was a large Creolewoman from New Orleans who was a live-in nanny while his motherworked by day and went to school at night. Mary cooked gumbo, toldstories about her past and put the fear of God in the kids with herSouthern Baptist religion. When Cole visited Mary at her walk-upapartment on the weekends, there would be a house 'rent party' orchurch fundraiser. She would make her famous gumbo and play blues onthe record player. Cole would quietly watch the people dance and singlike a white fly on the wall. (I told Cole "you need to write asong about Mary Campbell.")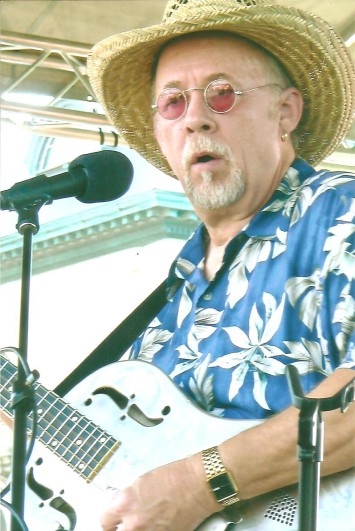 Cole Stevens, Louisville Blues-n-Barbecue Fest, July 13, 2007. Photo by Keith Clements
Cole first played trumpet in theelementary orchestra. Because Cole didn't read notes, he gotbetween the two best horn players and followed them, playing by ear.Cole got the boot when the director found out. Today Cole still doesnot read notes but structures his music by chord charts.
During his teens, Cole heard rock andjazz at the summer Sunday concerts at the Starlight Bowl. In the 70s,he took a break from music to be a military medic in the Air Force,which had a deep impact on his psyche. This was about the time JanisJoplin and Cole's guitar hero, Jimi Hendrix, died. After histime in the service, Cole played in several country and blues bands.A highlight came in 1997 when he opened at the Fox Theater for JohnLee Hooker and Coco Montoya. Cole recorded three solo self-producedCDs in California, Live At The Grizzly, Probable Gods,and Precursor To A Dream, which are now out of print.
When it came time to move on, Cole andhis wife Leandra each wrote down six states where they would bewilling to resettle. They picked Kentucky out of a hat. They did thesame for three cities to select Louisville. Cole checked on theLouisville blues scene through local musician, Greg Clagett,guitarist with LA Groove, and the KBS website. When they arrived inLouisville, Cole got a job with First Quality Music. He currentlyworks with Michael's Quality Wood Refinishing doingwoodworking.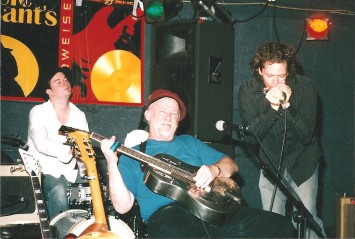 Andy Brown, Cole Stevens, Steve Boros, 5-20-06, Uncle Pleasants. Photo by Keith Clements
Cole's recent CDs include OutOf The Blue, which is a solo effort inspired by a John Lee Hookerconcert. Cardboard Saints was recorded in 2002 with SteveBoros on harmonica and Graham Dennison on drums. In 2007 Colerecorded Slide-Ville in his home studio, with Michael Butleraccompanying on guitar.
The People of Interest was a bandproject that briefly took on a life of its own to create "feelgood" music that merged Delta with funky vibes. Cole andMichael collaborated with Mike Alger on drums and Mike Williams onbass to play the Louisville Blues-n-Barbecue Festival at the WaterTower in 2007. That band, Buckwater, got its name frommatching Buck Owens with Muddy Waters. It was created to concentrateon country blues. They played the Ribberfest in Madison in 2008. Colejoined L.A. Groove playing bass with Greg Clagett. They did the W. C.Handy Festival in Henderson and the Monterey Blues Festival inCalifornia, where Cole's two daughters and grandchildren sawhim perform for the first time. Cole has been playing bass in bandsfor thirty years and just started working on his slide technique in1995.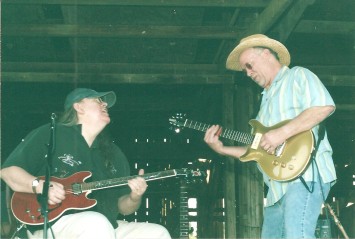 Nick Stump & Cole Stevens, July 9, 2005, Smith-Berry Winery. Photo by Keith Clements
How did the Bryan-Stevens Band cometogether? Cole has played with Steve Boros for eight years in bandsand as a duo. When Steve posted a note on a bulletin board of a localmusic store looking for a guitarist, Cole responded and they decidedto pair up to work together. Dana Bryant moved to Louisville fromCalifornia to join her musical family three years ago. When Coleheard her sing at their church, the Center For Spiritual Living, heintroduced himself and they soon decided to start a band. Low Halealso attended the same church, playing keyboards during the services.He is the most musically educated in the band and teaches piano,bringing his own New Orleans style to the band. Phil Longo foundCole's web page and responded with an e-mail. Cole liked hisattitude and outlook on life, plus his well-honed skills from thirtyyears of drumming. Ron Presley, a third cousin to the King, met Coleon Craig's List. He started playing with Cole at last year'sJ-Town Blues Festival, replacing Mike Williams, who had several othermusical commitments. Cole summed up the band saying, "It islike we have known each other forever. They are emotionally driven,getting so deep into the music. I will have moments when I want to bein the audience to see what's going on stage and it'shard to remember to keep playing. This is what I have been lookingfor, musicians that can take the music I'm writing andexpressing it. Blues is expressing it as accurately and authentic asyou can."
Cole is the primary songwriter and doesthe basic arrangements, with everyone else pitching in with their ownpersonal talents. Leandra does the administrative work, publishes thenewsletter and provides ideas. This is second nature for her, sinceshe has been assistant to a Vice President of E.ON U.S. for twoyears. Cole said, "Without her I would be so overwhelmed."
They are currently building a fan baseand getting a promotional package together to distribute to bluesfestivals. A DVD was made of the performance at the House Party andtwo of their songs, "Just Won't Burn" and "MaltedMilk" have been posted on their YouTube channel. Cole said,"Our goal is to make the biggest splash in our own backyard andtake it as far as we can."
Cole shared a story about a travelingexperience to close our interview. When Cole opened as a solo act forGregg Allman and Jimmy Hall at Ribberfest a few years ago, Jimmy cameup to Cole as he was breaking down his equipment to tell him he did agreat job. As Jimmy was talking, two people approached the stage toget his autograph. Jimmy put Cole on pause saying, just a minute andwent over and talked to his fans and signed their CDs. Jimmy returnedand told Cole, "Remember those are the people you work for,never neglect those people." That was a lesson to remember. Tofind more about Cole you can go to his website: www.colestevens.net.