April 2010 Articles
Cover Story
Kevin Gibson
Features
Eddy Metal
Columns
Berk Bryant
Mike Stout
Paul Moffett
Keith Clements
Martin Z. Kasdan Jr.
Eddy Metal
CD Reviews
Tim Roberts
Tim Roberts
Martin Z. Kasdan Jr.
Hunter Embry
Kory Wilcoxson
Blogs
Got Shows?
Send Them To Us
Bookmark Louisville Music News.net with these handy
social bookmarking tools:
Available RSS Feeds
- Top Picks
- Today's Music
- Editor's Blog
- Articles
Add Louisville Music News' RSS Feed to Your Yahoo!

Issue: April 2010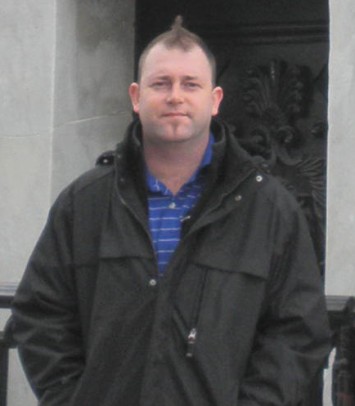 Stacy Delane Hendrix
Name: Stacy Delane Hendrix
Age: 33
Instrument: Drums
Band/Former Bands: E flat, Shadowbox (cover band), Flatlyne, Sient Q, and Stoneyard (cover band)
How long on instrument: 16 years
Equipment: 6 piece Drum Workshop (Bird's Eye Blue Maple Flat Finish) 22"X20" Bass, 10"X12" Rack, 12"X13" Rack, 14"X15" Floor (Left), 16"X16" Floor (Right). Pearl Icon Rack and Hardware. Tama Iron Cobra Single Bass Pedal. 14" Sabian AA Top/Sizzle Bottom w/o rivets (they fell out), 17" Sabian AAX Explosion Crash, 18" Sabian AAX Explosion Crash, 18" Meinl MB20 Heavy Crash, 18" Meinl Custom China, 22" Zildian K Dark Ride. 6" Meinl Custom Splash, 10" Sabian AAX Splash. Goodwood 7A Wood Tip Drum Sticks. Aquarian Performance II Heads.
Influences: Deftones, Pearl Jam , Soundgarden, Alice In Chains, Tool, Helmet, Flaw, Led Zeppelin, Black Sabbath, Incubus, Snot, Sevendust and Norma Jean.
My first gig: My first show was the Carl Casper Auto Show "Battle of the Bands" with E flat in February 1996. We finished 13th…hmmm? The 2nd show was a lot more entertaining at an old elementary school, transformed into a bar called the "Borderline" with a newly formed band named Flaw and old school favorites, Engrind. The venue actually messed up their spelling on the marquee and it read…Slaw! F'ing hilarious! That's how far E flat goes' back in the scene! I was barely 19 years old then.
Hobbies: Sports Memorabilia and Sports. My hidden passion is talk radio.
Favorite movies: Pink Floyd's "The Wall" and "Live at Pompeii". Dazed 'n Confused, Velvet Goldmine, Almost Famous, Hedwig and the Angry Inch,
Favorite food: Anything off my Grill and beer.
Favorite place: An any ocean on a beach. On a stage in front of a huge crowd. Outside, on a stage, at any ocean on a beach in front of a large crowd.
Bad habits: I literally pull my hair out in places. I'm also obsessed with being on time and I can also tell (creepily) when another song has been used or referenced for another song.
What I'm listening to nowadays: The new Deftones and the new E flat.
Coolest thing I've done: I am a sophomore at McKendree University. I hope to graduate in two years with a Marketing degree. Right now I have a 3.75 GPA. Beer and homework do go well together so far.
Most embarrassing moment: Being born. Ultrasounds weren't very accurate back in the Seventies and I was deemed Stacy, the first beautiful daughter of a barely fifteen-year-old mother and father of 19 years. I popped out on April Fool's Day, packing a wiener.
Who do you love: I love my new girlfriend (Kim Phillips), Mom (Debbie), Dad (Marty), Step-mom (Dianna) and all my family, plus Max the Dog, Pickles and Gracie (my cats) and THE UNIVERSITY OF KENTUCKY WILDCATS!!!!
When/where did you first get some: If yourself counts it was Christmas Night, 1988. I was 12 years old and…oh well, they say if you work hard at something, good things will come. That was a hell of a lot better that a Nintendo game.