April 2010 Articles
Cover Story
Kevin Gibson
Features
Eddy Metal
Columns
Berk Bryant
Mike Stout
Paul Moffett
Keith Clements
Martin Z. Kasdan Jr.
Eddy Metal
CD Reviews
Tim Roberts
Tim Roberts
Martin Z. Kasdan Jr.
Hunter Embry
Kory Wilcoxson
Blogs
Got Shows?
Send Them To Us
Bookmark Louisville Music News.net with these handy
social bookmarking tools:
Available RSS Feeds
- Top Picks
- Today's Music
- Editor's Blog
- Articles
Add Louisville Music News' RSS Feed to Your Yahoo!

Issue: April 2010


Bluegrass Beat
Let's raise a yellow buttercup to welcome spring, spring at last, even though it "officially" started a couple of weeks ago. "Officially starts" doesn't automatically raise the temperature or cause the budding and blooming of the plants of spring. So, April, let's not have any of this stuff you're known for. You know what I'm referring too, NO April Fool weather; we want springtime weather and we want it NOW.
Here's an idea to kill two situations with one move. Let's leave the clock alone and just start April on March 21. That will give us spring weather in the same manner we get an extra hour of daylight from pushing the time ahead. Have I been doing this too long or what …?
Favorite Summertime Events
OK, spring is here and now we can seriously start looking forward to the joys of our favorite summertime events. Among those are that the Vine Grove Jams on Friday nights will be moving outdoors to Vine Grove Optimist Park on May 3 and will continue on Monday nights.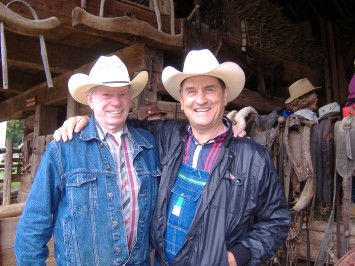 Berk Bryant and Earl Bull
That's a good start that will be followed up with the Jefferson Memorial Forest, Forest Fest on May 15. This has been, and is, a success story festival. It has been free from the start. A couple of years ago, a charge of $5 per car was added to supplement the festival budget. IF my calculations are right, I believe this year will be the 6th annual.
It started with one local act, and by the 4th year, the headliner was Dr. Ralph Stanley. The next year it was Cherryholmes, and this year Dailey & Vincent. It can be done, and the success is due in part to the support of the Fairdale community and staff at the park, with the festival leader Tonya Swan. This year will also feature local favorite Blue River up- and-comer Jeri Katherine Howell. Also, a group from the Norris, Tennessee, area, Earl Bull & Clinch Valley Bluegrass, a regular act at the Museum of Appalachia Tennessee Fall Homecoming. One of my favorites down there. Of course, throughout the summer season there are and will be festivals near and far. Start to plan now.
Grand Old Boat
Not a festival, but a weekly event for the summer and another success: Bluegrass cruises on the grand old boat, The Belle of Louisville. I really don't have dates and other details at the time I'm writing this, but past experience promises it to be a treat. The catered buffet has been, and is, excellent. Friendly crew, friendly folks, and bluegrass music on a cruise all around makes for a fine relaxed summer afternoon on the Ohio River. They've added air-conditioning to the Belle, too. Watch and listen for details soon.
April Opportunities
Well, this is taking on the looks of last month's column. A bit short, but promising for the future when everything spring starts hopping. So before we close this down, a look at the opportunities for April. A whole lot of jams and no jelly.
Colesburg jams continue on Friday nights around 6:30, Hillview City Hall; Thursday nights at 6, Bluegrass Anonymous (BA) jams at Siggy's Pizza, 5620 Barrett Lane, Valley Station, at 7; and the Vine Grove jams continue through this month in City Hall on Friday nights, then moves back to Monday in The Optimist Park in Vine Grove. All are welcome at all jams.
Shepherdsville winds up the season in April. April 2, Melvin Goins and Windy Mountain. April 9, Wildwood Valley Boys. April 16, Hazel Hollow. April 23, Monroe Country Band. And the big finish is April 30 with Sammy Adkins & The Sandy Hook Boys.
As "one door closes" another opens, so they say, and the open door this time opens to late spring/early summer and all that they bring forth.
Enjoy while we still can, and Happy Easter. Thanks for supporting WFPK Public Radio and "Sunday Bluegrass," coming up on 21 years in a few weeks. You are half the reason I'm there, the other half of the reason is to get the artists and the music I'm featuring on the air. They are not forgotten. WFPK each Sunday night, 8-10 p.m. Aw, what the heck -- let's go get a doughnut.