January 2010 Articles
Cover Story
Kevin Gibson
Features
Eddy Metal
Columns
Berk Bryant
Mike Stout
Paul Moffett
Keith Clements
Martin Z. Kasdan Jr.
Eddy Metal
CD Reviews
Ronke Oyekunle
Ronke Oyekunle
Martin Z. Kasdan Jr.
Ronke Oyekunle
Blogs
Got Shows?
Send Them To Us
Bookmark Louisville Music News.net with these handy
social bookmarking tools:
Available RSS Feeds
- Top Picks
- Today's Music
- Editor's Blog
- Articles
Add Louisville Music News' RSS Feed to Your Yahoo!



I've Got A Mind To Ramble
Heads Up With Greg – Part 2
It has been over a month since the Kentuckiana Blues Society's 21st Birthday Party at the Vernon Club and there is still an afterglow from that great evening on November 14. Lordy, what is the KBS going to do next year to top this? One of the sparks that made the event so much fun was the surprise appearance of Greg Martin to jam with Jimmy Hall and Josh Garrett.
This month we will continue the interview I had with Greg in November. The original Kentucky Headhunters broke up in 1992 with Doug and Ricky Lee Phelps leaving to form their own band. At that time Greg's stepson, Jon McGee, had left his band, Black Cat Bone, in Lexington and returned home to Glasgow. According to Greg these were heartbreaking times with trying to put another band together. This period became a spiritual reawakening in 1994 when Greg and Jon plus Mark Hendricks and Darrell Mansfield began to jam and tape some tracks at David Barrick's studio in Glasgow. Greg invited Jimmy Hall to join these sessions. Due to multiple band obligations, it took fourteen years for the Mighty Jeremiahs to break out with the release of their gospel/rock CD on ear X-tacy Records. [All the details of this story are told by Tim Roberts in the April 2006 issue of Louisville Music News, available online at www.louisvillemusicnews.net] Greg summed it up saying "If you like early ZZ Top you would like The Mighty Jeremiahs."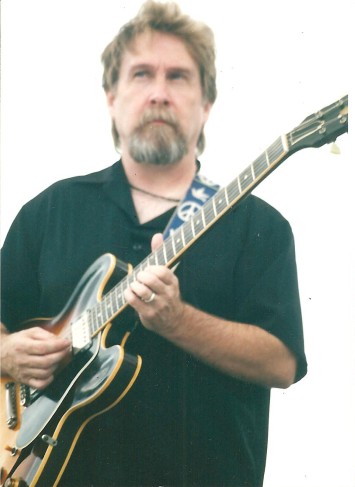 Greg Martin, 2001 King Biscuit Festival, Helena, ARK
Greg is passionate about the guitar evangelists like Blind Willie Johnson and Rev. Edward W. Clayborn. He put me on to Elder Utah Smith and the next day I got my two wings (book and CD) at ear X-tacy. Greg used to take his Strat to a black revival at Rocky Hill in Barren County where he accompanied their praying and singing. Greg said, "We owe the African-Americans."
Greg also performs with Rufus Huff, a jam band steeped in 70's rock. They first started doing some impromptu jam sessions in 2005. The band plays a mixture of blues, boogie and ZZ Top, which was popular in the clubs on Main St. When the late Tim Krekel heard the band one night, he told Greg, "It's just like goin' back to the Windmill." In early 2009, the jazz/blues label Zoho Roots released their CD, which was also recorded in Barrick Studios. Rufus Huff has just cut two songs, "Cocaine" and "Crazy Mama," and an instrumental version of "Cocaine" for a tribute album to J.J. Cale.
The Kentucky Headhunters continue to perform regularly, which, besides Greg on lead guitar, includes Doug Phelps playing bass and singing, Fred Young, who has been with the band since 1968, on drums as well as his brother Richard Young on rhythm guitar. Richard does the blues side of the vocals. The band had five more dates to close out 2009 that included a road trip to Florida. Before Christmas, they performed at the Toys for Tots show in Cave City for the third time. The Headhunters are booking shows well into 2010, including the Kentucky State Fair on August 24. Greg wondered "By the grace of God, how long can this go on?" With ages ranging from forty-nine to fifty-six, they are at a good place in their careers, where they can pick and choose their gigs. Greg said, "When the Headhunters started we were thrown into something we really weren't prepared for. This was a band coming from a Rolling Stone, Southern rock and blues background. We were dropped right in the middle of mainstream Nashville country music. It was like a flying saucer landing on Music Row. It was a strange time which lasted for three years for we were in competition with the likes of George Strait, The Oak Ridge Boys and Garth Brooks. Today we don't have to go to Nashville and beg radio stations to play us. We do what we do and there is a fan base out there that likes that." Greg confessed, "we are blessed for we are not tired of the work, we are tired in the work."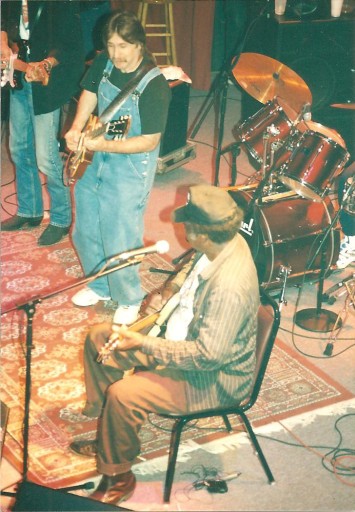 Greg Martin & R. L. Burnside at Headliners, Oct. 13, 1998
Besides touring in a rented bus hauling a trailer for the Headhunter road trips, Greg has recently sailed on two "Delbert McClinton Sandy Beaches Cruises," playing with Jimmy Hall. During the 2008 cruise, Greg wasn't comfortable, because it was like a sensory overload with so many great musicians on board. He felt like a stowaway with all the jamming going on around him. In 2009 he was more calm and was invited to play with Cyril Neville. Due to a prior commitment Greg won't be able to join Jimmy this year on what may be Delbert's final cruise.
Greg has hung out with many musicians including guitarist and songwriter Delaney Bramlett at his ranch in California. Greg said Bramlett is a great teacher who promoted Eric Clapton on his debut solo album, After Midnight, in 1978. When the Headhunters received their 1990 Grammy, they met B. B. King for the first time at the Gibson Guitar Awards Show in New York. Greg said he was so gracious, because when the Headhunters later attended B.B.'s show at Toad's Place in upstate New York, he dedicated a song to them. Greg first met Albert Collins at the bar in the Los Angeles Hollywood Holiday Inn. Collins recognized and acknowledged Greg saying, "You're from Kentucky." Greg and Jon hooked up with Collins again at the Summerfest in Milwaukee. Collins invited Greg and Jon to jam with him at his next gig in Cincinnati when he was to open for the Allman Brothers. Greg told Collins, "I know what you want to do. You want to hang me by my toes on stage. I know you, Albert Collins."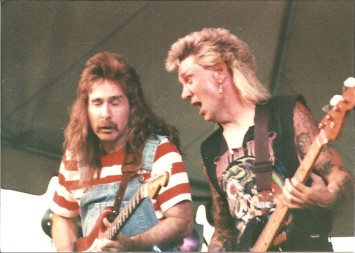 Greg Martin and Doug Cook with Mudmouth, WatersideFestival, 1991
The closest Greg ever got to meet Eric Clapton was at the 1992 Grammys when Greg uttered something to him as he passed by and got a nod. In 1994 Greg got to go out on the road with Lynyrd Skynyrd for three weeks and had an offer to join the band. But Greg felt that wasn't what he was supposed to do. When R. L. Burnside played at Headliners in 1998, Greg was on stage trading licks with Kenny Brown, R.L.'s right hand guitarist. Greg had known Brown through webmaster Scott Montgomery who had worked on Brown's website. They had previously done some jamming together in Mississippi casinos.
I showed Greg an old picture of him playing at the Waterside Blues Festival in 1991. He identified the other musician as Doug Cook, who along with Kenny Lee Smith and Jeff McCallister were the core of the band Mudmouth. Greg said "We had a short run of a few gigs until 1994 that had a revolving list of characters."
Greg has played at some of the sacred sites of the blues including Antone's in Austin, Texas. During the spring of 1992 the Sonny Boy Blues Society was holding a House Rent Party. Greg, Fred and Richard Young plus Jimmy Brown played with the Thunderbirds harpmeister, Kim Wilson, for a one-night stand as the Thunderheads. They did a forty-five minute set and got their picture in Billboard magazine. Following the release of the CD That'll Work with Johnnie Johnson in 1993, the Headhunters performed with Johnson at Buddy Guy's Legends. Greg returned to Legends four years ago to play with Jimmy Hall and his Prisoners of Love. The Headhunters' sound man, Steve Wilson, got Greg in touch with Sonny Payne, the host of "King Biscuit Time" on KFFA Radio and Bubba Sullivan, the owner of Bubba's Blues Corner in Helena, Arkansas. Through those connections, Greg got to play with Sam Carr, Fred James and Dave Riley on the Main Stage at the 2001 King Biscuit Blues Festival. He returned with the Headhunters to play the festival again five years ago.
We closed our interview with Greg looking back and into the future. He recalled, "Richard, Fred and I go back to 1968 and the Headhunters as we know it started in 1986. We all feel that we like each other better as individuals than as the band. We are family. Good Lord willing we'll keep playing." Greg also wants to try other things that are fun, whether it is the Stray Cats Blues Band or Rufus Huff. Maybe he will do the Rev. Utah Smith thing someday wearing a pair of two huge white wings. He has never aspired to singing but he might do that too.
Greg loves his hometown and wouldn't mind relocating back to Louisville in his older years. He said, "As long as there is a Bardstown Road and I can go to Guitar Emporium, ear X-tacy, Mark's Feed Store and hang out in my comfort zones, I'll be happy."
Greg will be back in town again on February 21 playing with the Stray Cats at Stevie Ray's for the Animal Shelter Benefit. Who let the cats out?