January 2010 Articles
Cover Story
Kevin Gibson
Features
Eddy Metal
Columns
Berk Bryant
Mike Stout
Paul Moffett
Keith Clements
Martin Z. Kasdan Jr.
Eddy Metal
CD Reviews
Ronke Oyekunle
Ronke Oyekunle
Martin Z. Kasdan Jr.
Ronke Oyekunle
Blogs
Got Shows?
Send Them To Us
Bookmark Louisville Music News.net with these handy
social bookmarking tools:
Available RSS Feeds
- Top Picks
- Today's Music
- Editor's Blog
- Articles
Add Louisville Music News' RSS Feed to Your Yahoo!

Issue: January 2010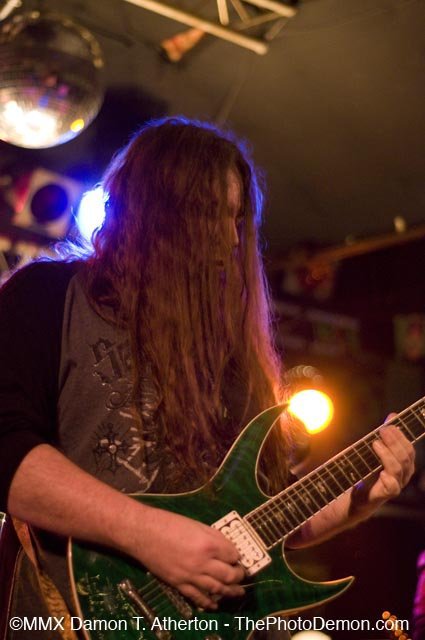 News From the Pit
HOW not to pick up women: "Do you remember me?" the cute little blonde said when she walked up to me at a concert recently. I responded with "yes, you came over a few months ago and gave me a BJ and I never heard from you again." She looked shocked, her eyed bugged out, and her mouth hit the floor, and then I realized it wasn't the same female whom I thought it was. They looked exactly the same! I was sure of it. Well, um…I thought I was sure. I meant the comment as a joke since I thought it was the same girl. Ooops, my bad.
Needless to say, I farged that one up pretty good. I had a darn good chance until I mouthed that insanity. What the heck was I thinking?
Dating is a horror these days. I've been single for five years almost and I've still not met anyone I actually like enough for a girlfriend. Getting the dates aren't a problem, it's the issues and drama and bad habits that frustrate me to no end. One chick smoked so much I nicknamed her 'chimney'. One chick was a pillhead. One was an expert nagger. One already had a boyfriend and didn't tell me. I'm not a very tolerant person, so I usually say "hit the road, wench!"
I realize I'm not the perfect person either by no means, but damn, It's difficult to meet someone worthy these days! Heck, I'm about to give up. That's okay though. I have lots of friends. I've been playing music out again for the last seven months with Year of the Gun, which is a lot of fun and hard work.
It's been slow, national show-wise, but it's like that this time every year. The crappy economy isn't helping either. I've been working a lot at my day job, so I've been really busy lately and haven't gone out very much. Some days I get home from work, take a shower, chill for an hour, practice, then it's time for bed!
I commend all of you who go through this tiresome daily routine, all for the love of playing your own music. It takes dedication and a rugged individual to work hard all day, dealing with the stress of work/life/kids, then go play music for hours on end without pay. It's what we do though. Sure we could form a cover band and play Rage Against The Washing Machine, Godsmack and Creed for cash, but our creativeness and desire to write our own music overtakes all those ideas in the end. Is that cool or what? Stubborn but cool.
There is light at the end of this dreary wintery tunnel, especially if you like heavier music. Between the Buried and Me is coming in late January, and Nile/Immolation will be here in mid- February. Slayer should provide some much-needed entertainment on February 2. Don't be left out because you thought there would be tickets at the last minute.
Then there is the Ten-Year Anniversary show for my Phoenix Hill shows on Friday, January 8 at Phoenix Hill Tavern. Come on up and celebrate ten years of the best and longest running original rock/metal showcase in louevil history! I've got quite the lineup, including my new project Year Of The Gun.
So take it sleazy, stay warm, and get ready for Slayeeeerrrrrrrrrr!!!
The Metal Grapevine
Between The Buried and Me: (Free-Ride)
This super-progressive metal band was awesome when they came with In Flames a few months back, now they are returning as headliners at Headliners on January 22 with a monster lineup. Do not miss the crazy Canadian dude Devin Townsend (The Devin Townsend Band; also in Strapping Young Lad). He is one bad mofo on guitar and vocals, and he is funny, too. I'd go just to see them, even if BTBAM wasn't playing. Cynic and Scale The Summit are on the bill, too. For a chance to win free tickets courtesy of Terry Harper Productions and LMN, message me on Sunday January 17 at 9 p.m. sharp at myspace.com/eddymetalrocks. Closest one to 9 p.m. wins. In subject line, put "Between the Buried."
Slayer/Megadeth/Testament "American Carnage":
This show is the talk of the Louevil metal scene. I can't wait for this beast of a show to come through our little hamlet like a juggernaut. I'm stoked. I've seen Slayer several times and even partied with them. I don't think they've been here since the 1991 Clash of The Titans tour! To me, though, the true treasure at this event is an Francisco's Testament, returning to louevil after more than ten years. They shared the same local music scene as Metallica before they got famous. I suspect most younger metalheads don't know much about Testament. Look up Testament on youtube. Check out the songs "Trial By Fire," "Sins Of Omission" and "Souls Of Black" and you'll see that this is no ordinary opening act. Excellent vocals, melodic yet heavy guitars and insane drumming. Seriously, do not miss this event and get there early to see Testament in action. I'm still trying to get you peeps a pair of tickets to giveaway so stay tuned and keep checking my articles online at Louisvillemusicnews.net
I look forward to getting some pix for you folks and seeing all of you at the show.
Alice In Chains Hits Louevil in February:
I love the old Alice In Chains and I would very much like to see the new version of AIC when they appear at Louisville Palace on February 23. I'm curious to see if the new singer is as good as Layne Staley (who was badass). I've heard a little bit of the new stuff and it's pretty cool, but these ticket prices are outrageous. I'm trying to get free tickets but they seem to be stingy with hooking up the press. I can't afford $100 for one ticket no matter how much I love the band's music. That's like saying "Hmmm, Alice in Chains or food for this week?"
There is no denying the Palace's stage, sound and ambiance. It's a very cool venue! Every show I've seen there was good. So if you can afford the tickets, go see this excellent band. I'll be out front of the show with a sign that says "Will work for AIC tickets!"
Total Terry Harper Shows for 2009 – 112:
Wow. Promoter Terry Harper has put on a staggering one-hundred-twelve shows in the year of 2009. He is one busy mofo. I went to a bunch of the shows. My favorites were the outdoor metalfest-type show that Lamb Of God was, Killswitch at the INNplace Hotel, Five Finger Death Punch, HedPE, Soilwork, Carcass, Nightwish, Exodus/Kreator, Chimaira, Devildriver, Down, In Flames and Obituary. Truly excellent!
I'm just glad the guy loves metal as much as I do. If he loved Duran Duran, Culture Club, or R.E.M. we would be in trouble!
Institution Review:
I'd heard the name quite a bit but had never seen them live. I finally did and I liked what I heard. There are hooks, melodies and an avalanche of groove going on with this band. They have two good singers; the music is rock, but there is a little rap going on at times and they make it work better than most bands doing the same thing. Mike Burch sings well, while second vocalist French does most of the rapping. The music rocks and the basswork of Skitz is funky and lively. If I have one complaint, it would be the guitar tone: the guitarist needs to upgrade his equipment a notch or two. Other than that, check out this kickin' band at myspace.com/paddedcell.
The Bulldog Café Closes Doors For Good:
The popular all-ages venue in Fairdale is officially closed. This is a major blow to the youngsters who loved to go see metal bands there. The kids didn't have many options to begin with but now they are screwed. While I never cared for the place or its hideous PA system, I do like the fact that it was there for the kids. There should be a place for kids to see shows where they can stay out of trouble and actually get to see some great bands. Perhaps this will inspire some of you to go out searching for a kickass new venue to book all ages shows. You never know what venue would be interested in hosting your shows until you actually try and ask them. Be nice and have a plan of attack. You could be the one to start something new and cool.
Hicks Road Tragedy:
The band Hicks Road has had a horrible tragedy happen to them: the singer Tyler and his mother were in a bad car wreck that took the life of Tyler's mother, Donna Sexton. It would be nice if you people were to show a little love in their time of grief. On behalf of me and everyone here at LMN. I would like to offer our deepest and most heartfelt sympathies in this time of mourning. Myspace.com/hicksroad08
New Band Review - At Lights End:
I got to see At Lights End, a rockin new metal band recently that kicks butt. I understand a few of the guys are from New Jersey. They are nice guys and the band has some good stuff going on: deathcore black metal with some pig vocals and some darn good death metal vocals and high screams. I liked what I heard very much. This stuff melts faces and lays waste to all who oppose it. Cedrick the singer mixes it up very well so you don't get too tired of the usual annoying death-metal-vocals schtick. He is all over the place, trying some crazy stuff when most death metal singers just mouthfart on the same note for eight songs. The guitars rock and the drums are smoking as well. The bass riffage was very nice too. I predict these guys will do well in the heavy rock scene here and beyond. They should add some ethereal background keys for some added depth. Then it would be very European sounding. It's dark and pummeling, kinda like getting mugged in an alley by six bodybuilders on crack. If you like Cradle Of Filth, Witchery, Carcass, All That Remains then you should check out this new addition to the louevil death metal music scene. Myspace.com/xatxlightsxendx
A Peek into Future Shows:
As mentioned above, Nile will be here in mid- February at Headliners.
Cold will be at the Hill on February 25 with Nonpoint. A band I've been hearing a lot about, Threat Signal, will be at the Hill on March 4. It promises to be slammin'. Then Bang Tango plays the Hill on March 12. If you like hard driving Eighties rock with soul, then Bang Tango is a must-see. On April 29, another great metal band, oldschool thrashers Overkill come to Headliners. I've had the pleasure of opening for them twice. On May 28, a seldom-seen German power metal band, Primal Fear, will be at the Hill for a rare Euro-metal show. This band is wicked. And vocalist Ralf Scheepers is right up there with Dio, Halford, Dickinson vocally! If you love great singers of metal, then see Primal Fear because they've got one of the greats.
A little Love For Big Al:
Heck, everybody knows Big Al of Boozer and Harleywood Tee Shirts. A neighbor of mine for almost fifteen years, he makes the best band tee shirts in town! (I still have Inhuman shirts from 97 that still look relatively new.) He is always working with the bands to make sure they get what they need, and he always works with your budget. too. Al even printed up some Rock For Kosair shirts for free, just to help promote the show and help out the kids.
Big Al recently lost his sister and is going through a rough time. So to you Big Al, I'm very sorry about your recent loss, and I hope you feel better soon, bro. A lot of people care about you and think you are a great guy. We know your heart is broken, but try to keep that chin up, dude.
We need you and the louevil music scene needs you!
A Through The Storm Xmas:
A new band called Through The Storm read about how Spanky Lee canceled their spot at the Kosair show and they acted so unselfishly that I had to print this. This new band, who did not even play the Rock For Kosair benefit, brought over a few hundred dollars worth of brand-new toys to my house so we could add them to the toys we were taking to Kosair Charities. This action helped us beat last year's take. We did not beat attendance, mind you (the loss of the headliner messed that up totally), but LMN writer Jason Ashcraft's raffle, and Through The Storms actions ended up putting us over the top after all. I've never seen a cooler move than that by a Louisville band. And yes, TTS truly rocks. Check out this jammin' band yourself at myspace.com/byhisdeathilive
$20K Breached – after 5 years of having the Rock For Kosair Benefit we have raised over twenty thousand dollars in toys for the kids at Kosair charities. Kickass!
Upcoming Shows
Broadbent Arena
Tuesday February 2 – The American Carnage Tour w/ Slayer, Megadeth and Testament. 7 p.m. All ages.
Headliners
Saturday January 9 – The Sonic Epitaph CD release show w/ Inner blue, Shatterstone, Dye Hollow and FiveSecondZero. 7 p.m. All ages.
Friday, January 22 – Between The Buried and Me, Cynic, Devin Townsend Band, Scale The Summit. $15ADV/$20DOS. All ages.
Saturday February 13 – Nile w/ Immolation, Krisiun, Abigail Williams, Dreaming Dead, Purgatorium, Narcolepsy Was Her Downfall and Theories Of The Apocalypse. $20ADV/$22DOS. All Ages.
Phoenix Hill Tavern
Friday January 8 – The Original Rock Showcase 10-Year Anniversary Bash w/ Inner Blue, Ky Deathwish, Year of the Gun (formerly 13th Level), Sever This Illusion, E-Flat and Trust Divided. Free before 9 p.m.! $5 after.
Saturday January 23 – Earshot. $10 8 p.m.
Friday January 29 – Louisville Music Showcase w/ Heaven Hill, Artifex Pereo, 16 bones, Some Kind Of Saint, Autumn Canvas, Sonic Epitaph, Thomas Medicine, Institution, Shatterstone, Black Wood Fields, Kenzo, BoneJinn, Hardlein, East 146 and Heatherfield. 8 p.m.
Friday February 5 – The Original Rock Showcase w/ Institution, E-Flat, Hicks Road, Tri-Tones and 2 bands T.B.A. 9 p.m. Free before 9 p.m..
Uncle Pleasant's
Saturday January 16 – 7 Day Sun, Fervor, Some Kind Of Saint and Autumn Canvas. 9 p.m.
Props Of The Month
I haven't done a props of the month in a long while and it's high time I did one again. This month's props goes out to 93.1 the Fox and its key people. Charlie Steele, the Fox's big cheese, is a helluva guy and really cares about helping this city's music scene as much as he can. He doesn't have to do any of this you know. But he does anyway and has helped out a lot since taking over years ago. He has supported many benefits including the Rock for Kosair shows and many others. And he never asks for anything in return for his kindness. Both he and his wife are great people.
Clear Channel made the best decision ever when they got Charlie in there. Of course, he has had to put up with many obstacles since the economy tanked, but he maintains the essence of what the Fox is about even though Corporate has screwed with his format regularly. He has made sure that they don't do away with all the local music support. For that, you mofos should be eternally grateful! The Fox is still helping out our music scene. And what can we say about Mudd? He's the fairest and coolest most-laid back DJ in louevil history. Usually DJ's are limelight-loving lame-o's, but not Mudd. He leaves all that nonsense behind. And there's Chris Allman, the laid-back 'Detour' guy and genius who makes the radio spots you hear all the time on the Fox. Believe me, he goes out of his way to hook Louisville bands up by tweaking the music and making your radio commercials sound the best he can by finding the best hook to use in your songs. I've seen him digging, searching and smelling out that perfect riff countless times! He's a fargin' bloodhound for hooks.
So yeah, let's pay homage to the city's only rock station, and the station that supports our region's musicians and the venues that support original rock and metal. All hail to 93.1 the Fox and to all who work for them!