January 2010 Articles
Cover Story
Kevin Gibson
Features
Eddy Metal
Columns
Berk Bryant
Mike Stout
Paul Moffett
Keith Clements
Martin Z. Kasdan Jr.
Eddy Metal
CD Reviews
Ronke Oyekunle
Ronke Oyekunle
Martin Z. Kasdan Jr.
Ronke Oyekunle
Blogs
Got Shows?
Send Them To Us
Bookmark Louisville Music News.net with these handy
social bookmarking tools:
Available RSS Feeds
- Top Picks
- Today's Music
- Editor's Blog
- Articles
Add Louisville Music News' RSS Feed to Your Yahoo!

Issue: January 2010
Name: Corey Robinson
Age: 27
Instrument: I provide lead vocals for the band. I've been singing sonce I was a kid and I was even in concert choir in high school.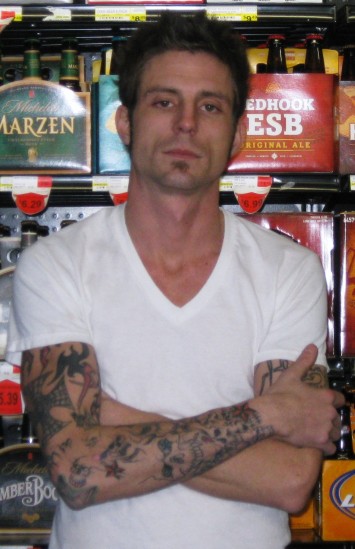 Corey Robinson
Band/Former Bands: I was in a couple of bands that never made it out of the garage. I've been with Some Kind Of Saint for 2 years now.
How long on instrument: I've been singing for as long as I can remember, it runs in the family.
Equipment: My voice and a mic.
Influences: I'm a big fan of Chris Cornell, so I try to emulate his style.
Hobbies: I'm a sports fan. I played in high school and I love to watch basketball and football on TV. The NY Giants are my team.
Favorite Movies: I like Pulp Fiction because of the irony and of course for Samuel L..
Favorite Food: I really like Italian food. I could eat pasta anytime.
Favorite Place: Time Square because of the fast pace and the diversity of people.
Bad Habits: Smoking cigarettes. I try not to smoke before a show.
What I'm Listening To Nowadays: I listen to Incubus and Chevelle, alot.
Coolest Thing You've Done: Skydiving. It was exciting and scary all at the same time.
Most Embarrassing Moment: I once woke up naked in the front yard wearing only socks after partying all night.
Who Do You Love: My girlfriend Caron.
When/Where Did You First Get some: When I was too young to truly know what I was doing, so I'm not sure if it counted.