November 2009 Articles
Cover Story
Kevin Gibson
Features
Eddy Metal
Columns
Berk Bryant
Mike Stout
Paul Moffett
Keith Clements
Martin Z. Kasdan Jr.
Eddy Metal
CD Reviews
Kevin Gibson
Martin Z. Kasdan Jr.
Martin Z. Kasdan Jr.
Ronke Oyekunle
Martin Z. Kasdan Jr.
Hunter Embry
Hunter Embry
Hunter Embry
Ronke Oyekunle
Performance Reviews
Jason Koerner
Blogs
Got Shows?
Send Them To Us
Bookmark Louisville Music News.net with these handy
social bookmarking tools:
Available RSS Feeds
- Top Picks
- Today's Music
- Editor's Blog
- Articles
Add Louisville Music News' RSS Feed to Your Yahoo!

Issue: November 2009

Jazzin'
PRELUDE
Not much on my mind this time around; wishing you and yours a warm, healthy and happy Thanksgiving.
BELA FLECK ZAKIR HUSSAIN & EDGAR MEYER AT THE BROWN, OCTOBER 9
Béla Fleck, Ustad Zakir Hussain and Edgar Meyer share the attributes of instrumental virtuosity, musical curiosity and friendship. They brought these factors together at the Brown Theatre on Friday, October 9, for an evening of multicultural music which deftly blended the diverse styles of Indian Classical music, Western Classical music, bluegrass, jazz, and more, thoroughly leavened with a collective sense of warm humor. Fleck's banjo, Meyer's bass and Hussain's melodic tabla found common musical ground throughout the night. Much of the music over the course of their two sets was taken from their recently released recording, The Melody of Rhythm. Both Fleck and Hussain have ties to the Grateful Dead, and it seemed to me that the pacing was reminiscent of a post-1975 Dead concert, with more and shorter songs in the first set, and fewer, longer improvisations in the second set. They opened with a soulful, almost bluesy composition from the album, Fleck's "Bubbles." Next up was the first song from the CD, Hussain's "Bahar" ("Babar" typo on the recording). The mere title announcement of Meyer's composition "Happy Drum Drum Monkey Girl" drew laughter, but the playing showed a jazzier side than the pieces played before.
The trio really took off in the second set, with a mournful pizzicato solo by Meyer introducing Hussain's "Making Music," the title track of his 1986 ECM recording. Hussain invoked natural sounds of the wind and rain on this 15-minute musical excursion. They closed with "Pila" [sp?], which built to multiple climaxes and led to a well-deserved encore of a "traditional North Indian Classical piece, as introduced with a grin by Hussain (it was actually bluegrass). Over the course of some two-and-a-half hours, these three musicians demonstrated how music knows neither international nor stylistic barriers.
EIGHTH NOTES
Jim Snidero: Crossfire (Savant 2102) I missed alto saxophonist Jim Snidero's October 22 gig at Jazzyblu due to a prior commitment. However, I can tell you that his new album, Crossfire, is excellent. Joined by guitarist Paul Bollenback (here at Bellarmine last year), bassist Paul Gill, and drummer Billy Drummond, Snidero performs six originals, plus versions of "Time after Time" (Sammy Cahn, not Cyndi Lauper), "Somewhere in the Night" and Herbie Hancock's "One Finger Snap." Most significantly, Snidero plays these classics as if they were his own. The title track opens the CD with a Monk-ish sensibility. "Lost" features an edgy blues guitar solo. Throughout this recording, Snidero, a mainstay of Jamey Aebersold's Summer Jazz Workshops, displays what I call a sense of progressive swing. The music moves, but the soloists are creative and in the present, not recreating older styles. I hope to catch him on his next trip back to Louisville, and this disc will just have to suffice until then.
ON THE HORIZON
STRIDE PIANIST JUDY CARMICHAEL AT THE GALT HOUSE, NOVEMBER 7
Grammy nominated pianist Judy Carmichael is a stride player who has garnered international acclaim. She appears Saturday November 7, at 7 p.m. at the Galt House Hotel. For ticket reservations and information, please call Gist Piano Center, which is sponsoring the event, at (502) 451-1831. She will also perform on Friday night at North Oldham County High School for a fundraiser to help pay for a new piano for the school.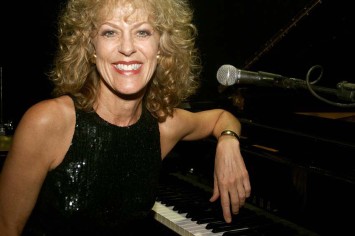 Judy Carmichael
Her two most recent recordings are Southern Swing and Come and Get It, both apparently self-released. Her website is www.judycarmichael.com. Southern Swing boasts a back cover blurb by none other than legendary New Orleans artist Allen Toussaint. Recorded live at a jazz festival in Australia, she is accompanied by a cornet player and guitarist who she met shortly before going onstage. That they speak the same language of good-natured traditional swing and stride is evident from the opening notes of the first song, "I Found a New Baby." Come and Get It is titled after the Fats Waller song contained on this septet recording. Carmichael approach to the repertoire is at once respectful, but with a sly wink and an engaging sense of warm humor.
GUITARISTS RONI BEN-HUR & JEFF SHERMAN AT BELLARMINE, NOVEMBER 9
In a bit of last-minute (deadline) lagniappes, I just got word that on Monday, November 9 the Bellarmine Music Department will present a Jazz Guitar Masterclass with guitarist Roni Ben-Hur at 5 p.m. in the George Norton Fine Arts Complex/Music Building, room 101. Roni Ben-Hur and Bellarmine faculty member Jeff Sherman will present a concert in the Amy Cralle Theater in Wyatt Hall on campus at 8 p.m.. Even better, both events are free and open to the public! Ronnie moved from his native Israel to New York City in 1985 and has made a series of excellent recordings over the years. His newest release is Fortuna (Motema MTM-28), with an all-star lineup: Ronnie Mathews, piano (one of his last recordings before succumbing to cancer); Rufus Reid, bass; Lewis Nash, drums; and Steve Kroon, percussion. Ben-Hur uses very clean guitar lines, and most of the songs have a modern swing feel. While the disc represents Ben-Hur in an ensemble setting rather than a duo, it does spotlight the inventiveness of his playing. A personal favorite is his rendition of Jobim's "Modinha," which has an invocational feel of subdued exploration. More information about Roni Ben-Hur can be found at: www.ronibenhur.com.
JEAN-LUC PONTY AT UK AND THE JAZZ KITCHEN
Pioneering electric violinist Jean-Luc Ponty will appear in two regional shows this month. His band consists of William Lecomte (keyboards), Damien Schmitt (drums) and Baron Browne (bass). They perform on November 14 in Lexington, at UK's Singletary Center For Arts. More information may be found at www.uky.edu/SCFA/series.php. Four nights later, on the 18th, they appear at Indy's Jazz Kitchen (see club listing below). Anybody up for a road trip?
SELECTED CLUB AND OTHER LISTINGS
The Comedy Caravan, 1250 Bardstown Road, Louisville, KY 40204, 502-459-0022 www.comedycaravan.com, has long been a venue for quality musical acts. The Don Krekel Orchestra performs the second Monday of each month, which falls on November 9. The Bobby Falk-produced "NIGHT OF JAZZ" is November 23, at 7:30 p.m., and features Squeeze-bot, the Bobby Falk Group, and the John Harden Project from Indianapolis, whose website is www.johnhardenproject.com. No other jazz bookings were planned as of deadline time, so please contact the club for any post-deadline shows.
The Seelbach Jazz Bar, (500 S. Fourth Street, 502-585-3200), features vibraphonist and occasional pianist Dick Sisto, who always provides excellent mainstream jazz, sometimes with guest artists joining him.
The Nachbar (969 Charles Street, 502-637-4377, (ww.myspace.com/thenachbar), features Vamp (saxophonist Jacob Duncan, drummer Jason Tiemann and a revolving crew of bassists) every Wednesday, and was featuring Squeeze-bot on Sundays; check the club for updates or changes.
Jockamo's Pizza Pub (corner of Goss Avenue and Krieger Street, 502-637-5406) now has jazz every Thursday night with guitarist Craig Wagner, drummer Jason Tiemann, and others.
The West Market Street Stompers continue their weekly gig at Bearno's By The Bridge, 131 W. Main St., on Fridays, from 5:30 - 7 p.m.. An added enticement, per their Newsletter, is a dance floor.
Jazzyblu has opened in the basement of the Glassworks, 815 West Market St., 502-992-3243; the homepage is www.jazzyblu.com. As of late deadline time, the November lineup was not posted, with the exception of "Neo Soul Jazz Saturdays" hosted by Maestro J featuring a different artist each week
The Jazz Kitchen (5377 N College Ave., Indianapolis, IN 46220; phone: 317-253-4900; www.thejazzkitchen.com), presents nightly offerings of local and regional jazz; check the website for the full schedule and updates. The standout guest artist for November is Jean-Luc Ponty on the 18th; see above for more information.
The November schedule for The Blue Wisp Jazz Club in Cincinnati, 318 East Eighth St. (513-241-WISP), includes: Roni Ben-Hur, Friday-Sunday, November 6-8 (see above for his Bellarmine appearance); and Morehead State Univ. Jazz Ensemble, Friday, November 20.
Wednesdays remain the province of the Blue Wisp Big Band. For details and the full schedule, the website is: www.thebluewisp.com.
The Redmoor, 3187 Linwood Avenue, Cincinnati (513-871-6789), website: www.jazzincincy.com. As of deadline time, the club will be hosting local and regional acts in November.
Please sign up for updated local jazz listings: The Louisville Jazz Society has revamped its website (www.louisvillejazz.org), and offers a weekly e-mail "Louisville Jazz Society's Jazz Insider." It is quite comprehensive, more so than I can be here. It is both impossible for me to try to provide complete listings here, and it would be duplicative of the weekly listings in the Courier-Journal and LEO and the Louisville Music News' monthly music listings, in both the print and online editions (www.louisvillemusicnews.net).
LOCAL JAZZ CONTACTS
With two just-turned 11-year-olds, it's hard to get out as much as I would like to hear music. As a result, picking and choosing which performances to catch sometimes require that I postpone seeing some of the local musicians and singers in order to not miss the one-night-stands from out-of-town artists. Invariably, I feel guilty, so in an effort to assuage my guilt and, more positively, to provide more exposure to our community of great local jazz performers, I am initiating this feature containing website and e-mail contact information. I am only including those artists who have given their permission to me; some have indicated a preference for website listing only; others have only e-mail addresses. If you wish to be included, drop a line to me with your permission and preferences, at mzkjr@yahoo.com. I reserve the right to edit and to exclude those whose connection to jazz is, in my opinion, tenuous; and this feature may end up online if it begins to take up too much space in print.
MIKE TRACY: www.michaeltracy.com, michael.tracy@insightbb.com, saxophonist and teacher Mike Tracy
UNIVERSITY OF LOUISVILLE JAZZ PROGRAM: www.jazz.louisville.edu
BOBBY FALK: www.myspace.com/bobbyfalk, drummer and composer Bobby Falk;
WALKER & KAYS: www.walkerandkays.com, singer Jeanette Kays and guitarist Greg Walker;
JENNIFER LAULETTA: www.jenniferlauletta.com, singer Jennifer Lauletta;
JEFF SHERMAN: jeff.sherman@insightbb.com, guitarist Jeff Sherman;
RON JONES: www.ronjonesquartet.com, rjmusic@ronjonesquartet.com, saxophonist Ron Jones;
STEVE CREWS: www.jazzcrews.com, jazzcat@iglou.com, pianist Steve Crews.
CODA
I am always interested in your comments. Contact me at mzkjr@yahoo.com.