November 2009 Articles
Cover Story
Kevin Gibson
Features
Eddy Metal
Columns
Berk Bryant
Mike Stout
Paul Moffett
Keith Clements
Martin Z. Kasdan Jr.
Eddy Metal
CD Reviews
Kevin Gibson
Martin Z. Kasdan Jr.
Martin Z. Kasdan Jr.
Ronke Oyekunle
Martin Z. Kasdan Jr.
Hunter Embry
Hunter Embry
Hunter Embry
Ronke Oyekunle
Performance Reviews
Jason Koerner
Blogs
Got Shows?
Send Them To Us
Bookmark Louisville Music News.net with these handy
social bookmarking tools:
Available RSS Feeds
- Top Picks
- Today's Music
- Editor's Blog
- Articles
Add Louisville Music News' RSS Feed to Your Yahoo!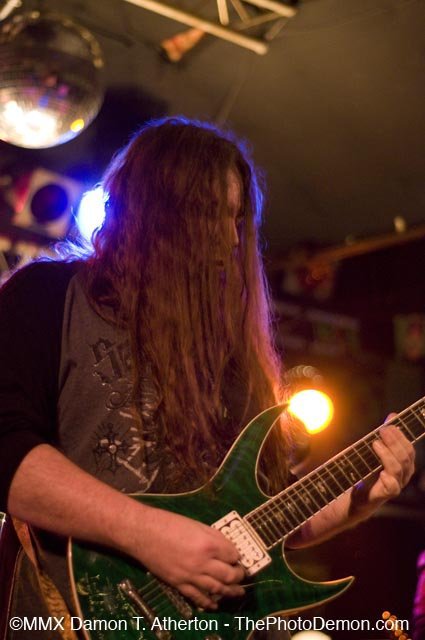 News From the Pit
Here is a cute little story from my childhood. And a true one.
When I was a small boy, I used to love tying a towel around my neck and running around the yard with my arms out, acting like I was flying like Superman, usually wearing my Superman Under-Roo's (popular children's superhero underwear of the day and age). One day I was looking for something in my parent's dresser when I came across a length of rope with little balls at intervals on the rope.
I thought "Cool, a new weapon I can use in my Superman crime-fighting apparatus!" So I proceeded to run outside to play with this new 'toy.' It wasn't until years later that I discovered that that my superhero weapon was a sex toy of the kinkiest sort! And there I was, gallivanting around the whole neighborhood, swinging it around like a samurai warrior.
Today's music is wretched.
I finally listened to the music of the Kings Of Leon after hearing way too much hype and buzz about the band, and I must tell you, loyal readers, that I have never heard such a bunch of whiny scat in my entire 39 years of life. Sounded like dude was moaning about his aching v*gina.
I was driving in my car and almost got sick by the foul cheesiness of it all. My chit was spinnin'. Needless to say, I recovered, yet I am still not 100% after being tortured by that vision of the music of tomorrow.
The louevil scene is kickin' and there is a lot going on. I have been so busy, now that I'm working a full-time job, doing my promoting stuff on the side, polishing the 13th Level project, and writing for LMN, that I'm about to go nuts. And putting the Rock For Kosair Benefit Concert together isn't a walk in the park, either! Try juggling 17 bands, 8 sponsors and 3 stages at once!
It's gonna be a blast though. It always is.
And another thing that will be very cool for me is that for the first time ever, I'll be able to play my own Rock For Kosair Benefit. I'm looking forward to unleashing some new tunes I wrote, so come early and check out my cheesiness in action! See show and Guitar Giveaway info below.
Promoter Terry Harper has given us a real treat the last month or so, in the form of four wicked concerts: Down, In Flames, FFDP and Obituary. I've been a concert-going fool. I bet if there was a prize for most concerts seen in louevil, I would win hands down. GWAR is coming up, and Rob Zombie is finally returning to louevil. I'm looking forward to covering Rob's twisted carnival of a metal show for you freaks. So keep an eye out for December issue!
Check out the pics I took at all these concerts online at Louisvillemusicnews.net, they rock!
The Metal Grapevine
Win Free Rob Zombie Tix:
(Free Ride) On Tuesday November 24 at Broadbent Arena, the master of horror invades! And let me tell you, it is a show not to miss! Every time I have seen Rob in action it's been a great show, especially when he played Louisville last at Louisville Gardens. Rob Zombie is very excited about touring again and quoted.
"I am bouncing off the walls like a mental patient," says Zombie "That tells me it's time to take it to the stage and let the demons loose."
For a chance to win tickets to this rockin' show, message me at myspace.com/eddymetalrocks on Sunday November 17 at exactly 9 p.m. Closest one to 9 wins. In subject line put "Thunderkiss!" Thanks to Sean at Nederlander for the giveaway tickets. You rock bro.
Rock For Kosair/4 Guitar Giveaways:
Okay, here's the dealio. Last year kicked much butt, and we raised over five grand in toys for Kosair Charities. I would love the event to do even better this year - for the kids, of course! I've put together another great lineup of original music, and I think it's going to be a heck of a party. As usual, my excellent sponsors, 93.1 the Fox, and I will be giving away several guitars courtesy of Mom's Music, First Quality Music, Uncle Sam's Jamms and Professional Musicians Center. But ...you have to get there early to get the free numbered ticket with paid admission! Important - We are only giving a LIMITED NUMBER. So show up before 9 pm for the best chance of getting a ticket! Bands confirmed so far include Spanky Lee (Reunion), Plan Of Man, Burn To Shine, Chamberflow, Nova Red, Some Kind Of Saint, BoneJinn, 13th Level, Deliver Us From Evil, Magnetic Flux, 16 Bones, 2 Pump Chump, Project Sovereign, Adaptize, Thomas Medicine and Hicks Road. A lot of peeps in the scene are being very nice and helping with the show; including fellow LMN writer Jason Ashcraft, Clay from Intheclear, Tim from Hellawicked Productions and 2 Pump Chump.
Thanks guys!
Five Finger Death Punch/Shadows Fall Review:
I really was looking forward to this show and I wasn't let down. I got to watch this wildly popular and somewhat new band absolutely kill from side-stage. My friends Nicole and Angel and I went to see Shadows Fall and FFDP and had a blast. Some 1700 to 2000 people, the most I've ever seen, were packed inside. Otep started the night, and ripped it up pretty good, considering that the singer had the flu. She isn't lame though and toughed it out. She has some awesome screams but the rappy, whiny vocals weren't doing it for me at all. The band sounded thick, though.
Shadows Fall kicks major butt live. This is the second time I've seen them and they just keep getting better. Vocalist Brian Fair's dreads are so long now hat he steps on them, and when he throws them around, thrashing onstage, look out! Mofos in the second row could be hit with it. The place was going nuts. He sounded better on vocals this time, too. Of course the guitars were rockin.' Both Jonathan Donais and Matt Bachand are demons who weave their way through a song with utmost confidence. Very impressive chops.
The band's set of old and new songs included a blistering new cut, "Still I Rise," from the new CD Retribution. They tore into some older stuff, including "The Light That Blinds," and "Thoughts Without Words"; it was tight and a pleasure to watch. I really need to look into this band more. Maybe I can get their record label to send me their CDs so I know their music better.
Five Finger Death Punch is like a tidal wave right now - not much can stop the onslaught of melodic, thrashy, in-your-face metal from Los Angeles. Vocals matter a lot and death metal vocals don't really do it for me anymore (unless done very well), so when I first heard FFDP, I though "Cool, melodic but heavy too!" Melodic and heavy is a winner of a combo and these guys are proof of that.
The band had way cool machine gun mic stands and the crowd was more than ready to get death-punched! I was stoked because I was up front taking pictures so I had the ultimate spot to check out the tune-age.
The band came out blistering into 'Burn It Down" from War Is The Answer, then continued to rip the roof off the joint with "Salvation," Way Of The Fist," one of my favorites "The Devil's Own," and new tunes "Hard to See" and "Bad Company" (a Bad Company cover that I cannot get out of my fargin head since I bought the new CD). The last three songs were awesome: "White Knuckles," "Never Enough" and their most popular song, "The Bleeding."
Vocalist Ivan Moody sounded good, always aiming to hit the notes as on the record, although his rep was otherwise. He stopped the show and was talking to little kids and being very cool about it, calling them "real" metalheads and that they are the reason he performs. He kinda stole the hearts of the crowd. So I didn't see an a**hole at all, but a genuine human being who actually cared.
FFDP guitarist and founder Zoltan Bathory may be no guitar virtuoso, but he is a darn good guitarist with considerable songwriting talent, and that, my friends, is where it counts! As a guitarist - you can play 9000 licks a second and still go nowhere if you have no groove and feel. Zoltan has achieved this valuable asset. His fast, muted, thrashy picking technique mixed with memorable, clean guitar riffs both heavy and soothing.
Zoltan and the rest of the crew are a bunch of jokesters, too. They tell more jokes than the average band; you could say their show is partly a comedy routine as well.
They are some funny mofos. Wacky bearded Bassist Matt Snell had people rolling with his honesty and humor. At one point, he said "I'm 38 years old, and I probably know your mother!" Ha. FFDP put on a great show and I recommend them to any kind of metal fan, because they have something for every type of metal lover. This show was the talk of the metal scene for a month or more in advance, so it had high expectations! They were met. Thanks to Terry Harper, and Rikki.
Five Finger Death Punch Interview with Bassist Matt Snell:
I was able to do a short and sweet interview with FFDP bassist Matt Snell prior to the show.
Eddy: I really enjoyed the first album. What makes your brand new CD, War Is The Answer, different from your first album? And tell us about the title and how that came about. .
MATT: The new album is definitely meant to turn heads with the title. We made a more mature record this time - we wanted to have the unabashed aggression from THE WAY OF THE FIST, but to grow as songwriters. I think we've done that. Ivan writes the lyrics, and he's definitely got enough to be pissed about to make for great material!
Eddy: I suspect you guys will be on the road for awhile in support of the new album. Is there any specific place in the world you are dying to take your music to that you haven't yet? And why?
MATT: We've been to Canada, the UK, Europe, Japan, and Australia - we definitely need to get down to South America soon! That would be a good time, and there are some crazy metal fans down there.
Eddy: I know you guys have some great road stories to tell. What is your best and funniest road story so far? And don't hold back on me!
MATT: We definitely have some interesting conflicts on the road… War Is the Answer is more than just an album title! One time a couple people in our bus (names have been changed to protect the guilty) got into a really heated argument, and one of them went flying into the windshield and busted it all up. That person had to pay for the windshield, but I think he thought it was worth it.
Eddy: The ladies seem to like your band a lot (it must be nice). In fact, one of them asked me to ask you how big your Five Finger Death penises' are? The ladies are curious!
MATT: Wow, I won't comment on this one. LOL
Eddy: People are excited about you guys coming here again! It's been the talk of the metal scene here in Louevil. What would you like to say to your loyal fans leading up to your show on October 18 at Expo 5?
MATT: Thanks Eddy, and thank to everyone who has supported us in L - ville! We can't wait to come back and tear the fucking place down with you. It's gonna be a great night.
Thanks for your time, fellas. I look forward to finally meeting you and seeing you kick some major butt...again!
MATT: Thank you!
The Fox' Gobblestock coming:
On Thanksgiving, 93.1 the Fox is having their annual Gobblestock Event at Phoenix Hill. They are still working on the lineup, but I'm sure it will be good. They usually are! So after you gorge on turkey, bring your butt out to Gobblestock!
Down Review:
"Whoa" is all I can say. While I am a fan of Phil Anselmo's voice (when sober), I've never been a fan of his actions or attitude. After all, it was his drug addiction which caused the downfall of Pantera. I had never seen Down before and was looking forward to watching a southern Louisiana, sludge/swamp metal band in action. I hoped Anselmo was laying off the dope and I was surprised he was.
New Orleans-based metal band Down played an excellent set and I was surprised how good Phil sounded and acted. He didn't talk about beating people up this time. He didn't sway in a smashed manner as usual. In fact, he and the band destroyed! Pepper Keenan may be no Dimebag Darrell, but he plays with much heart and soul. Down-home type riffage. It's hard to not like these guys.
Their were super tight and Pepper Keenan and the dude from Crowbar were awesome on guitar. I've always liked southern sludge metal and these guys are apparently the kings of that genre. The band played "Stone the Crow"; "New Orleans Is A Dying Whore"; the ponderous "Nothing In Return (Walk Away)" from Down III; "Bury Me In Smoke" and "Hail The Leaf." (You can tell these guys indulge in a little greenery from time to time.) All I know is that when they come to louevil again, I'll be there. Heck, I'm ready to drive my butt down to New Orleans!
Openers the Melvin's didn't do anything for me at all. The riffs were simple and not very memorable and the vocals sucked. So I just schmoozed till Down came on.
Daughtry and Theory Of A Deadman Coming:
On Saturday, December 5 at Broadbent Arena, Daughtry and Theory Of A Deadman will be rockin' out. I have heard the show is excellent; my singer Steve loves this band, so maybe I'll cruise up there with him. One thing for sure, there will be plenty of cute females in attendance. Count me in!
Def Leppard and AC/DC Canceled, WTF?
I was so looking forward to seeing 80's icons Def Leppard for the second time and now it's canceled. Sheesh, first AC/DC, now it's the Leppard? What's next? Rob Zombie pulls out at the last second? I'm bummed :(
In Flames Review:
Wow. This show was a technical musician's wet dream. The talent was substantial. The first band, Encino, California's The Faceless, was wicked and won me over fast, especially with dude's lead guitar work. Death metal with beautiful melodic and emotional guitar. The vocals were good, too. I usually don't like cookie monster vocals either. But the brutality and melody mixed together in such a way that was a revelation. Do yourself a favor and check out The Faceless.
Vancouver's 3 Inches Of Blood came on and ripped it up, too. This band reminds me of Metal Church, old Priest or Overkill. These guys are pure no-nonsense heavy metal. The singer has a crazy, high-pitched voice that might irritate some people, but not me. The guitarist looked exactly like James Hetfield in the early 80's. Overall, the band sounded great and was a pleasant break from cheesy nu-metal.
Then Between The Buried And Me came on. I was talking with some young metalheads and they told me that BTBAM was unreal; they were right. This thrash/overly progressive metal band was phenomenal, but they seemed to be a bit too much, technical-wise for me, as the songs were hard to follow and right when you would hear a great riff and started to get into it, they would change into something totally different, throwing the groove off. The musicianship was great though. Top notch!
Sweden's In Flames stole the show. I'm not too familiar with this band even though I've seen them twice before. All I know is that everything meshed beautifully and, combined with Anders Friden's razor-sharp, pinpoint vocals, made this the performance of the night. Friden mixed it up pretty good, using classic metal vocals with clean parts here and there. The double guitars were amazing, very melodic and they harmonized perfectly. Very good songwriting. No songlist, sorry. Some wench lost my pen about then, so I was screwed.
The sound at Expo 5 was very good, maybe the best I've ever heard it there. DC Productions gets full credit for it. I was thinking it wouldn't be crowed but it was much better than I thought. Excellent concert!
Thomas Medicine Review:
I've heard about this five-piece band from Louevil a lot, but I never actually heard them until they played my show. Boy, was I missing out: they jam! It's emotional progressive rock with plenty of groove and feeling. Formed by vocalist Pat Quinney and his drummer brother Matt in 2006, the band was first called The Lost, but later the name was changed to Thomas Medicine, an odd name I've wondered about. Pat says they are fans of inventor Thomas Edison and fans of mind-altering substances, so they came up with the name Thomas Medicine and it stuck!
Pat's vocals are awesome and work very well with the groove-oriented music. The musicianship of the band shines as well. Bassist Chad Omen used to play in a few hardcore metal bands but has now taken a liking to more melodic music. It's good to see metal musicians do other kinds of music besides metal.
Thomas Medicine is so good I added them to the Rock for Kosair show on November 20. And to think the band said that no louevil paper had ever written anything about them yet! So be on the lookout for this excellent band, and till then, check them out at myspace.com/thomasmedicine.
GWAR on Nov 4:
Monsters, costumes and really loud metal music make this a show not to miss. Expo 5 has a treat in store for them. A chitload of goo to clean up come November 5! The Red chord, Job For A cowboy, Stonecutters, Antikythera, The Revenants and The Burial will also be playing, so get your tickets to this Fall Ball of the extreme!
Billy Yeakey Update:
Phoenix Hill Tavern soundman Billy Yeakey, who suffered a serious heart attack not long ago, is doing much better and is expected to be back to work in a few weeks! This is great news, because Billy has been a great asset to this city's original music scene for years. We need his talent behind the soundboard!
Louevil Rock Veteran Suffers Heart Attack:
Louisville rocker Sean Lynch, who has been in the scene in bands such as Noise Bucket and Dancin' With Manson, had a bad heart attack a few weeks ago and pretty much died. He was revived and seems to be doing a lot better now, and is hopefully on the way to a full recovery. So get well bro, you got a lot of friends who care for your old guitar playing arse.
E - Flat Returns - With a Change:
Longtime Louisville foul-mouthed hooligans E-Flat are back with some new changes. Rod Mack is singing much more now than ever before and I must say the new stuff works just fine. I'm so used to Rod doing the rap metal thing it kind of threw me off there for a minute or two, but when I started hearing the actual singing, I was surprised and was digging it pretty good. So yeah, E - Flat sings now. Check out these longtime louevil music veterans at a club near you!
New Band Alert, Revive The Fallen:
So my drummer comes to practice one day and hands me a CD of some friends of his, a new band called Revive The Fallen. RTF is a young five-piece hardcore death metal band that slams. I'm digging this new stuff quite a bit. The demo sounds very tight and the music has some old-school chops in it, whilst still maintaining a newer sound. The vocals aren't bad and mix with the music well, using low guttural sounds and screams. The guitars sound good. Good tone, too. There is some serious promise here.
I heard these guys got their act together and have some good equipment to boot, so I'm looking forward to seeing them live. You can see this brand new band Friday December 4 at my Phoenix Hill showcase w/ Lexington's Society's Plague. Myspace.com/revivethefallen502
Upcoming Shows
Broadbent Arena
Tuesday, November 24 - Rob Zombie.
Saturday, December 5 - Daughtry and Theory Of A Deadman.
Bulldog Cafe
Friday, November 6 - Evergreen Terrace, For The Fallen Dreams and Asking Alexandria. 8 p.m.
Monday, November 16 - Whitechapel w/ Intent To Kill, Revive The Fallen, Little did We Know and The Troodon. $12. All ages.
Expo 5
Wednesday, November 4 - Gwar w/ The Red Chord, Job For A cowboy, Stonecutters, Antikythera, The Revenants and The Burial. 7 p.m. $20 ADV/ $22 DOS.
Thursday, November 12 - Boys Like Girls w/ Cobra Starship, Rocket To The Moon, The Maine and Versa Emerge. $25 to $100 (VIP Package available). All ages.
Headliners
Sunday, November 8 - Powerman 5000 w/ Downtrend, Left With Scars, The Dead Hours, Factory Damage and Birth Of A Zealot. 7 p.m. $12 All ages.
Tuesday, November 10 - Silverstein w/ Madina Lake, I See Stars, Closure In Moscow and The Word Alive. $13 ADV / $15 DOS. All ages.
Sunday, November 22 - The Devil Wears Prada w/ Story Of The Year, Haste The Day and Minutes. $20. All ages.
Wednesday, November 25 - Attack Attack w/ I Set My Friends On Fire, Miss May I, Our Last Night and The Color Morale. $13 ADV / $15 DOS. All ages.
Saturday, December 5 - Emilie Autumn w/ The Key. $15 ADV /$17 DOS. All ages.
Phoenix Hill Tavern
Friday, November 6 - The Original Rock Showcase Series: Seclusion (featuring former members of Incursion and False), Kentucky Death Wish, Silent From The struggle, The Tri-Tones and Siren Falls. 9 p.m. Free before 9. $5 after.
Saturday, November 14 - Burn To shine CD Release w/ 16 Bones and Seedus. 8 p.m.
Friday, November 20 - 5th Annual Rock For Kosair kids Benefit concert w/ all proceeds going to buy toys for Kosair charities. (See band lineup in The Metal Grapevine above!) Four guitar giveaways!
Saturday, November 21 - Signal 48, Turnkey Pauper and Prey For Maria 8 p.m.
Thursday, November 26 - 93.1 The Fox's Gobblestock 09. Lineup to be announced!
Friday, November 27 – biZkits Black Metal Friday.
Saturday November 28 Amanda Overmeyer. A former contestant on American Idol season 7. I hear she is a wild biker rocker chick, so it could be cool! $12 ADV / $15 DOS
Friday December 4 The Original Rock Showcase Series: Society's Plague, Institution, Blackroom, 4 Storie Failure, Revive The Fallen and At Lights End. 8 p.m. Free before 9 p.m. $5 after.
Friday January 8 The Original Rock Showcase Series' 10 Year Anniversary at PHT.
Shooters
Saturday November 7 7 Day Sun, Stallpoint, Blackroom, Silent From The Struggle and Broke And Bleeding. 8 p.m.
Uncle Pleasants
Thursday November 5 – Hawthorne Heights w/ Just surrender , Punchline, Monty Are I and Punchbeast.$13 ADV / $15 DOS.
Sunday November 8 – The Black Dahlia Murder w/ Skeletonwitch, Toxic Holocaust and Trap Them. $15 All ages.
Sunday November 15 – Brother Ali w/ Evidence, Toki Wright, BK One and Skyscraper Stereo. $10 ADV / $12 DOS. All ages.