October 2009 Articles
Cover Story
Kevin Gibson
Features
Eddy Metal
Columns
Berk Bryant
Mike Stout
Keith Clements
Martin Z. Kasdan Jr.
Eddy Metal
CD Reviews
Hunter Embry
Hunter Embry
Tim Roberts
Bob Mitchell
Hunter Embry
Blogs
Got Shows?
Send Them To Us
Bookmark Louisville Music News.net with these handy
social bookmarking tools:
Available RSS Feeds
- Top Picks
- Today's Music
- Editor's Blog
- Articles
Add Louisville Music News' RSS Feed to Your Yahoo!

Issue: October 2009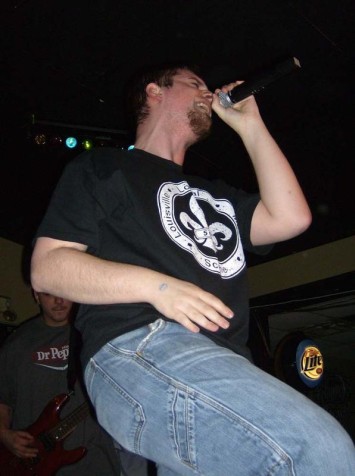 Mike Burch, Institution
Name: Mike " MikeFrom " Burch
Age: 28
Instrument: VOX
Band/Former Bands: INSTITUTION
How long on instrument: 15 years
Equipment: SM58 Wireless/Vocal 300 Preamp
Influences: Classic Rock, Blues, Jazz, Rap, Hard Rock, Linkin Park, Karnivool, Rehab, Eminem, Locals.
My first gig: Bearno's Pizza on Dixie Hwy, in 1999. Birthday party, and we didn't even know what we were getting into.
Hobbies: Watching Sports, Supporting Local Music, Producing Video Projects, Online Games, Doing things with my Family, Recording in the Studio, Buying Wet Mangos and Burning Trees.
Favorite movies: Man on Fire. If I want a good laugh, anything Judd Aptow. Transformers 1 and 2/
Favorite food: Bonnie and Clyde's family size pepperoni Pizza and a pitcher of Coke
Favorite place home, with my family and friends. Venue: PHT.
Bad habits: getting too bent out of shape if a situation/show is not perfect, wasting too much money, building something up in my head thats' not really a big deal.
What I'm listening to nowadays: Karnivool, Linkin Park, Kings of Leon, Red, AP, 10 Years, Locals
Coolest thing I've done: My son, Josh. Gavin is my stepson, but this is the my first, so its definitely an eye-opening event. For my band, I would have to say the coolest thing we've done the past few shows is OWN the crowd.
Most embarrassing moment: First time was at Floyd St Festival, and setting up on stage, I was PUMPED up. Right before we started the set, someone pulled the monitors apart, creating a trip wire. First song, here I go, THWAP right on the concrete! I continued through it, blood and all. Second was inside of Oscar Brown's, I climbed up on a speaker and tried to jump, The speaker gave and I crashed about 7 feet to the stage. That hurt my ankle and my scrotum.
Who do you love: I love my two sons, Gavin and Josh, I love my band, and crew, and my father, Bob, and the love of my life, my fiancee, Lela Minton.
When/where did you first get some: In 1997 at my dad's house, I can't even remember the details, but remember it felt good, and I wanted more.