October 2009 Articles
Cover Story
Kevin Gibson
Features
Eddy Metal
Columns
Berk Bryant
Mike Stout
Keith Clements
Martin Z. Kasdan Jr.
Eddy Metal
CD Reviews
Hunter Embry
Hunter Embry
Tim Roberts
Bob Mitchell
Hunter Embry
Blogs
Got Shows?
Send Them To Us
Bookmark Louisville Music News.net with these handy
social bookmarking tools:
Available RSS Feeds
- Top Picks
- Today's Music
- Editor's Blog
- Articles
Add Louisville Music News' RSS Feed to Your Yahoo!

Issue: October 2009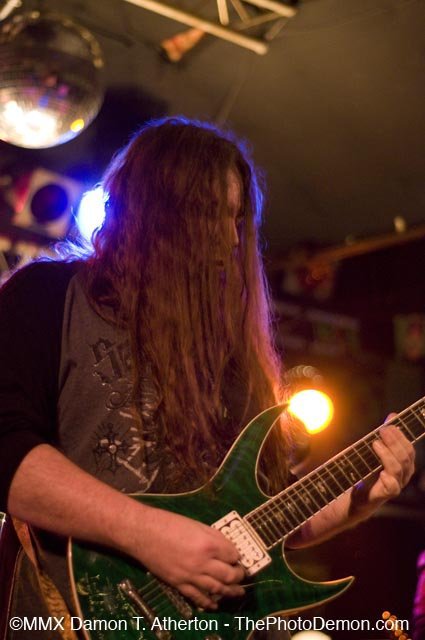 News From the Pit
Win Free Rob Zombie Tix: ( Free-Ride ) :
On Tuesday November 24 at Broadbent Arena, the master of horror invades! And let me tell you, it is a show not to miss! Every time I have seen Rob in action it's been a great show, especially when he played Louisville last at Louisville Gardens. For a chance to Win tickets to this rockin show, message me at myspace.com/eddymetalrocks on Sunday November 17 at exactly 9PM. Closest one to 9 wins. In subject line put "Thunderkiss!" Thanks to Sean at Nederlander for the giveaway tickets. You rock bro.
I'm working on free tickets to giveaway..
OMG. There's a huge musclebound dude with lipstick who sent me a love letter! Arrrggghhh. The horror of it all.
Sorry, dude, but I'm as straight as Howdy Doody's wooden peter!
I went to Worldfest recently and was that a memorable day! Exotic food, music and good company. A female friend and I spotted a Bolivian booth that was selling steak on a stick, so we bought some. Mine came up early so I sat down and began to munch this odd-tasting steak. Then my friend comes running up yelling, "You're eating cow heart!", which almost made me spew in mid-bite. Ah, the dangers of eating food at a World Culture festival. Next year, I i'll be sure to ask 'What the it?' before eating.
The music of the festival was interesting; I saw a Middle Eastern music band and a South American band, complete with feathered native dancers. It was cool and a wonderful way to explore new cultures. I highly recommend that you attend Worldfest next year. It's fun!
I've been busy as heck, booking my Rock For Kosair Benefit, November 20, PHT. It's a lot of work, but I know it will be worth the effort. I have friends in the scene who are going to help with the show.
My band, 13th Level, had about fifteen drummers call to try out, which is amazing in a city that always seems short of good, available drummers. So thanks for all the support. We finally agreed to give Troy Hamilton, formerly of Shatterstone, a shot at being our drummer. It's looking like we will be back in action in late October/early November.
I'm really looking forward to seeing Five Finger Death Punch at Expo 5 on October 18. They kick major butt. And of course, Gwar at Expo 5 on November 4 should be quite an experience, since they'll be able to use their goo cannons and slime shooters to their twisted, black hearts content!
Halloween is always a fun time; Phoenix Hill's Halloween bash is my pick for the best on It's very crowded, but fun. Some dude dressed as a penis one year! There are always some very cute women at that party.
BTW... for a more in-depth news and info, be sure to read my column online. We've had to cut space a little bit but there's no cutting of content on the website. So for more news, cheesy gossip, and raunchy Eddy talk, see us online for the better version of News From The Pit! Louisvillemusicnews.net
The Metal Grapevine
Win Tix to Five Finger Death Punch: (Free-Ride)
FFDP is one recent band that I like quite a bit. They've got the great vocals that convey both power and melody, and they've got some pretty good guitar/songwriters as well. I saw them once and it was awesome, so I highly recommend going to see this very cool outdoor show at Expo 5 on October 18. AND they have a helluva opening band lineup. Shadows Fall and Otep will be opening, as well as a bunch of louevil bands to kick things off.
I was never too crazy about Shadows Fall until I saw them at the big Waverly Hills concert a few years back; they were very good. I'm not too much into their lead vocals but I really like the guitars, music, and back-up vocals the guitarists do. The guitarist sings better than the singer does, but the singer has cooler hair! I'm looking forward to seeing SF in action again.
I don't think I've ever seen the female-fronted band Otep before. That should be interesting. For a chance to win free tickets, email me at myspace.com/eddymetalrocks on Sunday, October 11 at 9 p.m sharp. In subject line put "Five finger Death Lunch!"
I want to see all of my readers out at this show!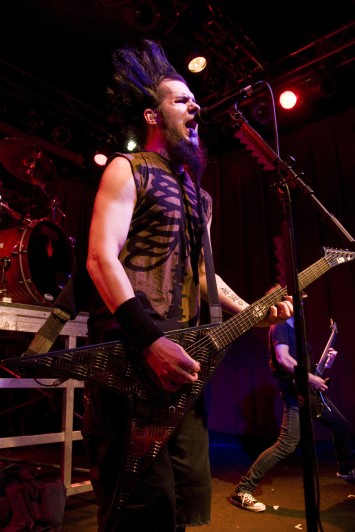 Wayne Static at the Louisville Static-X show. Photo by D. A. Atherton
Win Tix to Halestorm: (Free-Ride)
On Friday October 16 Halestorm will be at Phoenix Hill Tavern. I love rock bands with hot female singers. I'm gonna go check this out just to drool and look at vocalist Lzzy Hale. This band has gotten some great exposure recently and they are off to a great start, so you might want to see them in such an intimate location before they blow up bigtime! The music does rock. I'm checking out some of their stuff right now. For a chance to win tickets message me at Myspace.com/eddymetalrocks on Sunday October 10 at 9 p.m sharp. In subject line put "ride the storm!"
Queensryche coming in October:
Eighties progressive rockers Queensryche will be at Coyote's on October 15. I liked their records and got to see them at the Louisville Palace a while back. It was unreal! Don't miss your chance to see this great band at a cool venue.
Rob Zombie is coming in November:
The master of mayhem, the head honcho of horror is coming right here on November 24 to Broadbent Arena. I've seen Rob at least two or three times and he always puts on a great show! This is another don't-miss show, with fire, monsters, Rob's crazy art, hot scantily clad women... it's a good time.
I'm working on free tickets to giveaway..
AC/DC, a fly on my balls:
I've seen AC/DC at least four times and I'm burnt-out on their predictable style. They'll be here on October 6 at Freedom Hall. I've no desire to see Angus and the boys let loose one more time. I've never been a big AC/DC fan (while a few songs are cool), but I had to endure their music for years. My blonde bimbo of a girlfriend growing up was a huge fan, so in order to get laid, I was forced to listen to the screechy vocals, and blues-inspired riffage of a man in a schoolboy uniform. When I was sixteen, some friends and I went to see them on LSD, with Yngwie Malmsteen opening. It was a bad trip because apparently the stuff was very potent. I was frying. I do remember that Angus looked like a little kid running around onstage like a wired-up epileptic. Angus was all over the place! Unfortunately for Angus, the new. soon-to-be guitar hero from Sweden,Yngwie Malmsteen blew him away quite easily, to the dismay and surprise of the crowd. A year later, not surprisingly, Yngwie got hired by Rick Emmett of Triumph. Who knew?
Vocalist Brian Johnson does not sound very good live. Period. In fact, he sounds like a guy who smokes three packs a day, sucks down bottles of Nyquil and gargles with a pair of razor blades. Regardless of my opinions, there are plenty who do love a good AC/DC tune! Angus can play some mean guitar solos! So if you like some Angus, get your tickets now and get ready for Australian redneck madness! Oh yeah, take some earplugs. Those cannons will have your ears ringing for days.
Def Leppard and Cheap Trick coming:
Call me cheesy or an Eighties lover, I don't care. I like both these bands and have for a very long time. I saw Def Leppard several years back and they were very good, so good that I can't wait to see them again on November 25 at Freedom Hall. Having Vivian Campbell on guitar is a killer addition to Def Leppard's talent. Singer Joe Elliot tries very hard to do the best he can, unlike a lot of singers. And talk about bringing in the cute women! Fellas, whatever you do, if you are single, go to this show. I won't go into details but the last time I saw them, um, things got very wild after the concert. My date enjoyed the show and let me know just how appreciative she was for taking her. So don't miss this show people. Cheap Trick is a very good band as well. I'll see if I can get some tickets to giveaway.
The Fox Changes Format:
A lot of people are unhappy about the changeover at 93.1 the Fox. I tuned in last week and was appalled by the change. I have many friends there at the Fox whom I care about, and I hate to say this but I think the new alternative format sucks. It's happy, poppy, alternative doody that makes me wanna hurl. The Fox has been the cornerstone of "real" louevil rock radio for many years, and they have accomplished much doing what they do. This is another horrible corporate decision and the guys at the Fox had no say in the matter, which is ridiculous. Of course, if you are "shiny, happy people" and love Kings Of Leon, then you might be happy with the changeover. Unfortunately, those who like hard rock and metal are pretty much screwed, although at least, they have the local music stuff still going! My friend Chris Allman on the long-time Fox radio show "Detour" (Sundays, 8p.m) has started playing some heavier stuff lately because of the change, so give his show a listen, you might like this change! If you don't like the new format, let them know. If enough people call, maybe something can be done to bring the "real" Fox back.
Rock For Kosair 5:
It's that time of year again, time to give to those less fortunate. This year's Annual Rock for Kosair benefit concert will be Friday November 20 at Phoenix Hill Tavern. We will be giving away several guitars again this year and I've got quite a lineup brewing. Confirmed so far: Spanky Lee (reunion), Chamberflow, Nova Red, Burn To Shine, Some Kind Of saint, BoneJinn, Deliver Us From Evil, 13th Level, 2 Pump Chump and Project Sovereign More to come. I'll have the complete lineup in the next issue.
Obituary Invades:
South Florida death metal legends Obituary are returning to louevil on Sunday, October 4 at Headliners Music Hall. I didn't get to see them last time because the venue was so packed with stinky, sweating death metal dudes that I couldn't move or breathe, so I left. I'm going to try to make this one I can see Obituary live! All you death metal freaks, be sure to make this show. They don't come around often.
Two Pump Chump:
I should give a little credit where it's due: Louevil party rockers 2 Pump Chump are not your average trend-chsing Louisville band. Why? For one, they don't care the slightest about fitting in any louevil musical clique or group (which I admire!). Secondly, their music is different from anything in town. Funny, sleazy, party rock songs! They take you back to the Eighties, when music was fun, not serious and sullen. I'm checking out the new CD, Get You Some! The packaging of the CD and included photos are cool.
"Lead Me On" starts with a driving rock 'n' roll sound and stays that way. A Goldilocks groove: right in the middle. The guitar tone sounds good, but the song doesn't do much for me. "Get You Some" begins in typical 2 Pump Chump fashion, with lyrics certain to offend. I like it better than the last one. The backup vocals add an anthemic element to a sleazy rock tune. The band's lyrics are hilarious, as always. Not too many bands add humor to their music.
"Long Way To Georgia" is a good acoustic tune with better vocals and writing arrangements as well. Again, the backup shines through. The guitar fills are adequate and work well with the rhythms. The song is sad, though, made me think of a woman I used to date. Okay, now I'm bummed. If that was their intent, then they succeeded.
"Forever Doesn't Last" is another sad song that ends up rocking hard. I like the chorus, and I think this is the single they should push. The lead guitar riffage was better than the rest and the speedy end was cool.
I have overlooked this band in the past, and I kind of feel bad that, but I admit my mistakes and try to fix them. This band has been around a long time and have gotten much better over the years. They have paid the dues and deserve a little notice. (They have done a fine job of getting their name out there, though and I like that.)
New Band Alert, Project Sovereign:
This new band has former members of Blackroom, Amendment, Dying Kind and Burning Through Autumn. Their very talented individuals are in this band and I've heard good stuff already. The music is supposed to be a mix of aggressive riffs, somber melodies and thick grooves. These guys are booking shows now. They are also recording a three-song demo. Myspace.com/projectsovereign
Upcoming Shows
Bulldog Cafe
Tuesday, Oct 13 – Despised Icon w/ Through The Eyes Of The Dead ,ABACABB, Molotov Solution and At Lights End.
Expo 5
Sunday, October 18 – Five Finger Death Punch, Shadows Fall, Otep, and a slew of good local bands: Kentucky Death Wish, Adaptize, Stall-Point and The Tri-Tones. $20 Adv/$23 DoS. 7 p.m.
Friday, October 23 – Insane Clown Posse. $27 Adv/$30 DoS.
Wednesday, November 4 – Gwar w/ Job For A Cowboy, Antikythera, The Red Chord, Stonecutters, The Revenants and The Burial. $20 Adv/$22 DoS. 7 p.m.
Headliners
Sunday, October 4 – Obituary w/ Goatwhore, Krisiun, The Berzerker and Warbringer. $20 Adv/$23 DoS.
Tuesday, October 20 – The Chariot w/ Impending Doom, Mychildrenmybride, Oh Sleeper, We Came As Romans and Dead Divine. 6:30 p.m. $12
Sunday, November 8 – Powerman500 w/ Downtread, Left With Scars, The Dead Hours, Factory Damage and Birth Of A Zealot. $12
Phoenix Hill Tavern
Friday, October 2 – The .Ooriginal Rock Showcase: Snake Eyed Savior, Sonic Epitaph, E-Flat, Shatterstone and Thomas Medicine.
Wednesday, October 7 – Nothing Wrong. 10 p.m.
Saturday, October 10 – BoneJinn, And The Armed and Siren Falls. 8 p.m.
Wednesday, October 14 No One Zero. 10 p.m.
Friday, October 16 – Halestorm w/ Sons Of The Bluegrass, Hicks Road and Shyaway. Upstairs it's Stitch Rivet, Boozer, 2 Pump Chump, Buzzkill Mofos and Turnkey Pauper.
Wednesday, October 21 – Behind The Beheaded. 10 p.m.
Thursday, October 22 – Benefit for Billy Yeakey. The PHT soundguy who recently went through heart surgery. Billy is a great guys so come support this event: 99MPH, Grindstone and The Accountants.
October 31 The – 34th Annual Halloween Bash w/ Villebillies, King sonic, Blowfly, Naked Garden and Jefferson Tarc Bus.
Friday, November 6 – The original rock showcase: New Blood Edition w/ Societies Plague, Silent From The Struggle, Sirens fall, Kentucky Death Wish and The Tri-Tones. 9 p.m. Free before 9.
Saturday, November 7 – Burn To Shine, 16 Bones and Seedus.
Friday, November 20 – Rock For Kosair 5: 15 great original bands, original music on every stage, several guitar giveaways, the hot Kosair Benefit foxes will be there. The current lineup is Spanky Lee (reunion), Nova Red, Chamberflow, BoneJinn, 13th Level, Some Kind Of Saint, Burn To Shine, Deliver Us From Evil, 2 Pump Chump, Project Sovereign and more to be announced next issue.
Shooters
Saturday, October 17 – Pornofishtank, Bong Hits For Jesus and Broke and Bleeding.
Skull Alley
Friday, October 30 – Born Empty CD Release, Thomas Medicine, Screwface and Scotty Lust and the two timers. 8 p.m.
Uncle Pleasants
Saturday, October 17 – Sonota Arctica w/ Sonic Epitaph, Overthrone, Assisting Sorrow and Mungus. 7 p.m. $15 Adv/$17 DoS.