August 2009 Articles
Cover Story
Hunter Embry
Features
Eddy Metal
Columns
Berk Bryant
Mike Stout
Paul Moffett
Keith Clements
Martin Z. Kasdan Jr.
Eddy Metal
CD Reviews
Hunter Embry
Hunter Embry
Hunter Embry
Tim Roberts
Hunter Embry
Hunter Embry
Ronke Oyekunle
Tim Roberts
Steve Morgan
Blogs
Got Shows?
Send Them To Us
Bookmark Louisville Music News.net with these handy
social bookmarking tools:
Available RSS Feeds
- Top Picks
- Today's Music
- Editor's Blog
- Articles
Add Louisville Music News' RSS Feed to Your Yahoo!

Issue: August 2009


I've Got A Mind To Ramble
And This Is Free – Part II
Last month I covered the first two days of the 26th edition of the Chicago Blues Festival and now we will return to the Windy City for the third and final day, June 14.
Having recovered from a memorable night at Willie Dixon's Blues Heaven Foundation at 2120 Michigan Avenue, the former location of the legendary Chess Records, I was ready to go to church the following Sunday morning. The service was held on the Front Porch Stage with the Lee Boys presiding. These brothers and nephews were disciples carrying the ecstatic spirit of "Sacred Steel" gospel to the multitudes. Sacred Steel music has been confined to the House of God churches since the 1930s, but through the release of several CDs by the Arhoolie label, this music is no longer a spiritual secret. The Lee Boys are driven by the pedal steel mastery of Roosevelt Collier, who makes his instrument moan and wail with voice-like emotion. Following the blessing by this fiery praise band, it was time to move on to the Crossroads Stage, where Trè and the Blue Knights were performing. Trè, the son of Chicago guitarist L.V. Banks, carries on his father's 50s-era blues tradition with a more fluid style and uptown flourish. When he turned up the volume and accelerated his solos, he showed his respects to Jimi Hendrix. Lady Kat joined the band, singing her soul blues with a feisty bravado. The Lee Boys appeared later that day on the Crossroads Stage where they converted from sacred to secular music with songs like "Don't Let The Devil Ride," which put the crowd into a joyful frenzy.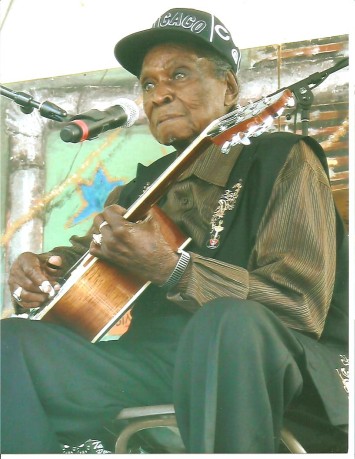 David 'Honeyboy' Edwards, 2009 Chicago Blues Fest
Lou Pride was one of the pleasant surprises of the festival, having only heard him on records but never live. He was an imposing figure, wearing a bright blue suit and expressive gentle face. His eyes lit up with each passionate note he sang. A veteran soul-blues singer reminiscent of Bobby Bland – without the squalls – Pride delivers his original songs with a rich, smoky voice that establishes an intimate contact with his audience. He was supported by the Blues Disciples, who provided the perfect accompaniment, complete with horns and attractive long-legged female back-up singer.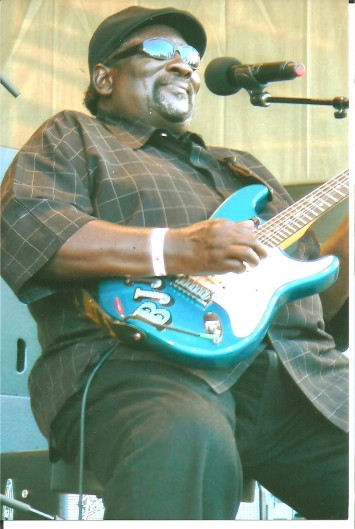 Big Jack Johnson, 2009 Chicago Blues Fest
David 'Honeyboy' Edwards will be ninety-four by the time you read this and is the last musician still living who associated with Robert Johnson. Musicologist Alan Lomax first recorded Edwards in 1942 for the Library of Congress. Sixty-seven years later he is still performing and touring, including a trip to Switzerland in July. Edward's acoustic Mississippi-Delta- infused guitar style and husky gruff vocals are as authentic as you can hear. He was backed by Devil in a Woodpile, a gritty Chicago acoustic band that supported Edwards with a lively reverence. Grady Champion, the Mississippi harpist and singer I had heard the night before at the Blues Heaven Foundation, was energetically working the crowd on the Mississippi Juke Joint stage. At only forty, he already has the veteran appeal of a Bobby Rush without the risqué double entendres. Champion's showmanship was highlighted when he got out into the crowd and stood on a chair to activate the people with his energetic harp.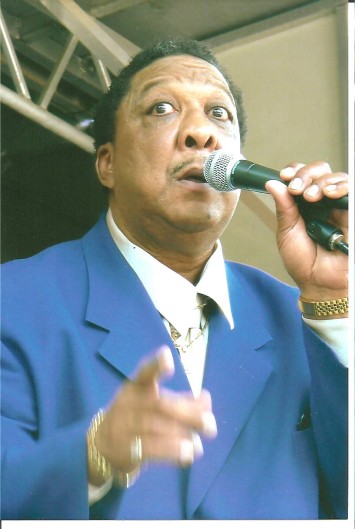 Lou Pride, 2009 Chicago Blues Fest
The shows in the Petrillo Band Shell the final night were a bit of a letdown. There are several bluesmen who have achieved the privilege to sit down during their shows. For several years B.B. King, recently Magic Slim, and now Big Jack Johnson, have reached that status. Johnson's set was similar to his earlier performance that afternoon only he switched from his Gibson to his Fender guitar. His set was light on blues content with a novel version of the Twist, which filled the aisles with gyrating people. Jeremy Spencer, a founding member of Fleetwood Mac and slide guitarist specialist, did not bring much emotion to his set, even though his licks were technically proficient. The closer was Sharon Jones & The Dap-Kings. Jones quickly kicked off her shoes and was all over the stage, singing with her gospel trained voice that captured the funky side of rhythm and blues. As her set came to an end with some audience participation on stage, Syl Johnson made a cameo appearance to close her show. This finale was no where close to last year when Johnny Winter and James Cotton, KoKo Taylor, Buckwheat Zydeco and B. B King were the closers.
KBS Solo/Duo Contest
Seven diverse acts were selected to compete in the KBS Solo/Duo Competition that was held at Lisa's Oak St. Lounge on Sunday, June 28. Many people commented that they preferred the more intimate stripped-down style of blues that one or two musicians project, rather than a power trio or full-blown band. You can leave the ear plugs at home and get back to the roots. The four judges, Jeanne Doak, Paul Moffett, Sue O'Neil and Margot Maxwell, had to make the tough decisions during each set while Mike Troubough made all the competitors sound their best, adjusting the audio equipment.
Gary Sampson, the KBS President, said, "I wish that we could send all the contestants to Memphis to compete in the International Blues Competition next February." But there could only be one winner and JonBoy Slim was the anointed one.
JonBoy Slim
As a kid, his buddies called him JonBoy, so he added Slim when he started playing the blues. His actual full name is Jonathan Wade Hessig. He heard about the competition while hanging out at the Wednesday jams at The Lounge on Madison St. He said, "I wanted to let people know what I could do." So he submitted his CD, picture, check and entry form, approaching the contest as if it was just another gig. JonBoy opened with "Big City Blues," which was a moody, slow blues written about an experience in Los Angeles. While visiting a friend he wanted to see Hollywood but instead saw the guts of the city, several blocks of skid row that were filled with heartaches. He sings about the sad tales of a homeless man with his hands in the dumpster, a lonely girl walking the street who would do anything for a few dollars and a guitar man without a plan that never got too far. His lyric, "When the night is gone, only darkness lights the way," says it all. "I Don't Wanta" comes from just wanting to sit around the house playing his guitar when his friends were begging to go out and do other things. The primitive "Storm Is Comin'" is a haunting sound from the past, reminiscent of Robert Pete Williams, whom JonBoy had never heard. His slide echoed the despair of the Delta and Louisiana. It was JonBoy's fresh originality that set him apart from the others that evening.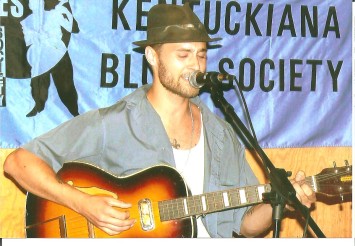 JonBoy Slim
This hardworking entertainer is one of the few Louisville musicians who supports himself with just his music, playing regularly four or five nights a week. Thursdays he performs at O'Shea's, Fridays at Bearno's Pizza in the Highlands and Saturdays, he plays at River Bend Winery, plus occasional parties and gigs. His other income comes from tips and selling his CD at his shows. His self-produced CD was made a year ago in his home on a sixteen-track digital recorder. All of JonBoy's recorded songs are originals except for Otis Redding's "Dock of the Bay," which is his favorite cover.
JonBoy plays all the instruments, guitars, bass, keyboard and drum loops, except for "The Quarter," which has a violin solo by his younger sister, Katy Rene. She is an excellent musician and singer who frequently accompanies him at his weekly gigs.
Other standout songs on the CD include "Feelin' Alright," an upbeat ragtime that puts JonBoy in a good mood. He said, "I wrote this song in New Orleans and the kids in the neighborhood started clapping and dancing all around me when they heard it. "Livin' In The Past," by contrast, is a moody song with troubled imagery about thoughts from past and the desire to break through to a better day. JonBoy plays a 1960 Gibson classical guitar to capture the light, delicate, jazzy feeling that complements his soft voice.
This twenty-seven-year-old rising star was born and raised in Louisville, moving around to all the ends of town with his family. When he was sixteen, he went to New Orleans for the first time and fell into the music of the Big Easy, quickly learning to play guitar. He started busking on the streets near Jackson Square for tips during the day where he got noticed and hired to do parties, clubs and restaurants at night. JonBoy briefly spent time in Detroit with a rock 'n' roll band and in California during his late teens. While in Long Beach, he was sitting in with the house band at The Blue Jay, where the veteran R&B singer Mickey Champion still sang. A short stocky man who looked like a street person walked in wearing tennis shoes without laces and carrying a guitar without a case. The mystery guitarist started jamming with JonBoy and they exchanged licks for fifteen minutes. After he left the band, members informed JonBoy he had just jammed with Guitar Shorty.
During the last two years, JonBoy has become very serious about playing his music and getting gigs. In that time he has gotten with a lady and now has a three-month-old baby girl. With more responsibility, his guitar is paying the bills. It is either a Fender Telecaster when he is jammin' or a 1943 B&J Serenader that used to belong to his grandfather. JonBoy has never had formal lessons. He just plays his guitar for hours through trial and error until he has it right. Besides his busy weekly schedule, you can hear JonBoy at the River Bend Blues Festival on August 7 and the Wharf Fun Fest at the Belle of Louisville with Lamont Gillispie & 100 Proof on August 15. One of the perks of JonBoy winning the Solo/Duo Contest is he will be the opening act at the KBS 21st Birthday Party at the Vernon Club on November 14.
The Return of The Buddha
Tin Can Buddha will return again to the Kentucky Center on Friday, August 21 where Jarfi's (formerly the Bristol restaurant) was located. This space is under consideration for becoming a smaller informal performance space for jazz, blues and cabaret shows. The band will be celebrating the release of their latest CD, Congress of Wonders, that was recorded live at the Quilt Box on December 6, 2008. This eccentric trio includes Lee Carroll on keyboards, Mitch Ivanoff playing guitar and the artistic and animated Rodney 'Snake' Hatfield on harmonica. There may be a little extra support from Mark Jones and Chip Graham on guitar and bass. A good turnout for the show will help persuade the Center of the need for an alternative venue for jazz and blues instead of the bar scene.