August 2009 Articles
Cover Story
Hunter Embry
Features
Eddy Metal
Columns
Berk Bryant
Mike Stout
Paul Moffett
Keith Clements
Martin Z. Kasdan Jr.
Eddy Metal
CD Reviews
Hunter Embry
Hunter Embry
Hunter Embry
Tim Roberts
Hunter Embry
Hunter Embry
Ronke Oyekunle
Tim Roberts
Steve Morgan
Blogs
Got Shows?
Send Them To Us
Bookmark Louisville Music News.net with these handy
social bookmarking tools:
Available RSS Feeds
- Top Picks
- Today's Music
- Editor's Blog
- Articles
Add Louisville Music News' RSS Feed to Your Yahoo!

Issue: August 2009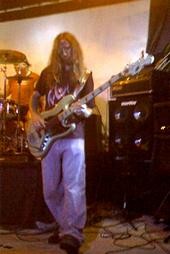 Josh Cramer
Name: Josh Cramer.....'Cramer'
Age: 33
Instruments: Bass (Pornofishtank) Guitar/Vocals (N.A.P.)
Bands: Currently I am in two bands, Pornofishtank and N.A.P.
How Long on Instruments: I have played bass for 21 years now and I have been playing guitar for about 18 years.
Equipment: My bass rig is an old 70's something Aspen P bass and I use an Ampeg SVT350 head with a Harke 4 10 cabinet and a Gallen Krugar 15. My guitar rig is just a Crate 2 12 tube combo and a ESP Viper guitar. I don't use any effects with either rig but I do use the channel footswitch with the Crate. Both are pretty basic, really.
Influences: My biggest influence on the bass is without a doubt Cliff Burton. That man completely changed the way I went about playing the bass. I would have to say my biggest influence on guitar is Thurston Moore (Sonic Youth). The stuff that man does on guitar are amazing.
First Gig: The first show I ever played was at Louie's (local guy) birthday party. We played with Days of the New and got completely hammered before the show. Our guitar player broke a string during the third song and our bass player broke a string during the fifth song I think, it was absolutely terrible. By the end of the night, my friend Tim got up on stage and started rapping some old Ghetto Boys songs and they cut the power on him. I am still trying to forget about that one.
Hobbies: Music is my hobby, my passion, and about the only thing I do in my free time. Between two band and an electronic music project (Separate Vehicles), I have alot going on at any giving time.
Favorite Movies: My favorite movie of all time is "Pulp Fiction." I was a little out of my mind the first time I saw that movie and it completely blew me away. Quentin is the man! I still want my Bad Mutha F*** wallet.
Favorite Food: Well I am definitely a meat and potatoes kinda guy. I love steak, especially the rib eye. I don't think there is anything better than a big, fat, juicy rib eye steak.
Favorite place: My favorite place to be right now has to be at my woman's house. Sappy yes, but oh so true.
Bad habits: I smoke too much, probably drink too much and once again I smoke too much. Not necessarily in the same context, but you get the idea.
What I'm listening to nowadays: I have two CDs that I keep rotating in and out of my CD player and they are Sonic Youth's new CD The Eternal and Christine 'Badasser'. Dirtybird, a band I was in years ago played a show with Christine in Nashville back in 2004 and they blew me away. They have since broken up but I still love that CD.
Coolest thing I've done: The coolest thing musically I have done would have to be shooting Brian Evans on stage during a Hostility show. Hostility was a three-piece I was in a few years back and we decided to mess with everyone. Brian and I acted as if we were fighting whole night. We were cussing each other and calling each other out up to the point that we were on stage. I had a cap gun in my pants during the show and at the start of a song we had called ' I Will Kill.' I told Brian to just quit running his mouth and play the damn song cause he was saying some stuff about me to the crowd. He then asked me what I was gonna do and I told him I would kill him. 'Oh you're gonna kill me' he said. 'I will kill you' I said and POW POW POW......I shot him. At that very moment, the song kicked in very fast and very heavy. You probably had to be there but it was awesome. We basically thought we would mess with everyone we didn't know, but for weeks our own friends were asking Brian and I what our beef with each other was. It was hilarious.
Most embarrassing moment: My most embarrassing moment would have to be when once again playing a show with Hostility, my pants fell down onstage and I was not wearing any underwear. I didn't quite know what to do so I just lifted up my bass and showed everyone in the crowd my junk......a couple times. LMAO....that song could not end fast enough.
Who Do You Love:. Outside of my family and my two sons, I am loving me some Shannon Wood. She has to be the greatest woman I have ever met.
When/where did you first get some: The first time I got me some, I snuck out of my house at two in the morning and rode from Valley Village to PRP with my girlfriend at the time and a couple people she knew. They dropped us off at her house and were supposed to wait for me to do the deed and then take me home. Well let's just say it's three hours later and I am stuck in PRP with no ride home. In a panic she called Yellow Cab and gave me eight dollars to get a ride home. I snuck out her window and walked to Pro Bowl 1 at five in morning to catch this cab. Eight bucks only took me to Pendleton Road and so to get home before my mom left for work, I had to run all the way home to Rainbow Drive. As soon as I got in through my window and in bed, my mom walked out the front door. On top of all that, I never got to 'finish' and as a result I had 'Blue Balls'. It was at the time one of the best and worst days of my entire life.