August 2009 Articles
Cover Story
Hunter Embry
Features
Eddy Metal
Columns
Berk Bryant
Mike Stout
Paul Moffett
Keith Clements
Martin Z. Kasdan Jr.
Eddy Metal
CD Reviews
Hunter Embry
Hunter Embry
Hunter Embry
Tim Roberts
Hunter Embry
Hunter Embry
Ronke Oyekunle
Tim Roberts
Steve Morgan
Blogs
Got Shows?
Send Them To Us
Bookmark Louisville Music News.net with these handy
social bookmarking tools:
Available RSS Feeds
- Top Picks
- Today's Music
- Editor's Blog
- Articles
Add Louisville Music News' RSS Feed to Your Yahoo!

Issue: August 2009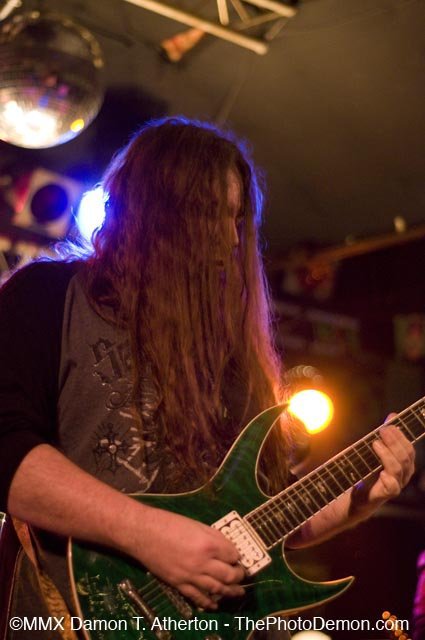 News From the Pit
Well, this has been an interesting month. A bird pooped on my head, I projectile vomited like Linda Blair in The Exorcist, and I got to record music again for the first time in five years. Yay. As for the poop, I had a hat on, or I would have had bird doody in my fro. I experienced my first MMA fight card at Horseshoe Casino, which was mucho fun (see review), and I wrapped up this month with an excellent present for myself: I took a roadtrip with band members up to Cincinnati to cover my favorite band of all time, Judas Priest. (see review below)
I also got to see a killer show at an all-new rock venue here in Louevil, The InnPlace Hotel and Conference Center. Killswitch Engage and All That Remains are two bands that I like very much as well. Props to Terry Harper for making this show happen at a new, untested venue. (see review below)
The scene is a little slow these days. I reckon it's the economy; people are hurting for money and jobs are hard to come by, especially if you are a bit of a rocker/outcast such as myself.
It takes money to be in a band. I've spent so much cash getting my band going again, equipment, equipment repair, strings, picks, etc. My band had a gig at The Oasis Club with the Villebillies and Nova Red, but then the show was canceled because the club was having troubles keeping things going.
I am pretty sure The Oasis Club is done. That sucks because I saw some great shows there. I think the off-beat location is what hurt that place.
We have to keep supporting these places that have original music, people. Without them, we would be in a tight spot, so make sure you support the following places that are home to Louevil original rock: The Phoenix Hill Tavern, Bulldog Cafe, Shooter's, Cahoot's, Headliners and Uncle Pleasants.
Get out there and find us some new venues! Put on a benefit for the homeless! Put together a Louevilmusic festival. I'm currently cooking up some ideas for a Louisville Music News Compilation CD. Wish me luck!
On that note, I'll leave you with a little true story. I had a cute blonde come over and we were in bed, doing what one does there. In my excitement, I must have accidentally hit her cell phone under my pillow, because unbeknownst to us, it ended up calling her boyfriend, who listened to the whole encounter, including when I said 'Aaarrrggghhh. I need a towel.'
Afterwards, she realized he was on the phone, listening and her mouth dropped to the floor, her eyes bugged out, and she said 'ohmyf**kingod!'
The Metal Grapevine
Win DevilDriver Tix (Free-Ride)
On Thursday, August 20, The Thrash and Burn Tour comes to Headliners, with Devildriver headlining an evil show that includes Emmure, Despised Icon, MyChildrenMyBride, Veil Of Maya, For The Fallen Dreams, Oceano, Periphery and Thy Will Be Done. Tickets are 20 and it's all-ages, too.
The sound is so thick at a Devildriver show you can cut it with a knife. For a chance to win tickets, email me at myspace.com/eddymetalrocks on Sunday, August 16 at exactly 9 p.m. sharp. Closest one to 9 p.m. wins!
In subject line, put 'Thrash and Burn!' I'll see you freaks at the show.
Win Tix to Down at EXPO 5: (Free-Ride)
On September 28, New Orleans-based voodoo metal band Down will be here for one night only. You freaks remember Phil Anselmo, former singer of Pantera? This is his other band. It's way bluesier than Pantera, and it should be interesting to see how he does these days. He is such a talented singer when he is sober, which unfortunately, was infrequently several years ago. People change, though, and I hope he has, too. We've got tickets for you to win, so see next month for details. Special guest include The Melvins, Weedeater and Evil Army.
Judas Priest/Whitesnake Review:
I never really liked Whitesnake that much, but the new version pretty much blew me away when I saw them on July 21 at the new PNC Pavillion at Riverbend in Cincinnati. I wasn't expecting much, but David Coverdale sure showed me the error of my ways. I love it when I'm wrong! I was expecting old crusty dudes wailing off key, but what I got was a young and hungry Whitesnake with a dynamite charge up their butts. I was making harmless jokes about Coverdale's age on the way up, saying he might need a walker, but on the way home I was totally singing his praises.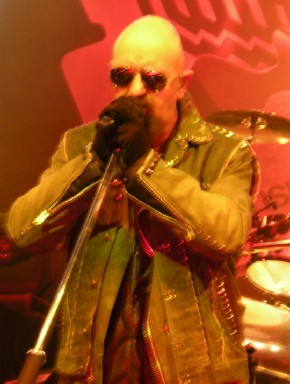 Rob Halford, Judas Priest. Photo By Eddy Burke
Reb Beech and Doug Aldrich's guitar playing was straight up sick! Such feeling. Such talent. I felt as if I was witnessing something special. Their guitar duel was amazing. And David Coverdale has still got 100% and is a heck of a performer. He moved and sang like a twenty-year-old. I was shocked. They played 'Love Ain't No Stranger', heavy versions of 'Slow And Easy' and a very upbeat 'All Your Love.'
'Cryin In The Rain' had a killer drum solo right in the middle. 'Is This Love' sounded just like the CD. Very impressive. The crowd went nuts as Whitesnake ended the night with 'Here I Go Again' and 'Still Of The Night,' where Coverdale hit the high note/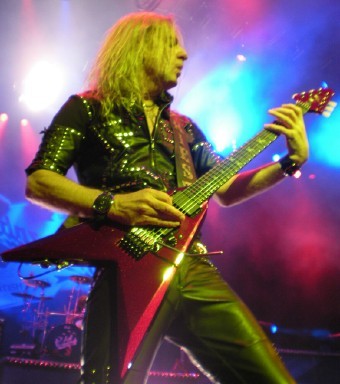 KK Downing, Judas Priest. Photo By Eddy Burke
Then it was time for Judas Priest, the band that practically invented the heavy metal, double guitar attack. I had front row tickets and a press pass, so I was very happy. They opened the night with 'Metal Gods' and 'Grinder,' then tore into 'Living After Midnight' and 'The Ripper.' The band and Rob Halford's voice both sounded great, better than the last time I saw them in 2005. Much better. They broke out a new tune, 'Nostradamus,' and then went into one of my favorites, the classic 'Victim Of Changes.' The whole venue thundered as Halford came out on his super-loud Harley for the next song, 'Freewheel Burning,' which absolutely ripped as lasers ricocheted throughout the arena. JP have used those lasers for years and they still are way cool. This song is a total beeyotch to sing, yet Rob defied age and doubters as he weaved his way through the song, hitting every note. The slow 'Diamonds And Rust' was next. Then Rob messed with the crowd a bit, getting them to sing. The show ended with 'Another Thing Coming,' which had an unusually heavy sound. I didn't want to go, or the show to end. Seeing KK Downing and Glen Tipton play guitar is a must for any metalhead, regardless of age. You have to see and hear them for yourself to truly appreciate them.
I saw a bunch of Louevil folks at the show, including Jon from 99MPH, Buzz from Dogwater, Chris from Assisting Sorrow, Scott Clark from the Kiss tribute, Ronnie Watchmaker of the Big Rock Show, Ado from Hardlein and a slew of other people, too.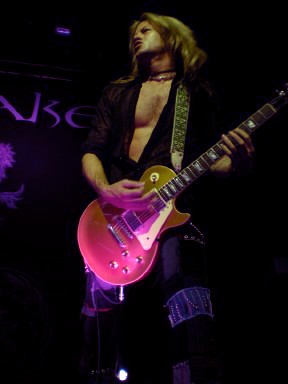 Doug Aldritch, Whitesnake. Photo By Eddy Burke
The staff at PNC Pavillion were very nice, the venue and its sound system top-notch. The way this brand-new, 4,100 seat venue was designed, you can see the stage clearly from almost every seat. We should have a venue like this in louevil.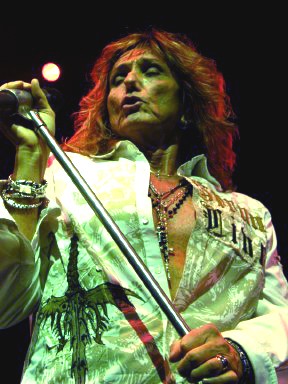 David Coverdale, Whitesnake. Photo By Eddy Burke
Special thanks to Chip and Rosemarie for the hookup. You rock!
My First MMA Event: (Revolution Fight League at Horseshoe Casino.)
Mixed Martial Arts is the next big thing and you better get used to it. It has kicked boxing's butt lately and is growing so fast, it seems unstoppable. I've been an MMA (on TV) fan since 1994. I didn't know really what to expect for my first live event, but I knew this: from what I've seen in my visits to Horseshoe Casino, they don't mess around. It had to be good if Horseshoe was doing it. I was right.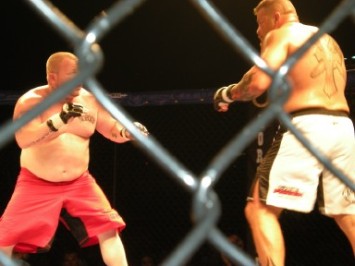 Jonathan Ivey and Ron Sparks, MMA. Photo By Eddy Burke
It was a very hot Saturday but being determined to see an MMA event live, Matt Roeder, the other guitarist in my band and I cruised with the top down on my Jeep Wrangler over to Horseshoe Southern Indiana. Matt is a grump who never does anything out of the ordinary, so it was amazing that he was going to this fight with me; he had never even been to a casino before! As always, the Horseshoe people were awesome to work with.
The wind coming off the river made it much cooler then we had anticipated. The cage/fighting arena looked very professional and it wasn't long before the first fight started.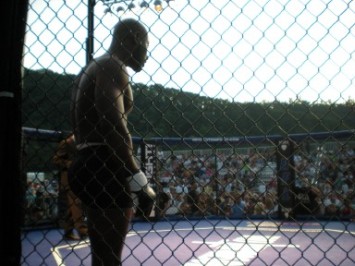 MMA Fighter. Photo By Eddy Burke
The fights were pretty good, although there was a bit too much jiu hitsu for my tastes.
I personally like strikers and want to see KO's. Jiu Jitsu is the art of taking your opponent down and making them quit by twisting something or choking them. There is no denying that Jui Jitsu is huge now. Several of the matches ended in submissions, but I also saw some great striking as well throughout the night. A couple of the fights ended with some serious ground and pound, and deadly elbows to the face.
The talk of the night was about huge Louisville native Ron 'The Monster' Sparks, who is probably 6 foot 2 inches and 300 lbs.
My cousin knows him and has been telling me about him as a fighter, so I was interested to see this wrecking machine in action. He did not let the crowd down. His opponent, Jonathan Ivey, was also a big guy and a force to be reckoned with. Seeing these two gargantuans collide was very exciting. Ivey landed some nice shots and had a great chin and was taunting Sparks, but Sparks had him on the run in the end, having him hurt a few times. Sparks was never hurt but was forced to go the distance for the first time.
The last fight of the night was Brandon Pinkston vs Chris Curtis. It was a barn-burner, a back-and-forth war that ended in a decision for Pinkston.
My first MMA experience was great. I saw a lot of old friends that I hadn't seen in awhile and we also went to Legends and got some excellent food. Thanks to the crew at Horseshoe Casino for putting on a great event and being gracious to us here at LMN.
Marcy Playground at Phoenix Hill Tavern:
Saturday, August 1 at PHT. Marcy Playground will be rockin' out. Hot Action Cop will be opening the show. So break out the sex and candy and be there by 8 p.m.
Black Label Society coming Sept 11:
City Block/Coyotes is closed but shows scheduled before that announcement will still happen, including the Friday, September 11 event, when Black Label Society and the spitting guitar demon himself, Zakk Wylde, returns to the venue. This show sounds like a winner, so you might want to get your tickets ASAP. (I'll see if I can get some free tickets to give away.) Those of you in the front row should bring a slicker because Zakk does an awful lot of reckless spitting. Stay tuned!
Killswitch Engage at New Louevil Venue:
Terry Harper found an excellent venue for us metalheads that was right under our noses the whole time: The Innplace Hotel Conference Center on Hurstbourne Lane. The 2000-3000 seat capacity venue sounded wicked and I ended up having an excellent time. Good music, good sound system, good everything. I got there as Cannibal Corpse was ending. They played a song they did in the movie Ace Ventura Pet Detective, 'Hammer Smash Face.' That was the only song I recognized from these death metal legends as I'm not so much into death metal anymore. The sound for CC was thick as can be. Perfect for heavy metal! All That Remains played a six- or seven-song set, mostly off their new CD Overcome. They sounded great as they ripped through 'This Calling,' 'Six' and the hit 'Two Weeks.' I have liked this band from the beginning and I'm glad they sing a lot more on the newer CD. They've come a long way in a few short years and it shows in the playing.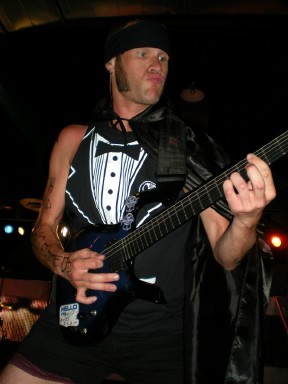 Adam Dutkiewicz, Killswitch Engage. Photo By Eddy Burke
There was a constant wave of human flesh coming over the barricade. People were getting wild and having some great fun, yet everyone was well behaved and no real trouble erupted at all. The security did a great job keeping things in line.
I don't have the second CD but I've decided that I must have it. I enjoyed the first one quite a bit, so now I'll have to buy it.
Oli Herbert, All That Remains. Photo By Eddy Burke
Killswitch Engage destroyed. I have come to the conclusion that these are some cool, laid-back dudes. I've seen and reviewed so many rock stars it's retarded, but these guys come off as just plain humble and nice! They interacted with the fans in a very cool way that you don't see very often. You can really tell they love their fans and actually care. And they aren't boring to watch, either. I don't know much about Killswitch Engage, but I know they rock live and get way goofy. Guitarist Adam DutKiewicz was wearing a cape and running around like an madman, cracking jokes left and right. Vocalist Howard Jones was like he always is, reliable and giving his all. I like Killswitch because there is actual singing involved, and not just cookie monster bullcrap. Howard has real power in his vocals of a sort that you don't hear much in today's music.
They opened the show with 'Serenade' and 'Starting Over' and quickly moved on to 'Reckoning' and 'This Fire.' 'Bid Farewell' sounded like the CD. Their musicianship is flawless. They are more of a 'emotion and feeling' band than total shred monsters. You really can't ask for better. Most singers are lazy slugs, but not Jones. I think if the guy played to ten people, he would still try just as hard.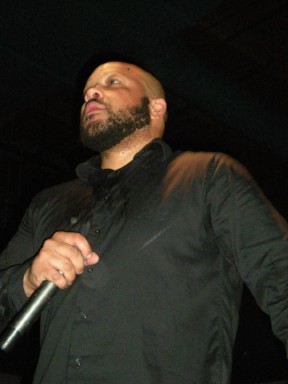 Howard Jones Killswitch Engage. Photo By Eddy Burke
The final two songs were 'My Curse' and 'Holy Diver.' On "Holy Diver," the guitarist tried play the same solo Vivian Campbell did on the original. I like that. Not hearing that solo kinda ruined the tune for me a little bit, so I'm glad they've been working on it some. I have nothing but good stuff to say about Killswitch Engage. They certainly brought in a nice crowd of rockers, old and young. Some of my friends even brought their kids to the show.
Terry Harper was happy with everything, so I think we will definitely see another sweet metal show at the Innplace Hotel and Conference Center. Congrats and thanks, Terry!
Thanks to Amy at Roadrunner, too.
Primer 55 Returns:
Don't miss the show when heavy metal/hiphop masters Primer 55 return to The Bulldog Cafe on Thursday, September 10. The Fairdale Fair starts that day, so come to the fair, then stop off to see Bobby Burns and the guys tear some chit up. Opening the show is Sever This Illusion, Post Mortum, 13th Level and Sons Of The Bluegrass. It starts at 7 p.m.
LRS, R.I.P:
I've never been much into radio, even when I was a radio DJ, but recently we lost the rock station WLRS. Yup, they are gone. I've had bad relations with LRS the last few years, recently, we got along fine. Heck, they even offered me the job of local music guy, after I went to war with their weasel-y local music guy. In the end, LRS was playing some decent music, finally.
I hate to see any radio station that plays Ozzy w/ Randy Rhodes go under
Evil Engine # 9, New Tunes Review:
These guys have been around for a long time and, damn, they sound good. I'm checking out the new Evil Engine # 9 and it's different than anything they've done. I'm digging it.
Cory Miller has always been talented, but all these years have honed his talents to knife-edge cutting power. The first song 'Go Wrong' is very cool, with a Deftones type feel that kicks butt. The vocals are top-notch and are memorable both in lyrics and melody. 'Open Sore' starts off with a subtle, clean but eerie riff that collides with some muted slow picking that fits perfectly. Very nice and hooky.
Where are the rap metal funksters EE# 9 used to be? Now it's ballad-y power rock with excellent melody. In parts of this song. Cory sounds like the Mudvayne's singer.
I really dig Corey Ogle drums on this track. 'Long Way Down' has some great vocals on it. The verses are sweet, slow and powerful. The pre-chorus vocals in 'Emptiness That Kills' are smooth as silk. 'Scars To Life' is a little funkier and upbeat. I'm also liking the guitar tones achieved by the band and longtime guitarist Chris Schwartz. Tone is all-important. Cory hits some higher notes in this song and that's way cool. In fact Cory is all over the place on this E.P and has never sounded better.
He's got some Lincoln Park, Mudvayne, Breaking Benjamin, and Deftones-sounding vocals going on that just work perfectly with the new music. The CD is excellent quality with professional packaging. Headfirst Media did a great job capturing these guys' essence on the recording. This is one of the best demos I've heard in a long while. If this doesn't get these guys some kind of record deal, nothing will.
Conclusion: Um … the new Evil Engine # 9 is music to get laid to. I think I'll test that theory here in an hour or two.
13th Level Demo Done:
My band recorded four songs at Krackerjack Studios recently. If you would like to hear the first music I've recorded in five years, go check us out at myspace.com/eddymetalrocks or myspace.com/13thlevel. I wrote all the cheesy tunes!
Upcoming Shows
The Bulldog Cafe
All The Bulldog shows are All Ages.
Monday, August 3 – Straight Line Stitch w/ Milkweed, Stallpoint, Robots Making Robots and Adaptize. $10 7 p.m.
Saturday, August 8 – Hicks Road, Elysium and Sons Of The Bluegrass.
Sunday, August 16 – Mayday, Parade w/ Shindig, Artifex Pereo and Talk Of Spring. $12
Friday, August 21 – The Morning Of w/ Sparks The Rescue. 8 p.m.
Thursday, August 27 – Let's Get It. $10 8 p.m.
Tuesday, September 1 – Motograter w/ Darksun, Descention, Devastation By Dawn, Broke And Bleeding and Sanctuary. 7 p.m.
Thursday, September 3 – Epicurean w/ Luna Mortis, Theories Of The Apocalypse, Infradread and Blood Upon The Fire. $5. 7 p.m.
Thursday, September 10 – Primer 55 w/ 13th Level, Sons Of The Bluegrass, Sever This Illusion, Post Mortum. 7 p.m.
City Block/Coyotes
Friday, September 11 – Black Label Society. 7 p.m.
Expo 5
Monday, September 28 – Down w/ The Melvins, Weedeater and Evil Army.
Headliners
Saturday, August 2 – The Jim Rose Circus VS Jake 'The Snake' Roberts, Stonecutters, Intent To Kill, Beaten To Death and Revelation. $12. All ages.
Monday, August 10 – Emery w/ Maylene and The Sons Of Disaster, Closure In Moscow, Secret and Whisper and Kiros. $15. 6 p.m. All ages.
Thursday, August 20 – Thrash and Burn Tour w/ Devildriver, Emmure, MyChildrenMyBride, Veil Of Maya, Despised Icon, For The Fallen Dreams, Oceano, Periphery and Thy Will Be Done. $20. All ages. Starts at 4 p.m.!
Phoenix Hill Tavern
Friday, August 7 – The Original Rock Showcase Series: Some Kind Of Saint, 13th Level, Porno Fishtank, Poetry Of The Dead, Silent From The Struggle and Strip Mind. 8 p.m. Free before 9 p.m.
Friday, September 4 – The Original Rock Showcase Series: Evil Engine # 9, (the return of) Inner Blue, 16 Bones, Porno Fishtank and Noise Bucket. 8 p.m. . Free before 9 p.m.
Shooters
Saturday, August 1 – Sinners and Saints.
Saturday, August 8 – Tim Lickteig, Born Empty, Shining Through, Adaptize and Stallpoint.
Saturday, August 15 – Snake Eyed Savior, Blister Hyde, Blacklight Barbarian and Cira 75.
Uncle Pleasant's
Friday, August 1 – Future Leaders Of The World w/ Dogwater, BoneJinn, The Layzees, Poetry Of The Dead and Elysium. 10.All ages. 7 p.m.