July 2009 Articles
Cover Story
Tim Roberts
Features
Eddy Metal
Columns
Berk Bryant
Mike Stout
Paul Moffett
Keith Clements
Martin Z. Kasdan Jr.
Eddy Metal
CD Reviews
Kevin Gibson
Martin Z. Kasdan Jr.
Kory Wilcoxson
Kevin Gibson
Kory Wilcoxson
Ronke Oyekunle
Blogs
Got Shows?
Send Them To Us
Bookmark Louisville Music News.net with these handy
social bookmarking tools:
Available RSS Feeds
- Top Picks
- Today's Music
- Editor's Blog
- Articles
Add Louisville Music News' RSS Feed to Your Yahoo!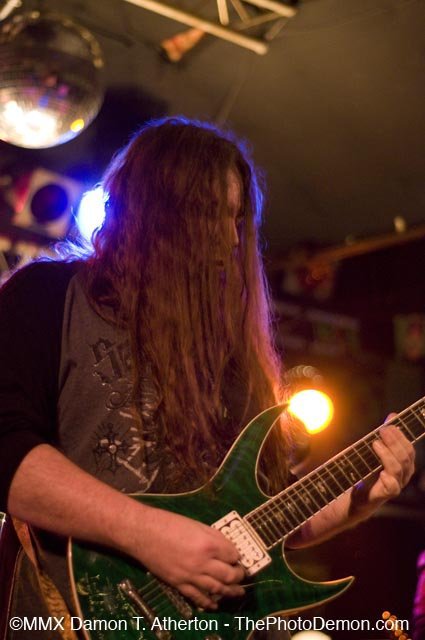 News From the Pit
Um. I was wanting to look different and cool for my first show back, so I decided to dye my hair a weird color. It was a purple-ish color called Magenta, but in the end my fro turned out almost fargin pink! Argh.
I'm not joking. I looked like Strawberry Shortcake meets Pippi Longstocking! A chubby one at that! Ha.
I tell you what, though, it's a trip to be playing music again. I'm pretty happy with the results of the last three months of hard work, practice time and songwriting that I've done. There's absolutely nothing like making up your own songs from the bottom of your heart, putting in the hard work and time, practicing your butt off and then finally reaping the benefits from all your work by having people actually like your music. So far the new music has gotten nothing but good comments.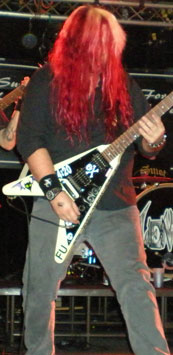 Eddy Metal with flaming pink hair
And that makes me very happy indeed. In a way it's almost better than great sex! Um, almost. Ha.
The last month I've not really done too much at all. Been too busy getting ready to play out.
I did go to 4th Street Live (shocking huh?) to see Filter. Usually I don't like that place very much but this time it was fun. There were so many big hootered females there it was retarded! I haven't seen cannons like that since I was at MGM Grand in Las Vegas. I was walking around with a cup under my chin because I was drooling. Heck, one overeager little blonde full-on grabbed my manly package! I was scared and ran away crying!
Filter put on a good show, I guess, if you like that kind of stuff. The sound was decent, and Filter jammed out pretty good, I must admit. Louevil natives Intheclear did a good job of getting the people ready for Filter. 4th Street Live should put on more concerts like this, but with music that has a bit more edge.
I wish they weren't so scared of metal, hard rock and hardcore. After all, all money spends the same! Heck, metalheads probably spend more money on booze than your average yuppie. In fact, I'd guarantee it.
Terry Harper has three great shows coming (ticket giveaways info below) up for you metalheads: Chimaira, KillswitchEngage with All That Remains, and Devildriver in August. It doesn't get much better than that my friends. I'm excited about all three of these shows. I saw Killswitch a month or so ago and it was wicked. And to have All That Remains on the show as well is a serious extra bonus! Plus, if this show at the Innplace Hotel and Conference Center goes well, then we may be looking at MORE rock/metal shows there in the future!!! So do not miss this show. Trust me on this.
I'm also excited about possibly going to see Judas Priest in concert here pretty soon. I'll have to drive to Cinci or Nashville for that, though.
Another thing that sucks is that a lot of bands treat each other like crap in this town. We are all in this music because we love it. I don't understand why so many bands dog each other so. It's always kind of been like that, but nowadays it seems worse than ever. This town's bands have way too many rock star attitudes, backstabbers and egos.
Some are some laughable, petty-ass lil beeyotches, too. I'd really like to smack around some of these stuck-up hometown rock stars (in their own mind). You wouldn't believe the stuff I hear. It's fargin ridiculous.
There is hope, though. There are quite a few bands and promoters who are good people and wish the scene well as a whole. Seriously, I've helped more bands than I can think of. I've never done it for the money, that's for sure!
I do it because I believe in making your own original music; helping my town's musicians; my ability to put together a great party/lineup of bands and because it's a lot of fun. And yeah, it don't hurt that I get incredibly lucky once in a while.
There are a few perks, I reckon, but to me, it's all about making your own music.
Now if we can pop these balloon-headed egos of some of these bands, it would be so much better.
The Metal Grapevine
Win Tix to Killswitch Engage/All That Remains (Free-Ride):
Wow. This is going to be a barnburner of a show! Killswitch Engage, All That Remains, Cannibal Corpse and Whitechapel, all at one show. I was hoping we would get a show like this and here it is. This wicked show is at the INNplace Hotel and Conference Center on Thursday July 23, which is located in the East End on Bluegrass Parkway, right off Hurstbourne Lane. Tickets are $23Adv / $26 DoS. Advance ticket sales at Ticketweb.com. For a chance to win tickets to this monster metal show, email me at Myspace.com/eddymetalrocks on Sunday. July 19 at exactly 9 p.m. Closest to 9 p.m. wins. In the subject line put "All That Kills!"
This show will be awesome, so if I were you I'd get my tickets now.
Win Tix to Chimaira: (Free-Ride)
Then two nights after Killswitch, Chimaira will be in town to destroy. I love Chimaira and will be there for sure. The show is July 25 at Headliners and also features Born Of Osiris, Winds Of Plague and The World We Knew. Tickets are $15 Adv/$17 DoS. All ages. 7 p.m.
To win some tickets message me at Myspace.com/Eddymetalrocks on Monday July 20 at 9 p.m. Closest one to 9 p.m. wins. In the subject line, put "Chimaira Rox."
Win Tix to Devildriver (Free-Ride):
On Thursday, August 20, The Thrash and Burn Tour comes to Headliners. Devildriver (who is fargin amazing live!) will be headlining an evil show that includes Emmure, Despised Icon, MyChildrenMyBride, Veil Of Maya, For The Fallen Dreams, Oceano, Periphery and Thy Will Be Done. Tickets are $20 and it's all ages.
I can't wait to see Devildriver again. Both times I've seen them, it was unreal. We here at LMN have free tickets to win, look for the giveaway info in the August issue! Does LMN and Terry Harper hook you bastages up or what? Yes. we do.
Louisville Rock Pix, It's For You:
Are you an amateur photographer? If so, then send us some of your pictures of the region's live bands. And if they are good enough, we will print them and give you credit for it, so send in those pics of your favorite Louisville bands. Be sure to include your name, the name of the band/people in the picture, andwhen and where it was taken. Be a part of Louisvile Rock Pix.
Original Rock @ Club Oasis:
Club Oasis is now doing a monthly original rock concert. Friday, July 17 will be the second one. If these shows do well, we could have another steady nice venue to play at, and it's all ages, too. I've seen some darn good shows there in the last year or so. Gwar and Chimaira was off the hook! We need to get more Louevil rockers and its kickass bands in that mofo, so let's seriously try to get the place going strong. As a musician, I have never liked playing dives. Club Oasis is very far from being a dive. It's fargin nice in there! We need all the good venues we can get. And Oasis is definitely a keeper!
July 17 will feature The Villebillies, Nova Red, Ashes Eve, 13th Level and 1 band T.B.A. Starts at 7 p.m. In the meantime, link up with them at myspace.com/louisvilleoasis for future show info!
Support Louevil rock and it's venues!
Ivan Arnold Joins Heaven Hill:
Respected drummer Ivan Arnold has officially joined Louevil radio rockers Heaven Hill. Ivan has been in many bands in Louevil: Flaw, Hanover, My Own Victim and now he drums for Louevil's top original band.
I'm wondering why Heaven Hill hasn't embarked on a tour in support of some national act. They do really well around here, and they should be touring the country getting their music out to the masses. I hear them on the radio all the fargin time, more than any band (probably) in Louevil history! They have come a long way since the Breckinridge days. Chuck sings so much better nowadays, it's no comparison. The songwriting is way better, and with Ivan on drums now, look out!
I'd bet my bottle of hair detangler that they will be looking at a phat tour in the near future! Locally, they have gone as far as they can go. They have reached that point to where it is time.
Heaven Hill is at that point of no return. It is all or nothing time! Good luck to HH.
BoneJinn CD Out Now:
Louevil hard rock newcomers BoneJinn are doing very well these days. They just put out a CD that sounds very good, indeed. With that and doing well at their Hard Rock Cafe band battle win, I'd say these guys are quickly moving up in the scene. They recently recorded a nine-song CD at DSL Studios and I'm checking it out right now.
The first track, "Timebomb," is a rocker of a tune with good lyrics and a good groove. This song could do well radiowise but there are some cusswords that might hurt the band exposure-wise.
I suggest they re-do a radio version and leave out the cursing. Just for the radio aspect! I hate doing that too, but if you want radio exposure, you have to keep that stuff in mind.
"Bloodline" is jamming, too. Vocalist Marty Triplett sings a bit higher in this tune and it works well for the song. BoneJinn loves their bluesy riffs and vocals. I had a chance to jam with Marty a few years ago, but I never heard of him so I didn't. I farged up; dude is a great singer.
Matry came by the crib one day and we hooked up the acoustic guitars and jammed a little. His acoustic solo stuff is amazing. I was blown away. He don't use any of it for BoneJinn, which I think is a big mistake.
They need to work some of his lighter stuff in their set, in my opinion.
The bass sound on "Bloodline" is thunderous. As I said before, bassist Tony Z is the poo poo on bass. One of the best in the city. Rarely do I like almost every song by a Louisville band, but BoneJinn achieves just that.
Of course, it's not the heaviest music, but it apparently does have something special going on there. Soul. Emotion.
"Chirp (Start a Fire)" is one of the band's favorite songs and it's an upbeat beast of a song. The guitars of Steve Harris (no, not Iron Maidens bassist!) are in your face and sound very clear and powerful. His guitar sound is nice and seems darn near perfect. "BoneJinn" the song is a bluesy grunge fest that leaves you thinking Swing Metal or something. The lyrics are cool, and I like the way they end this song live in concert. A long and powerful "weeee arrreeee bonnnejiiiiiiiinnnnnnn!"
If you haven't seen lighter rockers BoneJinn yet, you need to. Myspace.com/bonejinn
The Revenants Hit The Road:
Longtime Louevil dark metallists The Revenants are about to do something cool. They were asked to do a tour with Norway's death metal demons Hellnight, who are making their first trip to America. So the Louevil natives will be going out on the road and playing to the masses, something I have always been curious to do. Sure, I've played other cities before. But never on a 13-city tour. They will be playing in such places as Chicago, Wichita, Dallas, New Orleans, Atlanta, Richmond, Pittsburgh and Rochester N.Y. Sounds like a helluva time.
The Revenants have been playing Louevil since I had my showcase at Toy Tiger. And that's a long time ago.
It's good to see such a different Louevil band get to do such a thing as touring. The Revenants last CD kicked butt and they deserve this chance. And you freaks get to send them off right here in Louevil, too!
The Tour starts at Cahoots on July 10 at 9 p.m. Norway's Hellnight is headlining, The Revenants and Sowing Discord will be opening. Support Louevil metal!
Sever This Illusion Done Recording:
The band just finished recording their music for Turkey Vulture Records, and their full-length CD will be out sometime this fall. The CD will be calledUnidentified Assassins and features song titles like "Suicide in the 502," "Feast for the Eyes" and "Never Back Down." Stay tuned for more info.
Kentucky Deathwish:
The band formerly known as Caldera is back with a new name and a new singer. These guys have been plagued with singer issues for a long while now. Hopefully, new singer Todd Proctor (formerly of Lesson B4 Dying and Slokill) will place the missing pieces together to complete a deadly lineup. This band is very good. It will be interesting to see Todd's transformation from rap rocker to a screamo deathmetalist. The guy has talent, so I already know he can do it.
His last band, Lesson B4 Dying, was a good band, but they didn't have the guitar tones/skills/equipment that Deathwish has.
Together as a team, I think this paring could be good! See their debut Friday, July 3 at Phoenix Hill, opening for Deliver Us From Evil. It's free before 9.
Tornacade Review:
Tornacade is back and sounding good. I'm checking out the new music right now and I'm very impressed with both the vocals and songwriting. The sound quality of this is very good too. "The Longing" is a hard rock endeavor that cuts through. It's heavy yet melodic and makes you tap your feet and rock out. These guys have been around a long while too and are great musicians. After hearing this, I think I will have to book them ASAP. "No Way Out" is a radio-friendly tune with a happy kind of feel. Good stuff here! This band has been missing in action for a long time, but with this new music, they are returning with a vengeance. And if not, something's fargin wrong!
New Band Alert, Infradread:
Hailing from Charlestown Indiana, this four-piece metal band is pretty darn good. I had heard a few good things about them, so here I am checking out the goods myself. The guys are quite young but also seem to have a good attitude and some rockin skills. The guitars are heavy and have decent tone, while the vocals are a bit more on the screamo side. Vocalist/guitarist Miguel Rivera does a fine job playing and singing at the same time. Not many bands can do that. The songwriting is not bad. I do like it better when he screams instead of trying to sing melodically. Fans of death metal and newer hardcore should dig these youngsters. There are also some decent melodies as well as some emotion conveyed in this heavy music, which makes it all the better. I hear some Iron Maiden influence in some of the guitar. The musicianship is good on all fronts. Rockin' drums, nice solo riffage (but I would have liked to have the solos a bit wetter, effects-wise.) They must be doing something right if people are telling me good things about them. But don't take my word for it, check out these Southern Indiana thrashers for yourselves.
You can see them in concert on Friday, July 3 at Uncle P's with Nothing Wrong. Or look them up online at myspace.com/infradreadmetal
Blackroom Needs Drummer:
I'm sitting here listening to rough, instrumental versions of Blackroom's new music, which is quite good although lighter than before. Blackroom did well in the scene in the short time they played out. Vocalist John Rolen ended up moving back to Virginia, and that messed up things for awhile for the band, then vocalist Josh Holcomb stepped in and the band has now made some changes.
Guitarist Jay Alexander:"Josh's vocals are a mix of dirty rock and nu metal, so we are going to go a little more progressive and less metal. But there will always be some metal in my playing!"
Blackroom is currently searching for a drummer. Myspace.com/blackroommusic
Adaptize Drama:
The band Adaptize fired their bassist and it has angered many a people in the scene.
From my personal experience, bassist David Bond was probably the most talented musician in the band, and he always brought a good amount of people to see Adaptize play. Not only that but he is a very friendly guy, and always seemed to have a positive attitude. I don't know the reason for the dismissal, but I'm sure David will find another band quite easily, and both Adaptize and David will continue on playing the music they create.
I always liked Adaptize and wish both parties well.
So let's just all get along and move on with the rockin'. Drama blows, so let's bypass all that nonsense!
13th Level Recording:
My band 13th Level just played our first show on Friday, June 5. Immediately after that we got the opportunity to record a four-song demo at Cracker Jack Studios in New Albany. We did not intend to record so soon, but one has to go with the flow. Besides, I really want our music on the radio again, and the new stuff is perfect for the radio. I reckon I'm getting old and the cookie monster vocals no longer appeal to me in my music. We are recording the songs "One More," "Eluded," "2012" and "Coming Down." The recording should be done by July 1; then we will commence mixing and mastering.
I will keep you informed on our CD release show. In the meantime, check out some live footage of our first show at myspace.com/eddymetalrocks.
New Band Alert, Nothing Wrong:
From Taylorsville, Kentucky comes Nothing Wrong, a four-piece metal band that isn't too bad.
Unfortunately, I'm not into the vocals very much and the recording quality sounds like doody. Fortunately, they are currently recording new stuff, hopefully at a good studio, because I can hear some possiblely good stuff here if they get their chit together. The music and songwriting isn't bad. The musicianship is okay, but the vocalist doesn't do it for me at all.
His screaming/metal voice is decent, but his singing voice makes me cringe.
And dude's guitar tone isn't very good, either. What is that, a $200 practice amp? People! Good equipment is a must!
When I was younger, I never knew that equipment was so vital in one's whole sound. Of course, I'm spoiled by getting CDs from the region's top bands all the time. You can tell this band is a bit inexperienced but aren't we all in the beginning? Mofos gotta start somewhere. When I first started, I sucked like everyone else!myspace.com/nothingwrongband
Upcoming Shows
Boondocks
3850 Beechgrove Rd in Shepherdsville Ky.
Saturday, July 25 – "Metalfest" featuring Society's Plague, Boozer, Resin8, Devastation By Dawn, Day Of Ruin, Hometown Massacre and Silent From The Struggle. 6 p.m. All ages. $8 Adv/$10 DoS
Bulldog Cafe
Monday, July 20 – Every Avenue, Cash Cash, Valencia, The Morning Light and Sparks The Rescue.
Club Oasis
Friday, July 17 – Villebillies, Nova Red, 13th Level, Ashes Eve and 1 TBA. 7 p.m.
Wednesday, August 5 – August Burns Red w/ Bless The Fall, All shall Perish, Iwrestledabearonce and At Lights End.
Headliners
Tuesday, July 14 – Poison The Well, Madball, Terror, Crime In Stereo, War Of ages, Vision, The Ghost Inside, Death Before Dishonor, Bane, Trapped Under Ice, The Mongoloids and This Is Hell. 3 p.m. $10 All ages.
Saturday, July 25 – Chimaira w/ Winds Of Plague, Born Of Osiris and The World We Knew.
Thursday, August 20 – Thrash and Burn Tour w/ Devildriver, Emmure, MyChildrenMyBride, Veil Of Maya, Despised Icon, For The Fallen Dreams, Oceano, Periphery and Thy Will Be Done.
InnPlace Hotel and Conference Center
Thursday, July 23 – Killswitch Engage w/ All That Remains, Cannibal Corpse and WhiteChapel.
Phoenix Hill Tavern
Friday, July 3 – The Original Rock Showcase Series: "Harmageddon." One night of extreme music w/ Deliver Us From Evil (Evansville IN), Society's Plague (Lexington), Kentucky Deathwish (debut), Amalgamate, Overthrone and Escaping Memory. 8 p.m. Free Before 9. $5 after.
Friday, July 10 – Asleep, Psychostick, 2 Pump Chump, Slokill, 4 Storie Failure, Signal 48, Rifle, Blind Mans Bluff. $10 Adv/$12 DoS
Saturday, July 18 – Some Kind Of Saint, Dogwater and Blister Hyde. 7 p.m. $10.
Friday, July 24 – Snake Eyed Savior, Stonecutters, Surviving Thalia and Forged In Flame. 9 p.m.
Saturday, July 25 – Burn To Shine.
Friday, July 31 – Heaven Hill, BoneJinn, 13th Level and The Rust (Nashville). 8 p.m.
Friday, August 7 – The Original Rock Showcase Series: Some Kind Of Saint, Tornacade, 13th Level, Poetry Of The Dead, Strip Mind and Silent From The Struggle. 8 p.m. Free before 9. $5 after.
Shooters
Saturday, July 11 – Snake Eyed Savior, Kentucky Deathwish, El Masivo, Grave Flower. Free show! 8 p.m.
Uncle Pleasants
Tuesday, July 21 – Copeland, Sherwood, Anchor and Braille, and Barcelona.