July 2009 Articles
Cover Story
Tim Roberts
Features
Eddy Metal
Columns
Berk Bryant
Mike Stout
Paul Moffett
Keith Clements
Martin Z. Kasdan Jr.
Eddy Metal
CD Reviews
Kevin Gibson
Martin Z. Kasdan Jr.
Kory Wilcoxson
Kevin Gibson
Kory Wilcoxson
Ronke Oyekunle
Blogs
Got Shows?
Send Them To Us
Bookmark Louisville Music News.net with these handy
social bookmarking tools:
Available RSS Feeds
- Top Picks
- Today's Music
- Editor's Blog
- Articles
Add Louisville Music News' RSS Feed to Your Yahoo!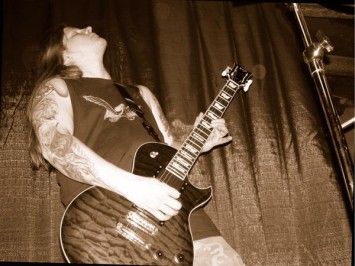 Michael J. Williams. Photo uncredited
Name: Michael J. Williams
Age: 34:
Instrument: Guitar
Bands: Snake Eyed Savior, Luther, Contortion, Carnival Of Souls
How long on Instrument: 20 years.
Equipment: Marshall TSL 2000, ESP Eclipse, Gibson SG, Morley Bad Horsie Wah
Influences: Billy Gibbons, David Gilmore, Tim Sult, and Jeff Toy. of course.
First Gig: Homies Ice Cream in Shepherdsville in 1992 with Carnival of Souls with our drummer in SES Jason Lakes.
Hobbies: I don't really have any hobbies outside of the band. No time when you're a Dad.
Favorite Movies: Boonedock Saints, Kill Bill, Fear and Loathing in Las Vegas, Walk Hard.
Favorite food: Mudwings! Machine Head roadie Josh "Mudbilly" Boone is world renowned legendary Wing Master!
Favorite place: Anywhere Clutch is playin.
Bad habits: I may too impulsive sometimes as in, spending money I don't have.
What I'm listening to nowadays: Clutch' 'Strange Cousins From The West," The Devil Makes Three "Do Wrong Right," Kings of Leon "Only By The Night."
Coolest thing I've done: Besides fathering a beautiful little girl, neeting Dimebag Darrell, playin' with Luther and playin' in SES with Jeff Toy 'cause he's been one of my best friends forever.
Most embarrassing moment: Grabbing a T-Shirt off Jeff Toy's floor and wearing it to work, not realizin' it was "stained."
Who do you love: My wife, my daughter, my parents, my friends.
When/where did you first get some: A kiss and teller is a lonely feller.