May 2009 Articles
Cover Story
Tim Roberts
Features
Mike Stout
Eddy Metal
Columns
Berk Bryant
Mike Stout
Paul Moffett
Keith Clements
Martin Z. Kasdan Jr.
Eddy Metal
CD Reviews
Paul Moffett
Kory Wilcoxson
Martin Z. Kasdan Jr.
Kevin Gibson
Hunter Embry
Hunter Embry
Kevin Gibson
Kevin Gibson
Kory Wilcoxson
Blogs
Got Shows?
Send Them To Us
Bookmark Louisville Music News.net with these handy
social bookmarking tools:
Available RSS Feeds
- Top Picks
- Today's Music
- Editor's Blog
- Articles
Add Louisville Music News' RSS Feed to Your Yahoo!

Issue: May 2009
Name: Marty Triplett
Age:38
Instrument: Lead singer for "Bonejinn"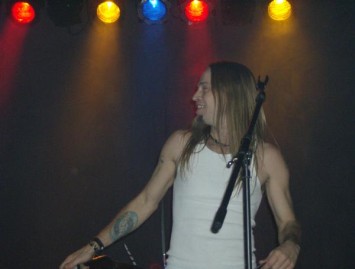 Marty Triplett. Photo uncredited
Band/Former Bands: Bonejinn, Area Grey, Thin Harry and the Woodsmen
How long on instrument: 30 years. Started in the 3rd grade chorus; I've been singing in rock bands for about 15 years.
Equipment: Shure 58, Mackie board
Influences: Jeff Keith (Tesla); Don Henley (Eagles); Ronnie Van Zant ((Lynyrd Skynyrd); Steven Tyler (Aerosmith); Ozzy
My first gig: Papa John's Pizza grand opening Dixie Highway, Yes outside as traffic was blowing by, people yelling "you suck" as they drove past!
Hobbies: Ball coach for my squirts, 3D animation, flash, golf, fishing, Internet
Favorite movies: "One Flew Over the Cuckoo's Nest"
Favorite food: Cabbage
Favorite place: The ocean
Bad habits: YouTube, MySpace, and maybe smoking.
What I'm listening to nowadays: A lot of local music, New Tesla, Broken Iris, Chris Whitley, lots of new rock!
Coolest thing I've done: My good friend Scott Louie and I sang "Seek and Destroy" with James Hetfield (Front Row on the JumboTron).
Most embarrassing moment: I took the kids to Disney World in Orlando, and as soon as I got out of the car, I got hit in the bag with a football! (True story)
Who do you love: My family, my crew, my band, my country.
When/where did you first get some: At home, I think I was 11, I can't remember the damn baby sitter's name, though!