May 2009 Articles
Cover Story
Tim Roberts
Features
Mike Stout
Eddy Metal
Columns
Berk Bryant
Mike Stout
Paul Moffett
Keith Clements
Martin Z. Kasdan Jr.
Eddy Metal
CD Reviews
Paul Moffett
Kory Wilcoxson
Martin Z. Kasdan Jr.
Kevin Gibson
Hunter Embry
Hunter Embry
Kevin Gibson
Kevin Gibson
Kory Wilcoxson
Blogs
Got Shows?
Send Them To Us
Bookmark Louisville Music News.net with these handy
social bookmarking tools:
Available RSS Feeds
- Top Picks
- Today's Music
- Editor's Blog
- Articles
Add Louisville Music News' RSS Feed to Your Yahoo!

Issue: May 2009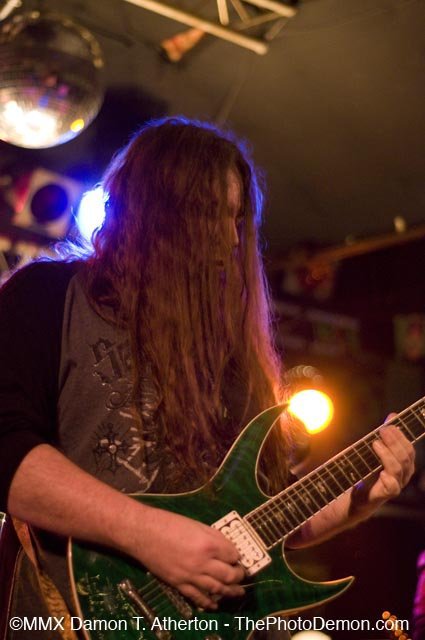 News From the Pit
There's nothing in the world quite like Derby time in my city, from the legendary old Central Avenue block party (now outlawed) to the many Chow Wagon party stations that used to be spread throughout the city. This city has cleaned things up and it is nothing like the old redneck party days, but we do have one good thing going: we get a lot better class of Derby shows these days, that's for sure! May has a slew of shows that I cannot miss. Lamb Of God, Theory Of A Deadman, Nightwish, Exodus, Kreator. Hellz yeah. You can't ask for much better than that.
Will I attend the Derby this year? I dunno. The 4:20 bush in the infield might have to suffice without me this year.
I've been so busy now that I have my band 13th Level going again that finding time for shows, practice, dating, writing music and everything else is a beeyotch. So if I've been a little distant or slow to respond lately, that is the reason. Do you know how hard it is to write almost all the music for your band? I been busier than a octopus with the crabs!
I really don't want to come out with doody after a five-year break, so I've been wracking my brain for hooky ideas and cool riffs. We have finally found a good singer, namely, Steve Sawyers, formerly of the cover bands Blowfly and Orion, and the original bands Never and Nineties thrashers Shattered Reality, the former band of Tim Flaherty of Hot Action Copand Antikythera. I'm very excited that I'm going to be playing out again, starting on June 5 at Phoenix Hill Tavern. I'd like to see all of my readers come out (we go on early) and check it out the musical mischief I've been getting into. Seriously, how many other writers can say they actually play out in the scene? Only in Louisville Music News, baby! Some of the songs to look out for are "Eluded," "Coming Down" and "Swarm." I also look forward to getting out there and playing a bunch of shows with all you newer bands.
I've got a few tickets for you to win, so be sure to read the Louisville Music News Free-Ride Ticket Giveaway info below and see about winning tickets to Chevelle at the Hill on May 22, and a barn-burner of a old-school thrash show at Headliners on May 14, featuring metal legends Exodus and Kreator!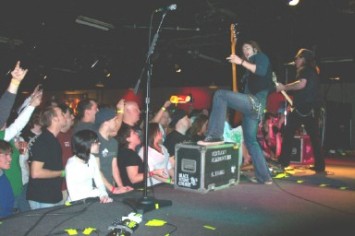 Black Stone Cherry at Coyote's. Photo by Eddy Burke
This last year, we've been seriously hooking you up with tickets, so take advantage of the opportunity; the odds of winning are not nearly as bad as you might think.
Link up with me at Myspace.com/eddymetalrocks , and visit us online at Louisvillemusicnews.net for info on how to win.
From the crew of LMN and me, we wish you an excellent Derby-time.
The Metal Grapevine
Chevelle is Coming: (Free-Ride)
>Chevelle will be at The Phoenix Hill Tavern on May 22. This promises to be a fun show, with lots of hot women in attendance. We've got a few tickets for you to win. Message me at my myspace.com/eddymetalrocks page on monday May at exactly 6 p.m. Closest one to 6 p.m. >wins. In subject line put "Babe-ra-ham Lincoln." Also, thanks to Phoenix Hill for doing the Theory tickets giveaways!
Exodus and Kreator: (Free-Ride)
>An old-school metal invasion is what this is. Eighties thrashers are back with a vengeance, and I'm loving it. For those who love Eighties thrash, do what you have to to see this show at Headliners on May 14, because you might not get that chance again. I don't recall Kreator even coming to Louevil before. I grew up listening to Kreator and am stoked about hearing them live for the first time, so break out the metal-studded wristbands, black eyeliner and prepare to get brutal. For a chance to win tickets, message me at Myspace.com/eddymetalrocks on May 10 at exactly 6 p.m. Closest one to 6 wins. In the subject line, put "Oldschool Rules!"
Lamb Of God Invades:
>On Tuesday, May 5 at Expo 5, one of the top metal bands in the nation, Lamb of God, will be here to kick some butt. Also on the bill are As I Lay Dying and Children Of Bodom. You don't want to miss this cool semi-outdoors show. Last year Expo 5 had it going on, and this year they are off to a great start with this metal event. Special thanks to Terry Harper for doing the giveaways for this show, and Nightwish and (Hed)pe. He has hooked you peeps up with many free tickets, so show him some love.
Nightwish or Death:
>I told you months ago how rockin' this female-fronted, Swedish goth metal band is, and now is the time finally to check them out for yourselves. You don't want to miss these psychedelic goth-meisters. The fact is, you don't see these weird European bands touring around here much so, you should jump on the chance when you get it. Great vocals, great guitars, killer keyboards and a bunch of talented, guitar-playing, Viking dudes who look like Legolas from Lord Of The Rings.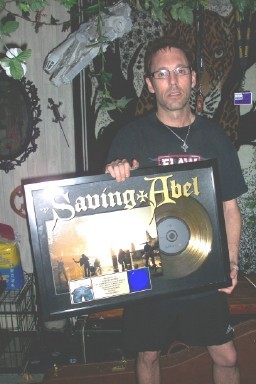 Scott Frazier with his Gold Record. Photo uncredited
Jokes aside, do not miss this badass show at the Oasis Club on May 6.
Black Stone Cherry Review:
>Black Stone Cherry is hard to not like. They're good ol' Kentucky boys with some serious talent. I got to see them in late March at Coyote's and it was pretty good. The PA sound wasn't as good as when they were at Headliners a few years ago, but it still sounded good. This young rock band from Edmonton, Kentucky has been extremely busy and seems to be highly sought after. I can see why; their live shows are awesome. Vocalist Chris Robertson is wicked on guitar (reminds me of Stevie Ray Vaughn), and his soulful and powerful vocals truly belie his age. You almost expect an older, life-hardened individual rather than a youth from the hills.
Lately, they have been doing a bunch of cover songs which is kinda cool. They played the Norman Whitfield/Barrett Strong song, "I Heard It Through the Grapevine,"> made famous by Marvin Gaye, and it was nice. They waded through their hit tunes like "Lonely Train," "Rain Wizard," "Hell and High Water" and even broke out some new tunes off their new CD, >Folklore and Superstition. They played "Blind Man" and "Please Come In," new tunes which jammed pretty good. Drummer John Fred Young is an energetic drumming madman! The band was as tight as always, but the crowd at Coyote's could have been a little better.
Bassist Jon Lawhon explains the band's goal:> ">The new album is a timeless work by American pied pipers destined to take their music from the back roads of America to the four corners of the globe. We are taking Southern tradition and giving a taste to the rest of the world."> Wanting to incorporate some Kentucky sounds into the album, the band even experimented with turkey calls, banjo and a washtub bass that Jon made. These sons of the bluegrass love their home and that makes us love them even more. It seems to me that the sky is the limit for BSC, and I, for one, will be there supporting them. Pick up a copy of our home state rockers' new CD, >Folklore and Superstition>, in stores now!
(hed) pe Was Sick:
>I love (hed) pe. I usually don't like this kind of music but this Huntington Beach, California band is awesome and just plain fun. Great musicians and a very good and talented frontman who goes out of his way every time to show how much their fans mean to them. What's not to like? This is a hard band to categorize: funk, metal, rap, reggae, thrash, punk, rock and about 100 other styles mixed into one entity. Vocalist Jared Gomes not only has a great voice, stage presence and some hooky melodies, but he makes sure the fans get their money's worth. Both times I've seen them, the band has played a very long and energetic set.
The night of their show, Headliners was about 70% full but the crowd was too happy with the performance of these funkmasters. The pit was in full force as (hed) pe tore through a set of blistering tunes, ranging from the beginning of their career to present day. The sound system at Headliners was pounding. At one point, a woman wearing a skimpy shirt barely covering her large boobs was moshed into and she went flying, exposing one breast. Made all the young guys extra excited.
I don't know many of (hed) pe's song titles, so I can't tell you all they played, but I do know it was a bunch of old stuff as well as new. I recognized "Bartender," which sounded as good as the recording. Gomes has no problem reproducing his vocals live! They played a new tune, "Renegades," from their upcoming CD, New World Orphans, due out in July, that rocked. If you haven't seen (hed) pe before, you need to!
The rapper Dirtball didn't really do anything for me, although he had some good talent. Mower was decent but the singer sounded like he sucked up a balloon of helium before each song. Imagine thrash punk with Mickey Mouse on vocals. It was bizarre.
The opening act was terrible, maybe the worst rap band ever. It was as if Mr Bean tried to be a down hip rapper! The little dude forgot words, pranced around stage trying to look cool, while another guy with a slipknot type mask on was doing absolutely nothing but walking around on stage going, "Yeh boyeee!" It was hilarious. People couldn't wait till their set was over.
All in all, though, it was a fun night of different music for me to review.
Scott Frazier Achieves Gold:
>Louevil native and A&R record label consultant/Saving Able manager Scott Frazier is all smiles these days. For one he manages Saving Able. You know, the band who sings the "Addicted" song about getting a BJ. The CD has reached sold 500,000 units for a Gold Record, and over 1.4 million copies of the single. The record company sent each member of the band a gold record. And, of course, the guy who got the band where they are, Scott, got one for his trophy case. Scott has been wanting this his whole life and now has achieved it. Congrats, bro.
Secondly, after succeeding with Saving Able, you can bet your sack the record labels will be waiting for Scott's next big discovery, which could come out of Louevil. You hear that, bands? Get your chit together, because we have a major player right here in louevil. He could be your ticket to the bigtime, such as it is anymore.
Judas Priest/Whitesnake Coming:
>Judas Priest, one of my favorite bands of all time, is coming to Indy on June 29 at the Murat Centre, and Cincinatti at the PNC Pavilion on July 21. Whitesnake and Anvil will be opening. Judas Priest is the inventor of metal, and the frequently copied double guitar attack. If you are a fan of metal guitar and vocals, then do not miss this show. These guys forgot more than most bands today know! Pure musical genius. And original vocalist Rob Halford will be singing.
There is a reason this band has sold millions of records, toured the world 20 times, and generally lasted: they fargin wail. I'll see if I can get a few tickets to giveaway to you readers, so keep your fingers crossed.
Society's Plague to Open for Disturbed:
>I'v been telling everyone about Society's Plague and how they will do well, and now they are now going to open for Disturbed and Killswitch Engage on May 4 in Columbus, Ohio.
SP competed against many bands and won the opening spot, which is well-deserved for being so professional and hardworking. Congrats to our metalhead buddies from Lexington, Society's Plague.
Flaw "Stallings is a Beast":
>Flaw is alive and well, it seems. The band is going to give it another go and the members seem to be excited about the new lineup. Their third CD is 75% done and they are excited as a racehorse on Derby Day.
>Vocalist Chris Volz stated, >"Bassist Jimmie Stallings has come in and contributed some awesome material. We never knew he was that good. Great song writer, and he can sing! Stallings is a beast."
Be on the lookout for the brand new Flaw CD in a month or so.
The Fate Of City Block:
>The City Block complex has been closed and it's not clear what will happen to the space. Owners Ward Plache and Don Blackburn blame it on competition from 4>th> Street Live! (heavily supported by City money). I have seen so many great shows there and I truly hope they don't tear it down or make it something else. That would be another Toy Tiger style loss, a huge disappointment and bad blow to our music scene. The loss would surely hurt this scene and give us one less place to see national acts. I've always had a great time there and the staff was always super cool to us here at LMN (thank you!). And a lot of Louisville music was featured at the club as well.
BoneJinn Review:
>It's so cool to see a new band I like and be able to help them out. I had heard that BoneJinn was very good and I heard right. I finally saw them perform and was impressed, especially Marty Triplett's vocals. It's hard to find a good singer in this town. BoneJinn is lucky to have such a frontman in Marty. First of all, you can understand him when he sings, and sings he does, using his range, power and melody to the best of his ability, which is considerable. Marty also has stage presence and works the crowd well. Bassist Tony Z is one of the best bassists in town and a cool guy to boot. The songwriting is well done, the musicianship is great, and there are a lot of hooks in the music. It's not very heavy but it doesn't need to be. It sounds just fine the way it is, with some soul mixed with a modern hard rock sound. They are currently recording a nine-song CD at DSL Studios. If you are tired of the crap 'cookie monster' vocals in the scene and need something cool and different with a spiritual groove, then give BoneJinn a listen. They will take you on that journey. Myspace.com/BoneJinn
Dave Ernspiker Tribute:
>Dave Enspiker died last month at 39. I never knew Dave very well, even though we were in first or second grade together. We were always friendly, though. He was one cool dude.
Heck, Dave was friendly to everyone; that's why his passing has been much discussed. He was guitarist for The Big Rock Show, and a great guitarist he was! He could do insane solos and sing full vocals at the same time, plus he broke out cool covers, too. How many bands cover Iron Maiden these days? Back in the second grade, Dave was very shy and quiet, and you would have never guessed he would become the guitar shredder he was. The Big Rock Show played out more than any cover band I've ever seen and had a great following.
Dave was more than just a rocker: he was a good guy who regularly attended church (seriously, how many rockers do that?) , and he put on some good concerts over the years. The Bike Fest he put on a few years ago was fun! Great White and Ted Nugent played. I was told the funeral was massive and an excellent and heartfelt farewell. He was buried with his prized Les Paul Custom guitar so he can jam forever. R.I.P., Dave Ernspiker.
South By South End:
>I took a break from the band thing, went up to the South By South End Festival on Day One to see some louevil bands and had a good time. It was a cool event that showcased original music by players with connections to the South End. I got there as Brett Ralph's Kentucky Chrome Review went on. The music was way too light and redneck for me, and the vocals were terrible. The songwriting and musicianship wasn't bad, but the trucker-type vocals were pure torture. With a different lead singer, this band might be good. I went outside until the next band, Snake Eyed Savior, came on and kicked butt. They sound better every time I hear them. I think a cover story is due very soon for this band of louevil metal veterans. Born Empty is a crazy band from Nashville that is a joy to watch. It's punk, melodic rock. They jammed.
I saw all kinds of people I knew at the show. It had a nice, vibrant crowd. There were a few South End hotties, too. Props to those who put on this event. I would have liked to have been on this bill. I'm thinking of going to the second night too, if the cash holds up.
Mayhem In May (Free Ride):
>On May 30, there will be a huge metal show going on all day long at the Bulldog Cafe. It sounds pretty brutal. I have a few tickets for you peeps. The first ones to email me at myspace.com/eddymetalrocks gets them. Bands playing are Anal Blast,, Abominant, SikFuk, Zegion, Bloodtribe, Entropy, Skew, Coathanger Abortion, Death By Quarter and a bunch of other vicious bands. All ages. $15
Escaping Memory, A Hidden Gem:
>Whoa. These six young rockers from Southern Indiana are awesome. Somehow I've never heard of them, but when I heard them live, I was trippin' (No, LSD). I was enjoying their strange and cool music big-time. Keyboards and sequencers and a bunch of crazy cool effects mixed with some wicked melodic metal is what EM is about. Hardcore, nu metal, euro metal, I don't know what you call it, but they reminded me of Lexington's Societys Plague, who, in fact, recommended this band to me (thanks Matt and Kate). This band really deserves to be heard. Melodic choruses, nice soloing, and some fat guitar riffage make EM a must-see. I especially liked the fast, muted picking technique they used. The bassist is a very entertaining madman, the way he swings that bass around >a la> Pete Townsend. The vocals of Stephen (no last name listed) are versatile and fit well with the music. People at the show seemed to really like them, which wasn't surprising.
They sounded most like All That Remains or Soilwork. The keyboardist made things interesting as he flew through all kinds of cool sounds that had peeps mesmerized. His keyboard was some top notch equipment, too. Dude was messing around on the keys and even played the theme from Braveheart.
You might not have heard Escaping Memory before, but be sure you check this hidden gem of a band right here in our own backyard. Myspace.com/escapingmemory
New Band Alert, Buried On The Battlefield:
>A new band wisely submitted a CD to me to listen to, so here I sit checking out Buried On The Battlefield. It's hardcore-ish but there's a bit of melody in there, too. The drums are loud as heck and rockin'. The guitars seem simple enough and have a nice tone and groove about them. The vocals remind me of Suicidal Tendencies somehow. The recording doesn't sound bad at all, although the drums are a bit overpowering.
The music is pretty cool, but the vocals are leaving me a little flat. There's a bit too much punk rock for my tastes these days, but there's no denying that they can play. The vocals of Kenneth Lynch stay in a certain area and don't venture too much outside of that. But, hey, if it works go for it. I bet he would be entertaining to see live in concert. I get a feeling that the energy of a live performance would be substantial. Fans of Tool, The Misfits, old-school My Own Victim, Suicidal Tendencies, Clutch should really like this band. They are raw and heavy and have a nice groove.
Boozer News:
>Internet radio guy Fender has replaced Rob Christian on bass guitar, and the >band is expecting the first shipment of the new material they recorded very soon. The CD will be called >Songs Against Sobriety - Volume Two Much>. Booze-guzzling tunes include "DrinkFarg," "Bourbon Tea and LSD," "Trailer Park Barbie" and "CrackHo" (there's plenty of those in my and Big Al's neighborhood!). Check out the fun rockers in Boozer at St. Andrews Pub on May 16.
Outdoor Party/Concert:
>Hellawicked Productions is having an all-day outdoor bash, "Rock the Tracks 2009," in Irvington, Kentucky on May 30, featuring Stallpoint, Audiofuse, Sons of the Bluegrass, Clouds Convey, Chainfire, Stalling Hari Kari, Poetry of the Dead, 7 Day Sun, Stripmind 502, Adaptize, Bonejinn and Hicks Road. The show is located at the old train depot and starts at 3 p.m. sharp. All ages. This would be good for the whole family to attend. BYOB.
Upcoming Shows
Bulldog Cafe
Friday, May 1 – Spineshank with Straight Line Stitch and Crooked X. 7 p.m. $12 All ages.
Sunday, May 3 – Assisting Sorrow, Kingdom, Created To Kill and Bloodsoaked. 8 p.m. All ages.
Wednesday, May 6 – Brokencyde and Nitro.
Saturday, May 9 – The Secret Handshake, The Morning Of, Dangerous Summer and The Bigger Lights.
Saturday, May 30 – Mayhem In May IV with a ton of excellent death metal bands coming in from the nation. See bands attending in the Metal Grapevine.
Sunday, May 31 – Psyopus with Rose Funeral, Woe Of Tyrants and Molotov Solution.
Club Oasis
Wednesday, May 6 – Nightwish with Volbeat. $25 Adv./$28 DoS. All ages. 7 p.m.
Expo 5
Tuesday, May 5 – Lamb Of God, As I Lay Dying, Children Of Bodom, Municple Waste and God Forbid. $30 Adv./$33DOS. All ages.
Thursday, May 14 – All Time Low with Hey Monday.
Saturday, May 30 – Twizted with Boondox, Pot Luck and Prozak.
Headliners
Thursday, May 14 – "Metal legends Night" with Kreator and Exodus and special guests Belphegor, Warbringer (sweet), and Epicurean. $20 Adv./$23 Dos. All ages.
Friday, June 12 – Summer Slaughter Tour with Necrophagist, Suffocation, Darkest Hour, Dying Fetus, Winds Of Plague, Born Of Osiris, Origin, Beneath The Massacre, Decrepid Birth and After The Burial.
Phoenix Hill Tavern
Friday, May 1 – "Derby Eve Bash" featuring Theory Of A Deadman with The Veer Union. $20 7 p.m.
Friday, May 8 – The Original Rock Showcase Series with Burn To Shine, 16 Bones, BoneJinn, Some Kind Of Saint and Alice Blue Gown. 8 p.m. Free before 9. $5 after 9.
Friday, May 15 – Bizkit's Mayday: Blister Hyde, Asleep, Slokill, Hyndsite and others TBA. 9 p.m. $10
Friday, May 22 – Chevelle.
Friday, June 5 – The Original Rock Showcase Series: The BoneJinn CD release Bash with And The Armed, the debut of the new 13th Level, Lesson B4 Dying, Buried On The Battlefield and Downcast. 8 p.m. Free before 9 p.m.
Shooter's
Friday, May 15 – The Dogs Divine, 16 Bones and Buffalo Bill. 21+ $5 8 p.m.
Uncle Pleasant's
Saturday, May 23 – 7 Day Sun, Ashes Eve, September Theory and Noise Auction. 8 p.m.
Tuesday, May 26 – Earth Crisis, Walls Of Jericho, Reign Supreme, Unholy and Blood Stands Still.
Outtatownerz and such
Saturday, May 30 "Rock The Tracks 2009" in Irvington Ky at the old train depot. 12 bands. 3 p.m. All ages.
See band info in the Metal Grapevine.