May 2009 Articles
Cover Story
Tim Roberts
Features
Mike Stout
Eddy Metal
Columns
Berk Bryant
Mike Stout
Paul Moffett
Keith Clements
Martin Z. Kasdan Jr.
Eddy Metal
CD Reviews
Paul Moffett
Kory Wilcoxson
Martin Z. Kasdan Jr.
Kevin Gibson
Hunter Embry
Hunter Embry
Kevin Gibson
Kevin Gibson
Kory Wilcoxson
Blogs
Got Shows?
Send Them To Us
Bookmark Louisville Music News.net with these handy
social bookmarking tools:
Available RSS Feeds
- Top Picks
- Today's Music
- Editor's Blog
- Articles
Add Louisville Music News' RSS Feed to Your Yahoo!

Issue: May 2009


I've Got A Mind To Ramble
Down Home Front
The history of Kentucky Homefront Performances goes back to March 1984 when they started showcasing local and regional talent in the Stuart Robinson Auditorium at the Old Louisville Presbyterian Center. Occasionally, national blues musicians have been featured over the years, including Big Joe Duskin, Metropolitan Blues All Stars, Catfish Keith, Spencer Bohren Yank Rachell and Rick Delgrosso. Eddie 'Cleanhead' Vinson honked his alto sax and sang with his squeaky squeal at a memorable concert in 1986, backed by Steve Crews, Tyrone Wheeler and Luis Taylor. Dozens of jazz and blues fans had to be turned away that night. In February 1990, the KBS collaborated with Homefront to celebrate its First Anniversary at Bellarmine's Wyatt Hall with a jointly sponsored blues extravaganza concert that included Byther Smith & The Nightriders, H-Bomb Ferguson and da Mudcats.
Homefront moved to another sanctified venue when they staged their shows in the sanctuary of the First Unitarian Church at Fourth and York St. Later, they used the Kentucky Theater on Fourth St., after the 'Kentucky Show' moved to Bardstown. Following a brief three-year break and some other short-term locations, Homefront has settled into the Eifler Theater in the Clifton Center on Payne St. This beautifully restored auditorium provides ample comfortable seating on two levels and a large stage for groups of all sizes.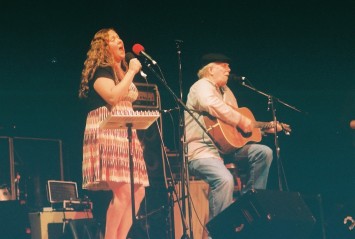 Amber Badgett and Turley Richards. Photo By Les Reynolds
It was back to the blues at their April 11 concert, which was typically done as back-to-back, one-hour shows for future broadcasts over WFPK. During a false start (due to a sound glitch), the audience had plenty of time to practice their whistling, hooting, stomping and thunderous applause to open the show. Host John Gage introduced his longtime friend and fellow musician Turley Richards. They go back to the '70s, when Turley produced John's first record. Turley was accompanied by son-in-law Brian Badgett on guitar. Richards told the story of how he brought his daughter Amber to a show where she met Brian. They hit it off and later married, with John officiating at the wedding.
Turley said, "I went blind when I was twenty-eight, so every time I look in the mirror, I think I look twenty-eight years old." Turley opened with a powerful blues-tainted "Hold On," from his recent CD, Back To My Roots . He recently wrote the retrospective ballad, "What Am I Gonna Do" with the moving lyric "Sometimes I wonder, am I going to find the answers in me." Amber accompanied Turley on "Baby I Love You." Her strong voice made an appropriate counterpoint to Turley's rhythmic guitar. Brian played a lap steel guitar on Wilson Pickett's "Midnight Hour," which got the crowd clapping. Turley is a Louisville treasure and it was good to hear him performing again. Let's hope it will be more frequently.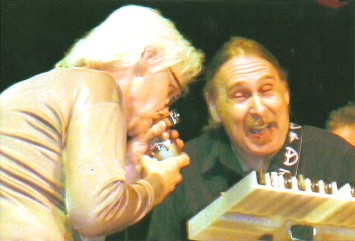 Lamont Gillispie and Greg Martin. Photo by Keith Clements
The Stray Cats Blues Band reunited at the Big Rock Jazz Festival last fall and have been performing occasionally since then. Their current line up includes the animated Bruce Lively singing and Andy Brown drumming behind a clear partition to keep his driving beats from escaping into the theater. Jimmy Brown was rocking back and forth on bass and Lamont Gillispie was trading licks on his harp with Greg Martin's stinging guitar. Greg's son, John McGee, sat in on rhythm guitar. They blitzed through some blues standards like "Checking On My Baby," "Can't Do My Homework Any More," and "Messin' With The Kid." Bruce's soulful version of "Turning Point" had the rest of the band coming in on the chorus and the audience feeling the groove. It seemed just when the band was getting warmed up, it was time to go off the air. The Cats had to leave early as they were going to prowl around Air Devil's Inn later that night.
The second show opened with Big Al Northern, a young man whom John had met while he was performing at the Daily Grind coffee shop in Scottsburg, Indiana. Big Al brought the blues back down to the basics, playing his acoustical guitar alone. He mixed covers with originals, singing the familiar "Drifting Blues" and "Gypsy Woman." His "Murderin' Blues" was a grim love song while "Church Street Blues" played on the theme "thin dime hard time." Following this opportunity to perform before a large crowd and to get some air time, I hope Big Al will have some gigs in Louisville to show his lean and mean style of blues to a wider audience.
Between sets, John sang "I Got The Blues (and they won't let me go)" which he recently wrote. The Irreverent Kentucky Bard, Ed McClanahan, chatted with John in a Prairie Home Companion sort of way. They were both wearing matching Blues Brother T-shirts that said "We Are On A Mission From God." Ed read a humorous passage from one of his books about forelocks, those wisps of hair that hang down on your forehead. Superman had one, so did Lil' Abner but he forgot to include the rock and roll pioneer, Bill Haley.
Big Al Northern. Photo by Keith Clements
The King Bees buzzed the auditorium with their high-energy rockin' blues. These middle aged men are accustomed to playing in a bar setting like Stevie Ray's, but they were loose and thoroughly enjoying themselves during their too brief performance. Their original material like "Love Is A Gamble" and "Blues Contusion" was a fresh departure from the used blues standards.
J-Town Blues
The festival season is fast approaching, with the Jeffersontown-Crusade Blues Festival starting on Friday, May 15 at the Fraternal Order of Eagles Lodge on 3501 College Drive. Weather permitting, the music and food will be served outdoors on their beautiful lawn. The Blues Bash will start with the Flying Saucers, led by Dale Cashon, at 6 p.m. Big Black Cadillac will mix funk, soul and blues while Sue O'Neil and Blue Seville will lay down a little Etta and KoKo plus a lot of Sue. The music will begin on Saturday at noon in Veteran's Memorial Park with Cole Stevens. Blue Meridian, Blues Town, P.S. Willie and The Clay Street Allstars will be playing during the afternoon. Several years ago, the KBS encountered P.S. Willie on one of our Blues Cruises at Goodloe's on Market St. They laid down one of the funkiest shows we ever experienced on a cruise. The Tuesday Night Blues Crew, which includes John Burgard and Mike Lynch (both Sylvester Weaver Winners), and the Travelin' Mojos will close out the evening around 9 p.m. or so. There will be plenty of beer and barbecue, crafts for sale, chances for raffles and a balloon glow to make this a family friendly event with a laid back atmosphere. This will be the fifth annual event where the proceeds go to the WHAS Crusade for Children
There are many more blues festivals to follow including two new ones: Smokin' On The River BBQ Competition on June 19 and 20 in Jeffersonville, IN, and the First Annual Lake Cumberland Blues, Boats and BBQ Fest on June 20. Unfortunately these festivals will be competing against the well established W. C. Handy Blues and Barbecue Festival in Henderson, Kentucky the same weekend, which has a killer line up. I will provide more festival details next month.