May 2008 Articles
Cover Story
Tim Roberts
Features
Eddy Metal
Jason Ashcraft
Jason Ashcraft
Columns
Berk Bryant
Mike Stout
Chris Crain
Keith Clements
Martin Z. Kasdan Jr.
Eddy Metal
CD Reviews
Bob Mitchell
Kevin Gibson
Martin Z. Kasdan Jr.
Bob Mitchell
Kory Wilcoxson
Martin Z. Kasdan Jr.
Blogs
Got Shows?
Send Them To Us
Bookmark Louisville Music News.net with these handy
social bookmarking tools:
Available RSS Feeds
- Top Picks
- Today's Music
- Editor's Blog
- Articles
Add Louisville Music News' RSS Feed to Your Yahoo!

Issue: May 2008
Third Day brings its spring tour to Southeast Christian Church on the 1st. The show sold out earlier this year.
Longtime fans of Third Day got their first taste of the band's upcoming studio album Revelation (7/29/08) with the release of the project's debut single, "Call My Name ," which became an instant smash hit at radio across the country. Third Day's Revelation releases on July 29, followed by a summer of festival appearances and a fall tour schedule to be announced.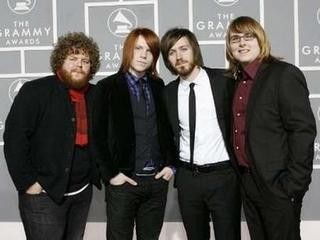 Leeland
Casting Crowns, Leeland and John Waller will play at Freedom Hall on the 4th of this month. It's the rescheduled date from the postponed March 8 show. The Crowns have played in Louisville a couple of times, but Leeland and Waller will be making their Louisville concert debut.
Leeland is: Leeland Mooring (lead vocals, guitar); Jack Mooring (keyboard, backgroundvocals); Jake Holtz (bass); Mike Smith (drums) and Matt Campbell (lead guitar). The band's Opposite Way, which released in February, arrived hot out of the gates, sitting atop iTunes Christian album sales chart. Named one of Relevant Magazine's 2008 Most Anticipated Releases, Opposite Way was produced by Matt Bronleewe (Michael W. Smith, Natalie Imbruglia), mixed by Ben Grosse (Ben Folds, Red Hot Chili Peppers) and was recorded in Nashville at Smoak Stack Studios and Pentavarit Studios.
The Baytown, Texas-based band has had its hands full since the 2006 release of its debut album (Sound of Melodies ), including collecting a 2007 Grammy Award nomination in the Best Pop/Contemporary Gospel Album category; non-stop touring across North America and even Japan, including a series of major festival appearances, headlining shows and opening for Casting Crowns on the entire Fall 2007 through Spring 2008 "The Altar and The Door" arena tour. They also have had five band Dove Award nominations (38th and 39th Annual) in categories as diverse as New Artist of the Year, Rock/Contemporary Recorded Song of the Year ("Sound of Melodies"), Rock/Contemporary Album of the Year (Sound of Melodies ) and Praise and Worship Album of the Year (Sound of Melodies). At press time, Leeland Mooring currently has five Dove Award nominations as a songwriter, while brother Jack Mooring has four.
John Waller is former singer with the band According to John. From his official bio: "When the journey came to an end with According to John, I left it behind and I really closed that chapter in my life," says Waller. "I never had any intentions of being a recording artist again. I went about a year without writing any songs."
He and his wife, Josee, moved to Colorado and helped launch SouthLink Church, where he became worship pastor. It became an extraordinary season in Waller's life and ministry. And at a time when he had given up "the music business," he suddenly felt more inspired and began writing songs that were immediately embraced by his congregation. The people at SouthLink began clamoring for John to make a CD of his new material.
"I was teaching my songs to our worship team and we were playing them in church. They were declaration kind of songs," he says of the new songs God was laying on his heart. "People wanted to go sit in their car and listen to them. They didn't want to wait a whole week before they could hear these songs again. I saw that happening and I said, 'If this could happen with these people then perhaps they are meant for a bigger flock.'"
The congregation at SouthLink loved John's new music and believed in it so strongly, they raised the money to finance a new CD. He traveled to Georgia to record with Brian Scoggin, a friend from his According to John days. Brian knew Casting Crowns' lead vocalist Mark Hall from a brief tenure filling in on drums with the group. He left a message asking Hall to sing on a song called "The Blessing."
John was getting ready to board a plane heading back to Colorado when he got the call that Mark Hall would do it. "I just couldn't' believe it," he says. "I was so thrilled."
Hall remembered Waller from an event that happened the week after the September 11 terrorist attacks. According to John was performing and Hall was impressed with Waller's ability to reach kids. "The songs immediately grabbed my attention," he recalls. "Then John started talking between the songs and something stood out about him. As a youth pastor when you teach a lesson, you aren't teaching a lesson, you are teaching people and I could tell he was reaching my students."
Thus began the chain of circumstances that led to John Waller signing with Beach Street, which is owned by Mark Miller, lead vocalist for the award-winning country group Sawyer Brown. Mark Hall sent a CD to Mark Miller, anxious for him to hear Waller's music. However, the CD stuck in Miller's truck and it was quite some time before he was able to hear Waller's music.
When he finally did, he heard the same passionate vocals and lyrical integrity that his buddy Mark Hall had identified with so strongly. "John sent me the entire album and the thing that just impressed me more than anything was just the messages in these songs," Mark Miller says. "It reminded me of the approach that Mark Hall takes with his songs. They are like mini sermons, message songs. I could just tell when I heard the lyrics that this guy was much more interested in what he was saying than being a rock star. For me here at Beach Street, that's the kind of artist that we're interested in."
Waller joined Beach Street's small, elite roster that includes Casting Crowns and Josh Bates and began working on his debut CD with Mark Miller and Jason Hoard, lead guitarist from According to John, producing the set. The first single from Waller's new disc was "The Blessing," which features Mark Hall. The lyric is a compelling challenge to other believers to speak positively into the lives of those around them. It encourages us all to choose to be a blessing to those in our lives. "I believe in the power of spoken words," he says. "My wife and I started speaking a blessing on a daily basis over our three children."
Tickets for the show are still available at Ticketmaster outlets.