March 2008 Articles
Cover Story
Tim Roberts
Features
Eddy Metal
Martin Z. Kasdan Jr.
Jason Ashcraft
Columns
Berk Bryant
Mike Stout
Chris Crain
Keith Clements
Martin Z. Kasdan Jr.
Eddy Metal
CD Reviews
Bob Mitchell
Bob Mitchell
Bob Mitchell
Kevin Gibson
Kevin Gibson
Kory Wilcoxson
Kory Wilcoxson
Kory Wilcoxson
Blogs
Got Shows?
Send Them To Us
Bookmark Louisville Music News.net with these handy
social bookmarking tools:
Available RSS Feeds
- Top Picks
- Today's Music
- Editor's Blog
- Articles
Add Louisville Music News' RSS Feed to Your Yahoo!

Issue: March 2008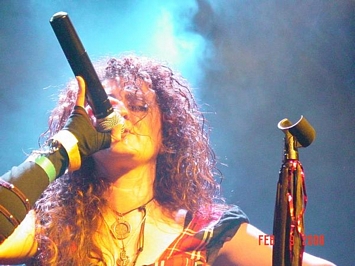 Christina Mullins
Name: Cristina Mullins
Age: Older than you think ;)
Instrument: Vocalist and all around damn fine tambourine player.
Band/Former Bands: Sonic Epitaph. Former bands include Raising Einstein, Circle 7 and Kaos.
How long on instrument: I've been singing in front of audiences since the sixth grade, where I played the role of Aunt Polly in a mighty swell production of "Tom Sawyer."
Equipment: Shure Beta58 Wireless and platform shoes.
Influences:Journey, Stevie Nicks
My first gig: My first band gig was at the age of 16. My band, Kaos, played in a parking lot out in front of a Sav-A-Lot in Clarksville to celebrate their grand opening. I played keyboards and sang back vocals.
Hobbies: It's more like an addiction...but right now I play Warcraft for relaxation. Level 41 Warrior :) I also get into photography and collecting stage clothes and shoes.
Favorite movies: Comedy classics - "Stripes," "The Jerk," "Christmas Vacation"
Favorite food: Fresh cut fries dipped in Ranch, Rib eye steak off the grill
Favorite place: On stage
Bad habits: Eating said fries dipped in Ranch ;) , blowing off going to the gym (but I always have a good reason.)
What I'm listening to nowadays: Within Temptation and the radio, mostly.
Coolest thing I've done: Opened for Eddie Money and played the Waterfront Chow Wagon three years in a row.
Most embarrassing moment: Having hair blow in my mouth and when I took a breath to sing, subsequently down my throat and almost choking to death on stage at the Waterfront Chow Wagon... and having my skirt tucked in my panty hose at a gig at Jim Porter's :)
Who do you love: my kids: Carter, Cooper and Disney and my awesome boyfriend Chris
When/where did you first get some: That was a long time ago and it wasn't the greatest experience!