March 2008 Articles
Cover Story
Tim Roberts
Features
Eddy Metal
Martin Z. Kasdan Jr.
Jason Ashcraft
Columns
Berk Bryant
Mike Stout
Chris Crain
Keith Clements
Martin Z. Kasdan Jr.
Eddy Metal
CD Reviews
Bob Mitchell
Bob Mitchell
Bob Mitchell
Kevin Gibson
Kevin Gibson
Kory Wilcoxson
Kory Wilcoxson
Kory Wilcoxson
Blogs
Got Shows?
Send Them To Us
Bookmark Louisville Music News.net with these handy
social bookmarking tools:
Available RSS Feeds
- Top Picks
- Today's Music
- Editor's Blog
- Articles
Add Louisville Music News' RSS Feed to Your Yahoo!

Issue: March 2008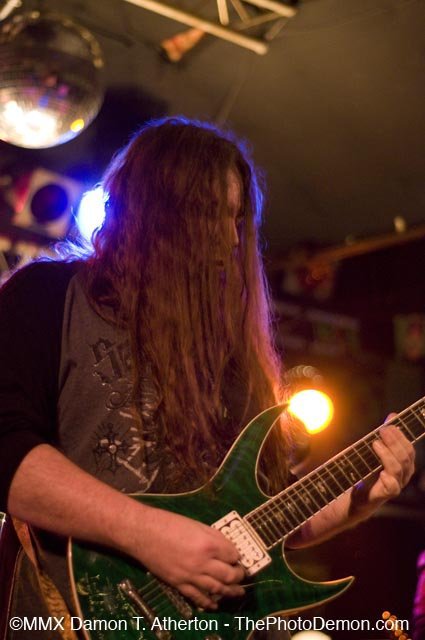 News From the Pit
Winter is almost over, thank god! That was sooo fargin lame.
I've been kind of boring lately. No funny stories or outrageous sexual experiences to share with you this time around, unless you count the skin flute player in a snowstorm!
Seriously, I was a hibernating slug all winter long, in between the very few shows that came around that were actually decent. I did go see legendary Eighties thrashers Exodus at Uncle Pleasants, which was killer.
That night was pretty wild, even though I expected a better turnout. There were about 100 people there. That's not too bad, but considering the number of wild freaky people who went to "Sounds Of The Underground" last year at Waverly, I thought surely Exodus could draw 250.
Those of you who cheesed out on the Exodus old-school Metal Meltdown tour missed one heck of a show! The opening bands, Warbringer, Arsis and Goatwhore, were beyond wicked and deserve some serious notice. (See review and pics below)
Upcoming events I'm going to check out include the Pink Floyd cover band The Darkside of the Wall. I hear their lightshow and sound is incredible. I've never been a big Floyd fan (it puts me to sleep) but it might be interesting to see what's up with the good buzz about this band. I will get good and 'prepared' before checking out the insane light show that is this band's trademark.
I'm going to cover the Louisville Music Showcase record label concert at the Phoenix Hill Tavern at the end of February, featuring some of the region's top bands, including Heaven Hill, Nova Red, Intheclear, Subrosa, Chamberflow and others. Radio, media and label contacts will be there. It should be interesting and a darn good show, not to mention the many hot women there, I'm thinking. Look for my review in the April issue.
I see a shining white speck of light at the end of this long, dark tunnel of dreary winter and I am more than ready to see Nile, Devildriver, Megadeth, Children Of Bodom, In Flames and Job for A Cowboy in action, all coming up.
Don't forget peeps, I'm open to ideas and suggestions on topics to write about. I want to make this rock/metal column the best I can and I welcome teamwork and contribution. If you've got a great band for me to check out/review, or a cool new idea, then contact me. If your band has some shows they want listed, or band news, send it to me at Eddymetal1@aol.com or at Myspace.com/eddymetalrocks
The Metal Grapevine
Exodus Was Awesome:It was Heavy Metal History 101. Growing up, I wasn't a big Exodus fan. I liked them, but they weren't my favorite. I was more into Testament, Slayer, Iron Maiden and Anthrax.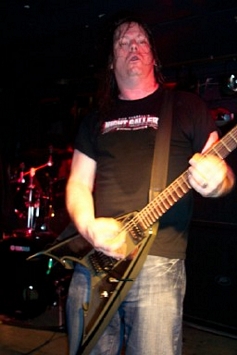 Gary Hold of Exodus, Uncle Pleasants.
However, I couldn't resist checking them out up close at Uncle Pleasants. And what a night it was!
First up was Warbringer from Ventura, California, a young band of all-out metalheads playing some sick thrash metal. Once onstage, they unleashed the demon. The guitarist looked like he was about 17, but he was rocking and the songs were good. I was very impressed with their stage presence and playing ability. The singer had a good metal voice that could both do the cookie monster and high-pitched screams found in many death metal bands. Look up Warbringer, they wail.
Then Arsis, from Virginia, hit the stage with some wicked death metal/thrash. This band was even better than Warbringer and a bit more polished and technical. The guitarist was also the singer, so that was impressive. Vocally, this band reminded me of British thrash band Carcass. The guitars were melodic and brutal all in one. A lovely combo. They put on a great show and I would go see them again.
Then New Orleans' Goatwhore took the stage and let out ungodliness upon their instruments. This was sick metal night, and Goatwhore fit in nicely, with a death metal speed picking style. I did detect a little bit of doom in their sound. I didn't think I'd like them, but they of grew on me. Some of the speed picking they did was pretty fargin difficult.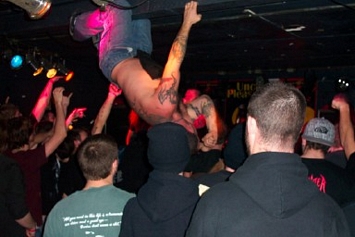 Exodus mostpit, Uncle Pleasants.
By that time, the fans were getting wild and ready for Exodus. There was moshing, fighting, rolling around on the floor, glasses breaking, blood, sex in the toilet. It was a true metal show.
Exodus hit the stage and tore through a set of blistering songs that had my ears ringing for two days. Fans were hanging off the wall (I have pictures to prove it.) and bodies were being thrown everywhere. I was drinking tequila and getting buzzed. The moshpit was not bad for a small venue. One guy got KTFO and was a bloody mess. He was farged up and gushing. Magically, the PA system sounded 100 times better when Exodus went on. Crushing, really. The band was really tight as a unit.
Exodus showed the youngsters why they are the godfathers of old-school thrash. The band wrapped up the night with their one big hit, " Toxic Waltz," and ended a very entertaining night for Louisville metal. They were nice guys too, chatting with the mostly male fans for a long while. There were chicks there, but not very many, except for the blonde in the bathroom having sex with the bands, with a crowd watching. Groupies! What are ya gonna do?
Megadeth Returns To Louisville: Megadeth Gigan-Tours is coming to Louisville Gardens on April 19 with Europe's In Flames and Children Of Bodom as well as Arizona's Job For A Cowboy and California's High On Fire. This promises to be a memorable show, so let's all pull together and go to this genuine metal concert tour that has finally graced us with its presence. Let's give them a reason to come back to Louisville. Get your ticket early. If this show does well, I predict we will get more kick-ass concerts in the near future.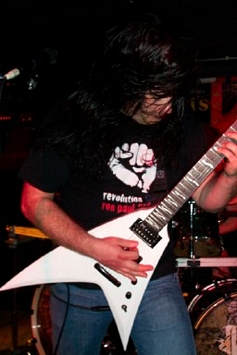 James Malone of Arsis, opening for Exodus at Uncle Pleasants.
Tailgaters Battle of the Bands:Tailgaters is having a band battle every Friday leading up to Derby, with three bands each night. First prize is an opening spot at Tailgaters for their big Derby festivities, which will include a national act playing outdoors! The club is right by the track, so this big Derby show should be off the hook!
The winner will also get 20 hours of recording time. Second and third place winners get to play inside the club during the big event. I played Tailgaters a few years back and the club was scared to death of heavy metal.
They were like "Turn it down," but anyone who knows anything about guitars knows you have to turn an amp up to a certain level get sufficient gain/feedback. If they can refrain from the anti-metal phobia, this could be a cool, fair contest for the Louisville music scene. Quite a few metal bands have had trouble with that place, so I don't know if metal will be allowed. Contact OakSt. Productions at 558-2990 for info before entering the contest. I'll keep you informed about the national act playing the outdoor Derby bash!
Devildriver on April Fools Day: On Tuesday, April 1, be sure to head out to Headliners for a brutal metal show featuring Devildriver. They are one tight hellion of a band that every metalhead should hear.
The Spyderz:Remember Biohazard, the hardcore band that incorporated rap vocals with metal riffs? Biohazard's singer, Evan Seinfeld, who also was on the HBO show "Oz" and the VH1 TV show "Supergroup," is coming to town with his new band The Spyderz on Thursday, March 14 at Phoenix Hill Tavern. The new band does not sound like Biohazard, but it does have a punkish sound that can almost be called rock 'n' roll sleaze! Hardcore is not what Evan's about these days. If you like The Stones, Aerosmith, Clutch, Motorhead, The Misfits and Social Distortion, then you would probably like this band.
I liked Biohazard a little bit, but after hearing his new stuff, I think he should stick to the easy hardcore vocals. He's not as bluesy or nearly as talented as he should be playing this kind of music. Think Aerosmith with a bad singer. Nonetheless, fans of Evan should go check out the new stuff. Call the Hill for Ticket info! Myspace.com/thespyderz
Eric Sardinas Coming to Headliners: Guitar virtuoso Eric Sardinas will be returning to Louisville to play Headliners Music Hall on Saturday, March 22. Those of you who are huge guitar fans will want to check out one of the baddest axemen around. The dude has toured with Johnny Winters and Steve Vai several times. Opening the show will be Broken Vault and Waiting West. It's all ages and is $10 in advance and $13 day of show.
Introducing Hanover:The alternative/rock/acoustic band Hanover was formed in the summer of 2007 by the former singer and bassist of Fall For Nothing, then added drummer Ivan Arnold (Flaw, My Own Victim, Five Bolt Main) and guitarists Andy Garrett and Eric Howell to complete the lineup. Vocalist Savannah is very talented and moves about the songs like a demon possessed. This music is not heavy and it has a European sound that I like very much.
Some of it even sounds Irish or Celtic in parts. This recording is excellent, though and that is what I love to see from such a good band. An excellent addition to the Louisville music scene. Those of you into female vocalists like those in Evanescense, Lacuna Coil, Flyleaf or Within Temptation should look up this talented new band. It's weird seeing drummer Ivan Arnold in a band that is not at least a bit heavy. Check out "Drown" and "Another ordinary" at myspace.com/rockhanover
XS to Sun King: I'm sure all of you have seen the Eighties cover band XS at some point over the last year-and-a-half or so. Paul (the guitarist) and Tim (the singer) have formed a new project called Sun King. I've been getting on Paul for some time now about him writing some originals. Paul finally got around to it and his new band will be ready in about a month or so. So if you are a big fan of Eighties sleaze rock and goodtime party music, then get ready for Sun King. They don't have anything recorded as yet, but you can link up with them anyway. Myspace.com/sunkingtribe
The Return of Shatterstone: This awesome Southern Indiana band had some problems last October, but now they are back and more psyched than ever to get out there and play some excellent shows. Shatterstone is a metal/blues group a laDown, Black Label, C.O.C. or Black Sabbath. They'll will melt your eardrums. I have booked them many times and would do so again in a heartbeat. The guitar leads are fat and the vocals are melodic and powerful. The songwriting is very good. They reminded me of newer Metallica, but not nearly so lame and commercial.
You can catch Shatterstone at Mudd's Louisville Rocks Showcase at the Phoenix Hill on Wednesday March 5 at 9:30 p.m.
If you need a great metal/rock band, give Ricky a call at 812-989-3139.
Out Comes C*ntworm: I like to check out new bands on the Internet and I found a very disturbing group of guys who call themselves C*ntworm. Yes, the cussword. The name is raw and abrasive, but then again, so is this band that hails from "a wretched place in Ky." Hideous in a good way. These guys follow the "If your mother hates it, then it's probably good" theory of songwriting.
This Elizabethtown band has successfully mixed industrial, black metal, punk and thrash into one brutal sound. There's weird stuff going on here, but oddly, there's something that I find appealing. Think Marilyn Manson meets Dimmu Borgir! There are cool samples, voices and weird vocal effects being put to use, as well as really evil-sounding, black-metal keyboards, plus slammin' drums and guitar. I usually get bored by the second or third song, but I enjoy the worm boys and their dark, demented world. They remind me of Norway's Kovenant, one of the first bands to experiment with industrial and black metal. If you are into ethereal, beautiful music mixed with chaos incarnate, then take a listen to Kentucky's C*untworm. Myspace.com/c*ntworm. (Add the 'u')
Mercury Falling in E-Town:I'm sitting here checking out Elizabethtown's Mercury Falling, which has been getting quite a bit more active in the Louisville scene as of late. I'm liking this emo/alternative/rock band from the get-go. Jerry Ledford's vocals are smooth as silk and have a very warm melodic quality that seems to flow easily with the music, reminiscent of Green Day or The Offspring. I'm going to have to book these guys. The music is alternative, but with crunch and a driving hook. The music reminds me a little bit of Louisville rockers Nova Red. The guys look pretty young, but they are good musicians. If this band gets out and gets really busy, I predict that they can do something cool.
Check out "In memory of New" by Mercury Falling at myspace.com/mercuryfallingmusic
Goddamage is here: Hailing from Danville, Kentucky, Goddamage is a typical metal thrash outfit with some pretty good chops, riffwise. I've heard the name a few times, but haven't seen them in action yet. Their demo sound is not impressing me, but I realize that not everyone can afford a quality recording. The music, though, is fine, with your basic low cookie monster growls. I'm digging the metal guitar riffs, but the recording is doo doo and his amp sounds questionable. Is that a gorilla amp? Aside from the recording and thin guitar tone, I think this could be a cool band to see in concert. They are a thrash lover's dream. The fast technical picking is nice! The lead guitar solos aren't great, but the guitar rhythms are demented. Goddamage will be opening for Nile on March 27 at Headliners. Myspace.com/goddamage666
Upcoming Shows
The Bulldog Cafe
Monday, March 3 - Gwen Stacy, Inhale / Exhale, A Girl A Gun A Ghost and Here I Come Falling.
Saturday, March 8 - "The South By South-End Music and Art Festival."
Sunday, April 6 - A Skylit Drive w/ Oh Sleeper, Four Letter lie, Before Their Eyes, Memphis May Fire and The Hottness.
Expo 5/Hooplas
Saturday, March 29 - American Bang w/ Stranded Man and Dogwater. 9 p.m. $5 21+
Headliners Music Hall
Wednesday, March 19 - Emery, Mayday, Parade, As Cities Burn, Pierce the Veil and Cry Of The Afflicted.
Saturday, March 22 - Eric Sardinas and the Big Motor CD Release w/ Broken Vault and Waiting West. 7p.m. $10 Adv./$13 DoS. All ages.
Thursday, March 27 - Nile w/ Suicide Silence, The Faceless, Unexpect, Goddamage and Behind The Beheaded.
Saturday, March 29 - Twizted w/ Boondox, DJ Clay, Project Born and Underworld Assassins.
Tuesday, April 1 - Devildriver w/ Napalm Death, Walls Of Jericho, 36 Crazyfists and Invitro.
Sunday, April 6 - Unearth w/ Bury Your dead, As Blood Runs Black and My Children My Bride.
Phoenix Hill Tavern
Friday, March 7- The Original Rock Showcase series: The Willing, Dogwater, Seedus, Lithium (an excellent band from Lexington) and Cricket*. 9 p.m. $5
Thursday, March 14 - The Spyderz (featuring Evan Seinfeld from Biohazard and HBO series Oz).
Friday, March 15 - Asleep, Embertide, Sever This Illusion, Ashes Eve, Sewfly and Dead Nettle. Tattoo giveaway. 10 P.M $10
Monday, March 17 - Unknown Hinson. 8 p.m. $12 Adv./$15 DoS
Friday, April 4 - The Original Rock Showcase series: "All-Out Assault!" with Nailgun Strategy, Sonic Epitaph, Holbrook, Blade Of The Ripper and Chaotic Vengeance. 9 p.m. $5
Rustic Frog
Friday, March 15- Anvil Grey and others. 9 p.m.
Shooters
Sunday, March 2 - Adaptize, Boom Orangutan and Soul Filled Tomorrow. 9 p.m.
Sunday, March 9 - Sonic Epitaph, Eastern Daylight and Judgment Of Paris.
Sunday, March 16 Overthrone, The Balance Theory and The Scarlet Veil.
Sunday, March 23 - Hanover, Institution and 4 Storie Failure.
Uncle Pleasants
Tuesday, March 4 - Parousia w/ Black Caterpillar, Acclaim The Advocate, The Armistice and Rainboots.
Saturday, March 8 - Aiden w/ Madina Lake, My American Heart and Farewell To Freeway.
Thursday, March 13 - Red.
Saturday, March 15 - The Luchagors (featuring Lita from WWE), Chamberflow, Nova Red, One Day away, Tuesday, Falling and At Last We Fight.
Tuesday, March 18 - Comeback Kid, Cancer Bats, Crime In Stereo, Daggermouth and Intent To Kill.
Thursday, April 3 - Beneath The Massacre w/ See You Next Tuesday, Born Of Osiris, The Tony Danza Tap Dance Extravaganza, Beaten To Death and Invitation To A Gunfight.
Saturday, April 5 - Kris Roe of the Ataris performs "Blue skies, broken hearts" w/ Nowhere Fast, Anvil's away and Shindig.
Wicks on Dixie
Saturday, March 1 - Assisting Sorrow, Sowing Discord, Holbrook and Anvil Grey. 10 p.m. $5 18+
Saturday, March 8 - Evil Engine # 9, 7DaySun, Ashes Eve.
Saturday, March 15 - Redline and Render.
Saturday, March 22 - Grindstone and Bodean Adams.
Saturday, March 29 - Doubleback and Render.
Props of the Month
This month's props goes out to Frank Lewis at Villified Entertainment for starting the Wicks Pizza concerts out in Valley Station back in September 2007. Many regional acts have played the showcase and they even have all-out heavy metal bands that play. Good food and killer live music, you can't beat that. And it's 18 and over!
There is a good buzz going around about the Wicks showcase. Wick's also gets major thumbs up for showing the support to the Louisville music scene. They have given many a band a chance to be heard in a nice environment.
So good job, Villified and Wick's Pizza. Keep up the good work.