January 2008 Articles
Cover Story
Tim Roberts
Features
Eddy Metal
Columns
Berk Bryant
Mike Stout
Keith Clements
Martin Z. Kasdan Jr.
Eddy Metal
CD Reviews
Bob Mitchell
Bob Mitchell
Kevin Gibson
Kory Wilcoxson
Kevin Gibson
Tim Roberts
Martin Z. Kasdan Jr.
Bob Mitchell
Interviews
Brandy Lee Dixon
Blogs
Got Shows?
Send Them To Us
Bookmark Louisville Music News.net with these handy
social bookmarking tools:
Available RSS Feeds
- Top Picks
- Today's Music
- Editor's Blog
- Articles
Add Louisville Music News' RSS Feed to Your Yahoo!

Issue: January 2008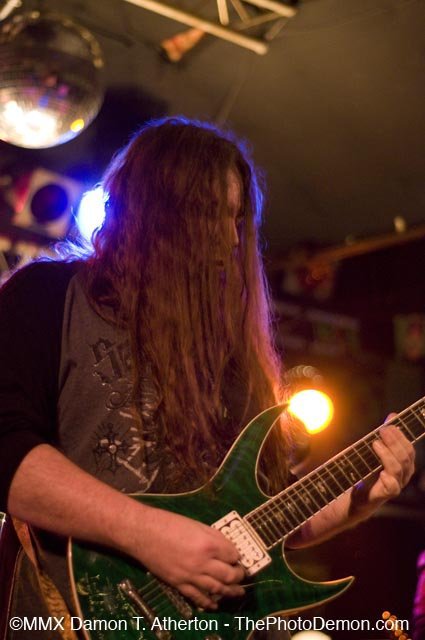 News From the Pit
Man, have these last two months sucked for me: a really bad tour of the hospital and now my dad is having serious health issues. I'm worried to death about it.
Seriously, I'd cut off my right arm for my dad. He has been a very good father to my sisters, and me so needless to say, I'm all bummed out. And I turned 38 on Christmas! Damn, I'm starting to get old! Oh, well, it happens to us all. Getting older is weird. Heck, I still feel like a horny kid.
Scenewise, there's quite a bit going on lately, from the firing of Fender from Aiirradio, to the new concert series at Shooters with Louie the local guy, to the brand new Tantric (which, BTW, sounds amazing), to the emergence of several good new bands. I did get to get to see the Primer 55 concert. (See review below)
Not many good national concerts lately and it's driving me insane. But that always happens around Christmas time, as artists want to be home with family and friends. We will have to wait until after the New Year before we start getting any decent concerts again.
Hugo Ferreira of Tantric at the Original Rock Showcase at the Hill and he had some new Tantric stuff he wanted to talk about, so I suggested an interview with him to see what's the latest news with the reforming of Tantric. The interview is below.
My three-month employment with Deja Vu has ended, thank goodness, and I must say that being a strip club DJ isn't all it's cracked up to be. I've seen some messed up chit! Bottles cracked over dude's heads, drunken porn stars, projectile vomiting, customers playing pocket pool in the club. I saw a dancer dropkick a customer in the face UFC style for touching her poo-nanny. Ha.
One thing working there taught me was to be more open to different types of music. Yes, your humble narrator even was starting to get into some R and B. Ha! That's too funny. Mr. Metal bumping to R. Kelley, T-Pain, Akon and others. Heck, I might even change my name to Eddy R and B! Joking, people.
The Metal Grapevine
Up close with the new Tantric
Hanging out with Hugo for a bit at my Original Rock Showcase, talking about the new Tantric stuff, I'm thinking I may have been misled about the guy. He even got onstage with local rock band Doubleback and kicked some major butt. Hugo really does have a great voice.
Eddy:So, Hugo, I'm really impressed with the brand new Tantric. Tell us a little bit about how things came together with the new line-up.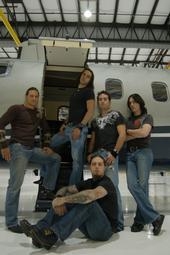 'New' Tantric
Hugo: In retrospect, it seems it was divine intervention that created the new line up. I found myself practically back where I was seven years ago, with no band and a foggy future, commiserating with Kevin Miller, Fuel's ex-drummer whom I knew from touring with them (Fuel). We were both in bands that had risen to the top very quickly but lost most of their momentum soon after and wanted to prove ourselves again, being both wiser from the experience. As conversations progressed, Kevin brought bassist Eric Lionheart to the table who happened to be not only a huge Tantric fan but a great vocalist and musician as well and things started to gel, as I wanted to continue the history of vocal harmonies I had explored with Tantric.
Joe Pessia, an amazingly talented guitarist who used to play with Nuno Bettencourt from Extreme, joined the fray and the new Tantric was complete with Marcus, who is classically trained and simply one of the most talented violinists around, as well as a closet rock star. I had always wanted to integrate violins running through Marshall stacks and distortion, so all of a sudden, my musical project wish list was coming together in this dream team. The original group comprised some heavy weight talent and the new Tantric is an All Star band as well. I feel extremely lucky and thank God for being able to strike gold twice.
Eddy: Tell us about the new album. What are your favorite tracks? When can we expect the new Tantric out in stores?
Hugo: Most of the songs I had written already in my home studio before we reformed Tantric and we filled out the album with some songs co-written as a band. "Regrets" and "Down and Out" are favorites that appeal to the rocker in me and they really crank, but "Something Better" and "Wishing" have a ton of personal meaning, even though they are more rock ballads than ass kickers. We feel very fortunate to be able to work again for acclaimed producer Toby Wright (produced Korn and Alice In Chains and Tantric's first two records) whom is almost like a sixth member of the band. You can check out samples of the songs on the Tantric MySpace page (http://www.Myspace.com/tantric) and tell us what you think. "Down and Out" will be the first single to be released nationwide on February 5. The album will be out on April 8.
Eddy: What can you tell us about the nasty break-up of the original Tantric line-up?
Hugo: Sorry to disappoint the tabloids, but it wasn't really a nasty break-up, although I won't say we're all best friends either. A band is a complicated relationship and like any relationship, sometimes it lasts and sometimes it fizzles out. Ultimately, Todd left to pursue his own project and Matt had other things in his life that were taking precedence over Tantric. I still love those guys and have a tremendous amount of respect for their talents. We made some great music together that I'm very proud of and I thank them for the memories and opportunity to work with such great and talented musicians. I truly wish them both bright futures.
Eddy: What are Tantric's plans for the future? Any plans to tour?
Hugo: We'll be filming a video in a few weeks and we'll start touring non-stop in February. We're scheduled to appear on the Tonight Show with Jay Leno again shortly after the tour begins, along with several other TV appearances to promote the new album.
Eddy: You have told me you are interested in Tantric playing a benefit for charity. That is a very unselfish thing to do, friend. Tell us a little bit about your idea.
Hugo: Louisville has always been very supportive of Tantric as well as other local talent. I'd like to do something to help local up-and-coming bands generate some funds for studio recordings. I've also been involved with a program called Boy's and Girl's Haven with my friend and alumnus of the program, Eddie Woodward. It helps troubled kids that are down and out get their lives back on track. It can be tough being a kid and to make the right choices when you don't have any good examples or positive guidance and the wrong path is always beckoning. I encourage people to check out their website http://www.boyshaven.org and contribute in any way they can. Spread the love, man.
Primer 55 and Love Said No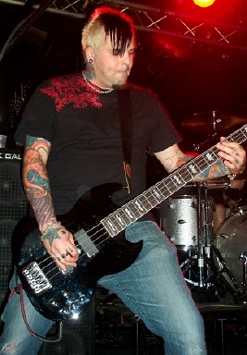 Bobby Burns. Photo By Eddy Burke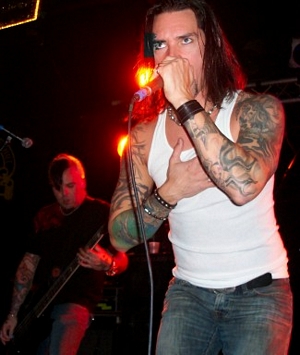 Rick Rogers, Love Said No. Photo By Eddy Burke
Primer 55 returned once again to Louisville for a one night only show and it was a pretty good time indeed. First up was Louisville thrashers Nailgun Strategy and boy did they shred. These guys are getting better and better every time I see them. And their guitarwork is really impressive! The vocals don't quite fit in my opinion, but they are not bad either. Then Bobby Burns' (Primer 55/Soulfly/Love Said No) new band Love Said No came on and pretty much stole the show and spotlight from Primer's triumphant return. Love Said No is Burns' melodic commercial band, Featuring Stereomudd vocalist Erik Rogers, who is a very strong frontman. The guy can sing really well, with mucho range, I might add. He can work a crowd excellently, too! The songs were very hooky and melodic and I must say that they killed Primer 55 that night. I've always been a fan of melodic vocals and hooky riffs, so Love Said No was right up my alley. As for the headliners? Well, the sudden pullout of original Primer vocalist "J-sin" Luttrell left things in a damper, so Bobby enlisted Heath Joyce, who, quite frankly, wasn't as good as J-Sin. But then again, Heath had no time to prepare and was put in a stressful predicament. He did okay, considering.
Still, it wasn't the same, and the sound for Primer 55 was horrendous that night, very distorted. All the other bands sounded great, but someone must have pushed the 'suck' button on the PA mixer, because something was sounding like chit. It was the sound, not the playing! The playing of instruments were fine, it was the running of the P.A that was lame.
No disrespect to longtime friend Bobby, but it just wasn't Primer's night. Hopefully things with the original singer can be worked out. He really is a big part of the whole Primer 55 experience: The energy. The attitude. The stage presence.
Flaw's Upcoming E.P
Flaw has been hard at work planning their comeback. I talked to old friend and Flaw drummer Chris Ballinger about the band and plans for a new seven-song E. P, which should be out in February or March.
Vocalist Chris Vols has been writing lyrics for the new material up in Pennsylvania and the band has welcomed original Flaw bassist Ryan Jurhs back into the fold. Ryan has been living in New York for several years now but is coming home to LouEvil soon. I'm kinda excited to hear the new stuff. Flaw has always been a very talented band and I hope they can keep stuff in order so they can have a great comeback. Look for the new E. P soon!
Exodus and Goatwhore Coming
Here is a show not to miss! Two thrash metal juggernauts are headed this way, to Uncle Pleasants on Tuesday February 12. So be sure to get your tickets soon, as this metal monster of a show will sell out! I'm going: eighties thrash icon Exodus was always rockin! With them will be Arsis, Warbringer and At One With Nothing. 7 p.m. All Ages. Tix: $15
Fender and Aiiradio
Aiiradio and local music persona Fender have parted ways. Well, actually pretty much all the DJ's on Louisville Aiiradio have parted ways with Aiiradio, including Joker and others.
Aiiradio got angry with Fender putting local music up on Youtube or some other site like that. And Aiiradio did not like that at all.
Fender was trying to help unsigned talent and should not be treated that way for trying to help bands. A very unclassy move by Aiiradio if you ask me. But Fender and the Louisville Aiiradio crew have moved to http://indieliferadio.com. The site has an interactive chatroom to hang with the DJs and listeners, multiple platform listening capability, artist description on media players, random auto DJ for when no live DJ is available, simulcasting on several FM stations around the country and coming in January...brand new website relaunch, upgraded server and a second 24hr all raw and uncensored stream for the edgier listener. Look for Fender and the region's unsigned bands on the new site very soon.
Job For A Cowboy Coming
At the Sounds of the Underground concert at Waverly Hills this last summer, I saw a band who kicked major butt: Job For A Cowboy, from Glendale, Arizona. I thought the name was retarded, but they really did impress me!
The music is brutal as all hell. Brutal, but not overdone. Hardcore death metal lovers can catch this amazing band at Headliners Music Hall on Saturday February 8. I'm definitely going to try to make this show. Local demons Antikythera will be open.
Sonic Epitaph
I finally got to see symphonic metal band Sonic Epitaph and I admit I am digging it. The band has been having difficulty finding and keeping new members the last year but was able to find a stand-in bassist to do a Louisvillerocks showcase at the Hill. This music sounds so European, it's ridiculous, but for a guy who loves European metal, it's fargin cool. The melodic vocals of Cristina Mullins are pretty good and fit well with the music. The keyboards of Amy Garvin are ethereal and her background vocals are equally haunting. The guitars are nice, mostly rhythm-oriented, but with a good heavy tone in an old school metal way. Very thrashy. This band is different than anything else in town by far.
One thing I do think they need is an absolutely ripping lead guitarist who is versed in classical and metal. The guitar rhythms are fine, but in my mind I can hear some melodic missing technical leads over much of Sonic Epitaph's music. The drums are as they should be: Phat. I'm digging the Goth/metal sound this band emanates.
And they use a gong! Very entertaining to watch, as well. I can see them doing more theatrical stage props in the future. If you want to see something different in a good way, you need to see this Goth/symphonic metal act. You can hear some of their music at Myspace.com/sonicepitaph
You can see them at the Original Rock Showcase at Phoenix Hill on Friday, February 1, with Nova Red, Broken Vault and Poetry Of The Dead.
The Buzz About Hyndsite
I have been hearing that people seem to like Southern Kentucky's Hyndsite. I'm checking out "Bring Out The Pain" on Myspace right now, and it's plain to see that this is a good, high-energy metal/rock band. They may be from out of town, but they seem very dedicated and willing to do what it takes to get out there and gain some fans. Real nice guys, too. Unfortunately, they only have two songs on Myspace, but you peeps definitely need to look them up at Myspace.com/hyndsite
Sever This Illusion Taking Break
Sever This Illusion recently lost their drummer (artist differences), but they have filled the position with a current band member, Darren, who previously played rhythm guitar. Due to the rearranging of band members, STI will be taking a three-month break and will start playing shows again in mid-April. STI will stay a four-piece for the remainder of 2008. Myspace.com/severthisillusion
Assisting Sorrow's New Singer
Louisville death metal icon Assisting Sorrow has a brand new singer, Donald Torrance, formerly guitarist/singer for longtime Louisville rock veterans Dump Gang and more recently guitarist for shredders Sowing Discord. I've known this cat forever and even played in a band with him (Sideshow) and believe me, Donnie has a monster voice, so this should be pretty fargin wicked, especially with Chris Leffler on guitar. Dude is amazing on the axe.
Introducing Seedus
A good rock band is what I am hearing as I listen to Salem, Indiana's Seedus for the first time. Catchy songwriting, good vocals. Singer George Napier has a gritty, down-to-earth vocal style that is appealing. It's whiskey-drinking, down-home Kentucky stoner-rock with a true southern/regional feel. I'm digging it.
Think Axel Rose meets The Black Crows meets Travis Meeks meets Black Stone Cherry.
Seriously, Napier does come up with/sing some decent, memorable melodies. Do yourself a favor and listen to them yourself at Myspace.com/seedus.
Kosair Toys Delivered
Well, the grand total was twelve shopping carts full of toys and seven bicycles! One week before Christmas, my roommate and I delivered the toys to Kosair Charities. It was a lot of work, but in the end, totally worth it to be able to help unfortunate people. As usual, the Kosair people were the greatest and much appreciative of everyone's efforts to raise toys for the children. Once again, thanks to everyone who helped me with the show, including the bands who played.
Upcoming Shows
Headliners
Wednesday, January 30 - Sick Of It All, Madball, Death Before Dishonor and Wisdom In Chains. All Ages. 7 p.m. Tix: $16
Thursday, February 8 - Job For A Cowboy (national), Antikythera, The Red Chord and SkeletonWitch. Tix: $12 ADV/ Tix: $14DOS.
Kingpin Lanes in J-Town
Friday, January 26 - Real Time.
Petrus
Friday, January 12 - Real Time.
Phoenix Hill Tavern
Friday, January 4 - The Original Rock Showcase Series: I Will Defy, 16 Bones, Holbrook, Adaptize and Hyndsite. 9 P.M Tix: $5
Saturday, January 26 - Eve 6 (National) Tix: $18ADV/ Tix: $22DOS Myspace.com/eve6
Friday, February 1 - The Original Rock Showcase Series: Broken Vault, Nova Red, Sonic Epitaph and Poetry Of The Dead. 9 p.m. Tix: $5
Rudyard Kipling
January 12 - Murals, with Jukebox The Ghost (Washington D.C). 10 p.m. Tix: $5
Uncle Pleasants
Thursday, January 17 - Armor For Sleep, Four Year Strong, Jeny and Edens Rising. 7 p.m. Tix: $13
Tuesday, January 22 - All Time Low, Mayday, Parade, Just Surrender, Every Avenue and Aim For The Skies. 7 p.m. All ages.
Wednesday, January 31 - Anagnorisis, Antikythera, The Cast Pattern, The Deep and The Back Water Burial. Tix: $7
Friday, February 1 - Tiger Army, The Dear and Departed and Revolution Mother. 7:30 p.m. All Ages. Tix: $13
Tuesday, February 12 - Exodus, Goatwhore, Arsis, Warbringer and At One With Nothing. 7 p.m. All Ages. Tix: $15
Wednesday, February 14 - Dead To Fall, Winds Of Plague, Impending Doom, Antikythera and Belay My Last. 7 p.m.
Wick's on Dixie
Saturday, January 5 - Thirteenth Sun
Saturday, January 12 - Dogwater, Embertide and Somatica.
Saturday, January 19 - I Will Defy, Thomas Medicine, Sphere and Primal Dust.
Saturday, January 26 - 5 Star Iris (national), Nova Red, Anna Lies and Broken Spurs.
Tuesday, February 23 - Nailgun Strategy, Sowing Discord, Caldera and Antikythera. Tix: $5
Props of the Month
This month's props goes out to Brendon Gagstetter (a.k.a. Volume Dealer and no he isn't.), a dude who truly loves heavy metal music and goes way out of his way to promote metal shows, both national and regional, bands and he even help the bands set up and tear down equipment at shows. And to prove he loves what he does, he never asks for one single penny for his time, hard work and contributions.
It's ridiculous how often I've seen him helping bands. Hauling heavy guitar cabinets, drums and all manner of equipment. This is the kind of people we need in this scene!
Not the money hungry, ridiculously egotistical, lazy, stuck-up people in the scene whom I've noticed much more of lately.
Brendon is all about the music. He lives for it and I for one salute him for his fortitude and generosity in helping out the Louisville metal scene. Good job, bro!
Link up with Brendon at Metal Armada at Myspace.com/metalarmada1