January 2008 Articles
Cover Story
Tim Roberts
Features
Eddy Metal
Columns
Berk Bryant
Mike Stout
Keith Clements
Martin Z. Kasdan Jr.
Eddy Metal
CD Reviews
Bob Mitchell
Bob Mitchell
Kevin Gibson
Kory Wilcoxson
Kevin Gibson
Tim Roberts
Martin Z. Kasdan Jr.
Bob Mitchell
Interviews
Brandy Lee Dixon
Blogs
Got Shows?
Send Them To Us
Bookmark Louisville Music News.net with these handy
social bookmarking tools:
Available RSS Feeds
- Top Picks
- Today's Music
- Editor's Blog
- Articles
Add Louisville Music News' RSS Feed to Your Yahoo!

Issue: January 2008
Name: Rachel Kleinhenz ...yea, I can't pronounce it either...
Age: 22
Instrument: Drummer
Band/Former Bands: For the past 3 years I've been playing with Eddy's favorite band in the world! I mean Inner Blue... Before I became so lucky, I jammed with Vendetta, Sadistik, Lust for Hate and Krosmember.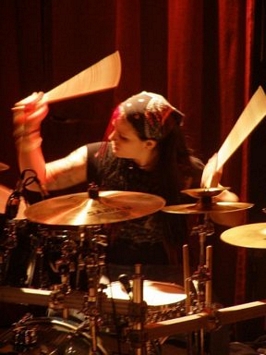 Rachel Kleinhenz
How long on instrument: Well I've been playing percussion for almost 17 years all together, but if you go by the kit it's been about 8 yrs. Either way I've been playing my whole life.
Equipment: Kit - Sonor Cymbals - Mostly Paiste, but I have some Sabian. Heads - Attack and Remo Sticks - I love Silverfox JR's when I can get my hands on them! But when I can't get those I use the Vater Smitty Power Fusion or the O so classy "Showcase Brand" SS's
Influences: Morgan Rose, Steve Judd
My first gig: I think it was with Vendetta, at the Pandemonium, with MSD
Hobbies: watching movies with my baby, walking my ponies, playing with little Stevie Wonder, painting my nails...yea its girly, get over it...and Disco dancing competitions
Favorite movies: Dances with Wolves, Taking Lives, Mean Girls
Favorite food: Broccoli Casserole, Queso, Turkey Burgers
Favorite place: My bed
Bad habits: Vodka
What I'm listening to nowadays: Karnivool!!! Coheed and Cambria, Paramore, Minus Driver and Vanessa Carlton
Coolest thing I've done: Everything I've done is cool DUH!
Most embarrassing moment: Ya know when you laugh so hard, ya fart? Yea... that's all I can tell you.
Who do you love: The Ivan Arnold!
. When/where did you first get some: Wouldn't you like to know.