November 2017 Articles
Cover Story
Paul Moffett
Columns
Eddy Metal
Eddy Metal
Blogs
Got Shows?
Send Them To Us
Bookmark Louisville Music News.net with these handy
social bookmarking tools:
Available RSS Feeds
- Top Picks
- Today's Music
- Editor's Blog
- Articles
Add Louisville Music News' RSS Feed to Your Yahoo!

Issue: November 2017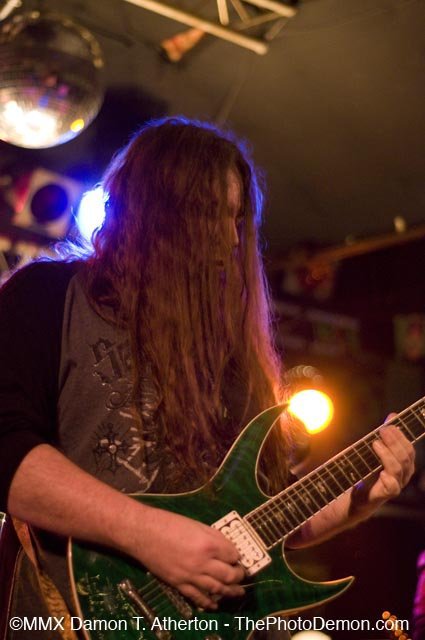 News From the Pit
I hope you all had a great Halloween. I am officially the lamest Friday the 13th Jason the world has ever wrought. I was sick so I made due. Jason had furry penguin-print pajamas, socks with flip flops, and a manbun! Kids were terrified! One lady fainted. Just kidding. Hey, at least I tried, sick!
The GF and I were ready for some Halloween fun. The house was all decorated and everything. My GF does cool stuff like that. I had every intention of getting out an seeing some bands, I had plenty of options, but the problem arose that Saturday morning when we both ended up getting the flu/stomach bug and explosive diarrhea from the Hillview diner, so there was to be no fun for me at all that weekend. Cold chills, weakness, fever, and a bad case of the runs put an end to that, um, chit.
slept for 25 hours straight. Thank god, I had no shows booked (we almost played Hellfest, thanks to Louie for the invite!) or I would have had to cancel for the first time ever. There was NO WAY I could have played music in that condition. It was horrible. It seems it's been going around too, a lot of people have had the same thing, even my boss at LMN. It's that time of year! Bundle up and use hand sanitizer, for god's sake! I'm gonna start carrying some with me everywhere, after that multi-day all-out poopfest.
Shows, shows, shows! I just saw Yngwie Malmsteen at The Merc (see review below) and it was badass!! I'm probably going to GWAR and Guns N' Roses too, if approved. If they put on half as good a show as they did in Cinci last summer, then Louisville is in for a treat! Prepare for an awesome show!
Kevfest went over really well from what I've heard and seen (I was unable to make it due to prior obligations), and from the looks of the pics, it looked amazing! Kevin McCreery would have loved seeing such support from his people. Like I said before, I've never seen such an outpouring of love for a departed Louisville musician in all my days. It makes me wish I would have known the guy better. He musta been some kinda guy to be loved so much.
I really wanted to go to Foxbash 2017, but I didn't, foolishly. I was tired from work, and the GF had to work the next day. Yada yada. I suck. I missed out bigtime, it seems. Looks like a hell of a party with tons of good people that I know, plus I love Steel Panther! Hopefully Steel Panther will be back next year for it. I'm not gonna miss that shit again! The pics look amazing! Congrats, Brian Fox for doing a very noble thing. They raised enough money to do 170 surgeries for people in need! Congrats!
I wanna kick myself in the ass soooo bad for not forking up the dough for tickets! Next Year, fo sho!
I'm getting excited, people! My new metal project SWP has our debut show booked on January 27th at Trixie's and I hope to see all of you people there to support. We've only had maybe nine practices but things are progressing nicely. Fans of my old band Krosjoint should easily dig SWP, because it starts where Krosjoint left off. I've been very lucky in the past landing some badass singers in the scene to jam with (Buzz Pile, Steve Sawyers, Billy Burton, Andy Haught), and now David "Sailor" Bryant, formerly of My Own Victim, who is no exception. That dude is a beast. Together we plan to crush some skulls, so make plans to see us on January 27.33
That's it for me this month. Read my LTL review!! I gotta keep it short n' sweet for now, as I'm still not feeling so well. That constant sprint to the toilet has me worn out.
Peace out....
The Metal Grapevine
Louder Than Life Review N' Pics (and Parking Tip For Next Year) :
Be sure to check out the pics Michael Deinlein and I got for you peeps. They are sweet. The show? Wow. What another great event from Danny Wimmer Presents. I know it's just not me singing his praises, either. Pretty much everybody is totally down with Louder Than Life being here in Louisville. It's something that I never thought I would see here in Kentucky. We went from a music-starved city that rarely got a big national show, to a city that attracts folks from all over for one purpose – Louder Than Life. I've been saying we need this for years, and now we finally have a national concert series that appears to be doing even better than projected. Those guys are smart at DWP. This year they had the Bourbon And Beyond Festival one week before LTL, in the same spot, and that was pure genius. You got the stages, sound, and land reserved, so why not have another concert for another music genre? It was brilliant. And no doubt profitable. Good! I hope they made a bundle! More money to buy even bigger acts next go round! Metallica next year maybe? Hmmmmnnn.
The weather was perfect this year, unlike other years. The crowd was fat, the booze was flowing and the food was to die for! I had just gotten back from Alabama the very night before at 11 p. m. , so I was very tired when we got there that Saturday afternoon, but I quickly woke up and got down to business!
Reviewing LTL is not like reviewing other shows at all. It's much more challenging. First off, you cannot enjoy watching a full set of any artist (except the last), because you are constantly on the move to other stages to get pictures or to review other bands. And let me tell you, it's more than likely more walking than I've probably ever done in one day.
Day One
Yawn. Vacation will wear a MF out. But the sight of all the people and knowing in a few hours I'll be seeing Ozzy and Zakk gassed me up pretty fast, then I was good to go. It was the usual LTL affair. Costumes. Masks. Panda heads were there. Superheroes. Jesus. A guy in super cheesy Speedos. Care bears were there. A guy in a bacon costume. A group of guys dressed as evil orcs. Pure craziness was afoot. This was going to be fun. Hell, I even got a pic sent to me of disabled rocker Abby McCormick crowdsurfing while she was in a wheelchair! How cool is that? Way to go chick! The pic is in the LTL slideshow I have arranged for you good peeps. That is the spirit of LTL!
We got there in time to see He Is Legend from North Carolina, a rock band with metal influences, but also with nice singing harmonies and feeling, and tons of groove. They were pretty good, but not really my style. The music is complicated and written well. Vocalist Schuylar Croom was an animated soul as he worked the early attendees into a frenzy. The guy has a good mixture of vocal styles. He can scream or sing accordingly. The leads of guitarist Adam Tanbouz were tasty and melodic, and had great tone!
Of Mice And Men from Orange County California was pretty good too, although I had never seen them live. They were heavier and the crowd seemed to really like that. I noticed the crowd surfing really started to get crazy about the time they hit the stage. The tempo jumped up a few notches from previous bands. I'm not too into the metalcore vocals, as they seem kinda whiney to me at times, but the music was pretty neat. But to be honest, all of these metalcore bands are starting to sound the same to me. Vocalist/bassist Aaron Pauley has skills though, it's not easy singing and playing at the same time.
On this day I gained much more respect for the Eagles Of Death Metal. I've listened to their music before and wasn't impressed, and to be honest, I wondered how they became famous, (aside from that little incident in Paris) but seeing them live changed my mind a bit. These Palm Desert California natives can jam! They are different. They have a wide array of musicians who tour and perform and record in the studio and it works well for them. It sounds crazy but its true.
Vocalist/guitarist Jesse Hughes is the ringleader of this troupe, and he is quite the character. He is like Lemmy's little brother! This is a pure rock n roll band through and through. While it's not my personal cup of tea, I respect it. Guitarists David Catching and another guy – I have no idea who it was – were tearing shit up though. They melded together well, and it came through as classic sounding and epic. These guys were shredding! And the chick bassist Jennie Vee was hot as hell. I'm not a fan of the vocals of Jesse Hughes, but he does have something about him that draws you in. It's poppy, its punkish, its bluesy, its old-school rock n' roll, but it is not Death Metal of any sort. And that is probably a good thing for me these days, because that stuff grates on my nerves anymore. Guitarist Brent Hinds (dude is a beast) of Mastodon joined them onstage for the song "I Only Want You." Maybe people are sick of the trends in music, and just want some good ole fashioned Rock music. EODM were only eager to comply.
Steel Panther was their usual energetic, awesome selves. Ya either love them or hate them, and the way people were acting, most loved them. The crowd at the second stage was packed! They played a short thirty-minute set, notably including "Eyes Of A Panther" "Asian Hooker" and a cover of "Aint Talkin' Bout Love."
I wish I coulda stuck around for the whole set, but I had shit to do! I love Steel Panther though, and have seen them at least five or six times now. Those guys are ridiculously talented all around. There is no weak link in that whole band.
I have never seen Halestorm. Wow! Impressive. Now I see why this band gets a lot of recognition. I don't know much of this band or its origins, but what better place to learn? Learn I did.
Hailing from Pennsylvania, Lzzy Hale and her drummer brother Arejay joined forces early on, and since have conquered. You cannot help but to like Lzzy Hale's powerful voice and guitar playing. She has it going on, in both looks and talent. She definitely pushes herself to the limits vocally, unlike some musicians. She tries very hard to impress. Maybe even too much. Her guitar skills were pretty darn good, too, as she harmonized with lead guitarist Joe Hottinger, playing both rhythm and lead. Her brother's drum solo was rockin' as well.
It sounded great. Lzzy has tons of soul and emotion in her voice. She opened up with "Love Bites (So Do I)." "Apocalyptic," "Mz Hyde" and ended with "Mayhem" and "I Miss The Misery." She is a hot little thing too, although I think she looks much better with her hair long. That short haircut was a mistake! I'm glad I got to see what Halestorm was about. They rock.
Mastodon! At first I didn't like this Atlanta, Georgia band when I first heard them, but they grew on me over time. Now I think they are geniuses. Progressive and creative to the extreme. I still don't care for the vocals of Mastodon much, which all of the members contribute to. It's the complex music of Mastodon that got me. It's all over the place and not very repetitive. It has lots of groove too. The layering of the guitar parts is insane. Some pretty bizarre stuff going on with these guys when playing live. It's a roller coaster ride of powerful music. To me, the vocals are in the background. They could almost not even have any vocals and it would still be cool. Vocalist/bassist Troy Sanders has the utmost confidence in his art form/stage presence as he runs to and fro. Guitarist Brent Hinds is a monster on lead guitar. It was a pure shredfest from the get-go with that guy! Rhythm guitarist Bill Kelliher's haircut looks like a Nazi, but he is one bad MF as well. All those guys wail, and I loved watching them do their thing! Thunderous groove and some seriously complex riffage/layering. They played "Sultans Curse" "Divinations," "Colony Of Birchmen," "Ember City," "Megalodon" and ended with "Andromeda."
Awesome!
Rob Zombie rocked this night and made everyone happy. I've seen Rob before many times, but he really did well this night. It was sweet. I tell you what, he is one hard mofo to get a picture of! That dude will not sit still for one second! And that is for every show he does! I've never been able to get hardly any good pics of him. Rob Zombies stage show was wicked as always! The costumes, the lighted guitars of John 5, the giant TV screens featuring Rob's creative ideas, all of it. The crowd ate it up like it was free candy after a weed smoking contest! People went nuts! They played "Dead City Radio," "Superbeast," "Living Dead Girl," "Everybody's Fucking in A UFO," "More Human Than Human," "Never Gonna Stop," "Thunder Kiss '65," a Ramones cover of "Blitzkrieg Bop," an Alice Cooper cover of "Schools Out" and ended with "Dragula." John 5 did a cool solo, but not one of his better ones that I have seen. I saw his solo act at Uncle Pleasants two years ago and it was amazing! He is a much better guitarist than what he does in Zombie. Rob Zombie had a good night vocally, too. I've seen him be not so good live a few times. But in Louisville, he was on point! Great set, Rob. The crowd was insane and was left wanting more!
Five Finger Death Punch was killer! I know a lot of people give this band shit for whatever reason, but I like them, and have always liked them. They put on one helluva show at LTL. Polished. Tight. Emotional. And groovin' like a MF. I love the melodic aspect of FFDP. The great vocals of Ivan Moody, even though I think he is kind of an asshole. Well, he is always talking like he wants to kick someone's ass, and he acts like he is a badass. There is no need for all that. You are in a badass band bro, chill, but he does have some good points as well. He loves his country and respects our military people to no end, and he always pulls kids up onstage and gives them memories they will surely never forget, so that is pretty neat.
The guy has an amazing singing voice. I love his voice! He tries very hard every show, and does not slack or cut out hard parts at all. To me, a longtime critic, that is all important. The band was killing it! Super tight. Bassist Chris Kael, a guy from Lexington, with whom I used to play shows 900 years ago, is one cool mofo, and I am sooo happy for him and his success. He saw me shooting pics in the pit and shot me a goofy face as if to say "what's up, Ed!" It made me smile to see one of us local musicians made good. What an amazing, life-changing experience to have experienced. Good for him!
Guitarist Zoltan Bathory seems like a super cool guy every show I've reviewed. He seems very humble and I love his technique which caters to emotion, feeling and groove over complexity and difficulty. He is a helluva songwriter. Lead guitarist Jason Hook is a beast on leads though, and these two kill together! They started with "Lift Me Up," "Never Enough" – which is one of my faves –then did a cover of Bad Company's "Bad Company," which I also like, "Jekyll And Hyde" and "Burn MF." Then they did acoustic versions of "Wrong Side Of Heaven" and "Remember Everything." The last few songs were "The Bleeding" and the Animals' classic hit "House Of The Rising Sun" which I don't think is a good song to redo. I thought of doing that years ago, but never did. Sometimes you just gotta leave the classics alone. But the Bad Company was done very well. The crowd loved FFDP despite the few negative comments. Ivan gave his usual props to our military but instead of pulling a kid onstage, he gave props to the sign language interpreter and brought her up into the limelight for a lil' FFDP love for all to see. Basically giving her props for doing what she was. Telling us all, that we are all one, despite any flaws and shortcomings. That no one is perfect, and thanks for translating to the hearing impaired folk in the crowd. The crowd ate this up! I liked it too. It made points up for the douchebag things Ivan has done over the years. FFDP kicked major ass this night.
Ozzy MF'ing Osbourne! I go way back with Ozzy's music, so you could say I am an expert on him. I saw Ozzy perform first in 1984 at Cardinal Stadium, and the last time in 2013 with Black Sabbath and he was very good! He hit every note and didn't mess up. I was kinda shocked for real. But Ozzy and Zakk Wylde is a different story and have not played together in Louisville since the early 90's. 1992 I'm thinking! So yeah, I was very excited to hear they would be headlining LTL. Ozzy had a little trouble with his voice this time around, though. He cracked noticeably maybe six times during the whole set. I think he may have had a cold or something because just four short years ago he nailed it like it was nothing! So don't go thinking Ozzy sounds like that all the time, because he don't! And I know!
First off, the man is over 70 years old, probably, so cut him some slack. Secondly, have you ever tried to sing some of his songs? Many of them are not easy to sing at all, despite what you may think.
Ozzy's band was tight as hell. They launched into "Bark At The Moon" for the first song, and Zakk was off a little bit on the intro but quickly recovered to make it pretty epic. He nailed the Jake E. Lee solo! They played "Mr Crowley" and it was killer! Zakk shredded on the incredibly difficult Randy Rhoads solo, and did it justice, to my surprise. Much much better than way back in 1992. Zakk kinda slaughtered that solo then.
They played Sabbath's "Fairies Wear Boots," which was unexpected and awesome. "Suicide Solution," "Iron Man," "War Pigs," "I Don't Know," "Shot In The Dark," "I Don't Wanna Change The World," "Crazy Train" and the last two, "Mama I'm Coming Home" and "Paranoid," as always. It was a good set of classics!
Ozzy's bandmembers did very well. Bassist Rob 'Blasko' Nicholson adopted the Geezer Butler bass sound/style and it was almost like Geezer was up there himself. And drummer Tommy Clufetos did very well on the skins and his drum solo. I think Ozzy accidentally introduced him as someone else though. A momentary lapse of memory. Think of all the drugs Ozzy did back in the day. So a lil' memopry loss is okay I reckon. No complaints here. And what can we say about Zakk Wylde? Not my favorite Ozzy guitarist, but he does jam! He didn't have an easy job filling in the shoes of players like Jake E. Lee and Randy Rhoads, but he did it, and he sounds better now – than ever before in my opinion. His solos on "Bark at The Moon" and "Mr Crowley" were wicked. So yeah, Ozzy didn't have the greatest night vocally, but he did his best, and ran around like his usual self, inciting craziness to the young folk who had never seen Ozzy live, and 90% of the time it did sound awesome! There were only a few spots where he cracked. So to all you haters mouthing about him cracking – F**K OFF! You don't know shit. You could never comprehend the level of talent/energy it takes to do what Ozzy does. You just don't realize. The man is a living legend and one of the richest entertainers on the planet, so keep hating all you want. He don't give a shit. I'm glad I was able to see him perform possibly for the last time (but I hope not).
By this time I was freaking exhausted. Half buzzed, back hurting, feet hurting, full of good food, and I could not wait to get into my brand new memory foam bed with my GF, who was overly happy that I took her with me to such a badass event. After some all too brief freaky freaky, I slept like the dead.
Day Two
We were wide awake, bright-eyed and bushy. tailed. It was on!
We got there in time to see Talent Agent Scott Frazier's new act Joyous Wolf from Los Angeles. I had never heard of them. These guys are pushing some powerful chit, lemmie tell ya. It's like Led Zeppelin meets The Black Crowes meets Jackyl. Vocalist Nick Reese has the goods. He has a killer singing voice and some pretty nasty rasps as well, a good mixture of classic rock vocals. And he moves around a lot to the music. It's pretty intense dancing. He puts on a show!
Guitarist Blake Allard is like a time traveling rocker from 1977, oozing feeling from his Les Paul. It seems all the classic riffs of the rock ages come through this young cat's playing. I think he may like Zeppelin the best, though. The rhythm section was kickin' some serious butt as well. It's groovy, trippy at times, fast, slow, all over the place. Together these guys are more powerful than a gallon of Kentucky Moonshine.
I liked the song "Mountain Man" that they played. Singer Nick Reese gave a shout out to fallen Louisville guitarist Kevin McCreery, who recently passed from Cancer. That was very nice.
Beartooth from Columbus, Ohio put on an energetic set of tight metalcore. The crowd sang along to their song "In Between" and got quite the crowds-urfing wave going for the song "Aggressive." That song has a crushing riff in the verse. They have a bag full of cool heavy riffs. It's the choruses that I'm not sure I like. Oh well, maybe I'm just an old Ozzy-loving fogie! It's a cool polished sound. But I gotta be honest, a lot of these metalcore bands just sound the same to me. Screaming in verses, and melodic choruses. Good musicians, but not my cup of tea. Next.
Nothing More? Wow. This band is insane. You know I really don't like modern metal very much, but in this case I was welcome to see something new and awesome. And this band was awesome. This is a modern metal band that I can dig.
For one thing the singer Jonny Hawkins is a vocal genius. No shit. I like to think I know my shit, and I'm telling you that he is one creative MF on the singing. Very impressive. Guitarist Mark Vollelunga was wicked, but he wasn't very showy lead-wise, a minimalist, but his tone and sound were immaculate. I would have liked to have heard more leads out of him. He rocks. Drummer Ben Anderson was a monster on the skins. Bassist Daniel Oliver was a short spunky lil' guy all over the stage rockin' a Bongo bass with massive groove. Those basses are amazing. Jonny was singing some pretty darn difficult high pitched stuff that sounded great mixed with some amazing vocal effects.
Great job, soundguy! Everyone overlooks the soundguy.
At one point all members played some drums in a drum-a-thon type session. Jonny jumped up on a crazy-looking contraption with huge gears and switches and it looked like some huge steampunk instrument. Whether any music was created by the machine is debatable. But it did look cool. Different. I enjoyed this set and welcomed the new and modern metal of today. Badass.
They played "Christ Copyright," "Let 'em Burn," "Jenny," "Go To Wa,r" "This Is The Time (Ballast)," "First Of The Year" and "Salem."
Falling In Reverse is a Las Vegas rock band whom I didn't care for much. It was poppy, punkish, rappy, trendy modern rock and I wasn't a fan. The crowds seemed to not like them as much either.
Why in the hell was Nothing More booked before these guys?
I had a choice to make, Lacuna Coil vs The Pretty Reckless. Easy peasy. Italy's Lacuna Coil is a no contest. This band is one of the premier acts on this day in my opinion, and why they are on the second stage instead on the mainstage, where Falling In Reverse played – is ridiculous. OMG. Several people were shocked at that. They have toured the world numerous times, and played massive massive festivals in Europe for decades. It wasn't right. But being the pros they are, they didn't bitch, and delivered one of the top performances of the day as they ripped into "Heaven Is A Lie," "My Demons," "Our Truth" and a blistering new song called "The House Of Shame" that is the best new song they have had in years. Awesome. It's back to the old-school Lacuna! The Heavier Lacuna.
Vocalist Cristina Scabbia is sooo badass its not funny. She has the voice and beauty of an angel, truly one of the best female voices in rock out there. I love how she delivers live as well as on her recordings.
Male vocalist Andrea Ferro gets a bad rap, and I admit I didn't like him much in the beginning many years ago. But his voice and weird gravelly style has won me over. He is different. Listen to his vocals on "The House Of Shame" or "Senzafine." Badass. The two work well together. Very well. They owned. You should have seen and heard the crowd! It was an ocean of difference than many others that day. That whole second stage area was packed! I hope the LTL people saw this and will give them a much sweeter spot next year or the year after. Everyone makes mistakes, and now the LTL peeps can hook them up a lil' better next time. Cristina was in fine form, and seemed happy. I'm soooo infatuated by that chick. She is amazing. I feel like a schoolboy with a crush. Oh well, she is married to the bass player and musical genius behind Lacuna Coil, Marco Coti Zelati, who was dressed up like an evil clown. Evil clowns all around, except Cristina and Andrea.
New guitarist Diego Cavallotti was a surprise. I am a fan of Cristiano and Maus, the former guitar players, so that sucked for me a little. But the new guy did pretty darn good. I'd like to see a reuion with the former guys though, if possible.
Next up was In This Moment, also from Los Angeles. What a mind blowing set that was. I saw them before years ago but I guess I was preoccupied because how could I have missed this? The band had an elaborate set of crosses, candles, a papal stand, twin evil nun-looking creatures in the background. Vocalist Maria Brink was hot as hell in those flowing robes over her skintight bodysuit, and she has an amazing voice as well. She gave Cristina a run for her money today. The opening song "Blood" was killer, both sonically and visually. It sucked me instantly in. At first I thought she was just mumbling blah blah blah, but I started to see the light and talent of Maria Brink emerge. The more I saw her the more I realised who she kinda sounded like. Adele. "Oh Lord" is the song that reminds me of Adele bigtime. Even my GF agreed. Things got a lil' slower sexier later in the set and that is when I heard the Adele influence. This sexy blonde chick got me aroused! Sorry, Cristina. She wasn't the best singer by any means, but she does have good skills and she is one sexy bitch on the mic.
The guitarist Chris Howorth looks crazy with the hair and Pirates Of The Caribbean look. He wasn't a showoff, and he mostly handled the crushing. Hooky. Easy. rhythm guitars with minimal leads. He definitely looks the part. This is a cool band and I definitely want to see more of this interesting young woman. Hard chunky metal riffs and sexy soul ocals do mix well, and I wanna hear more. They played "Whore," "Oh Lord," "Blood," "River Of Fire" and "Roots."
I really enjoyed these last two sets by female vocalists. They stole the show. Pure hotness, too. Ask any guy there. Wow.
Rise Against is a melodic hardcore band from Chicago. I don't like them. More of the trendy soundalike doody. A little too punky/hardcore for my tastes. The crowd didn't seem to care for it much either, except in a few small spots of a moshpit. Vocalist Tim McIIrath has a decent voice. It's just the music I don't like. Very basic riffs. Easy stuff. Again, how can Lacuna Coil and In This Moment get beat out of a better timespot, by this? Ugh. The band punk-rocked through the songs "Ready to Fall," "Give It All," "The Violence," "Help Is on the Way," "Satellite," "Wolves," and "Savior."
Next. Please.
I saw Incubus a long time ago at the Brewery Thunderdome. I'm not a fan of this band either, but I like them way better than many of the bands here today though. At least they are original and creative. This is not my musical style day. But I respect these guys for being different and staying true to their music. I don't know much about Incubus so be patient.
They played a nice long set consisting of "Glitterbomb," "Circles," "Nimble Bastard," "Anna Molly," "Wish You Were Here," "Pardon Me," "Sick Sad Little World," "Drive," "Nice to Know You," "No Fun," "Stellar," "Megalomaniac" and "Warning."
"Pardon Me" sounded really cool and laid back. Brandon Boyd is a talented singer/songwriter. He sounds pretty good live though ee could have used a little more effect on his voice. He was a little dry for my taste. The band had a Mixer/DJ station onstage. The trippy DJ scratching sounds mixed with the effect driven guitar were cool. I became more of a fan that day. They played Pink Floyd's "Wish you Were Here," which to some was cool. I'm not a fan of Pink Floyd, either. I know I know. Everyone loves Floyd! Not me.
Bassist Dirk Lance was amazing! Very nice bass lines all around for every song. This guy is a funkmaster. "Anna Molly" is a song I've never heard before but I like better than the popular songs! You learn something new everyday with this job! I love the creative guitarwork of Mike Einziger. He is smooth. I almost feel an Edge (of U2) type vibe in his playing at times.
The music was surreal and soothing. A break from the hard and furious metalcore clones that permeated my every being. This was a welcome change. It was funky, groovy, upbeat, and layered wonderfully. The crowd loved Incubus and the crowd-surfers were in full force. In the photo pit, it was chaos! Security forces were being overly forceful, but I guess they had to to maintain order what with kids and adults flying over the barricade every 30 seconds! It made it pretty hard for us photographers to get any good pics, worrying about flying boots coming down upon your nugget. It was a good set by a very good, talented band. Mucho props. It's just not me. I'm more of a Lacuna, Ozzy, FFDP, Mastodon, Steel Panther, In This Moment, heavier music type fella.
I also know nothing of The Prophets Of Rage, featuring famous rappers Chuck D of Public Enemy and B-Real of Cypress Hill and guitarist Tom Morello of Rage Against The Machine. I do not like rap. I do not like Rage Against The Machine. Well, maybe it was just the singer and his political rap that I did not like. The music was okay I guess. I do like guitarist Tom Morello's guitar playing a little. He gets some cool sounds out of a guitar. Different stuff. I liked Audioslave much more than Rage. Much much more! Cypress Hill? No thanks. Public Enemy? I'll pass.
The supergroup launched into a set featuring several bands' music, including Audioslave, Soundgarden, Public Enemy, Cypress Hill, Rage Against The Machine, MC5. They started with the Public Enemy cover "Prophets of Rage," then a triple dose of Rage with "Testify," "Take the Power Back," "Guerrilla Radio", "Living on the 110," "Hail to the Chief" and "Bullet in the Head." Then they did a Cypress Hill/Public Enemy medley, including "Hand on the Pump," "Can't Truss It," "Insane in the Brain," "Bring the Noise" and the annoying "Jump Around." Then came "Sleep Now in the Fire", Audioslave's "Like a Stone" "Kick Out the Jams," Cypress Hill's "How I Could Just Kill a Man" and the ever-so-present song that every cover band in every city does – "Bulls On Parade" – "Killing In The Name Of" and finally Soundgarden's "Slaves and Bulldozers." I have to say I liked "Like A Stone" probably the best, maybe because there were no rap vocals. No one in that band could even come close to duplicating Chris Cornell's vocals, so I see why it was an instrumental. Why bother! I liked Tom Morello's guitar playing the best out of this set. The song "Testify" was pretty badass as well. "Geurilla Radio" was pretty neat, though. I was digging the wah-wah effects from Tom's arsenal. Rappers Chuck D and B-Real were razor sharp and tight as can be vocally as they hooted and rapped throughout the set of rockin' arsenal of songs chosen from a massive musical library of their choosing! They had the crowd all pumped up and the crowd-surfing was insane! I almost got run over a few times on the way out of the photo pit! Bassist Tim Commerford was one of the funkiest bassists of the day. He and Incubus' bassist was neck and neck! Sick! The drums of Brad Wilk were awesome as always (he also played in Black Sabbath for a time). Yes, they were tight. But choosing between Rage's whiney Zack De La Rocha or hooting rappers is like having to choose between heartburn and diarrhea. It's equally painful to me. Oh, well, lots of people DID like the Prophets Of Rage, so I guess that's all that matters. But I'll just stick with my Ozzy and FFDP. It was a successful show with people having a great time, no fights, no idiocy that I saw. Lots of crowd-surfing. Maybe more than ever at LTL!
What a weekend. I love Louder Than Life with all of my heart and I'm so glad they gave Kentucky a chance to be on the map finally. While day two was far from my cup of tea, I still had a blast and really enjoyed Nothing More, Lacuna and In This Moment. These three were unreal! Wow. Worth every ache in my feet. I didn't party much this go round. I think I drank maybe three beers Saturday and that was it! I had pics to get. Notes to take. Music to review.
The food was to die for BTW. I had Island Noodles, mac n' cheese, clam chowder, cheesy bacon tater tots, three funnel cakes (I know I know), and a prime rib sandwich that was excellent. Good stuff!
Add the Cajun food in NOLA, seafood in Gulf Shores, and now this? Diet wrecked.
Oh well, it only comes once a year.
Thanks, Danny Wimmer, for bringing two of my all-time favorites to Louisville. Judas Priest and Ozzy! I can't wait to hear who's coming next year.
Ok, I promised a VALUABLE Parking Tip: Here it is. If you want to avoid an hour-and-a-half wait getting out after the show next year, listen up! Take River Road from downtown towards Champions Park, but before you get to the park, park in the first parking lot you come to off to your left in a field! They charge $10 but you will thank me in the end. You will be out of there in no time when it's time to leave! It's a bit of a walk, but it's totally worth it after a long, tiresome day. You will be home in no time! Listen to me peeps! You do NOT want to be hemmed into some of those parking lots. Hours of waiting can be avoided.
See you next year!
Yngwie Malmsteen At Mercury Ballroom Review:
I hadn't seen Yngwie since the Toy Tiger days. So yeah, I was a bit stoked. After all, I saw Yngwie on the infamous 1985 Marching Out tour, the tour that made him famous. So I've seen Yngwie in the apex of his youth. He was incredible. All the band members were.Yngwie made me a fan from the getgo back in the day. I kinda lost touch over the years though, and this show was to be a reawakening of the beast that is Yngwie Malmsteen. And it was. Bigtime!
Yngwie does a scaled down show. No props, no gimmicks, no masks, no lasers. What you get is a keyboardist, a bassist, a drummer, good ole' Yngwie and a wall of amps/ampheads that were 15 feet high across the stage (only which a few actually were used). Yngwie put on a scorching set of classical shredding. Trying to describe Yngwies set without being a classical music expert is very hard, because I do not know the names of the pieces he does. It sounds as though Yngwie picks and chooses different passages of various classical compositions through history, but the truth is, he probably just makes them up as he goes. That's how good this guy is.
Yngwie went into a keyboard duel with keyboardist Nick Marino, who was pretty good at vocals/keyboards. He had some nice high notes going on, but he was no Jeff Scot Soto. The duel was impressive as always. I've always loved when they did that even way, back in 1985. The sound he uses during this solo on the keyboards is sick! It sounds almost like lead guitar. And Yngwie intertwines in and out of the duel, doing whatever licks he is feeling at that moment. Always present is Yngwie's trusty Stratocaster. He changed guitars almost every song. He had his guitar tech running a marathon. He must be a very good guitar tech,3 because he was all over the place. Yngwie did bitch once about getting a guitar that wasn't quite in tune.
Usually I don't like strats, but Yngwie makes them sing! Yngwie had the band set up in the back corner so he could run around like a madman. Drummer Mark Ellis was on top of things nicely and did an impressive but small drum solo late in the set so Yngwie could pee or get a beverage, and bassist Ralph Ciavolino quietly did his thing in the shadows. I kinda wish Yngwie had the bass and keyboard masters like the guys from the Marching Out Tour with him now, but this was much cheaper and practical for Yngwie I'm sure. They were okay, but they were not to show off, apparently. This was Yngwie's limelight. Yngwie brought out a classical electric and soothed the audience of guitar nerds (like myself) in attendance. The tones. The effects used. The feeling. The classical rock style of Yngwie is like nothing else. He is one of the best guitarists on the planet. No doubt. Yngwie even sang a few songs! And he didn't sound bad either! I was kinda impressed. Mostly Nick Marino sang. He has a good voice, but to me, the keyboard/guitar intertwining duels were the cat's pajamas. Yngwie didn't look bad for being an older gentleman. He has aged well and from this pereformance, I would dare to say that he will be rocking on for another 20 years, it seems. Good. This guy did something very different and successful in a era of almost nothing but 80's glam and hair bands. It was a breath of fresh air then, just as it is now. I heard no sour notes, or visible screwups. No strained vocal notes. It was golden. Yngwie's golden age.
The band played "Rising Force," "Spellbound," "Vallhallah," "Like An Angel," a piece for "Paganini's Fourth," "Seventh Sign," "Overture," "World On Fire," "Evil Eye," "Trilogy," and then wrapped it up with "You don't Remember," "Black Star" and "I'll See The Light Tonight" off Marching Out! I was hoping for "Disciples Of Hell" or "I Am A Viking" but I was happy regardless. At least I got to hear a few tunes off my fave Yngwie album. What a show. For shows like this, I don't mind getting out on a worknight, even though I get up at 4:40 A.M.
I took my lead guitarist, Tyler Siders, from my band Year Of The Gun. He is a young cat, but skilled on guitar and he loves Yngwie and everything guitar, too, so we both really enjoyed the show from two guitar nerds/active guitarists in the scene point of view. I saw a bunch of musician friends there too. Chris Leffler of Fatal Step, Todd Nelson of E Flat, Chuck Dearing of Naked Garden, Erich Otto (my old bassist from the Inhuman days), and my buddies up at the club, Scobie and Justin.
Thanks to the Mercury Ballroom for having this event. For always taking care of us Media People. I like a lot of the people there at that joint. Good folks, all of them. Classy. I can't wait to play there again. I think I've played there more than anyone. Five times. And I hope to keep that record! Ha.
Hatebreed Coming Friday, December 1:
Just in time to get you into the Christmas spirit! See them at Diamond Pub Concert Hall. These guys rule.
Thunderstruck At Mercury Ballroom On December 22:
These guys will be back for a Christmas bash on December 22, so make plans now, as this will sell out, most likely pretty fast. Local rockers 2 Pump Chump will be opening, so be sure to be early for those guys!
Jammin For Jeff Williams Benefit:
Jammin For Jeff - a benefit for local musician Jeff Williams (which will take place on November 19 at Diamond Pub Concert Hall) who was diagnosed with Prostate Cancer and had to be off work for eight weeks for surgery. Bands featured are Speed Of Sound, Naked Garden, Smash Alley, Wax Factory, Jack Brizendine, Devereaux, From Paris, Radiotronic, Slinky Jenkins, Kimmet and Doug and Carl Anthony Stuck. 1 P.M.
Cannibal Corpse Coming In December:
Are you ready to get brutal? See them at Diamond Concert Hall on Tuesday, December 5.
Guerrilla Red Has A New Singer:
Steven Stith is the band's new singer. I need to check these guys out soon and see how the new guy sounds. He has some big shoes to fill. I'll post a video of the new GR when they send me one!
Udo Coming In 2018!
Terry Harper, you da man! You can always count on Terry booking some obscure awesome metal that no other promoter would normally touch. The legendary Accept vocalist Udo Dirkschneider will be at Trixie's on April 3. I will definitely be at this one. Udo rocks!
New Band Alert - Wylde Ryde:
A new band comprised of former members of original bands Hardlein and Rockaway Drive. Members are Chief-Lead Vocals/Lead Guitar, Tommy Blitz-Lead Guitar/Vocals Nigel Paul-Drums, Mick Watkins-Bass/Vocals. They describe the sound as Eighties-influenced hard rock, modernized for today's music scene. See a video of them jamming live below in LMN Live! These are good guys and I'm glad to see them back in action. Welcome back guys.
Bands! Send Me Those Live Videos!!
Let everyone hear and see you in action! Send those videos! Must be on youtube! Eddymetal1@aol.com
LMN Live - Kevin Mccreery Playing "Hot For Teacher":
Wow! These guys are ripping. Impressive.
LMN Live - Thunderstruck:
See this damn good tribute band return to the Mercury Ballroom on December 22.
LMN Live- Guerrilla Red:
These guys are back with a new singer. This ain't the new guy tho.
LMN Live- Blast From The Past- Mannekin!
This band ruled the Toy Tiger waaaay back in the late eighties. They were awesome! I know because I used to sneak in when I was 16 years old! My sister showed me how to get in. Thanks sis!
LMN Live- Anagnorisis:
Here is some local death metal for ya! I'm digging the lead guitar sound.
LMN Live- Kill The Crown:
Formerly named Pazuzu, they guys rock.
LMN Live- Wylde Ryde:
The new band I was talking about featuring members of Hardlein and Rockaway Drive. Real good dudes. Skilled players.
Upcoming Regional Shows
Boneheadz
Saturday, November 4 Mad Alice.
Brewskee;s
Saturday, November 4 — A Forgotten Fury.
The Coache;s Corner
Saturday, November 4 — Pat Bereis and Jamie Moody. 8 P.M.
Cosmic Charlies (Lexington)
Wednesday, November 22 — Hed (PE)
The Cure Lounge
Saturday, January 27 Luther and Rifle.
Diamond Bar (St. Matthews)
Saturday, November 11 — Hollowpoint.
Saturday, December 23 Soundtrip.
Diamond Pub Concert Hall
Saturday, November 11 — The Black Dahlia Murder, Suffocation, Decrepit Birth, Necrot and Wormwitch.
Sunday, November 19 — Jammin For Jeff - a benefit for local musician Jeff Williams, who was diagnosed with Prostate Cancer, and had to be off work for eight weeks for surgery. Bands featured are – Speed Of Sound, Naked Garden, Smash Alley, Wax Fqactory, Jack Brizendine, Devereaux, From Paris, Radiotronic, Slinky Jenkins, Kimmet and Doug and Carl Anthony Stuck.
Friday, December 1 — Hatebreed w/ Dying Fetus, Twitching Tongues and Code Orange.
Tuesday, December 5 — Cannibal Corpse w/ Powertrip and Gatecreeper.
Saturday, June 2 — Hammerfall w/ Flotsam and Jetsam.
Glasgow VFW
Friday, November 17 — Luther.
Gypsy's Sports Grill
Friday, Novemeber 17 — Shuvilhed.
Mercury Ballroom
Thursday, November 2 — GWAR w/The Stonecutters.
Thursday, December 7 — Yalawolf 51/50 Tour w/ Mikey Mike, Big Henri and Cookup Boss.
Friday, December 15 — Winters Waltz Vampire Ball- with Stigoi, Namon Broythers and Jayson William Allen.
Monday, April 16 — Kamelot w/ Delain and Battle Beast.
Nirvana
Friday, November 17 Bloodshot (Featuring Pat Bereis of Crazy Train)
Spectators Bar And Grill
Friday, November 17 — Tameless.
Saturday, November 25 — Hollowpoint
Trixie's
Friday, November 3 — He Is Legend w/ Foxbat, Summer Youth and Sounds Like A Lawsuit.
Friday, November 10 — 40 Below Summer w/ Despite the Fallen, Chadillac Dundee, Guerilla Red, Lifeless Legend.
Thursday, November 16 — Smile Empty Soul w/ Thousand Year Wide and Clear The Day.
Friday, December 1 — Montana Of 300.
Wednesday, December 20 — Social Response, September Mourning and Night Argent.
Thursday, January 25 — U.S Bombs.
Saturday, January 27 — Stout, A Forgotten Fury, Sweet Whiskey Pussy (Debut) and others.
Tuesday, April 3 — Udo Dirkschneider w/ Elm Street.