November 2017 Articles
Cover Story
Paul Moffett
Columns
Eddy Metal
Eddy Metal
Blogs
Got Shows?
Send Them To Us
Bookmark Louisville Music News.net with these handy
social bookmarking tools:
Available RSS Feeds
- Top Picks
- Today's Music
- Editor's Blog
- Articles
Add Louisville Music News' RSS Feed to Your Yahoo!

Issue: November 2017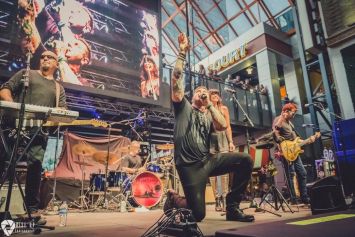 Kevin Manning
Age: If I tell it will be a lie.
Instrument: Singer
Band/Former Bands: Velvet Saints, The Griswalds, Dem Denim Demons, Room For Emotion, Primary Colors I prefer playing original music but the cover acoustic thing is fun every once in a while.
How long on instrument: I wanted to be the next Elvis so I started singing about age 2 Don't think I ever improved much but it is fun.
Equipment: Shure ULXP4 with Beta 87 wireless mic, Shure PSM600 in ear monitors.
Influences: Depeche Mode, David Bowie, NIN, New Order Very into the electronic bands
My first gig: Shreveport, Louisiana Sucked so bad, had to go look on the sign outside the next morning to make sure we didn't get fired
Hobbies: Coaching HS Basketball at Walden (although it is more of a job than hobby), working out, painting when the mood hits but I am not good at it.
Favorite movies: American Beauty, Blue Velvet, Despicable Me
Favorite food: Pizza (although dropped 40lbs over the last year so I have to limit that)
Favorite place: Near the beach I say when I get old I want to own a pizza place on the beach.
Favorite sports or team: Basketball, starting to enjoy watching volleyball because my daughter plays it.
What I'm listening to nowadays: 21 Pilots, Zedd, Depeche Mode (always) and whatever my daughter makes me listen to.
Coolest thing I've done: Done a lot of cool things but watching my daughter being born was the absolute best.
Most embarrassing moment: Well one that sticks out was when I was in 4th grade, I forgot my basketball shorts and the coach threatened to make me practice in my underwear Scarred me.
Bad Habits: Don't look people in the eye It is an insecure thing.
What was your first concert ever: Can't choose one; Gahan because he is in my favorite band; Bowie and Reznor because I think they are geniuses; They all were trend setters. Kenny Rogers, I was trying to impress a girl Even went out and bought cowboy boots The one and only time I wore cowboy boots.
Who do you love: My wife, Lana (My White Russian), my daughter, Alyssa and my friends.$$