September 2017 Articles
Cover Story
Paul Moffett
Columns
Eddy Metal
Eddy Metal
Blogs
Got Shows?
Send Them To Us
Bookmark Louisville Music News.net with these handy
social bookmarking tools:
Available RSS Feeds
- Top Picks
- Today's Music
- Editor's Blog
- Articles
Add Louisville Music News' RSS Feed to Your Yahoo!

Issue: September 2017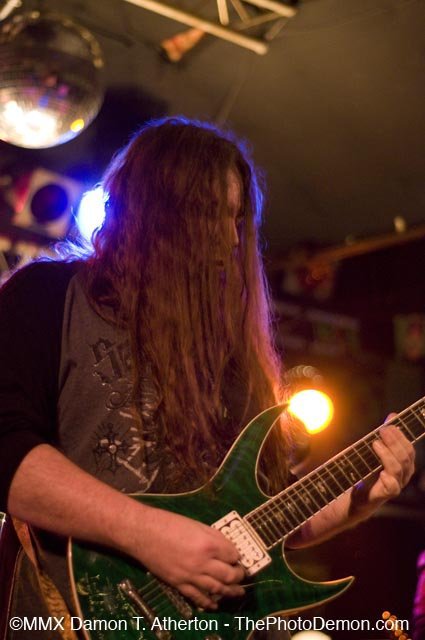 News From the Pit
Editor's Note:Eddy has submitted this column for now, but says there will be more later. Check back.
Hello everyone, I hope you all had a great summer! The last days of summer 2017 are upon us, and it was a hot one, I'm telling ya. Good things, though! I recently got a promotion at work, after only five months there, and I'm lead setup on my line now! Hard work does pay off I guess.
I've joined a second band recently (See Below), as well! Another metal band. With a name like Eddy Metal, ya just gotta let loose with some heavy chit.
Lots of cool stuff coming up soon! Louder Than Life, Guns N' Roses, Yngwie Malmsteen (just announced!), and I'm pretty stoked! As I said before, a month or so ago, I'm kinda burnt out on seeing the same bands over and over (I haven't done much lately), but these three are up there pretty darn high on the asskickers list, so I'm ready to get back out there at these shows like a good little columnist.
Hell, I've been a Yngwie fan since 1985's Marching Out album! I saw them in 1985 with AC/DC, and in '86 with Triumph! So yeah, I know a lil bit about ole Yngwie. He is a beast. His playing on Marching Out still blows me away to this day.
Then there's Guns N' Roses. I saw them last year in Cinci and it was spectacular. Axl nailed it! I was shocked, really. I thought he was gonna be lazy like Vince Neil, and half-ass his vocals throughout the whole set. But NO, he did very well. The band was very good still, Slash was killing, and there was the whole intact classic GNR vibe going on, which made it seem even better. The point? Trust me - fork up the dough, and go!
Now that I am in another metal band, I'm looking to play some sweet metal shows, but since I've only been in the band for a week, it will be a few before we are ready! Probably around Thanksgiving. I'm still with Year Of The Gun 100%, it's just nice to be able to play two different types of music. One lighter and more commercially apprealling, and the other one much much darker.
What about that eclipse? I'm sure it was awesome in Hopkinsville, but here it was anti-climactic. Kinda like expecting awesome sex from a new potential partner, and she turns out to be a total dud in the sack.
Hell, it barely got dark here at all. Whatever. Hopefully I'll still be alive for the next one, if North Korea don't threaten us all to death. What's up with that dude? Angry little fat man syndrome. If I was anatomically endowed below like an Asian man, I'd probably be pretty angry too. Fu*k that guy.
Enough with the negative. I leave you on a happy note.
Vacation.
I have worked hard. I deserve this. We got a condo on the beach with two balconies. And we'll be heading to New Orleans for a bit as well. My first time ever! I'm a NOLA virgin. I'm not going to party, I'm going to see History and the Voodoo/Cemetary stuff. Oh yeah, and the food! I'm packing about five types of Antacid. Last year, booze, food, (and very high altitudes ) had me all fu*ked up, not taking any chances!
I will see you mofo's at Louder Than Life! Say hello, and buy me beers!
You readers are most generous sometimes.
The Metal Grapevine
Just In - Yngwie Malmsteen At The Mercury Ballroom On October 19:
Yup, that's right. The Swedish guitar playing wildman virtuoso is coming to town! If you've never seen him play live, NOW is your chance! Don't blow it. Take it from a guy who has seen him play live three or four times since 1985. There is a reason for that! Yngwie shreds like no other. His mixture of rock, metal, and his greatest love - classical music - make for one unforgettable experience for the listener. It's been many a year since I've seen him, maybe 20! So its time I pay my respects once again! Guitarists! Pay your respects and come on up and rock out with Yngwie, and mingle with the hoards of nerdy guitarists! As king nerdy guitarist, I'll most likely be there reviewing/getting pics. Check out this classic Yngwie tune!
Guns N Roses At The KFC Yum! Center On Friday November 3.
Big News! G N' R is coming! I can't remember the last time they played Louisville. Surely it wasn't the time when they opened for Alice Cooper on their Appetite tour! I was there. Well, anyways, they are coming here again, finally! Awesome! Before you say "naaahhhhh" hear me out! Me and my girlfriend went last year to see them in Cinci and it was AWESOME! It was a work day, I was tired, hot and sore, but it was totally worth it! Axl was in a zone or something! He really really did well singing stuff that was recorded damn near thirty years ago! He tried super hard to hit every note, and damned if he didn't pull it off. You know my ass is a stickler of a critic, but I have no qualms or complaints about his performance. It was shocking really. Honestly, I didn't think he couldn't reproduce the notes live anymore, and I was prepared for disappointment, but I was eating crow by night's end. The band was super tight as well, and Slash was wicked as usual. What a combo! Slash's emotional riffage, Axl's screeching, Duff's backups and punk/funky basslines. Oh yeah, and the two new guys did good too! So listen to an old expert, it's good! Go to this concert even though you don't wanna pay those prices. It should be an interesting crowd. I'll probably see you there! Say hello!
Louder Than Life – T Minus One Month:
It's almost here ! Ozzy, Lacuna Coil, Steel Panther, Mastodon, 55DP. Anticipation is building up, and it's not too far off. People are talking. They are talking Ozzy! Yes, Ozzy returns to Louisville! About damn time too! I'm super stoked about Ozzy playing Louisville again! Here are the main acts performing:
Saturday, September 30
Ozzy w/ Zakk Wylde, Five Finger Death Punch, Rob Zombie, Mastodon.
Sunday, October 1
Prophets Of Rage, Incubus, Stone Sour, Rise Against.
Other bands on the bill are: Halestorm, Gojira, The Pretty Reckless, In This Moment, Eagles Of Death Metal, Thrice, Of Mice And Men, Falling In Reverse, Hollywood Undead, Sleeping With Sirens, Steel Panther, Nothing More, Beartooth, Starset, We Came As Romans, Lacuna Coil, Miss May I, Radkey, Badflower, He Is Legend, Black Map, Ded, Through Fire, Palisades and Biters.
Get those tickets, why wait? As always, it sounds like a helluva time. See you there.
Here is some classic Ozzy n' Zakk. BTW, it has been many many years since Ozzy played Louisville!
Let's welcome him back with a huge crowd.
Kevfest2017, News Of Guitarist Kevin McCreery:
The last time I saw Kev was at Ghost at Louisville Palace about two months ago, and he looked great! It was shocking. I was sooo happy for him, that he had kicked cancer's ass. Well, I just found out that very recently Kevin found out the cancer was back, and in a very bad way, and he was told to "make arrangements and settle his affairs."
I really do not know what to say. I don't know him that well, but Kevin has always been such a cool guy. For a guy who can play guitar the way he can, and for all the huge shows he has played professionally (which dwarf most of us poor Louisville musicians), he sure is a humble, likeable mofo. This news is freakin terrible. All I can even think to say right now is, God Bless you Kevin McCreery. You are a amazing musician and amazing human being, and you will be missed by MANY!
Kevins friends are putting on the 2nd Kevfest on October 22. A venue has not been secured yet, but I'll let you know when and where.
Just In - Hatebreed!!! Friday December 1:
Just in time to get you into the Christmas spirit! See them at Diamond Pub Concert Hall.
Louisville Deathfest 2017 Coming Sept 29 And 30 :
Live at Union Station, it's the brutal chit!! The music that makes you wanna hack up someone with a meat cleaver. If that is your thing, you won't wanna miss this smorgasbord of death metal. Bands playing Friday are: Anagnorisis, Morbid Saint, Morta Skuld, Pyrrhon, Sunlights Bane, Embalmer, Imperial Triumphant, Pilgrim, Amiensus, Oubliette and Order OfLevithan. Bands playing Saturday are; Arkaik,
Brutality, Vale of Pnath, Dehumanized, Alterbeast, Gigan, First Fragment, INFERI, Inanimate Existence, Virvum, Artificial Brain, Dysentery, Enfold Darkness and Cryptic Hymn.
Here are a few vids of some o' the bands.
Devildriver at Trixies!
Thursday September 7 w/ special guests 36 Crazyfists, Cane Hill, Uncured and Tetrarch.
Gwar Rescheduled To November 2!
See these maniacs in concert at the Mercury Ballroom on Thursday, November 2, go up early to check out The Stonecutters opening. I'll never forget my first Gwar experience. I was shot in the face from across the venue with goo-ey liquid that came from a giant jesus costume's giant rubber dick hose! Uncool, but pretty damn funny.
Check out this video of GWAR playing Kansas! Wow.
New Band Alert- Cult Killer:
Brutal new stuff. Check it out!
Born of chaos, Cult Killer is : Dustin Stephens – Vocals; Steve Curtsinger – Bass; Shaun Milby - Guitar/backing vocals; Tim McCullough – Drums. All experienced in the art of fu*king you up.
My New Band Alert!
Well, I'm in another metal band. Sweet Whiskey Pussy!! Hey, at least you won't forget the name? Nah, we are just cat people! I was looking to play metal again, but for two years I was sceptical of finding the right people to jam with. So nothing really happened. People have problems and are unreliable as a MF! I don't play that shit. Period. I don't have time for idiots.
I ended up finally hooking up with some like-minded musicians, who are well known in the Louisville rock/metal scene, to play some hard n' nasty metal once again. I love my melodic rock band, but I've been itching to play some heavy shit again! We've only jammed twice so far, but there is real promise there already. The band is called Sweet Whiskey Pussy, or (SWP). It's gonna be a mixture of stoner groove and southern doomy groove blues metal in the vein of Sabbath, Trouble, Down and C.O.C. On Vocals/guitar is former My Own Victim/Surviving Thalia/16 Bones frontman Daivd "Sailor" Bryant, on bass is Juke Joint Revivals Freddy Griesbaum, on drums is Mooseknuckle/Warhead's Chris Weltmer, and I'll be handling lead guitar. Hopefully we'll be playing out in about 2 months or so. It will be nice to be getting out there and jamming with you metal bands once again. This is gonna be pretty Sweet! These guys are good players, and Sailor is a helluva singer, as you all know.
We'll see you crazy cats soon...
Danny Wimmer Brings Us A Lighter "Louder Than Life" type Festival called the "Bourbon and Beyond Fesitval"
Set for Sept 23 and 24, the festival features Stevie Nicks, Eddie Vedder, Steve Miller Band, Joe Bonnamassa, Kiefer Sutherland and lots more!
It's at the same place as Louder Than Life! Champions Park. Other bands are – Band of Horses, Gary Clark Jr., Paul Rodgers, Amos Lee, Buddy Guy, Trombone Shorty and Orleans Avenue, Kenny Wayne Shepherd, Jonny Lang, G. Love and Special Sauce, Chris Robinson Brotherhood, ZZ Ward, Nikki Lane, Shawn James and The Shapeshifters, Fantastic Negrito, Kiefer Sutherland, Dave Cavalier, bluegrass favorites curated by The Bluegrass Situation, and more. Yup, Bourbon, top chefs with even more great food than what LTL had, and some killer classic music will take over that weekend here in Louisville Kentucky. All the fans of lighter rock music will be out having a ball!
Danny Wimmer is one smart cookie, I tell ya! I absolutely love what he has done in Kentucky these last few years. And putting the festivals back to back like that at Champions Park is straight up brilliant. Get those tickets, because this is gonna be a winner, too, guaranteed! Hell, I didn't even know Kiefer Sutherland played music! He is a great actor, though. More info coming as I hear it from the promoter! I'll keep you informed.
Farewell, Zebras In Public, Thanks For The Great Music!
These awesome Cinci guys have decided to call it a day after 10 years in ZIP. I love this band, and everything they stood for- and I hate to see them go. Here is one for the road! God bless you guys.
Musician Of The Month - Ira Smith Of Mistakes In Aviation:
Be sure to check out his feature in this months Louisville Rock Closeup section! He also has a Live Video below in LMN Live!
Cannibal Corpse Coming In December:
Are you ready to get brutal? See them at Diamond Concert Hall on Tuesday, December 5.
The LMN Bad Humor News Report- I Love This.
Are you peeps ready for the hollidays?
Guitarist Wanted For Metalcore Band The Devils Among Us.
Guitarists! This metalcore band needs a 2nd axeman, so hit them up if you wanna play out soon! No lazy ass unreliable bitches, they said! Contact Thedevilsamongus666@gmail.com
Bands! Send Me Those Live Videos!!
Let everyone hear and see you in action! Send those videos! Must be on youtube! Eddymetal1@aol.com
LMN Live - Cult Killer:
Here is some new metal blood for ya Louisville!
LMN Live - Mistakes In Aviation:
LMN Live - Scary Uncle Playing Pantera:
I hear these guys have gotten back together. Awesome! I love this band, and I don't even like cover bands, hardly. They play good music.
LMN Live - Velvet Saints:
Featuring guitarist Kevin McCreery!
LMN Live - End Of Me:
Wow, this sounds killer!
LMN Live - New Band Alert!- Hidden Foundation:
Great new band! Excellent sound. Good players. Good vocals. Impressive all around.
LMN Live - Blast From The Past -Surviving Thalia:
LMN Live - Boozer:
The other night opening for Texas Hippie Coalition.
LMN Live - Creature Of Exile:
Central Ky rocks!
Upcoming Shows
Catfish Haven Pay Lake Bar And Grill
Saturday, September 23 – Hidden Foundation.
Cosmic Charlies
Wednesday, November 22 – Hed (PE)
Diamond Pub Concert Hall
October 14 – Suicide Awareness Show w/ Kingslayer, Year Of The Gun and others.
Saturday, November 11 – The Black Dahlia Murder, Suffocation, Decrepit Birth, Necrot and Wormwitch.
Friday, December 1 – Hatebreed.
Tuesday, December 5 – Cannibal Corpse w/ Powertrip and Gatecreeper.
The Green Lantern (Lexington)
Saturday, September 23 – Creature Of Exile, Left To The Wolves, Kur. Free! 21 +
Mercury Ballroom
Saturday, September 30 – Louder Than Life presents Pierce the Veil. Official late night show! 11 P.M.
Sunday, October 8 – Issues and Volume.
Friday, October 27 – Here Come the Mummies.
Thursday, November 2 Gwar w/The Stonecutters.
Trixies
Tuesday, September 26 – The Birthday, Massacre.
Friday, September 29 – The Unofficial Louder Than Life Pre-Party w/ Verses, Gallifrey Falls, Luther, Caducus, The World I Knew, A Forgotten Fury and You Wont Feel A Thing.
Monday, October 2 – Xandria, Kobra and The Lotus and September Mourning.
Tuesday, October 3 – Soil w/ Saving Able and Kira.
Tuesday, October 17 – Dirty Rotten Imbeciles w/ VAMT.
Friday, October 20 – The Obsessed and Cobalt.
Monday, October 30 – Motograter.
Zanzabar
Sunday, October 29 – Anagnorisis, Deapscufa and Stagecoach Inferno.