September 2017 Articles
Cover Story
Paul Moffett
Columns
Eddy Metal
Eddy Metal
Blogs
Got Shows?
Send Them To Us
Bookmark Louisville Music News.net with these handy
social bookmarking tools:
Available RSS Feeds
- Top Picks
- Today's Music
- Editor's Blog
- Articles
Add Louisville Music News' RSS Feed to Your Yahoo!

Issue: September 2017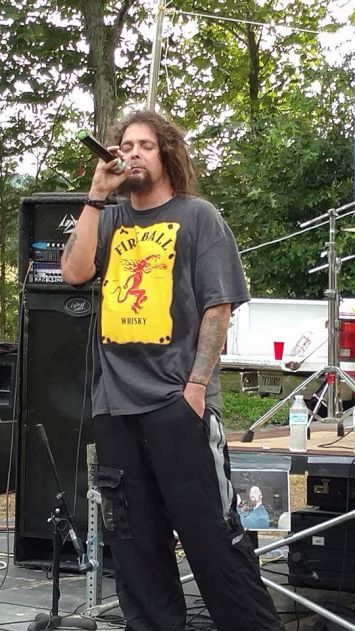 Ira Smith
Name: Ira Smith
Age: 43
Instrument: Vocalist
Band/Former Bands: Mistakes in Aviation/Monte Fisto/Incriminator.
How long on instrument: 26 years.
Equipment: Shure Microphones.
Influences: Frank Zappa/Primus/Ween/Slayer/Oblong Box/System of a Down.
My first gig: The Maze/Laser Tag in Saint Matthews w/ Incriminator 1991
Hobbies: Music/Running/Cycling/Political Cartooning/Most Athletics.
Favorite movies: Star Wars A New Hope/Caddy Shack/Where the Buffalo Roam/Fear and Loathing in Las Vegas.
Favorite food: Indian Food and anything spicy Mid-Eastern cuisine is good too.
Favorite place: Destin, Florida Not a fan of the deep south but this is the exception because of the laid-back vibe.
Favorite sports or team: Pittsburgh Steelers, thanks to my grandpa There was no Indianapolis Colts back in the day and I'm not changing teams now!
What I'm listening to nowadays: Dog-Fashion Disco and a lot of my earlier influences like Slayer, M.O.D The Orchestral works of, Edgard Varese, Chamberlain is a favorite but they,re no longer together Oh yeah, Oblong Box stays on my playlist!
Coolest thing I've done: Played with, No Doubt/Cyprus Hill/ The Offspring/Chris Isaac and The Long Beach Dub All Stars.
Most embarrassing moment: Having a nasty verbal exchange with, Dave Navarro at the L.A House of Blues and nearly getting stomped by his personal body-guard Kind of a proud moment too though He's a real dick!
Bad Habits: Nicotine and Carbonated beverages (Both are horrible for me, yet I continue to consume them)!
What was your first concert ever: The Charlie Daniel's Band at Freedom Hall, my dad got free tickets.
If you could meet a Rockstar ( past or present ), who would it be, and why: Ahmir 'Questlove' Thompson. Because he's an absolute genius and has a vast knowledge for all things music.
Who do you love: My friendsl/family and everyone that's supported what I do over the years Especially, Jay Shepherd, Chris Justice and Marlon T Griffin! MIA for life!!!