June 2017 Articles
Cover Story
Paul Moffett
Columns
Eddy Metal
Eddy Metal
CD Reviews
Natalie Carter
Blogs
Got Shows?
Send Them To Us
Bookmark Louisville Music News.net with these handy
social bookmarking tools:
Available RSS Feeds
- Top Picks
- Today's Music
- Editor's Blog
- Articles
Add Louisville Music News' RSS Feed to Your Yahoo!

Issue: June 2017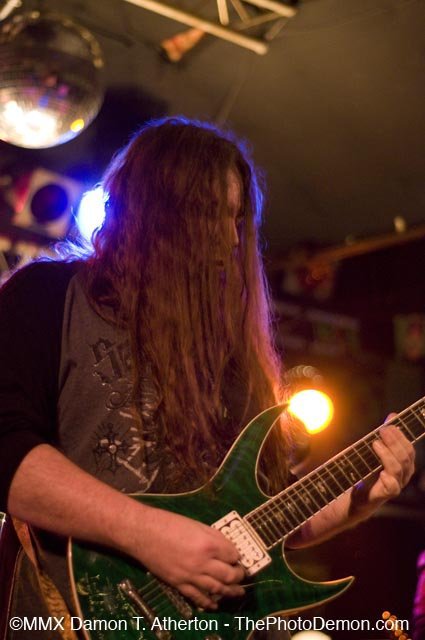 News From the Pit
Wassup, folks! I hope you all had a sweet-ass Derby. I ended up getting rained out, so I didn't attend the Derby this year, even though I planned to go. I love the Derby and was ready with a stack o' cash in hand, so me and my ole lady were pretty bummed that it was cold 'n' nasty out on Derby day. I wasn't about to pay $80 apiece to slosh around in the infield, getting muddy, and listening to my GF whine that she was cold 'n' wet. Nah. I'll wait till next year. My horse lost anyways, so maybe its best I didn't go!
Lots of stuff! Louder Than Life bands were announced today, so people are talking about this quite a bit today! Ozzy, Lacuna Coil, Steel Panther, Mastodon, sounds like a sweet deal to me. I'm sure I'll be covering this event and most likely the Bourbon And Beyond event, too. I've been working my ass off at my new job these last three months, so I haven't been out an awful lot. Truth is, I'm a worn-out MF now, and I'm getting tired of seeing the same bands over and over. I've seen Amon Amarth, Clutch (see the awesome Clutch pics my buddy Michael Deinlein got of Clutch! Wicked! Thanks bro!), All That Remains & Obituary before. Yeah, yeah, yeah it definitely rocks an all, but damn, I'm burnt! I need some new blood! So I, took my old ass to a nu-school show.
I ventured out to see I Prevail at Diamond Concert Hall. It jammed, too! Tons of cute young chicks were there. I was like an old dinosaur! It was funny. I had a blast, tho! Thanks,Terry Harper! I Prevail had a crazy opening band from Japan called VAMP that was badass (See reviews below). Good times! But other than that, lately, I've been a lame, boring, go-to-bed at 8:30 type mofo. It's all good, though, I've been pretty happy in life. It turns out that good things come to those who don't man-whore around!
Omg I used to be soooo bad.
Maybe I just needed a short little break from all those concerts. After all, I can almost guarantee I am a record holder for the most rock/metal shows ever attended in Kentucky rock history. There has been many a show attended since I saw Kiss/Judas Priest in 1979. I was freaking ten! I was obsessed with concerts growing up. I didn't miss many. I still love it at age 47. But when you have seen almost every band several times, it's not quite as special. I'm looking forward to seeing Ozzy again though, and Ghost at the Palace sounds good (what an atmosphere)! And yes, Eighties legends LA Guns (I want my band to open for this show bad! lol) ! So yeah, there are some shows I wanna definitely see! I'm bummed out that I will miss Iron Maiden, but I gotta work that day, and my raise is coming very soon, so I don't wanna muck that up. Oh well, I've seen Maiden before, twice. But yeah, I woulda drove my happy ass to Nashville in a heartbeat to see them again if I coulda gotten off work. They are one of those classic bands that you do not want to miss, because you might never get the chance to see them again.
Other noteworthy concerts that I've seen are: Ozzy/Motley Crue/Accept, OZZfest -Black Sabbath reunion/Judas Priest reunion/Slayer, Slayer/Megadeth/Anthrax/Alice In Chains, Monsters Of Rock tour, Judas Priest in '84 w/ Great White, Great White at La Vela, Ozzy/Metallica '86 outside in Cardinal Stadium (ya know, the show where things got out of control when Ozzy said "Let's all go f**king crazy!"- hence the heavy metal ban outdoors at Cardinal Stadium.) I'll never forget that night. Cliff Burton played with Metallica that night, and a few short months later he would be killed in a bus accident.
There, too many shows to list, or even remember for that matter. It's all in there, in a forty-seven-year-old haze of sex, drugs & rock 'n' roll. Well, at least way back then anyways! These days I'm all goodly & wholesome! I'm a fucking Angel! Halo an all.
But I'm not done rockin' yet. Not by a long shot.
I'll be seeing you peeps soon! Either onstage or in the crowd, watching the show! I don't give a shit as long as I'm there! Love me or hate me, just don't ignore me!
So keep an eye out for a much thinner, sexier, man meat mountain Eddy. Ha.
I've been on a mini semi-health kick and it's working for me!
I am no longer Jabba The Slut!!!
Have a great summer, peeps!
The Metal Grapevine
Louder Than Life Bands Announced!
You waited for it! So here it is folks. Enjoy. Here are the main acts performing:
Saturday, September 30 Ozzy w/ Zakk Wylde, Five Finger Death Punch, Rob Zombie, Mastodon.
Sunday, October 1 Prophets Of Rage, Incubus, Stone Sour, Rise Against.
Other bands on the bill are: Halestorm, Gojira, The Pretty Reckless, In This Moment, Eagles Of Death Metal, Thrice, Of Mice And Men, Falling In Reverse, Hollywood Undead, Sleeping With Sirens, Steel Panther, Nothing More, Beartooth, Starset, We Came As Romans, Lacuna Coil, Miss May I, Radkey, Badflower, He Is Legend, Black Map, Ded, Through Fire, Palisades & Biters.
Get those tickets, why wait? As always, it sounds like a helluva time. See you there.
Here is some classic Ozzy 'n' Zakk. BTW, it has been many many years since Ozzy played Louisville!
Let's welcome him back with a huge crowd.
Danny Wimmer Brings Us A Lighter "Louder Than Life" type Festival called the "Bourbon & Beyond Festival":
Set for Sept 23 & 24, it features Stevie Nicks, Eddie Vedder, Steve Miller Band, Joe Bonnamassa, Kiefer Sutherland & lots More!
It's at the same place as Louder Than Life – Champions Park. Other groups are Band of Horses, Gary Clark Jr., Paul Rodgers, Amos Lee, Buddy Guy, Trombone Shorty & Orleans Avenue, Kenny Wayne Shepherd, Jonny Lang, G. Love & Special Sauce, Chris Robinson Brotherhood, ZZ Ward, Nikki Lane, Shawn James & The Shapeshifters, Fantastic Negrito, Kiefer Sutherland, Dave Cavalier, bluegrass favorites curated by The Bluegrass Situation, and more.
Yup, Bourbon, top chefs with even more great food than what LTL had, and some killer classic music will take over that weekend here in Louisville, Kentucky. All the fans of lighter rock music will be out having a ball! Danny Wimmer is one smart cookie, I tell ya! I absolutely love what he has done in Kentucky these last few years, and putting the festivals back-to-back like that at Champions Park is straight up brilliant. Get those tickets because this is gonna be a winner, too, guaranteed! Hell, I didn't even know Kiefer Sutherland played music! He is a great actor, though. More info coming as I hear it from the Promoter! I'll keep you informed.
U2 Live at Cardinal Stadium on June 16:
I want to see this! I love U2 and have never seen them. I hope I can get tickets to this event. I'd love to cover this show. And it's about time Cardinal Stadium holds concerts like this! That place has been sitting empty far, too long! It's a sweet venue and could be used for far more than what it has been. Big concerts there would be nice! Please god, let me get tickets to this. Here is one of my fave U2 songs.
Expo 5, are you There?
Inquiring minds want to know. Lately tons of people have asked me "what's the deal with Expo 5? They don't have shows there anymore!"
Yes, this is somewhat true. I don't know the reason why. Maybe promoters got a better deal elsewhere. It does cost a pretty penny to get sound for that large place. So maybe that's it. I don't know.
I do know that they are having a local show on July 29 there, so maybe shows can start happening there again. I always did like seeing shows there. I've seen many a badass show there in my day. And I even got a BJ in the toilet! How awesome is that?
Come to Monsterfest on July 29 and support us local rockers! Bands playing are Call Me Monster, Year Of The Gun, 13th Step, The Quinney Brothers, Banshee Child & Point Blank.
I Prevail & VAMP Review (Pics by Derek Hibben) :
So I needed a night out, something new that I haven't seen before. A buddy from work convinced me to go to I Prevail at Diamond Concert Hall. All I knew was that they were new school young rockers, only together for a few years. He played me some of their music and it was not bad. It was a late start, but we got there right in time to see Japan's VAMP, a crazy band of little Japanese goth-punk, metal rockers who kicked much ass as they ripped it up Asian style. Absolutely pounding riffage, almost like a Rob Zombie type feel. Great groove all around. Killer fat crunchy guitar tones and insane vocals from the "thing" on the mic. I say "thing" because we could not tell what the f*ck gender it was. It looked like a dude, but my buddy said it was a chick, we didn't know. Who cares, whatever it was was pretty impressive on vocals as it screamed, roared, sang and belted out impressive melodies one after another, even doing a cover of Depeche Modes "Enjoy The Silence," and it was VERY good! Lacuna Coil nailed that cover also, but VAMP made it their own, too, and also nailed it! Badass.
Turns out the singer was a chick. She is awesome. VAMP is a killer band and I would seek them out if playing anywhere near here. I wanna see more little crazy-looking Japanese metalheads.
I luv it.
Next up was one of my buddy's favorite bands, Michigan's I Prevail. This band of young rockers has only been out for three years and they are on major tours and are doing very well. That's insane, and cool. What are the odds of that? It's rare! There is a reason for all this. They rock. I'm not sure what kind of music it is, but it's labeled as metalcore. But there are amazingly well-thought-out lyrics and vocal melodies all throughout this bands music, as well as plenty of heavier moments. They had an energy about them that only the young can pull off. The riffs were crunchy and grooving, with a mixture of vocal styles including singing, rapping, screaming. It all came together in a powerful display of melody and heaviness. A good mixture of conveying yourself without being lumped into a genre you are not sure you want to stay in.
They played the songs "Scars," "Come And Get It," "Stuck In Your Head," "Lifelines," "Rise," "Lust And Liars" and even a Taylor Swift cover, "Blank Space." My buddy was a bit disappointed they didn't play his favorite song by them, "My Heart I Surrender." I thought for sure they would have played that one. But I think they were in for more of a heavier mood this night, because they were raving about people saying they aren't heavy or brutal enough. Heaviness is over-rated. Melody and groove are where it's at. And these young cats got some damn good groove going on for sure. They also did a medley of Slipknot, Blink 182, and some Eminem.
The crowd of young generation rockers loved it. A very very energetic and positive crowd was in attendance. Diamond Concert Hall was sold out! The guitars weren't very technical or overwhelming, but they did have lots of power and the rhythms were catchy and upbeat. You should know that I'm not really into new music that much, but these young dudes are good at what they do. Two vocalist intertwine throughout the set like two spiders cascading down a wall, criss-crossing and doing a ballet of sound. One guy sings, one guy screams. They work well together. The guy who sings, Brian Burkheiser, has a sweet singing voice that has all the young chicks in a swoon. He has that modern pretty clean melodic nu school vocal tone.
Screamer Richard "Eric" Vanlerberghe belts out the heavier vocals and does so with pinpoint accuracy. The drummer and bassist were good, too! These guys are tight as a unit. Very tight. Juss sayin, only three years and coming out and doing this good? C'mon. There is a reason. Skills and songwriting. The ability to shred a song, and then play something pretty that your GF would like. There are no limits on music, and lumping yourself into only one category is dumb. I Prevail doing their own thing and not caring about being "Too Light" is a truly cool statement from a rockin' band that should do very well in the future.
I'd like to see them play again sometime. They passed the Eddy Test.
Thanks for the awesome pics, Derek Hibben.
Hellyeah Coming Back to Mercury Ballroom:
They will be back on Monday, July 10 at the Mercury Ballroom! Should be rockin' as usual! I opened for those guys there a few years back and it was badass. Great dudes, too! They even gave us props onstage mid show.
LA. Guns Coming to Mercury Ballroom:
On Thursday, June 29 Eighties rockers LA Guns will be in town! These guys rock, so if you are in need of a great oldschool rock show, by all means go check them out! They are great. Tracii Guns is a beast on guitar. And original singer Phil Lewis is back with them! Awesome.
Korn/Stone Sour coming to Cinci:
Tuesday, August 1 at Riverbend. Be there! I've never been a big fan of Korn, but seeing them at Louder Than Life kinda won me over a bit I have to say! They were good. Jonathan Davis was kicking ass on vocals.
Slayer, Lamb Of God & Behemoth in Nashville:
Live at the Municipal Auditorium in Nashville on July 30! This is a show not to miss! Get those tickets and prepare for when hell comes to Nashville!
Ghost coming to Louisville Palace June 14:
Be sure to see Ghost in an epic atmosphere in all their dark glory. Louisville Palace rocks, so don't miss this! I'm going!
Iron Maiden Coming To Nashville on June 13:
Ooooooh yeah!! Sweet ass sweet! This one is a must see. Everyone is raving about attending this show! It's at the Bridgestone Arena. I reviewed The Scorpions and Ratt there several years back and it's a great place to see a show! I had a blast and the staff was super cool to us here at Louisville Music News. So hopefully, I will be heading down that way come June to see some Maiden once again. I already saw them twice before, once in Columbus Ohio, and once in Noblesville IN. I'm ready for number three! Who is opening? I don't know, but I hope its someone good, like Metal Church. TIP: You might want to get your tickets ASAP, because peeps are talking about this one already and it will surely attract fans from several hundred miles in all directions from Nashville! So don't wait. Secure your tickets.
The MERF BASH for drummer Kevin Davidson Results:
The bands raised about $4000 for Kevin's hospital bills. It was a fun show for sure. The important thing is that Kevin is getting better day by day and he even got behind the drums during Crazy Train's set, to play "Crazy Train." That was a great moment for all of Kevin's friends. Considering the guy was practically dead a few short months ago. Life is crazy.
Bands who participated were Thunderstruck, Crazy Train, Year Of The Gun, Grindstone, SOS, 99MPH, Naked Garden & Broke By Tuesday. Thanks for your time and effort on this. I'm sure Kevin really appreciates the help. Here is a video I recorded of Kevin playing Crazy Train. My dumb ass accidentally hit the stop button right before the solo, so I'm sorry. I meant to get the whole song. I wasn't even drunk either!
Zeroking's New Jams:
Check out West Virginia's Zeroking's new video:
Brand new stuff from the WV rockers.
Eagles Of Death Metal coming:
Wednesday, June 28 at The Mercury Ballroom! So come on out to get your rock 'n' roll fix!
Musician Of The Month
This month's feature is louisville drummer Steve Hayes of Rock Brigade. Check out Steve's feature!
The LMN Bad Humor News Report:-
Have you heard of the Star Wars band Galactic Empire? See them in Louisville July 17:
No I am not kidding. I just wuuuuuv Star Wars so this is the cat's pajamas to me! You can see them here in town for one night only! On Monday July 17 at Trixie's.
New Band Alert, Gotcha!
Hailing from Central Kentucky, the band is called Gotcha and features the amazing vocal talent of Michael Duncan (Pownd/Shatter Messiah). Check these guys out! Rockin'.
Send Me Those Live Videos!!
Let everyone hear you in action! Send those videos! Must be on youtube! Eddymetal1@aol.com
LMN Live: My Own Victim at Trixie's.
LMN Live: Incursion at Trixie's.
LMN Live: Luther at Trixie's.
LMN Live: Banshee Child at Waddystock.
LMN Live: Spontanious Internal Combustion at Waddystock.
LMN Live: Lethean at Waddystock.
LMN Live: Darkening at The Cure Lounge.
Upcoming Shows
3rd Street Dive
Friday, June 9 – Gravel & Spiders.
Saturday, June 24 VAMT, Bat Wizard & TBA.
Brewskees
Saturday, June 10 – Inner Decay, Devil Duck & Gravel&Spiders.
Sunday, June 25 – The Devils Amongst Us, Tetrarch, Synapse, Creature Of Exile.
Diamond Concert Hall
Friday, June 23 – Before The Streelights w/ The Placebo Effect & The Drowsys.
Friday, July 14 – 10 years.
Saturday, July 22 – Wage War w/ Gideon & Varials.
Expo 5
Saturday, July 29 – Monsterfest - featuring Call Me Monster, Year Of The Gun, 13th Step, The Quinney Brothers, Banshee Child & Point Blank.
Gerstles
Saturday, June 3 – Juke Joint Revival & Fall City Drifters.
Highlands Taproom
Monday, July 17 – Creature Of Exile
Kingpin Lanes
Tuesday, June 6 – Sound Endeavor.
The Levee Bar & Grill
Saturday, June 3 – Gravel& Spiders
Louisville Billiards
Saturday, July 8 – Soundtrip.
Magbar
Saturday, June 3 – Black Tar Prophets, Creature Of Exile, Mistakes In Aviation & Artwork Of The Blind.
Saturday, June 17 – The Godawfuls, On The Bang, Pushstart & Gravel&Spiders.
Saturday, July 15 – Call Me Monster & Year Of The Gun.
The Mercury Ballroom
Saturday, June 3 – Hairbangers Ball.
Wednesday, June 28 – Eagles Of Death Metal.
Thursday, June 29 – LA Guns.
Monday, July 10 – Hellyeah.
Wednesday, July 19 – Behemoth.
Trixie's
Sunday, June 25 – Otep w/ The Convalescence, Brand Of Julez, Stout & Lethean.
Wednesday, June 28 – Weedeater w/ Black Wizard, Serial Hawk & Luther.
Friday, July 7v Devour The day, w/ Sons Of Texas, Manic Methed & Prey For Maria.
Wednesday, July 12 – Otherwise w/ Through Fire, Kiss Kiss Bang & Gravelswitch.
Friday, July 14 – Cane Hill, My Enemies And I, You Wont Feel A Thing, Pickwick Commons.
Monday, July 17 – Galactic Empire.
Saturday, July 22 – Corey Feldman & The Angels.
Friday, August 18 – Failure Anthem w/ Despite The Fallen, Some Kind Of Saint & Zeroking.