June 2017 Articles
Cover Story
Paul Moffett
Columns
Eddy Metal
Eddy Metal
CD Reviews
Natalie Carter
Blogs
Got Shows?
Send Them To Us
Bookmark Louisville Music News.net with these handy
social bookmarking tools:
Available RSS Feeds
- Top Picks
- Today's Music
- Editor's Blog
- Articles
Add Louisville Music News' RSS Feed to Your Yahoo!

Issue: June 2017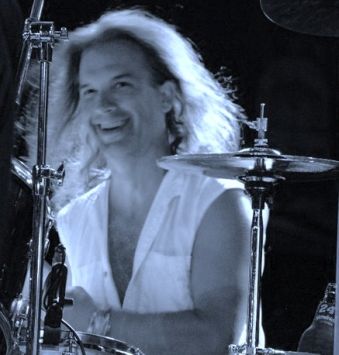 Steve Hayes
Name : Steve Hayes
Age : A very young 52....
Instrument : Drums.
Bands/ former bands : I'm currently playing With Rock Brigade and the River City Rockers and having a BLAST!!!
some former bands, Madd Rabbit, This Side Up, Two Pump Chump,Pandora's Box, Metal Legends, Audiorotic & The Nasty Habit Band.
How Long On Instrument : I have been Playing drums since the age of 10.
My brother had a set of drums that he never played. So I hauled those babies up to my room and started just pounding around making all kinds of racket.
Next thing I knew a new passion had taken over!! I taught myself to play my first song, "Little Willy" by The Sweet. The second song I learned was "Detroit Rock City" by Kiss. The fear then set in with the parents, seems like it was not long after they were divorcing and I have never stopped ROCKIN......lol.. No I don't really think it was me that caused their split.....lol
Equipment : I beat Ludwig drums and smack SABIAN cymbals.
Influences : Tommy Lee, Tommy Aldridge, Peter Criss, Randy Castillo, Neal Peart, James Kottak.
Way too many bands to name, if it ROCKED me I was influenced.
My First gig. When I was in the 3rd grade I did a Tom Jones imitation of his song "Shes A Lady" Bow Tie throwing and all.....LOL...
My first actual drumming gig was in a high school gym.
Hobbies : I love being outdoors, spending time with family and friends.
Even though playing drums has been somewhat a job for many years it's still a favorite hobby.
Favorite Movies : I have never been a huge movie buff even though I watch them quite often.
My favorite movies are comedy movies.
Favorite food : Love me some steak and tatter's!!
Favorite Place : Anywhere with loved ones enjoying life. I dig Panama City, Fl.
The stage is always a comfortable/favorite place to be.
Favorite Sports or Team : I love NASCAR and pull for the #24 team!
The Kentucky Wildcats. The Cincinnati Reds. Indianapolis Colts.
What I'm Listening to Nowadays : I enjoy all kinds of music (if it's music) from oldies, to Rock, to Metal, to Country.
For sure a ROCKER at heart.
Coolest thing I've Done. : Became a father to two of the most amazing boy's a dad could dream of, Bruce Hayes and Shawn Jones.
Became a 4 time Grandfather of the most amazing grand kids a pappy could ask for. Blake, Dominick, Aubrey, and Chase.
Most Embarrassing Moment. : Doing a drum solo with lighted sticks and dropping one, (kind of hard to cover that up)
You can grab another stick out of the bag and not miss a beat but you can't hide that lighted stick up that laying in front of your drums....LOL...
Bad Habits : The only bad habit I've had that I haven't been able to kick is nasty, stinky cigarettes!!
My First concert ever : was The Bay City Rollers at the Kentucky State Fair in 1977
If I could meet any Rock Star : Elvis, Michael Jackson, Neal Peart.
Who Do I love : My sons,my grandchildren, My parents, All of my family, my Fiance Kim. So many friends, I am truly blessed with many amazing people in my life!!!