April 2017 Articles
Cover Story
Bob Bahr
Columns
Paul Moffett
Eddy Metal
Eddy Metal
Blogs
Got Shows?
Send Them To Us
Bookmark Louisville Music News.net with these handy
social bookmarking tools:
Available RSS Feeds
- Top Picks
- Today's Music
- Editor's Blog
- Articles
Add Louisville Music News' RSS Feed to Your Yahoo!

Issue: April 2017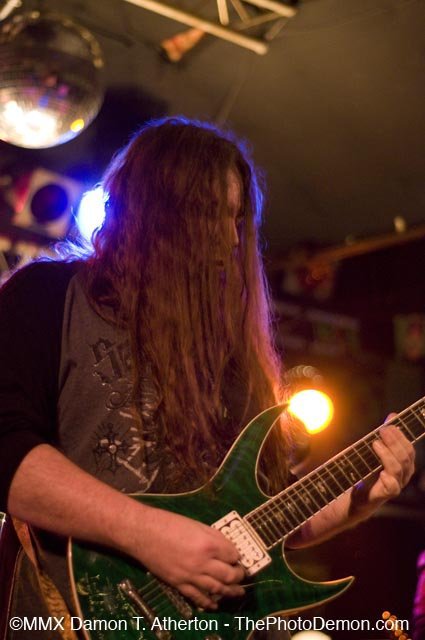 News From the Pit
Last month I told you peeps about a girl I recently dated that I cared very much for, but didn't ultimately 'love.' She was in love with me for years, but I was a stupid jerk who didn't appreciate her. I was even a jerk to her in my column last month! Shm. I sometimes write the wrong things when upset or hurt. I foolishly don't think. But this month my writing hits right on the nose and could not be more true than anything I've ever written in LMN. Well people, the joke's on me now because it turns out that I did love her after all, much more than I even knew, and that only by losing her was it absolutely made 100% clear to me. I tried my hardest to win her back and make it right, doing sweet things that I never do, and finally digging down deep within myself to find the strength to tell her how I really feel. Anyone that really knows me knows that that is NOT me! I've been like an Ice King for 12 years now. Scared to open my heart to anyone. Unfortunately for me, all that effort/change was in vain, for it is too late now. The damage I did to our relationship was irreversible, and karma has had her way in a most vengeful fashion. I guess I deserve it and am now paying for it, no matter what my heart says now. I may have a lot of faults but I always admit my mistakes, and this was one of the worst I've ever made. So I tell you people from the bottom of my broken heart; to grasp those whom you hold dear, tell them that you love them/appreciate them, and tell them they are your world- while you can! For the world is a harsh place. You never know when someone you love very much can be taken from you; whether by death, another person, or your own foolish mistakes. Don't be stupid and end up like me.
God bless you all...
On another note, it's quite liberating. To finally show my true feelings when I had been so emotionally closed off for so so long, is a pretty big deal for me. That even though I lost someone I love dearly, and am very sad, I feel that I can maybe now someday partake in a 'serious' relationship if I ever meet someone that I actually liked. The fear of a serious relationship has left me. And baring my all has somehow purged my soul. I can't explain it! I feel frikkin' cured! Or like I was baptized. No joke. All I know is someday I'm going to make a damned good boyfriend now. Summer is coming and physically I'm feeling great! I have several things to be thankful for; I'm the thinnest I've been in 9 years, my foot problem is 100% gone, I got money, a new decent job w/ benefits and paid vacations (something I've never had), I partially remodeled my home (it looks awesome!), I'm in a rockin' band (and maybe another one coming too!), my debts are almost paid off, I have a great family, and apparently I look youthful for my ripe old age of 47, or so people have recently said. Ohhh, I'm still ooold, trust me! But I still have 'the heart of a youngster' and I shall not give up on finding true happiness someday. It's a very tough life lesson to learn, but at least I know now that I can still love. I have had a revelation, and I intend to learn and grow from it. I am truly changed. I am excited to see what the future holds for a changed Eddy.
Maybe finally doing the right thing at the end of this relationship reversed the bad karma I brought upon myself. I don't know.
I do know this summer will be one to remember. I love doing what I do and I'll never stop. I'll see you peeps at all these badass shows coming up this spring and summer (see below)! I'm stoked and ready to see a bunch of these! Slayer. Iron Maiden. Metal Church. Clutch. Ghost, Louder Than Life and maybe even Rocklahoma! Don't be shy when you see me, say hello. I love meeting you good folks. Ohhh, yeah, my band Year Of The Gun (we have a new lead guitarist, Tyler Siders, and he has been killin' it!) is opening for Bobaflex at Trixie's on April 20, so come on up and see me do my thing!
I love you peeps, and thanks for being there for me in tough times.


The Metal Grapevine
Metal Blade/White Chapel Review:
Metal Blade Records and I go back a long ways. I used to buy the Metal Massacre cassettes way back in the day! And, yes, I wore them out! They brought bands like Slayer, Trouble, Fates Warning, Metal Church, Metallica, Overkill, to the masses to be heard! As a kid I loved these compilation albums! While I admit I'm not the most knowledgeable about modern Metal Blade artists, I do know that I had a helluva time watching this new-school Metal Blade roster performing at The Mercury Ballroom. First up was Necromancing The Stone, featuring members of Arsis, Black Dahlia Murder, The Absence and Brimstone Coven. I really liked this band's heavy side mixed in with Big John Williams melodic vocals. This guy can sing, has range, and reminded me of vocals of yesteryear. Feeling, soul, power. And not all cookie monster vocals like 90% of bands do now. I really enjoyed this band's music. It was the perfect mixture of good vocals and chunky memorable riffs. Allegaeon was next, and I thoroughly enjoyed their set as well. I found the guitars very technical and melodic. Very nice guitar work! The vocals were a bit much for my tastes, but it was still pretty damn good. The crowd seems to love Allegaeon, and I found myself having a hell of time watching these Metal Blade artists destroy!
There was classical influence, but it was done very well with the new school metal stylings. Cattle Decapitation was next, and I couldn't seem to get into these guys near as much as the first two bands. I dunno. I think maybe the vocals were a bit too harsh for my tastes, and the riffs were a bit too much as well. Next!
White Chapel was pretty sick! I don't know much about these guys but they had the place going crazy and it was a pretty packed house! I had no idea they were from Knoxville TN! Very cool. I thought maybe they were from LA or somewhere in California. The musicianship of Whitechapel was off the hook. Great guitars. Great drumming. Very energetic performance. The vocals were a bit too much for me once again, though. But for what the singer does, he is on the money!
Razor sharp enunciation and timing make vocalist Phil Bozeman stand out in his field. He kind of reminds me of Suicide Silences late singer in the way he sounds. Lead guitarist Ben savage was ripping up those leads, but I still liked the guitar work of Allegaeon a little better. The drumming of Ben Harclerode were very impressive. And the muscled-out bass player Gabe Crisp was pounding away at that bass, and had great bass tone to boot. A real good band, indeed. All were real good bands. Maybe I'm just an old fucker who prefers metal of old. But make no mistakes, I was rockin' this bitch of a Metal Blade night, and I gotta take my hat off to the Metal Blade folk. They still pick them well, even after all these years. The sound quality at The Mercury was outstanding.
I had V.I.P and had a killer view. The one bummer was I saw this one old security guard who always messes with me, whom everyone hates there at the Mercury. This douchebag gives me shit every time I see him, it seems. Once he was patting me down so I could get in, and he was overly thorough in his pat-down, almost to the point of fondling my sack. Dawg takes his job waaaay too seriously. Even his own co-workers hate him for his ridiculous over- actions. Once he wouldn't let me in the side stage entrance to get into the photo pit, even when I had a photo pass!
The reason was that I had a beer! OMG are you serious? I had a beer. Whoop-tee f**king doo. Anyone who knows me knows I do not get drunk. I drink socially to within reason, which is usually about 4 to 6 beers at the most. And when I'm taking pics, I set my beverage way off to the side safely out of the way of everyone while I shoot the band. Anyways, this dick wouldn't let me in the photo area. I had carried my beverage to that area dozens of times! So yeah, Mercury Ballroom, please fire that a-hole who takes his job way too serious. He likes his authority way too much and he gets off on being an asshole. Not cool. Other than that I had a blast! Great job, Metal Blade.
Mac Sabbath and Mariachi Metal Review:
OMG, what a night. I had a date and I took her goofy ass to this show. On the way she was wanting to know who we were going to see, so I decided to fuck with her a bit. I said "we are gonna go see Ronald Mcdonald singing heavy metal." She was like, yeah, right, and was blowing me off. I was like "yeah, Grimace plays the bass, and the Hamburglar plays the drums!" She thought I was soooo full of shit. But you could imagine my pleasure when we walked in and There were Ronald Mcdonald tee shirts for sale and huge evil Ronald Mcdonald heads onstge with lasers coming out of the eyes. It was FUNNY!! She was like "oh my god! You weren't lying!" I just smiled and soaked in my moment of glory. This chick is cute but a hot mess. She spilled her drink on the bands merch table, embarrassing the hell out of me. Then she dropped another beverage. Then at one point during the show, she seemed to be nodding off while standing up! WTF. Dating is crazy nowadays!
The first band was called Okilly Dokilly, a parody band comprised of super nerds playing metal! They were all dressed up like Ned Flanders! Goofy as hell looking. But these nerds could play! And they wrote some pretty good songs, too, as I jammed out on their set of rockin' metal, thrashy tunes. Pretty good stuff, guys!
It kinda reminded me of the scene in the movie Revenge of the Nerds, when the nerds play a concert at the end, and beat the alpha betas in the music competition! Anyway, it was just like that, but metal! Their strange mixture of punk/thrash/psychedelic was interesting to say the least, and they were pretty crazy, too. One guy used a groovebox or synthesizer of some kind, and it made some pretty cool weird sounds. So yeah, this metal was a bit different, but it was good! Okilly Dokilly rocks! I would go see them again in a heartbeat.
Next up was Metalachi, from LA. This talented band plays metal hits Mexican marichi style. I know it sounds insane, but I'm telling you it works! It's amazing. I was in awe. They even used the giant Mexican guitars for mariachi, a violin, a trumpeter who had a Gwar-like Mexican outfit, and the little shaky things mariachis use. The singer has a hell of a voice, too. He nailed it! They all wore crazy outfits kinda like a heavy metal mariachi band would wear! Giant sombreros with skulls on them. Mexican flag painted skulls. And they had a super hot chick in the band playing electric violin. She was awesome to look at and to hear! Super sexy. She did a solo that was damn good. The singer was talking like Cheech in between songs and was cracking all kinds of funny jokes all through the set. This band is entertaining and funny as hell. Excellent musicians. The vocals really stand out and I can see why this band is hot. I wouldn't have believed it, but now I am a Metalachi fan! Me and my date, and my buddy Rod Mac, who was hanging with us, were laughing our asses off as the band tore through covers like Motorhead's "The Ace Of Spades" Megadeth's "Symphony Of Destruction" Dio's "Holy Diver," Guns N Roses "Welcome To The Jungle," Metallica's "Master Of Puppets," Slayer "Reign In Blood" and Extreme's "More Than Word," where the band humped some poor girl from the audience who was only so eager to be a part of the show! Hearing all these classics done in mariachi style was soooo cool, and different! I loved it. And seeing these two bands already was worth the trip to Headliners! I love Headliners and miss the place. They have had some classic metal shows there, and for some reason, metal was put on a hold there for a good while. But now, I am hoping that Headliners will welcome back metal on a permanent basis.
Mac Sabbath, a Black Sabbath parody heavy metal cover band from LA, came on to thunderous applause as they ripped into "War Pigs," "Sweet Beef (Sweet Leaf)," "Nibble," "Never Say Diet (Never say Die),""Black Sabbath," "Children Of The Grave," "Electric Funeral," "Iron Man (I Am Frying Pan)," and going off course for a second, they even ripped into a Black Flag tidbit. The last song was "Pair A Buns (Paranoid)." This band rewrites the lyrics and makes them funny, and they write about fast food and negative things to do with fast food. They are anti-fast food you could say!
The guitarist Slayer MacCheeze was better live than on the videos I've seen. He is a damn good guitarist, nailing the Tony Iommi in fine fashion, especially for someone who is wearing a giant Burger helmet/mask with huge tusks on it on his head! It must be difficult to play like that. I would like to see inside that helmet to see how he does it. On bass guitar is Grimalice, a huge purple goofy Grimace-looking mountain of a monster. He looks like a seriously stoned Grimace! The costume looks huge and cumbersome to the max, but somehow he pulls it off and lays down some badass bass lines, especially his little bass run before "N.I.B," or what the band calls N.I.B.B.L.E. The guitarist and bassist worked very well together and made for an interesting listen. The drummer, Catburglar, a.k.a. Peter Criss Cut Fries, was on it too! My only complaint is the vocals of Ronald Osbourne (Ronald McDonald). He may be funny, and be able to work a crowd, but that guy cannot sing a lick. It ruined the overall experience to be honest. I loved the concept of Fast Food music. The goofy outfits. The gimmick of it all. The insane fast-food themed lyrics. But those horrendous vocals need to go. Get someone who can actually sing the notes needed to cover Black Sabbath songs! The evil clown motif, as well as fast food props like flying hamburgers made for a fun entertaining night, and at one point Ronald bit the head off of a bat burger. What a fun night, and fun crowd. All the bands were fresh and rockin'. It was a different night of music for an old-school foggie like me. I loved it. Thanks for bringing Mac Sabbth to town Headliners! Please bring them back again, and some more metal shows as well. It was fun.
Korn/Stone Sour coming to Cinci:
Tuesday, August 1 at Riverbend. Be there! I've never been a big fan of Korn, but seeing them at Louder Than Life kinda won me over a bit I have to say! They were good. Jonathan Davis was kicking ass on vocals.
Avatar coming to Mercury Ballroom:
Thursday, April 27 at The Mercury Ballroom. Sweden's greatest export! Avatar. This will probably sell out so you might want to get those tickets asap. Pick Your Poison and local hardcore band VAMT is opening the show.
Slayer, Lamb Of God and Behemoth in Nashville:
Live at the Municipal Auditorium in Nashville on July 30! This is a show not to miss! Get those tickets and prepare for when hell comes to Nashville!
Clutch at Louisville Palace on May 12:
This should be a doosie of a show, and The Sword will be opening for them. Black Frank and I got to party with these guys VIP backstage with Slayer (CD Release party) and System Of A Down in Chicago way back in 1998! These guys party like a MF! They had a huge bowl full of weed on the table. A smoke-all-you-want type party. Wow. That night was nuts! You've never seen a pit like those Chicago mofos get going! Brutal! Get those tickets! Stoner groove hits The Palace! It should be epic.
Ghost coming to Louisville Palace June 14:
Be sure to see Ghost in an epic atmosphere in all their dark glory. Louisville Palace rocks, so don't miss this! I'm going!
Metal Church and Flotsam and Jetsam Coming:
Yes! I have been waiting and hoping these guys would come anywhere even near here, and now they are coming to Trixie's on May 14! I'm so happy! I love Metal Church! I've been a fan forever, and they sound awesome these days now that they are reunited with singer Mike Howe! And Flotsam and Jetsam will be playing as well, so that is a double bonus! I was going to go see them in Chicago in February of last year but I started a new job and couldn't get off work! Trixie's has a fat sound system, so this should be crushing! If you love old-school metal, then by all means Do Not Miss This Show!!! Local rockers South Of Never are opening so be early. Great band and great guys!
Iron Maiden Coming To Nashville on June 13:
Ooooooh yeah!! Sweet ass sweet!
This one is a must see. Everyone is raving about attending this show! It's at the Bridgestone Arena. I reviewed The Scorpions and Ratt there several years back and it's a great place to see a show! I had a blast and the staff was super cool to us here at Louisville Music News. So hopefully I will be heading down that way come June to see some Maiden once again. I already saw them twice before, once in Columbus Ohio, and once in Noblesville IN. I'm ready for number three! Who is opening? I don't know, but I hope its someone good, like Metal Church. TIP: You might want to get your tickets asap, because peeps are talking about this one already and it will surely attract fans from several hundred miles in all directions from Nashville! So don't wait. Secure your tickets.
Obituary Coming:
Tuesday, May 16 at Trixie's w/ special guests Stonecutters and Incursion502. This should be a brutal affair.
Tuesday, April 18! Come check out a griron maeat show.
Def Leppard, Poison coming to KFC YUM! CENTER on April 24:
I never was a Poison fan, but I do like me some Def Leppard. They are amazing in concert! I love the duo guitar work by Vivian Campbell and Phil Collen. It's mind blowing!! So I'm going to try to review this one.
Amon Amarth and Goatwhore coming to The Mercury May 20:
Coming soon! Vikings! European, big-bearded, long-haired, tattooed Caucasian mofos rocking out on guitar and growling/spitting into the mic! And opening the show is a family favorite! A wholesome and disreputable staple of today's music generation – Goatwhore! Sounds like a scorching hot, get slammed in the pit, kinda metal show which only the hardiest of the metal elite attend. Battle axes and maces must be checked in at the door! This might sell out, get your tickets! Raaaaarrrrrggghhhh!!!!!
Skillet and Starset to play Iroquois Amphitheater in May:
Sunday, May 21 to be exact. This should be a good show! Get those tickets, this may sell out! The Iroquois amphitheater is one cool venue! Guys! There should be tons of chicks at this show! Hint hint.
Rock On The Range Lineup:
Unbelievably, I have never been to this big event in Columbus Ohio! But this lineup sounds pretty cool. I may have to venture up north for a few days. Hmmmnnnn. If it's anything like Louder Than Life, I'm down, and it sure looks like it. I'll review and photograph the mofo. Metallica, fresh off their brand-new 'return to real metal' album headlines! Korn! Deftones. Soundgarden. Volbeat. Primus. The Offspring, Seether, Chevelle, Bush, Alter Bridge, Papa Roach and a bunch of other more commercial radio friendly bands. Before you get mad, chill. Yes, there is a slew of heavier bands too, like Whitechapel, The Amity Affliction, Amon Amarth, Zakk Sabbath, Gojira, In Flames, Suicide Silence, Dillinger Escape Plan and many more heavies, too many to list. You can see this sweet event on May 19/20/21. Three days of music. That would be a physical challenge for my old ass, but I'm sure I can hang. Just got to make sure I'm off work for a few days after the show. So there it is. Look it up and see all the bands listed and ticket prices.
The MERF BASH for drummer Kevin Davidson:
Everyone knows Kevin Davidson, drummer for Grindstone, Caribou, 13th Level (our old band), and about 100 more bands in this town! Dude is one of the best drummers around. Kevin had a heart attack back in December, and he has recovered somewhat, but now he is knee deep in medical bills and he needs our help, so his friends are having a bash for him with some great bands playing! It's Sunday, May 21 at Diamond Pub on Baxter. And the bands that are playing are Thunderstruck, Crazy Train, Year Of The Gun, Grindstone, SOS, 99MPH, Naked Garden and more! The lineup is still being worked on, so I'll know more next month. The important thing is to help Kevin. It is all day on a Sunday, so all of you should be able to come out and support a fallen musician who is really one super guy. He is one of the few people on this planet that I trust with everything I have! So let's all show the love and make this one for Kev! See you then!
All That Remains and The Devil Wears Prada:
May 9 at the Mercury Ballroom is when this rockin' show comes through town! Locals Klinch will be opening the show, so show tha love and come out early to support our local guys!
Eagles Of Death Metal coming:
Wednesday, June 28 at The Mercury Ballroom! So come on out to get your rock n' roll fix!
Musician Of The Month
This month's feature is Louisville teenage musical genius Hunter Borowick of the bands Unleashed and Doppelganger. Be sure to check this talented young mans feature in this month's LMN.
Periphery coming to The Mercury on April 12:
Wednesday, April 12 at The Mercury Ballroom. Don't miss it! This song is pretty badass. I'm gonna have to check this show out.
Waddystock Is Coming!
May 12 through the 14 in Waddy KY, it's music festival time! Days of rock n roll fun! Two miles south of Hwy 64 on the left, live music, camping, fishing,
A Full Weekend Concert. Be there to see over 20 bands! $15 for all weekend!


Elysium Seeking Bass Player:
Rock band Elysium is currently looking for a bass player, so hit them up if you are into soulful riffs and smooth melodic vocals. I used to jam with these guys 900 years ago in Inhuman, so they can definitely play! Talented musicians. Give Eric a call for more info 502-224-2139.
LMN LIVE, Send Me Those Live Videos!!
I've been getting out and shooting some bands live! Let everyone hear you in action! Send those videos! Must be on youtube! Eddymetal1@aol.com
LMN Live – Banshee Child:
New band, new music. Good stuff too! I'm looking forward to reviewing these guys soon. Here is their song "Pay No Mind."
LMN Live – Kiss Kiss Bang:
A newer band from Bowling Green. Awesome! Soulful and rockin'.
LMN Live – American Bombshell:
Indy's top dawgz American Bombshell never fail to impress. These guys got it going on.
LMN Live – Lethean:
Check out these bad mofos doing some Killswitch Engage!
LMN Live - Shane Dawson:
Yeah yeah this is the rock/metal section, but who can't help to like Shane? The guy has skills, and he is going to make it!
LMN Live – Atomic Thrillride:
These guys have a brand new album out and here is one of the tunes! Enjoy! Sounds good guys!
Upcoming Shows
3rd Street Dive
Saturday, April 1 – Julius
Boneheadz
Saturday, April 29 – Tameless.
Brewskees
Saturday, April 15 – Zeroking w/ Untold Rellik, Pazuzu, Severed Senses, SIC and Goodnight Carnage.
Diamond Concert Hall
Saturday, April 1 – Spring Breakdown w/ Verses, Gallifrey Falls, Despite The Fallen, A Rumor Of War, You Won't Feel A Thing, The Devil Among Us and Stout. 7 P.M .$10
Saturday, – April 15 Borkar, Avantgarde Dog, Light Treasons and Chase Skinner.
Sunday, May 21 – The MERF Bash for Kevin Davidson, featuring Thunderstruck, Crazy Train, Naked Garden, Grindstone, 99 MPH, Year Of The Gun, SOS and others.
Diamond PubSaint Matthews
Saturday, April 1 – 100 Proof Mojo.
Saturday, April 15 – The Starting Five.
Downtown Library
Saturday, April 15 – Gonzofest featuring Brother Wolves, Otis Junior, Satellite Twin, Brooks Ritter, Sativa Gumbo, and Nellie Pearl. All in celebration of Hunter S Thompson. Free!
Gypsys
Saturday, April 8 – Shuvilhed.
Highlands Tap Bar
Monday, April 3 – Created To Kill. 9 P.M.
Louisville Billiards
Saturday, April 8 – Mad Alice.
Magbar
99Friday, April 7 – Julius.
The Mercury Ballroom
Saturday, April 15 – Thunderstruck
Wednesday, April 12 – Periphery.
Thursday, April 27 – Avatar w/ Pick Your Poison and VAMT.
Saturday, May 20 – Amon Amarth and Goatwhore.
Mick's Lounge
Saturday, April 29 – Mad Alice.
Spectators Bar and Grill
Saturday, April 22 – Hollowpoint.
Texas Roadhouse Bike Night (Shively)
Thursday, April 13 – Tameless.
Trixie's
Thursday, April 20 – 430 Bash with Bobaflex w/ Another Lost Year, The Complication, Year Of The Gun and Boozer.
Sunday, May 7 – Oceano w/ The Devils Among Us.
Sunday, May 14 – Metal Church, Flotsam and Jetsam and South Of Never.
Tuesday, May 16 – Obituary w/ Stonecutters and Incursion502.
Saturday July 22 Corey Feldman and The Angels.
Union Station
Saturday, April 29 – Synapse, Era Of Machines, The Devil Among Us, Lethean, Flip The Switch, Sounds Like A Lawsuit, Josh Cramer, Pray For Maria.Ironcore Resistance and Second Season.