April 2017 Articles
Cover Story
Bob Bahr
Columns
Paul Moffett
Eddy Metal
Eddy Metal
Blogs
Got Shows?
Send Them To Us
Bookmark Louisville Music News.net with these handy
social bookmarking tools:
Available RSS Feeds
- Top Picks
- Today's Music
- Editor's Blog
- Articles
Add Louisville Music News' RSS Feed to Your Yahoo!

Issue: April 2017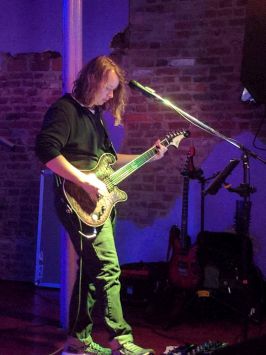 Hunter Borowick
Name: Hunter Borowick.
Age: 17.
Instrument: My primary instrument is guitar, but I also play bass, drums, and piano. With that being said, my true passion is the kazoo...
Band/Former Bands: I currently play in both Doppelgänger and Unleashed, but I have a few new/unnamed projects starting up.
How long on instrument: I've been playing guitar for ten or eleven years now.
Equipment: For guitars, I rock two Custom Comets from Harper Guitars (check them out!) along with a Rickenbacker 330 and a Fender Thinline Telecaster. My pedalboard is constantly changing but right now it is a mix of stuff from a bunch of different companies such as JHS Pedals, Strymon, Xotic Effects, and Electro-Harmonix, to name a few. For amps, it just depends on what I'm in the mood for. My favorites are the Fender Dual Showman Reverb, Music Man HD130, Fuchs Mantis, Fractal Axe FX II XL+, and Marshall JCM900.
Influences: David Bowie, D'Angelo, Parliament-Funkadelic (Eddie Hazel in particular), The Beatles, Black Sabbath, Radiohead, King's X, Smashing Pumpkins, Prince, and The Cure.
My first gig: Probably a Louisville School of Rock show at Bearno's By The Bridge.
Hobbies: Playing music of all kings, video games, and watching movies.
Favorite movies: Midnight in Paris, The Big Lebowski, Kill Bill (Vol. 1 and 2), Superbad, Clueless, The Shawshank Redemption, Inglorious Basterds, and Star Wars (all of them, but mostly the original trilogy)...
Favorite food: Sushi. 100%...
Favorite place: Chicago, IL. ...
Favorite sports or team: Chicago Cubs.
What I'm listening to nowadays: Pavement, Erykah Badu, Wilco, The 1975, Kendrick Lamar, Death Cab for Cutie, A Tribe Called Quest, Kanye West, Smashing Pumpkins, Nirvana, Black Sabbath, D'Angelo, and Anderson .Paak...
Coolest thing I've done: My band got to open for dUg Pinnick of King's X and Corey Glover of Living Colour a few years ago. They're two of my favorite vocalists ever,...
Most embarrassing moment: One time I showed up for a gig not realizing my pants were ripped right in "that area", so I had to play the whole show holding my guitar in a way that covered it.
Bad Habits: Procrastination is my main bad one. It's not good for school, haha...
What was your first concert ever: 3 Doors Down, Shinedown, and Alter Bridge.
If you could meet a Rockstar (past or present), who would it be, and why: David Bowie! He's one of my favorite artists of all time and he's just so cool. It's probably because he's from another planet...
Who do you love: My friends and family. I'm very lucky to have them...