December 2016 Articles
Cover Story
Paul Moffett
Columns
Sue O'Neil
Eddy Metal
Eddy Metal
Blogs
Got Shows?
Send Them To Us
Bookmark Louisville Music News.net with these handy
social bookmarking tools:
Available RSS Feeds
- Top Picks
- Today's Music
- Editor's Blog
- Articles
Add Louisville Music News' RSS Feed to Your Yahoo!

Issue: December 2016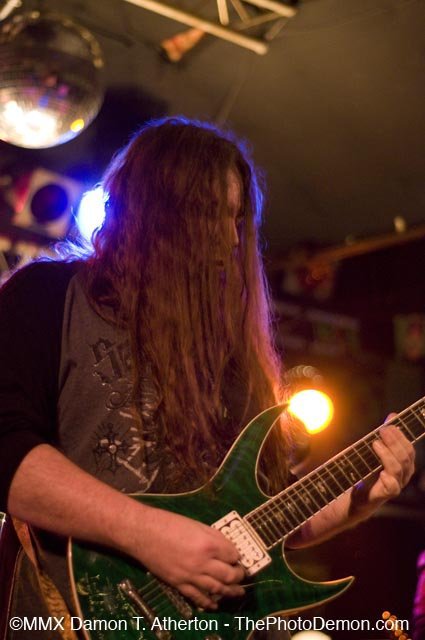 News From the Pit
2016 Wrap Up
Time flies when you are having fun. I can't believe it's Christmas time already!! I already have my Christmas lights up! What can I say about 2016? It was a fun year filled with some sweet shows and one hell of a vacation (I might head back out to northern Cali next year)! I was suddenly single for the first time in years and that turned out to be quite an adventure in itself. Dating is messed up these days, though! Wow. But it's good to get back out there and see what the world has to offer. I wasn't too impressed. I did see and review a shitload of killer shows this year, Guns N' Roses, Sixx:A.M, Louder Than Life, Ghost, Stryper, Dream Theater, Carcass, Geoff Tate, etc, and even played a few sweet gigs myself. I love what I do and wouldn't change it for nothing. I love meeting all of you good folk and hanging with my friends in the scene. There are a lot of good people here in town. I truly appreciate the support all these years. What a ride it has been!
You Win Some, You Lose Some. It's Life.
Unfortunately, my Rock For Kosair Return show was very disappointing. I had high hopes for this newly placed event, but I guess it just wasn't to be so great this year, for a few reasons I will get into.
First off, thanks to the bad-ass pro bands who rocked for the kids! And all the RFK Helpers! And the sponsors! And peeps who showed up. You rock! And it was a good time. It wasn't as bad as all that, People did show up, but I'm just used to the usual fat turnout that RFK always received. The fact is; a lot of people didn't show up this year and we did not do well financially, being that the only money came from money paid to get into the concert hall section. Many people hung out in the FREE restaurant section of the venue. Why pay $10 when you can watch music and eat for free? It's too damn depressing to say what we made. We pretty much did like 1/4 of what we usually do. There was stressful miscommunication between me and the venue, which is MY FAULT. I foolishly assumed things would be like the PHT PA-wise and door-wise and that "everyone" would pay to get in the whole venue. I didn't take the restaurant section into consideration. The door didn't work that way at Diamond Pub though, even though we bands provided the entertainment in that area. Hell, there is probably a law that says you can't charge at a restaurant! I don't know. That's what you get when you book at the same venue for 15 years! The bottom line is; I should have found out all this stuff beforehand. I'm a dumbass!! And to top off that, I wasn't feeling very well at all that night (I caught a cold the night before, after the FFDP/Shinedown), with no sleep, so the show sucked for me pretty bad. Some uncaring drama-queen started shit on this night of all nights too. VERY Stressful. PA issues. Nowhere near as many peeps as usual showed up. There were all kinds of stuff going on that weekend though. People do have lives. I tried very hard and worked my ass off for this, but I guess you can't win them all.
I'm VERY sorry to the early/late bands who played for hardly anyone. I did the best I could and thought we would have done well with TV and radio. But I guess peeps just don't go out near as much anymore unless a national is on the bill. Makes me sad for the younger newer bands on the scene, that they missed out on what was once a great thriving music scene. I still love the scene obviously, but it is but a sliver of what it used to be. But we can't give up. We must soldier on. I see bands like Despite The Fallen and Untold Rellik and I see hope. Despite The Fallen travels hundreds of miles with no guarantees of any pay and have battled tragedies in the band and here they are, soldiering on, to get their music out. And Untold Rellik from Danville plays shows all the time, wherever they can, good venues to shitholes, also with no guarantees, to just get their music out. Good people. Good music. It's bands like these that keep me going.
Thanks to Jack Brizendine, Jared Matthews and Cory Cayer for supplying a PA at the last minute (you saved us, guys) and thanks to Jared at Diamond Pub for having us. Diamond Pub is a kickass venue. Sorry for the miscommunication, bro. Thanks to the awesome bands: Naked Garden, Grindstone, Year Of The Gun, Hellfire Militia, VAMT, Doppelganger, Guerilla Red, Despite The Fallen, White Crosses, Boombox Poets, Before The Streetlights, 100 Proof Mojo, Acoustakink, Petrock, Abbuie, Jack Brizendine, Jayson William Allan. Thanks to my RFK Helpers; Black Frank, John Akers, Bill Henthorn, Jodi Graves, The Hooters collection girls, Jacob Edwards and Sponsors – Guitar Center, JandJ Old Louisville Music Shop, B Mart, Music Go Round, Sweet Style O' Mine, Truths Tattoo, Uncle Charlie's Tattoo, Commonwealth Dodge and Adam and Eve. Thank you all.
Worst of all - I feel horrible that we won't be doing near the good we usually do for Kosair Charities. But I'm not giving up! I plan on starting a GOFUNDME account for RFK to try to make up the difference and since Kosair Charites already has the toys for this year's Christmas (toys collected in one year are distributed the following year.) I may wait and have a RFK next summer and combine the two together for toys for "a big" 2017 contribution. Or I might go ahead and get the toys with the paltry cash we have now.
Maybe I'll let you folks decide. I gotta think on this one.
There are a lot of other Christmas benefits going on here and there! One at Hard Rock cafe this Sunday, for the kids!And there's even talk about a benefit for Gatlinburg's recent fire damages. So even if you couldn't make my Rock For Kosair Benefit for whatever reason, get out to these others.
It's all to the same cause.
Humanity. Compassion. Good will.
Have a great Christmas and rockin' New Year's Eve folks!
I always support you twisted sick-ass mofo's, so come out to Trixie's on NYE to see ME play horribly! Flaw is Headlining so it should be kickin'. Don't be chicken!
The Metal Grapevine
Just In - Rock On The Range Lineup Announced:
Unbelievably, I have never been to this big event in Columbus, Ohio! But this lineup sounds pretty cool. I may have to venture up north next year for a few days. Hmmmnnnn. If it's anything like Louder Than Life, I'm down and it sure looks like it. I'll review and photograph the mofo. Metallica, fresh off their brand-new 'return to real metal' album headlines! Korn! Deftones. Soundgarden. Volbeat. Primus. The Offspring, Seether, Chevelle, Bush, Alter Bridge, Papa Roach and a bunch of other more commercial radio friendly bands. Before you get mad, chill. Yes, there is a slew of heavier bands, too, like Whitechapel, The Amity Affliction, Amon Amarth, Zakk Sabbath, Gojira, In Flames, Suicide Silence, Dillinger Escape Plan and many more heavies, too many to list. You can see this sweet event on May 19/20/21. Three days of music. That would be a physical challenge for my old ass, but I'm sure I can hang. Just got to make sure I'm off work for a few days after the show. So there it is. Look it up and see all the bands listed and ticket prices.
Ffdp, Shinedown, Sixx: Am Review W/ Pics:
This was a darn good show! I was approved for media one day before the show, so I was ill prepared for what laid ahead of me. First off, I was only given one ticket. I hate that, but understand. Truth is, I would have been happy with two nosebleed seats, but it is what is is. I guess. Going to places alone is never an issue with me. I know so many people and have so many acquaintances that I'm rarely alone when I do venture out solo. So I get there and it's packed. It's awesome. I saw bunches of peeps I know before I even get in. I see a few ex's. That's always fun, especially when you straight up bust them looking at you, checking you out.
The KFC Yum! Center's peeps are good folk. They took care of me and watched my camera in between photo shoots, they were very nice. Thank you very much!
But I tell you, that crew runs a tight ship! Maybe it was good I went alone, because the photography took most of the night. I didn't get to run loose like a madman with a camera like other shows. You had to follow a tight schedule or you didn't get to go! It was fun though and worth it.
The show was awesome.
Nikki Sixx's band, Sixx:A.M., has been around several years but I had never seen them live, even though I'm a big Motley Crue fan of old. So, yes, I was stoked to see some new Nikki Sixx music! After all, I bought Shout At The Devil hot off the press and saw them live at Cardinal Stadium in 1984 on the Shout tour with Ozzy! Yup, that legendary tour! So who better to review this?
I am very impressed with Sixx:A.M. Live. Wow. This was good stuff. First off, this dude could sing, unlike Vince Neil these days. Vocalist James Michael is a wicked singer. Power. Melody. Range. Attitude. This dude has it all and I do believe Mr Sixx made a wise choice in recruiting this youngster. He performed the songs beautifully. No complains at all here. I heard no sour notes. Or half-assing.
Nikki. Well, here is where experience comes into play. I may not be a top flight photographer, but I do know my music. I know what side of stage Nikki favors, so when all the photographers took off to find a good spot, I and only one other slick guy (Michael Deinlein) knew exactly where to go to get the first sweet shots of the star of the band. We had Nikki to shoot, all to ourselves, at least for a few minutes. I was a few feet from Nikki Sixx and got some good shots. Nikki has always been the king of cool to me. The guy who frikkin' wrote all those Motley Crue tunes! I probably sound like a 13-year-old teenybopper, but I don't care, the guy did something amazing. And I respect that immensely. Nikki looked like his old self and really hasn't aged too awfully bad for as old as he is. He gained a few pounds, but who hasn't? It was Vince Neil who diminished Motley's performance of recent years, not Nikki. Sixx:A.M.was on fire! Nikki has never been a Geddy Lee or Billy Sheehan caliber performer, but but he does what he does well and does it HIS way!!
The guitarist Dj Ashba was a beast. I can see why he has worked with Guns N' Roses, Drowning Pool, Bulletboys and others. This dude can play!! His tone was straightforward hard rock with bite, but his effects and solo sound were amped up and effects-driven melodic mayhem. Shredding. Chunky rhythms. Insane soloing. Pretty sounding parts. I loved the diversity! Dude was all over the place on the stage, as well as the fretboard! Damn. Once again, excellent choice Mr Sixx.
The Sixx:A.M stage setup was primitive, a few flames and some sexy backup singers, but who needs all that fancy stuff when you got a good band going? There was no need.
They played "This Is Gonna Hurt," "Rise," - which was a great and powerful heavier song - "Prayers For The Damned," "Lies Of The Beautiful People," "Stars" and finally "Life Is Beautiful." The crowd sang along loudly for this final song, their biggest hit, a song I really like. Singer James Michael showed his appreciation to the crowd for being so loud. It looked like they were having lots of fun.
The drummer for hire did well, too. Very solid playing.I liked the music, I liked the guitar playing. I liked the vocals. I liked it all and would go see them again in a heartbeat. And I suggest you do the same. Good stuff.
Shinedown.
I've reviewed them several times, so I'm a bit burnt. But I will say that these are some good dudes. Very talented, good dudes I might add. I mean wow.
They played a great set of music to adoring fans. It was kinda special in some way. I can't pinpoint it, but there was something there this night. A feeling of togetherness. A holiday from your problems? A time to be with those you love? I don't know. But I do know this. Hearing Louisville sing the chorus for "Simple Man" sent the hairs on my arm standing straight up. It was loud!! Maybe the loudest crowd I've heard sing a ballad like that. And you sang pretty dang well, too, peeps!
Shinedown played a bunch of great tunes, "Adrenaline," "Fly From the Inside," "Diamond Eyes (Boom-Lay Boom-Lay Boom)," "Unity," "Enemies," "Call Me," "State of My Head," "Second Chance," "Cut the Cord" and their acoustic cover of Skynrd's "Simple Man," which brought the house down (we rednecks love our Skynrd, don'tcha know) and they ended with "Sound of Madness," in which Brent sang in a circle of sparks shooting straight up. One false move and he woulda been ashes! Wow. My dumbass would have forgot and gotten roasted.
The vocals sounded great and so did everything else. No noticeable mess-ups or issues. The acoustic guitar sound on "Simple Man" was a sweet tone, for sure! Not an overly fancy stage setup, either. Some flames. Strobes. The usual.
Such a great band all around. Little dudes with a huge sound and apparently huge hearts. For a second time, singer Brent Smith reached out to shake my hand. He did that at Louder Than Life also. I think that goes to say that this guy is one cool down-to-earth MF who really appreciates the fans and people who support him. Sometimes rockstars treat us media peeps like crap. Brent Smith is not one of those rockstars, and he is one hell of a vocalist, even though this radio-friendly music is not really my cup of tea, musically. I respect Shinedown and think they are an impressive band. Great set.
FFDP. Oh, yeah. I like this band.
These guys are metal, but melodic metal, which I can dig. They are heavy, but have a softer side too, which is great. Too many metal bands these days are afraid to show emotion. These guys aren't and look where it has gotten them! Nuff said.
I've seen/covered these guys several times before and I always enjoy seeing them play. On the first song, bassist Chris Kael walked over to me and said "what's up, Ed?" I've known that cat since 1997, when he was just another BC Rich bass-packing, struggling, Kentucky musician. Congratulations, Chris! I never knew a rockstar before they were famous, till now. I'm happy as hell for the guy.
The band was in fine form as they tore through their set. Tight. Powerful. Emotion-packed riffs that seemed to set the air on fire. Guitarist Jason Hook was tearing it up this night. Is it me, or does it seem that this guy keeps getting better and better? He sounds improved. Not that he was bad before at all. Juss saying! Dayyyum, dawg was killing it! Ripping up leads like it was nothing.
Vocalist Ivan Moody was his usual self. This dude has a great voice. Live. On records. Whatever. His tone is real good. The melodies he comes up with a sweet. And he tries very hard to do well. I just wish he would quit trying to be such a bad-ass all the time. Always talking about beating someone up. C'mon, man. All that isn't necessary.
I've heard some real bad stuff about him lately, but that stuff didn't happen at our show, so it's all good. He put on a great show that night. The band put on a great show.
Guitarist and founder Zoltan Bathory seems like a real cool dude. I've never met him but I can tell he would be a humble down-to-earth dude. He always seems very friendly to us media folk, waving and smiling. Every time. Another cat who appreciates those who help. It makes me feel good to know that I am appreciated and the effort I put forth is noticed by the artist.
FFDP played "Lift Me Up," "Never Enough," which is one of my faves, "Wash It All Away," "Got Your Six," "Bad Company," (that sounded killer) "Jekyll and Hyde," "Burn MF" and an acoustic instrumental version of "Wrong Side of Heaven," which the crowd also sang happily along to, "Remember Everything," "Coming Down"and "Under and Over It." The final song was "The Bleeding."
My favorites were "Never Enough," "Bad Company" and their biggest hit and final song, "The Bleeding." Three really well-performed songs.
Other highlights were Jeremy Spencer's bad-ass, laser-lighted drum solo about midway through the set, in which he played several types of drum techniques and musical styles (some of it even sounded like samba or Latin beats) and Jason Hook's solo when he was lifted high on a pole that shot upward while he played his solo. This was when he went to town on that guitar!
Zoltan and Jason's tones were super-sweet to any guitar fan. Chris' bass tones were monstrous and he is still quite the character onstage. These guys are super tight and they have good music.
When it was all over, I had had a great time at the KFC YUM! CENTER.
I'm looking forward to see what they have in store for us in the coming months/years.
More shows like these, please!
Stryper Review W/ Pics:
I am soooo glad I went to this show at the Mercury Ballroom. Wow! This show was bad-ass. All original members, all still healthy and still kicking major ass! The PA sound was excellent. The guitar tones were soaring.A"sweet"crowd for a Sunday, too, get it? Vocalist Michael Sweet still has an excellent voice, that of an angel. That dude can frikkin' wail still. He hasn't lost it one bit! How is that possible? Did he sell his soul? He hit some high notes that left me wondering if I can father children anymore. (I think his voice exploded one of my testicles.) He sounded great and still very powerful. Is this guy human? He still looks relatively the same, too. His brother Robert Sweet's drumming was wicked. He still looks the same, too! He still has that same "Farrah Fawcett" hairdo, with the yellow n' black striped drums. And he still pounds the shit out of them, I'm telling you! Christian or not, he makes those drums his bitch. Bassist Tim Gaines isn't a rail-thin humanoid any longer, but a healthy, happy fellow, it seems. He was loving it, you could tell by that mile-long smile. His bass tone was awesome. His backup vocals were on point and when added with supreme vocal effects, the outcome was spectacular sounding. It was the whole mess, Michael's killer high vocals and scorching leadwork, mixed with Oz Fox's chunky axe tone, mixed with Tim's polished bass lines and sweet backups, compounded with Robert's hyper drumming, made for an unforgettable show and maybe one of my top shows of 2016. I saw total all-out metalheads at this show getting their metal fix. Black metal Muthafuckaz. It didn't matter, Stryper is old-school heavy metal. One of us.
Yeah, it was old-school 101 and I was an inspired student, paying heed to whatever my interesting teacher had to offer. And offer they did.
The band tore through the whole album To Hell With The Devil and a few extras for good measure, including a cover of Black Sabbath's "Heaven And Hell" and Kiss's "Shout It Out Loud." "Heaven And Hell" was awesome! Wow. Michael's vocals shone on this one. Dio would have been proud of him. They played hits "Calling On You" and "Free," which is one of my faves, and they ended the night with "Soldiers Under Command," one of their heavier rawer tunes. Killer.
The band was über tight, all original members who knew each other like the back of their hand. They have been rocking together for decades! And it's great to see that they rock harder than ever now. Impressive with a capital I. I hurried up with band practice to get to this show and I'm glad I wasn't too tired or lame to go, because I had an excellent time and so did everyone else.
Stryper still has it, everyone, more than ever.
I got some sweet pics, so check them out!! If you didn't go to this show, you f**ked up, buddy!
Thanks to the Mercury Ballroom.
Superjoint Ritual And Battlecross Coming On January 24 At Diamond Pub:
This should be a rockin' good time to work off those extra holiday pounds! In the pit!! Child Bite and VAMT will be opening the show. Tickets are $35 to $30. Phil sounded real good the last few times I saw him. This should be interesting.
Steve Martin And Martin Short Coming:
Saturday, March 18 at Louisville Palace! Yeah yeah, I know, it's not music. Too frikkin' bad! I'll write what I want! Anyways, how can anyone not like actor/comedian Steve Martin? Saturday Night Live, The Jerk, Planes Trains and Automobiles! Great movies. Or Martin Short for that matter. Steve is a frikkin' legend and Martin Short is funny too! I loved him in that movie Clifford. Funny stuff. Be sure to see this show! It will probably sell out, so get those tickets now!
Tesla Coming To Louisville Palace:
Eighties rockers Tesla will be at Louisville Palace on Sunday, February 12. I love these guys! Great band and good down to earth people. I've interviewed them and they are very nice. Attend this show, it's a must see!! Here's my fave tune by them.
Breaking Benjamin Coming To Mercury Ballroom:
Wednesday, January 25, Breaking Benjamin returns to The Mercury Ballroom, but this time they will have full electric versions of their music! Get those tickets now! This will sell out.
Steel Panther Coming!
Super sleeze rockers Steel Panther will be at the Mercury Ballroom once again on Tuesday, December 6. I love these guys! Don't miss this awesome rock show!
Pop Evil Coming!
On Tuesday January, 10 Pop Evil will be at the Mercury Ballroom.
Lita Ford Coming!
On Friday, December 16 the legendary Lita Ford will be at the Mercury Ballroom, so be sure to check her out!
Incursion Back With A Bang:
Louisville metal kings Incursion are back. And they are back with a bit of ooomph! They just played with The Black Dahlia Murder and I saw some video and it looked like a successful show! Drummer Nik Houpt was killing it. I almost went but I was still sick from the RFK cold I had. Sorry. Welcome back anyways guys. Congrats on a good comeback gig. Makes me wanna play metal again bad!!! Raaaaarrrrrrrrrrgggghhhhhh!
Musician Of The Month. Naked Garden Drummer Jeff Williams:
Jeff has been in the scene so long, he is pretty much a legend. Be sure to check out his feature this month in LMN!
New Band Alert: Verses:
Verses is brand-new metalcore band out of Louisville. Singer Trey Landrum used to sing for 7DaySun, who played many good shows in the scene in their heyday. The rest of the guys are newbies, but they can play! The guys have a CD coming out on New Year's Eve, with their CD release show at Trixies that night w/ Flaw, which I'll also be playing, so come out and support this good new band by buying a CD. Verses is Trey Landrum - Vocals, Derick Phillips – Guitar, Dylan Arnold - Guitar, Brayden Hupp - Bass, Robbie Logsdon - Drums.
Here is a sample of the new stuff!
New Band Alert; Darkening:
I've met some really cool Cuban people at my favorite restaurant, Havana Rumba, and they absolutely love metal. We talk about it every time I go there. I get to get killer food and see some friends! It's a win win. Well, those guys now have a band going and it's some seriously killer stuff. Cuban metal! I'm digging it.
They are called Darkening. And it's some brutal stuff, indeed, but different and cool. Coming from another country tends to do that, often! An escape from this country's lame radio bands is a welcome change for me. I can't wait to see my Cuban brothers let loose live. Welcome to the scene, my friends. Darkening consists of Ernesto "Pistola" Rivera – Vocals, Jordany "El Mayoral" Perez – Drums, Todd "The Stone" Hawkins – Bass and Oscar "Thrasher" Pita – Guitars. I was impressed with the music. They have a show coming up on January 14 at The Cure Lounge, so don't miss these guys!
Here is a sample of Darkening.
LMN LIVE, send me those live videos for consideration! No Nirvana covers!!Eddymetal1@aol.com
Lmn Live – Lethean:
Lmn Live – Detainment:
Check out this new band!
Lmn Live – Heart Of Kings:
Louisville metallers Heart Of Kings.
Lmn Live – Despite The Fallen:
Great band.
Lmn Live – Klinch:
Rock on!
Upcoming Shows
Boneheadz
Saturday, December 3 – Tameless. 9 p.m.
Brewskee's
Saturday, December 31 – NYE Bash w/ Untold Rellik, Lethean, Guerilla Red, Heart Of Kings, Lost In Eden and Redbones. 6 p.m.
Friday, January 13 – The Capricorn Party w/ Hotstop, Lethean, Guerrilla Red, Klinch, Corpus Malik, Beyond Duplication, Zeroking, Jayson William Allen's Poetry of the Dead. 6 p.m.
The Cure Lounge
Saturday, January 14 – Hellfire Militia, Stout and Darkening. 8 p.m.
Diamond Concert Hall
Monday, December 5 – HedPE w/ Boombox Poets and Untold Rellik. 7:30 p.m.
Tuesday, December 6 Trapt w/ Adaptize and others. 7:30 p.m. $16 - $32
Tuesday, January 17 – Powerman 5000 and Orgy w/ TBA. 7:30 p.m. $20 - $40
Tuesday, January 24 – Superjoint Ritual w/ Battlecross, Child Bite and VAMT. 7:30 p.m. $25 - $30
Thursday, March 23 – Amorphis w/ Swallow The Sunday, 8 p.m. $22 - $60
Hard Rock Cafe
Sunday, – December 4 – Rock The Holidays featuring Seasons After w/ And The Six, Despite the Fallen, 8 Lbs Pressure, Charming Demons, Untold Rellik, Klinch, Mundane Nation and Jayson William Allen. 12 p.m.
Highlands Tap Room
Monday, December 12 – Lurker At The Threshold. 9 p.m.
The Mercury Ballroom
Tuesday, December 6 Steel Panther. 8 p.m.
Friday, December 16 Lita Ford. 8 p.m.
Friday, December 30 Kiss Tribute Dressed To Kill w/ Pazuzu. 8 p.m.
Wednesday, January 25 – Breaking Benjamin. 8 p.m.
Third Street Dive
Friday, December 2 – Lurker At The Threshold, Artwork For The Blind and Devil And The Darkness.
Tim Faulkner Gallery
Friday, December 2 – Deck the halls fea. VAMT, American Lesions, Whiskey Of The Damned, TAE, Twisted Images, Home Skate Shop Loaded w/ skate deck art. 7 p.m.
Trixies Entertainment Complex
Saturday, December 31, New Years Eve. – Flaw w/ Verses, Year Of The Gun, Despite The Fallen, Caducus, Boombox Poets and Chadillac Dundee. 7 p.m.
Wicks on Baxter
Friday, December 2 – Doppelganger. 10 p.m.
Zanzabar
Saturday, December 10 – Americana Fest fea. Whiskey riders, John clay and Tom Boone and The Backporch Pickers. 9 p.m.