December 2016 Articles
Cover Story
Paul Moffett
Columns
Sue O'Neil
Eddy Metal
Eddy Metal
Blogs
Got Shows?
Send Them To Us
Bookmark Louisville Music News.net with these handy
social bookmarking tools:
Available RSS Feeds
- Top Picks
- Today's Music
- Editor's Blog
- Articles
Add Louisville Music News' RSS Feed to Your Yahoo!

Issue: December 2016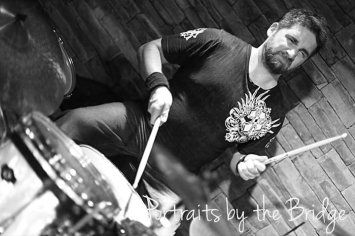 Jeff Williams
Name: Jeff Williams.
Age: 45
Instrument: Drums.
Band/Former Bands: Planet, Speed of Sound, 99mph, Big Empty, The Unknown Naked Garden.
How long on instrument: 34 years.
Equipment: Paiste Signature or 2002 (hats, ride, 2 crash, 1 china & 1 splash). Currently use Tama Superstars (5 piece + 2 roto toms) with Naked Garden.
Influences: John Bonham, Van Halen, Rush, Dixie Dregs, Crue, Steely Dan, The Police, Tool, STP are a few that influence the way I play. A lot of the music my parents listened to growing up has also influenced the way I think about playing. I like playing outside of my comfort zone, because I think that's when you learn the most. I played in the I.U.S. Orchestra for a few of my elective courses (3 semesters, then voluntarily 2 more), and really sucked, but learned a lot. Any repetitive sound can spawn an idea, so blinkers, water dripping and trains have probably been highly influential too. ;-)
My first gig: 1986 The club was Annie's in Mitchell, IN. I played Thursday-Saturday and made $180. I was so tired in school that Friday, but I got used to it. At 15 years old, that was a lot of money. Eddie Anderson & the Sixth Street Band was the band. I had to sit onstage or go outside during breaks usually.
Hobbies: Guns are fun.
Favorite movies: Almost Famous, True Romance, Gladiator, Pride & Prejudice & I could go on and on. I like watching western shows a lot. The Rifleman is my favorite. Lucas McCain is about as cool as cool gets.
Favorite food: Sushi.
Favorite place: Rough River Lake, KY.
Favorite sports or team: Kentucky Wildcats Basketball.
What I'm listening to nowadays: STP, Zep, The Mars Volta, Blind Melon, The Beatles, Tupac, Them Crooked Vultures and Soul Coughing lately I guess.
Coolest thing I've done: Opening for Motley Crue at The Palace was pretty cool. That was with my original band, Planet.
Most embarrassing moment: I would say the 2008 All Star Band, but I don't remember much of it. I heard it was a doosy.
Bad Habits: Not sleeping or eating right.
What was your first concert ever: Metallica, Motley Crue & Ozzy. Cardinal Stadium. I was forbidden to go. I went.
If you could meet a Rockstar ( past or present ), who would it be, and why: John Bonham, because he's the baddest rock drummer in history. Hopefully I'll be getting to meet his son early next month. My girl got me Meet and Greet tickets. I'll probably turn into a star struck fool. Let's hope that don't happen!!!
Who do you love: My family, my friends, my girlfriend & myself. I guess I love these 2 cats laying here beside me too.