November 2016 Articles
Cover Story
Paul Moffett
Columns
Les Reynolds
Eddy Metal
Eddy Metal
Blogs
Got Shows?
Send Them To Us
Bookmark Louisville Music News.net with these handy
social bookmarking tools:
Available RSS Feeds
- Top Picks
- Today's Music
- Editor's Blog
- Articles
Add Louisville Music News' RSS Feed to Your Yahoo!

Issue: November 2016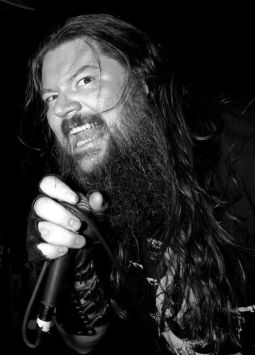 Name: Adam Neal
Age: 40
Instrument: Guitar / Vocals
Band/Former Bands: Currently Savage Master, and formerly Hookers, Blade of the Ripper, Brothers of Conquest.
How long on instrument: Started on bass when I was 13, moved on to drums and guitar a year or two later. So around 25 years.
Equipment: Right now I'm playing a Marshall Mossfet Lead and a Kramer Vector, also play an Explorer on occasion.
Influences: Mostly classic Heavy Metal and NWOBHM. But also a huge Punk and Hard Rock fan. Mostly 70's and 80's.
My first gig: A small place in Danville,Ky 1990 or 1991 I think. I was in a punk band called Chughole, we only played one show. Chris Hosner of Vibrolas was also in this band.
Hobbies: Horror movies, collecting toys and records, painting and drawing
Favorite movies: City of the Living Dead, Horror Hote, The Sinful Dwarf, Return of the Living Dead & Russ Meyer's Supervixens.
Favorite food: Fried chicken, tacos, and Indian food. Also love candy and tequila!!!
Favorite place: My bed after a long tour
Favorite sports or team: I don't really keep up with sports, but, I'll say the Bengals, 'cause a good buddy of mine will get a laugh.
What I'm listening to nowadays: Lots of new and old heavy metal. The last new bands I listened to were Eternal Champion, Sumerlands, High Spirit, Substratum. classic bands like Sacred Few, Manilla Road, Witch Cross, Cirith Ungol. Also lots of classic guitar rock and heavy rock from the 70's, early Priest, Nugent, Kiss.
Coolest thing I've done: Touring around the world playing my own music.
Most embarrassing moment: Way too many to mention, fallen off the stage a few times drunk. In Savage Master, we have had all kinds of costume malfunctions, it's hard to see in those masks!
Bad Habits: The only ones I'll admit to in public are caffeine and picking my nose....yuck!!
What was your first concert ever: First one I remember is Phil Collins No Jacket Required tour.
If you could meet a Rockstar ( past or present ), who would it be, and why: So many that would be cool, Johnny Thunders, Jim Morrison, Elvis. But my number one would be Screaming Lord Sutch!
Who do you love: Me and those closest to me. My Mother and Father, my wonderful girlfriend, my best friends and the great people that play in my bands and the many people that have helped me over the years to persevere and live my dream.