October 2016 Articles
Cover Story
Paul Moffett
Columns
Mike Suttles
Eddy Metal
Eddy Metal
Blogs
Got Shows?
Send Them To Us
Bookmark Louisville Music News.net with these handy
social bookmarking tools:
Available RSS Feeds
- Top Picks
- Today's Music
- Editor's Blog
- Articles
Add Louisville Music News' RSS Feed to Your Yahoo!

Issue: October 2016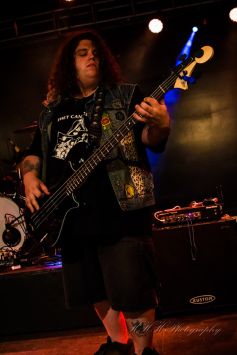 Name: Ross "Meatloaf" Epstein
Age: 29
Instrument: Bass and Drums
Band/Former Bands: Currently I play bass primarily with Doppelganger. On drums I play with The Burial (when Jamison Land isn't touring with Gwar), and The Jericho Harlot. Formerly I played with Gravity Bomb and Slugger City many moons ago. It's all been mostly punk and metal stuff. For about two years I played bass with a country band called Six Miles South (now defunct). Played for a bit with a side project of a group called Drunk & Salor that was a pirate shanty punk band. Good times!
How long on instrument: On bass I have been playing for about 15 years.
Equipment: For time and space constraints, I'm just going to list my bass gear: Basses: Primarily I use my Artist and Custom Shop Model Harper Brooklyn "Devilburst". It's an absolutely killer company that I am lucky to be endorsed by. Occasionally I bust out my Vintage Peavey T-20, my Dean Razorback bass, or if it's a really seedy venue I bust out my SX Ursa Ashnat 3 beater bass. Amp: Hartke LH1000. Cabinets: My main cabinet is my Peavey Black Widow 2x15 loaded with 2 Eminence Kappa Pro LF15 speakers. 1200 watts of delicious noise. For a backup I have a generic 4x10 cabinet with Eminence BP102's in it. Effects: I'm not really much into effects as far as the bass goes. I don't use much more than a Big Bass Muff Pie for distortion and the occasionally a Boss Chorus. I run it all through a Line 6 G50 wireless system.
Influences: I'm a bit weird in this regard. The Beach Boys are one of my all time favorite bands. I feel they get set aside as "surf rock" but they are an absolutely incredibly force in music. I feel they helped pave the way for Prog Rock. Aside from the Beach Boys my influences are fairly standard: Les Claypool, John Bonham, John Paul Jones, Derek Smalls, and Steve Harris. Before anyone complains that Lemmy isn't on the list... Lemmy isn't an influence: He's a diety.
My first gig: My first gig where I played a full show and wasn't just a fill in or guest (looking at you 7DaySun) was on drums with Gravity Bomb in 2006. We were the opening act for The Burial's CD release party. If I remember right Halfway Hollow and Project Rico were on the bill. I was nervous as hell. I started off our first song "Zombie Splitter" about 40BPM faster than it should've been, and it was already 140BPM. Was super fast but sounded good. After that, it was smooth sailing. I never thought way back then that I'd wind up playing with The Burial, or even wind up a legit endorsed musician. It's been a weird ride.
Hobbies: I'm a huge geek, and proud of it. Playing Warhammer 40k, D&D (and other tabletop games), painting miniatures, making chainmail... I'm also an avid fan of Renaissance Faires and go constantly when they are open. KHRF is my home away from home. Oh, and knitting. No clue why but I enjoy knitting.
Favorite movies: Mad Max. All four of them are amazing. Anything set in Middle Earth. Probably my all time favorite movie is Hot Fuzz. I've burned through 4 or 5 copies of that movie.
Favorite food: Sushi. Love me some sushi.
Favorite place: I'm a giant five-year-old. Walt Disney World is hands down my favorite place. I don't care what anyone says about it, either. What? I can't be a mean looking metalhead and like Disney?
Favorite sports or team: The Columbus Crew. MLS, baby!
What I'm listening to nowadays: A lot of weird stuff. The Clay People has been a regular as of late. Along with The Genitorturers, Marilyn Manson (Portrait of an American Family, not that Doll-dagga-buzz-buzz crap), Slayer, Pantera, Oomph!, GWAR, Iron Maiden, and Beach Boys.
Coolest thing I've done: I grew up a huge Gwar fan so it was very weird when Jamison (guitarist from The Burial) became their bass player. I'd already met them numerous times by that point, but getting to know them was very strange. So it was really awesome to get to open up the Gwar-BQ in I think 2012 or 2013 on the main stage and look over to the side and see Dave Brockie taking pictures and singing along to our songs. He was a fan of The Burial and an all around sweet guy. I felt very honored by it. Miss that goofy guy.
Most embarrassing moment: 1:30am and we were just now going on due to delays. By this point, I was dehydrated and hadn't eaten much all day. So we are in the middle of our song "X's For Eyes" and I start feeling nauseous. The end of that song has a very heavy double bass outro and during it I just start vomiting all over the place. On the drums, on the stage, on myself... Was not pretty. I didn't miss a beat though, and the whole band started laughing. The audience ate it up. Not literally, of course. But they loved it. The venue asked me afterwards if I was going to clean up the stage. I laughed and said no. Was a terrible but great show. Man, that whole night was weird but some things are better left unsaid...
Bad Habits: Smoking and oversleeping.
What was your first concert ever: I am ashamed to admit this... Kid Rock, Fuel, and Buckcherry w/ a surprise David Allan Coe set. Was admittedly a hell of a show. I think that was 1999 or 2000. Joe C had just died so whenever that was.
If you could meet a Rockstar ( past or present ), who would it be, and why: Freddie Mercury. That man was an absolute monster of a performer and an even more monstrous songwriter. You ever see the Live-Aid concert?! I would want to shake his hand just for that.
Who do you love: Yeah who do you looooooove! Sorry, was reminded of Bo Diddley and George Thorogood. Honestly my friends and family are the world to me. My daughter is the absolute best thing that's ever happened to me. She's going on five now and it still feels like she was born yesterday. She loves my music and I cannot wait for her to pick up an instrument and play. She's already showing an interest in bass. On top of that, I have an absolutely incredible fiance who supports me in all my musical endeavors. It takes a hell of a woman to not get mad that I have to have a band practice on her birthday weekend and only reply with "As long as you're here for my birthday, I don't mind". She also only scoffs a little when I insist I "need" a new piece of gear! Love ya, Gwen! I'm just a lucky guy to get to do what I love and be around all the people near and dear to me. I couldn't be happier.