October 2016 Articles
Cover Story
Paul Moffett
Columns
Mike Suttles
Eddy Metal
Eddy Metal
Blogs
Got Shows?
Send Them To Us
Bookmark Louisville Music News.net with these handy
social bookmarking tools:
Available RSS Feeds
- Top Picks
- Today's Music
- Editor's Blog
- Articles
Add Louisville Music News' RSS Feed to Your Yahoo!

Issue: October 2016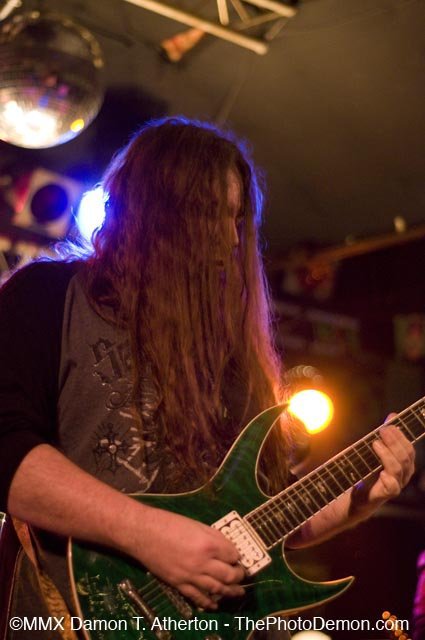 News From the Pit
Howdy folks! I just got back from Colorado / Utah, and, boy, are my lungs tired. I got very high out there, up to 14,100 feet over sea level, actually! Pikes Peak. Black Bear Pass. Monarch Crest. I was over 12,000 feet a few times! Altitude sickness did mess with me one time, making me feel sick as hell for a bit, but other than that I was good to go after I bought some canned oxygen. I'm such a tourist! What an epic trip. Two full weeks of Colorado Culture; hiking, 4x4'ing (we went on the most deadly trail in Colorado, Black Bear Pass, check it out on youtube! OMG!) , national park hopping (Arches, Canyonlands, Rocky Mountain National Park) , mineral hot springs jumping (some clothing optional) , shopping, museum jumping, Doc Holliday's grave, Royal Gorge, Anasazi cliff dwellings (that I have wanted to see forever!) etc. And I finally got to see the unearthly red rocks of Moab, Utah (it's so quiet there in Arches National Park you can hear your heart beating) and Estes Park, as well as the infamous Stanley hotel of The Shining fame. I really liked the tiny ski town of Telluride, where even a small home like mine goes for $1.8 million! Very rich people, but very nice people as well. I loved the small town of Ouray, Colorado for their quaintness and history. We went into their museum and it was creepy as hell. You could smell the age of the 1800's!
We really enjoyed the five mineral Hot Springs we went to. A few of them were clothing optional after dark, and those free-spirited Western folk aren't afraid to bare all, that's for sure.
I have a funny story for you about one particular hot springs called Orvis Hot Springs. We heard it was pretty wild after dark, so we get there right when it's getting dark and we walk in and already people are walking around naked. We had just participated in Colorado culture in the parking lot, so it was a bit awkward walking in to see that everywhere. I could not look at anyone! So I ended up finding a secluded hot springs pool out of the way in the back of the complex where it was real dark and no one was around. I was in Colorado, and on vacation! I would enjoy life and bare all and get in that mofo!! So I removed my drawers and set them on a rock near the fifteen-foot wide hot springs pool. I was so excited, I pranced around naked like a fat, happy little kid in a candy shop. It was dark and secluded, why not? Well, no more than five minutes after I sat down to soak in the mineral rich waters, eight people ran up real fast and jumped into the pool with us! And they all had clothes on!!! LOL. The horror. I had no time to grab my bloomers. No time to get up and run off. No time for shit! I was trapped in this darn pool with eight nice, partying young people from Conneticutt, who didn't even notice I was naked because it was so dark. So here I sit in this pool, my lower half submerged, but really I was panicking somewhat. I decide to play it cool and just sit there, maybe they will leave soon I, thought. Hell no! Slowly the hot water bubbling up from the earth started to cook my ass! I was frikkin' boiling. So I slowly smoothly eased over to where my drawers were and eased them into the water all stealthly. From the waist up I looked cool and collect, but from the waist down I was panicking trying to put on my drawers, and trying to find the correct leg holes. I finally did it and my jimmy was safe and covered up. Whew!! That was awkward as hell!
Another quick hot springs story was when we were in Strawberry Park hot springs, a hot springs located on top of a mountain! A storm blew up and lightning rained down upon the mountain top all around, and ran everyone off. There were naked people running everywhere!
Ahhhhh life's memories. Unforgettable.
Back to good ole Louisville. Louder Than Life. Wow!! What a month I've had. Death Angel at Trixie's was badass, my vacation rocked, and when I get home from vacation, I saw Devin Townsend and BTBAM (which jammed, too) , I finally got to play a show down at Kingfish on Zorn, the pre-Louder Than Life Show, at one of my favorite summer restaurants (it was a blast!) , and then cover and photograph Louder Than Life. Wow. What a summer!
I am soooo tired. I need a vacation from my vacation, but bills are piling up as I write this, so it's back to the grind soon. That and I have to get my shit in gear for Rock For Kosair at Diamond Pub on November 19!! RFK will be here in no time, and there is a lot that needs to be done! Vacation and LTL had me preoccupied, but now it's all about the Kosair kids!!! The full lineup will be announced on November 1.
I hope to see all of you at RFK11. Remember, this is the first one back since the Phoenix Hill Tavern closed, so please attend and help out the cause.
Poor children need our help to have a good Christmas!!
The Metal Grapevine
Louder Than Life; the review:
I had so much fun. Danny Wimmer is a genius. Bringing LTL to Louisville is like a businessman offering a man dying of thirst that just walked out of a desert, a nice big drink of ice cold gatorade, for a good, cheap price. It's a win-win situation! You can't lose. This city was so event starved that Mr. Wimmer is now a frikkin' legend round these here parts!
Yeah, it's pretty much history. This was my third year covering the event, and it was a great time just like the first two. In fact, I'm pretty sure I was one of the first columnists who plugged and supported LTL in Louisville. It feels good to have been there from the beginning.
The people, the food, the music, the smell of pungent weed just hung in the air all day (not that I partook) . For some excellent reason, the police didn't seem to care much about people smoking weed. I even heard from an inside source that the police weren't going to mess with people who smoked herb, because they were not the ones starting fights and causing trouble. This is true! Everyone got along famously. I didn't see one fight or instance of tomfoolery or violence. If anything, all the smokers did was boost the food sales tremendously. Next year I'm buying stock in the gourmet man food.
It was an amazing weekend. I can barely walk from three consecutive days of jamming, walking, reviewing, photographing, but I'm good to go now after three days of recuperating. Thank god, my super-cool boss is understanding! I estimate that I walked at least about 30 miles at LTL. But I lived to tell my tale. So now the review.
My weekend was a busy one. Trying to get to the stages photo pit was difficult at times, and manuevering in them at times was almost impossible due to the abnormally high number of photographers and security catching bodies as they flew over the barracade. I had to leave band's sets to be able to get to the photo pit on time so I could get a free spot, so I ended up missing songs that I really wanted to see. That sucks, but at least I got some decent pics! And that was a chore in itself. Never have I had a more difficult time getting pics than at this event. The photo pit was a madhouse. And then you had kids flying over the barricade one after another, feet, arms, heads crashing down upon us poor unsuspecting camerafolk. Some kids foot-clocked me in the nugget pretty hard as he flew over the wall, but I recovered quickly. The stage was so high this year, it was very hard for me to get the customary picture of the bands' setlists, which usually helps me do my review, big-time! Not this year, I was gonna have to wing it.
You can't stop LMN, mofo!
The crowd loved LTL in every way. All I saw were happy people. Young people, old people, weird people, drunk people, stoned people, freaks dressed up like superheroes, super hot chicks, Slipknot fans dressed up like their favorite band, and all manner of wild concert-going folk. It was a true smorgasborg of humanity — all playing together nicely and getting along. It was lovely.
Saturday:
Walking towards the main entrance, we heard Australia's Twelve Foot Ninja kicking ass. I liked what I heard but they were done by the time I got near the stage. My bassist was bummed because he really likes them! It took a few minutes to get in the place and to get my media passes and such. TFN has a very modern but heavy sound that I found very likable. I wish I could have seen more. The name is a bit off-putting, but the music was good! Very groove-oriented.
I arrived at the stages in time to photograph Avatar, a band I have heard a lot about but had never seen. This Swedish band had a weird little gimmick where they wore clownish, carnival-like, marionette/puppet looking, sideshow-fashioned outfits that almost looked like a marching bands outfit in the 1920's. The guitarist had a handlebar mustache from ages past, and that and the outfit made for an outrageous look. However, when they played, the music was heavy as hell and pretty damn good. I got a good look at the singer, and, man, does that guy have a bigass mouth. He opened his mouth wide, and I, thought it was a mask, it was so big. You coulda slipped a shoe in dude's mouth and not even touched his teeth! They do say that people with big mouths sing better. Hell, look at Mick Jagger and Stephen Tyler.
Avatar's style is heavy metal, but with some melodic vocals as well, which I liked. Vocalist Johannes Eckerstrom isn't shy or scared to go out there and give it his all, that's for sure! He gave 110% and did not "play it safe" on his vocals, like many singers do. He went for all the high notes as well as the heavier growls n' stuff. Up until Avatar, whilst walking in and getting my Media stuff and preparing for the day, I heard some of the opening bands and I wasn't very impressed (except for Twelve Foot Ninja) , until Avatar came on. They really turned things up a notch or three. People seemed to wake up and take notice immediately. I heard many a folk commenting how they loved Avatar after their set. I agree. It wasn't boring. It wasn't some clone of 50 other bands that all sound the same. At first, I, thought the singer was a Marilyn Manson clone, but not this guy. He had his own dealio going on, and it was quite effective. Heaviness with melody! Avatar rocked! They knew it too, as they said "We just stole the show!" They did. At least up till that point. Check out Avatar!
I Prevail and The Amity Affliction were okay I guess, but it seemed a bit too similar in styles for my tastes, although The Amity Affliction was a bit heavier. I kinda liked TAA, though.
About this time we were starving, so we went and got some grub. Island Noodles! This small booth is legendary now. Everyone and their mother had Island Noodles. I can't imagine the money they made selling spiced-up veggies and noodles to the masses like they did. I bet they made $100,000 dollars profit, because the line was outrageously long!
Hellyeah came on and played a brutal set, including "Sangre Por Sangre (Blood for Blood) ," "Moth," "Startariot," a Phil Collins cover "I Don't Care Anymore," which shocked me, and "Human." I've seen these guys a lot recently, even opening for them last year, and they are good people. I heard a few people bitching about Hellyeah's sound, but I, thought it was okay. The drums were killing. I like it when vocalist Chay Grey sings, as opposed to the screaming all the time, which he does more than ever.
The crowd surfing was in full swing as an endless line of people came flying towards the front barricade. The security was ready for it, though. More than ready for it!
Then it was time for metal legends Anthrax. I was happy. Some old school metal for me! The first song was "Caught In A Mosh" and it was killer. I don't think the younger crowd knew how to handle a band where the singer wasn't emo screaming. They played "Antisocial," "Got The Time" and, of course, "Indians." I don't think the younger folk got into Anthrax as much for some reason, and that makes me sad, but for us old-school types, it was heaven. Longtime vocalist Joey Belladonna was sounding pretty good out there. I love that guy! He actually called my house a few years back to do an interview. He is such a good dude. It was a gas to talk to one of your vocal heroes! Bassist Frank Bello was a madman, eating up all the limelight, just enjoying himself like he was king of the prom. It was cool. These guys are fucking legends in the metal world. Scott Ian was Scott Ian as usual, attacking those Jackson guitars with an intensity that is hard to match. I don't know who was on rhythm guitar, but they did well! The guitar tones were chunky and fat, just like Anthrax demands. Joey didn't care for the crowd's lack of appreciation, either so he stopped "Indians" until the crowd woke up a little, which they did finally. So the "Indians" war dance outro was rockin' and all was in order as Anthrax played their last song. These older cats still got it. Joey has to be pushing 55 to 60 and he still rocks! I'm so glad LTL has the best of both worlds, oldschool and new. They have something for everyone.
The Cult was a breath of fresh air in an over-emo atmosphere currently going on at that moment. The bands leading up to The Cult were all kinda sounding the same to me, except for a few. I have never been a Cult fan, but I do like a few songs! At first, I wondered if it was even the original singer Ian Astbury, because he no longer had that super-long, thick, black hair of his youth, but sure enough, it was him. There is no mistaking that signature voice of his. And to my delight, the guitarist was original guitarist Billy Duffy, who laid down some good old-fashioned rock n' roll guitar riffs just like what was needed at this exact moment. Like I said, I was a bit burnt out on the screamo stuff, already. Some soulful vocals and melodic leads were just what the doctor ordered! And The Cult was the doctor.
Ian didn't seem to have quite the power he used to vocally, but he sounded damn good, regardless. And Mr. Duffy was killin' it on those huge Gretch guitars. And I learned that the drummer was none other than John Tempesta (formerly with Testament, White Zombie and Exodus) . So they had a great lineup for this show. I don't know very much about The Cult, so I'll do my best. They opened with "Wildflower" and also played "Deeply Ordered Chaos," "Little Devil," "Sweet Soul Sister," "Love Removal Machine" and, of course, they played their #1 hit, "Fire Woman." I was disappointed they didn't play "She Sells Sanctuary" or "Edie," but that song would be very hard to reproduce and to sing live, so I can't say I blame them for not trying. "Edie" is my favorite song by them, for sure, though. Astbury sounds amazing on that tune. This was the first time I had ever seen the Cult, I'm thinking. Maybe once before, when I was very young, oh wait, that might have been an acid trip! Oh well, my brain is eggs on drugs.
I'm a big Cheap Trick fan, so I crossed the mile-long trail to the Zorn stage to see the legends Cheap Trick! I was on time, but I was told I had to have special permission to get pics of Cheap Trick. It was my fault. I should have paid more attention to my emails regarding the show, and then I would have known! No Cheap Trick pics. Crap!! I was ready and on time, too. So that sucked. Cheap Trick launched into a tight set of songs I did not know. All new stuff. Don't get me wrong, I love Cheap Trick, but you just wanna hear all those old hits of theirs, and maybe a new tune or two. This was the other way around, they played all kinds of new stuff, and maybe one or two oldies. One of the new tunes was even heavy and raw and gritty! Kind of shocking how heavy this song was! I liked it, and wish I knew the name of it. Then bassist Tom Petersson played a twelve-string bass solo that was appreciated by their adoring fans! Guitarist Rick Neilson was in a zone, riffing away! He still seems like he loves it after all these years. Robin Zander sounded good singing the new stuff, but I miss the classic melodies from their older stuff much better. It was drawing near the time when I had to be at the next stage a mile away so I had to leave before I heard any old songs, but as I walked away, I heard the start of "I Want You To Want Me." I ended up missing "Dream Police" and "Surrender," which sucked so bad! That was what I wanted to hear! I even heard later that Anthrax got onstage with Cheap Trick and played with them on "Surrender." I can't believe that I missed that, but I had a job to do, and I wasn't going to let down people who counted on me. I was really looking forward to hearing "The Flame," but it merely wasn't to be. Maybe next time!
It was time for Slayer!! Yes! And they did not let down. In fact, that was maybe one of the best times I've seen them! And I have seen Slayer in concert about six or seven times, at least. I have partied with them on their bus and have even been to a special VIP-only album release party! These guys know all about the true metal, and they brought it home in a very special way. Yes, Jeff Hanneman was a great guitarist and founder of Slayer, but god gave us Gary Holt to take over the guitar duties left by Hanneman.
Guitarist Gary Holt (also guitarist for Exodus) is perfect for the guitar spot left by Hanneman. You couldn't ask for a better replacement. Gary's lightning fast solos were unreal, and his whammy technique with the added effects were perfect for Slayer's sound.
The sound was thumping! The drums of Paul Bostaph were thunderous! The guitars were a bit low in the mix and I heard some grumblings later on, that it was hard to hear guitars off to the sides, which was true. The guitars were a bit low and you had to strain to hear guitars at times, unless they were soloing. The soloing was off the hook, though! Holt was tearing it up. Kerry king was good, too, but Mr. Holt was killing Kerry in the solo department. No comparison. The drums were overpowering in the mix. Overbearing. But as tightness goes, it was spot on. Bassist / singer Tom Araya was on fire as he smiled and rocked his way through the powerful set of Slayer classics. Tom always impressed me how he can play bass so fast and spit out razor-sharp, precise vocals on top of the bass riffs he is playing! Amazing! Two hard things at once!
These guys know what peeps wanted to hear and they obliged. Song after classic song was played, well. They rocked "Mandatory Suicide," "War Ensemble," "Dead Skin Mask," "Seasons In The Abyss," "South Of Heaven," "Reigning Blood" and "Angel Of Death." They also played some newer stuff that jammed as well. The new stuff like "Repentless" is pretty good, too! This shit was powerful. The people felt the power in their bones! It soaked through. The pit was crazy as can be as Slayer worked their way through the set of classics. It would have been nice to hear the guitar rhythms better, but it still was killer! Slayer destroyed! This was worth it alone.
Next up was Avenged Sevenfold, a band I'm not really into. Yeah, they have a few decent songs that are listenable, but it's not my cup of tea by a long shot.
I like the guitarwork by Zacky Vengeance and Synyster Gates a lot, those guys shred, but I'm not a fan of vocalist M. Shadows. He just comes across as cheesy a lot of the times. I learned that from their set at Ozzfest several years back. Everything else is pretty good, though, so no disrespect to those guys. They tore through an energetic set that had the younger crowd going nuts! The peeps who stuck around for them were very enthusiastic, to say the least, as they yelled and went up front to take the folk's place who had left. The crowd surfing was at an all time high for their set as they played songs like AC/DC's "Back In Black" and originals like "Nightmare," "Buried Alive," "Gunslinger," "To End The Rapture," "Planets," "Acid Rain," "Shepherd Of Fire" and "Hail To The King." "Hail to the King" was probably the highlight of the set, though, being one of their most popular songs. They did an encore of "Bat Country" and "Unholy Confessions."
About this time, I was pooped and really looking forward to my bed and a good meal. Unbelievably I got out of the parking lot in good time! Score one for the concertgoer!!
Sunday:
Ohhhhhh the agony. Aleve and energy pills for breakfast. A quick shower and I'm off!
I caught a lil' bit of Skindred as I made my way into the complex. This band from Wales is entertaining as the singer is funny. It's an odd mix of metal, rock, alternative and a few other styles like Reggae and ska. They also had a plethora of sound bytes added to their set. It's not normally my style, but they had a certain flair about them that was hard to not like. They had a good set of rockin' muisc that people seemed to love. In fact, I heard quite a few people say that they liked Skindred a lot. Vocalist Benji Webbe was a crowd pleaser for sure as he sang his ass off, using screams, singing and whatever style he could muster up. I think I heard someone say that they played a Justin Bieber song, but not being a Bieber fan I can't rightly say. This British band had good groove. At one point , Webbe told everyone to take off their shirts and twirl it around to the music, and they did! Even women! I like this guy's style.
Sabaton! More Swedish metal. Yay! Those frosty-haired Swedes sure can play. And, boy, do they have some big women! There was a huge Swedish babe backstage and she was a fargin Amazon. She was in shape, just large! Six-foot-tall women in Sweden are common! This war-themed, metal band is unlike anything going on in American music. I'm thinking a lot of Americans would not like this music, because it is deep and old school to the point of no turning back! It's very euro- metal in aspect, complete with crowd sing-a-longs. Sing-a-longs that sound like the witch's guards singing in the Wizard Of Oz.
The musicianship was awesome, though. Great guitarists, and the band looked genuinely happy to be playing such a big show in America. I doubt they get shows in America like this very often. Thank you, Mr. Wimmer. This band is different in that they base all their songs on war and historical battles throughout time. It's kinda neat. But you can really tell the vast distance of their musical style they have by hearing them. It blows my mind that these guys can tour the world and get paid so well, for playing music sooooo uncompromising. That would never happen here in the U.S. I was interested in seeing these guys, so I had walked my ass off all the way to the Zorn stage to see them. They sounded good but it really wasn't my cup of tea. Usually I love Euro-metal, but this I think was a bit too much Euro-metal for me. The devoted Sabaton fans sure weren't complaining, though. They sang along and seemed to love it big-time. Score one for LTL, for going out on a limb and giving us some rock we aren't used to.
Next up was Pop Evil. I liked this band since I first saw them years ago. Of course, they have had a few member changes since then, and it just hasn't felt right to me since. I really liked the old guitarist Tony G. The newer guy, Nick Fuelling, ain't so bad, though. He is real good, but Tony G had a superb tone and Eighties style that I really admired. PE played a good set and had the crowd going pretty good. They played "100 in a 55," where singer Leigh Kakaty played acoustic and sang, and it sounded real good. They played "Torn To Pieces" and their hit, "Trenches." Bassist Matt DiRito is a character, as he flipped his hair around and totally cheesed out on the Eighties big hair look he has going. He can play, though, and can obviously work a crowd well. Chicks seem to dig that guy. Well, the band actually! I like these guys. They are a bit commercial, but they got decent songs and they were nice guys when I met them a few years back. Real nice guys. I'm glad they have gotten as popular as they have. They have certainly worked hard for it. The band also had a new female drummer, Hayley Cramer, who did an awesome job! Score one for chick rockers!
Sevendust was next, but honestly, I had seen them so much over the years, and even covered them a few months ago at the Mercury Ballroom, so I passed on this one and went to refuel on some gourmet grilled cheese with Applewood bacon. Man, the food there at LTL rocks! But, as you may already know Sevendust is awesome live and surely kicked mucho ass. Nothing but respect there guys n' gals.
About this time, I had a dilemma.
I had to meet the LTL people to get my Slipknot Photo Pass, OR, go see Zakk Sabbath live! I frikkin' love Sabbath, so I was stoked to see Zakk play some Sabbath. I figured I'd go see a little bit of Zakk, and then walk the gauntlet back to the media tent to get my credentials! So I went to the Zorn stage to see some Zakk. He didn't disappoint either. But ... there were sound problems during his set that would have driven another rock star to throw his axe down and walk offstage. But not Zakk, he was a pro. He played and shredded like nothing was happening. At a few times there was no sound at all coming forth from the speakers, but Zakk did not stop to complain or look around bewildered, he shredded and kept going. I woulda been trippin! After about 10 or 15 minutes, the problem was solved and the real show started. Unfortunately, by that time, it was time for me to make my way back to the Media Tent, lest I lose my Slipknot pass to one of the many photographers waiting in line to get an unclaimed Slipknot pass. Bullshit! You ain't getting mine, mofo. I saw Zakk Wylde this summer, too, and wasn't that impressed with the mostly acoustic show he had for us. But this time it was different. He was playing some Sabbath and Zakk playing Sabbath is something else entirely. "Children Of The Grave" and "Snowblind" were ruined by the soundguy's issues. But "War Pigs" and "Into the Void" were rockin'!
"Into The Void" was especially badass. I'm not a fan of Zakk's voice, but he was nailing this one very well! Way to go, Zakk. He does better at singing Ozzy than he does himself. It sucks that I had to miss "Fairies Wear Boots" and the part where Zakk walked into the audience and rocked out at point blank range to the masses of adoring Sabbath fans, but it is what it is. I'm not letting some new photographer steal my well-earned Slipknot access! Helllllll, naw!
I got back to the main stage in time to hear a little bit of Alter Bridge. They really are a good band. And singer Myles Kennedy didn't overdo himself this time. Sometimes that guy tries a little too hard to be a great singer, and it shows. But they were on point tonight as they weaved through song after song, of which I didn't know one song title. Sorry, but I'm not a huge fan of Mr. Kennedy, and don't know much of these guys' music. Mark Tremonti was killin' it on guitar, though. Any guitarist would be impressed with this playing. The music is good, but the vocals are just not my style, even, though Myles sounded much better this time around. The crowd enjoyed it, and that is what matters.
Ghost was awesome! I know I know. A lot of people don't like Ghost, or see why they are so popular.
I'm not a huge fan either, but I think it is the melody and superb guitar tones that attract me to their music. It's slow, brooding, melodic, evil, sinister. Vocalist Papa Emeritus is a badass. He is different.
As I was taking pics, I noticed that Papa was a bit advanced in age. He is up there, but you can't tell by his performance or a lack of energy. He was very good. The keyboards add a certain sinister element to the music, too. I really really like the guitarwork of the nameless ghouls. The Gibson guitars matched up with whatever amp they are using (I wish I knew) was quite a sound. The sustain of their sound was off the hook. Maybe that is why I like Ghost. But Papa does sing well, and does seem to be a bit of a showman. He didn't wear as much makeup and costumes as he usually does. I noticed a new ghoul this time around, a female Ghoul on bass. She did well and had a pretty fat, bass tone, too. Ghost played "From The Pinnacle To The Pit," "Ritual," Cirice," "Year Zero," "Absolution" and "Mummy Dust." I made sure that I saw these guys n' gals at LTL. Ghost put on a great performance and it was a welcome change from the commercialized headliners that were coming on next.
Korn kicked some ass. I'm not a huge Korn fan, but I liked their set. I got some great pics. Jonathan Davis was in fine form as he rocked his way through the decent-sized set of Korn classics. They opened with "Right Now" and tore through "Coming Undone" and a new song that they debuted live, featuring Corey Taylor of Slipknot, called "A Different World." This was the talk of the day! Korn playing with Slipknot. I'll see if I can find a video of the song for you peeps! It wasn't bad, but I like the older Korn much better. They played "Shoots And Ladders" complete with bagpipes. I love that song! It might be my favorite Korn tune. The crowd went nuts when they saw Davis come out with the bagpipes! I wish I could have gotten a pic of that. That might have been the highlight of their set. Of course, "Blind" was well received by the fans, considering it was one of the first hits. Jonathan sounded good and was happy as he smiled to the crowd. I love Korn bassist Fieldy's bass tone. It's one of the better bass tones in rock at the moment. I don't know how he gets that compressed, thick, punchy, bass tone, but it is monstrous. It is the signature Korn sound! Dude is a monster on bass.
I was unhappy, because during Korn the photo pit was all but inaccessible to us photographers. You had to go to one spot and stay there and hope that the band members came over to you. I didn't get many good pics of the guitarists, but I got a few decent ones of Jonathan and Fieldy. The guitars of Munky and Head were low and thick and jamming. I didn't even know that Head was back in the band after leaving several years back to become a born-again Christian. It's good he is back, because he is the innovator and brains behind the nu-metal guitar that Korn is famous for! Korn was in a zone at LTL. Like I said, I've never been a big fan, but tonight they were on fire and I enjoyed it quite a bit! Surprisingly.
Korn ended their set with "Falling Away From Me" and "Freak On A Leash." Awesome!
Disturbed came on to "Ten Thousand Fists" and got the place going. I have not been much of a Disturbed fan, especially since I met David Draiman backstage one year and he was an a-hole. Arrogant to the max. A douche! However, guitarist Dan Donegan was a super nice guy, so I will not hold David's actions against Disturbed as a whole. Dan is a badass on guitar. He's not a super-shredding virtuoso like a lot of other rockstar guitarists are, but he does what is needed and does it well. He is an inspiration to guitarists like me, rockers who aren't overly skilled but can still rip it up and play good songs! Even though I don't particularly like Disturbed's music, they did put on an energetic set, complete with flames shooting up and big movie screens! I, thought my forehead was bubbling as those flames went up when I was in the photo pit! It was hot!!
They ripped up "The Vengeful One," "Stupify," the Simon and Garfunkel cover "The Sound Of Silence," which was very cool and eased the crowd down like a charm from the frenzy of the first few opening songs, a few covers by U2 "I Still Haven't Found What I'm Looking for," The Who's "Baba O' Riley" and Rage Against The Machines' "Killing In The Name Of." "Indestructible," "Voices" and last was "Down With The Sickness." The band was tight, the sound was perfect, and Draiman sounded very good, even for a egotistical butthole. So there, I said it. They were good.
Slipknot was next and the photo pit was nuts. Many photographers were not included, but seeing as I have been there from LTL's humble beginnings, I was included. Thank you. The masks, the low-tuned guitars, the huge drums on risers, the extra drums, the melodic vocals of Corey Taylor. Yeah it was pretty sick. I am also not a huge Slipknot fan, but I respect what they have done so I was anxious to see these guys up close for the first time. I reviewed them before in Lexington, but I didn't have a photo pass for that show I think. Or maybe I did! It was years ago so, I don't rightly remember. Anyways, Slipknot was crazy! Those dudes were all over the place! It was a carnival of madness as they ripped through their set. Fans went nuts, too. Younger people LOVE Slipknot. I saw all kinds of Slipknot masks in the crowd all weekend long! Just waiting for them to go onstage and tear it up.
And tear it up they did. The extra drums on a rising drum pedestal was cool and different from anything I had seen before in my sixteen years of reviewing shows. So basically they had three drummers — at least — pounding away! One full kit and two sideshow-looking rising extra drums encased in crazy looking enclosures that resembled beer kegs! The plethora of drums was thick sounding and I'm glad it was a good sound for these guys, because when I had seen them at Ozzfest one year, the sound was distorted and lousy! You could not make out the notes of the guitars. It was a bit too much going on at that one time, I think. The soundguy was befuddled. But not tonight. It was jamming and they had a good sound! They had a turntable or soundbyte samples going on somewhere onstage, but being that the stage was so high up, I couldn't see where. The crowd sang along to much of the band's set, especially ""Wait And Bleed." At one point, I was thinking "shut the fuck up and let me hear the band!" Nothing is worst that drunk idiots who can't sing, drowning out the headliner! Corey sounded good, but it was kinda hard to hear him over all those drums up front! He was a little low in the mix, I think. Guitarist Mick Thomson was an animal! Killing it on guitar. He didn't move much, but who can blame him. Riffs like that are complex and require stability and great balance. So there is no jumping around for all that. I couldn't see much of what guitarist Jim Root was doing from where I was stuck at (a tiny spot between speakers) . Nor was bassist Allesandro Venturella in the front much.
Slipknot played "The Negative One" "Eyeless" "Killpop" "Dead Memories" "Left Behind" "Psychosocial" "The Devil and I" "Wait and Bleed" and they did an encore of "Surfacing" "Duality" and "Spit It Out." The highlights for me were "Wait And Bleed" and "Duality!"
I admit it, I was tired as hell, my back hurt, my legs hurt. I was dirty and needed a shower, but I hung tough! LTL would soon be in the books and I wanted to do a good job for the LTL people who had been so good to me.
It was over. I was looking forward to going home and cleaning up and resting. It turns out the next few days I would be barely able to walk I was so sore from all the walking, and the beatdown that I endured trying to get pics in the overcrowded photo pits. Hell, just getting to the photo pit was a challenge in such a large crowd!
Overall, it was a blast. Great music. Very good people, who took care of each other, instead of fighting. Great food. Great booze (even though I probably drank no more than eight beers the whole weekend, the pale ale was great) ! I saw so many friends and readers of mine who graciously came up to me to tell me they enjoyed my column and music that I play. I was in cheeseball heaven!
You can't ask for more. Pure comraderie. Family.
It wasn't just another concert. It was Louisville history.
Years from now, they will say it was the time when Louisville came of age and decided that it was time to stop being left behind in the dust of other cities accomplishments, and to pave the way for a new beginning. A rocking beginning!
I'm just glad to be a part of it. Thank you, Danny Wimmer and crew. Thank you, Kristine!
Louisville thanks you.
Death Angel @ Trixie's Review:
I needed some metal leading up to my vacation, so I went out to Trixie's for a dose of some old school, bay-area thrash. I've never been a huge fan of Death Angel, but I like a few of their songs. My ex used to like them quite a bit (thank god she wasn't there!) so I was used to hearing them quite a bit. Death Angel was awesome! The vocals of Mark Osegueda were pretty much spot on from what I can tell. Honestly, I thought the vocals would be lacking in power, but they most certainly were not. Dude was killin' it! His high notes were very impressive. Power. Range. Strength. His punctuation was spot-on as well. Guitarist Rob Cavestany was a beast! I really enjoyed watching this guy shred. Wow!! Such emotion. Such power. Killer guitar tone, too. A complete package. The band roared through a decent sized set of songs that I did not know the names of. All I know is that they didn't play "I'm Bored'" which kinda sucked for me. The band was razor-tight and put on a great performance. Better than when I saw them years ago. Trixie's has stepped up their game, and its become a great place to catch smaller national shows. I LOVE going to shows there! And you mofos know how many venues I get to see! The sound. The lights. The feel of the place just rocks. And being able to go look at half-naked hot chicks at any time is a plus as well. I don't hang out on that side of the place, though. My strip club days are over, I'm afraid. I go for the music now.
Local hardcore metalists VAMT opened the show, so I made sure I got there in time to support them. Those guys did a good job and sounded much better than the first time I saw them. They got much tighter and better as a unit. Louisville metal veteran Vic Hillerich belted out the tunes as he always does! With much enthusiasm. Troy Edlin is great on drums. My former bandmate, bassist Marcus Goldsmith is the quintessential metal bassist. Andy Garrett has tons of experience on guitar. While it's not my cup of tea musically, it's pretty heavy powerful music. And if you like a hardcore, almost punkish feel to your metal, these guys are worth looking into! Check out VAMT.
Devin Townsend and BTBAM Review:
I had a critical band practice this night, so I was late getting there. Too late to photograph BTBAM, but early enough to check out some of their set. They are a great band, no doubt, but the vocals left a lot to be desired, in my opinion. The music was very complex and off the hook, but it was too damned complex. I find that that loses the average listener. Musicians really appreciate all that technique n' stuff, but the average Joe doesn't give a shit, for real. The use of keyboards or whatever instrument the singer Tommy Giles Rogers Jr used was insane! Very cool and progressive. Unfortunately, his vocals fell short of impressive. I don't know much of this band, so maybe it was just that he was having a bad night. I used to have many bad nights when I sang. It happens. The guitarwork of Paul Waggoner was amazing. He is a true virtuoso. The drumming was real good, too. I have no complaints except those damned vocals. It's like a super hot chick, a 10! Perfect body, perfect personality, perfect attitude, but then she speaks and she sounds like a whiney, super-annoying witch. Okay, maybe he wasn't so bad, but to me it just didn't work with the awesome music that was being played. All the wicked instrumentals in the world really don't mean a thing without some good vocals to go with it.
Yeah, I am drinking deeply of the hatorade. Oh well, it's my opinion.
Devin Townsend came on and played an entertaining show to a nice crowd. People love that guy, and I can see why. He is great! Weird. Different. Creative. And super-talented! Dawg can play lead guitar like it's nothing. I'm talking some badass melodic shit! Or some super shredding. It don't matter to Devin. All the while singing over his playing. It's not some lazy slacker vocals either, it's some real hard shit to sing too! Devin has that high pitched vocal range that many simply don't have. Dude has power!
I wasn't able to get the setlist, so I have no idea what he played, but I'm thinking it was a lot of new stuff off his new album, Transcendence. Honestly, I did not recognize one song. I was disappointed he did not play "Deadhead," my favorite song of his solo music. That song is the epitome of Devin Townsend to me! How could he not play that? I was bummed. I also noticed he didn't crack nearly the amount of jokes he usually does for some reason. Usually you are cracking up at his antics. Maybe he was in a bad mood? Oh well, the show was still good. You could be happy just watching him riff around on guitar all night, for real! The vocals were nice, and his playing was spot-on, except once where he messed up, and stopped playing the song and brought the crowd to the attention that, yes, he indeed did f**k up, and that it was no big deal. He made into one big joke that the crowd ate up!
I love that about Devin. Nothing is too serious. He is one funny badass MF and I just love that guy to death. We partied together way back in the Toy Tiger days (in the parking lot!) and he was a good dude. A few of the new songs were good! I need to get that new album!
Devin loves his fans and would do anything for them I'm sure. But I think he was having a bad day or maybe he wasn't feeling well. Maybe next time he will play "Deadhead" for me.
Rock For Kosair 11- Saturday November 19 at Diamond Pub:
Help us help poor children have a good Christmas. On Saturday, November 19th you will have a chance to do just that! The Rock For Kosair benefit lives! RFK11 will be a Diamond Pub on Baxter Avenue. We'll have guitar giveaways as usual, and so far, I have Crazy Train, Grindstone, Year Of The Gun, Signal The Revolution, Despite The Fallen, Doppelganger, Before The Streetlights, Pet Rock, Jack Brizendine, The AcoustaKinks, Scott Clark and others T.B.A. I'll have the full lineup by November 1.
Don't forget, this is our first time (our 11th annual) having RFK since Phoenix Hill Tavern closed. This will be the first year kids will not have our help if we don't do well for Kosair with RFK11. So let's show them that we won't let the loss of PHT spoil us rockers helping the kids! Pass on the word. Share.
Thank you.
Dream Theater "The Astonishing" at Louisville Palace on Friday October 28:
Wow. Big news! This is one of Terry Harper's biggest shows since Sounds From The Underground. This should be an amazing show! I've never seen them live! I want to cover them. Oh yeah!! Count me in. here is some of their new stuff!
AvantGuardDog CD Review:
I'm checking out the brand new AvantGardeDog CD and so far it sounds killer! The first track is "Infected" and at first it reminds me of Godsmack a little, with it's chugging, heavy guitars. The Godsmack comparison ends quickly, though. The vocals of Kevin McCreery are nice. Uber-melodic with darn good lyrics. The chorus is catchy and has great effects. I'm digging the guitar tones. Duh. It frikkin' Kevin Mcf**king Creery for gods sake! One of the most badass guitarists in Louisville for sure. I've always liked that guy and had mucho respect for that cat. I feel like an asshole that I wasn't able to attend his benefit on September 18, but I was in colorado at the time. I heard it was a success, though, so that's good! I just hope Kev can also kick some ass when it comes to battling the cancer that has plagued him recently. Keep fighting Kevin!! You got this! On bass you have Mr. Chip Adams, a true bass demon. Dude is retarded good! Together they are a most formidible combo of louisville musicians who are usually doing the cover band thing, but have decided they have much more to offer than top 40 covers, and I would say that that is an understatement, as this recording proves. I like the quality of this recording. The backups work well on the choruses. The vocals sound great, but I think it woulda been badass to have a megaphone type effect on Kev's vocals on the verses. The vocal melody is great, but that effect woulda been soooo cool for that part. Mostly it's a slower type rocker ballad, but it does have it's rocking moments, so I would say it's not an all-out ballad.
"Naked Truth" is a rocker. I like the clean guitar intro. I'm really liking the lyrics to this music. Well, thought out and written. I like how the vocals are recorded. Awesome! The bass is really pumping on this tune. The solo is good, but I've seen Kevin rip it up so much more. But sometimes less is better for some songs! I know all about that. I like this one better than the first song. This has "Radio" written all over it. The clean guitar parts in the verses is cool. It's a memorable tune no doubt.
"Entwined" starts out acoustically. I really like the engineer's work on this album. He knows how to add the perfect effects to Kev's voice. It's a sweet acoustic guitar tone, too. I wonder what he is playing?
A Gibson? A Takamine? Whatever it is, sounds sweet. The song breaks out into a nice chorus, and then a very progressive rock riff that sounds pretty hard to play. Almost Rush-ish. Then Kevin comes to life as he lets loose a sweet solo with a wah type compression effect on it that reminds me of Michael Denner of Mercyful fate! It's that same tone, use of effects. The way the acoustic bleeds into the chorus, and then the progressive part is neat. It's a great mixture that not anyone could just throw together. You gotta be pretty frikkin' skilled to do that stuff. The way the song ends with the acoustic and guitar whammy with effects was a cool touch.
No doubt about it, this is some quality melodic hard rock out of Louisville. Recorded very well I must say! Damned near perfect I think. Whoever recorded this is a beast.
Drum credits go to Steven O' Rielly and Greg Upchurch. Some sweet drumming for sure!
I would have liked these guys to have played my Rock For Kosair benefit in November at Diamond Pub, but with Kevin's condition, it just wasn't possible just yet. Maybe next year, after Kevin kicks Cancers ass! In the meantime, be sure to check out this CD. The whole thing rocks. There is a lot going on in this music! True musicians can appreciate the writing, layering, and lyrics of AvantGuardDog. Picking three songs is a difficult task, and I don't like having to leave out such good other tunes from my review, but I'm seriously pressed for time because of Louder Than Life, so this is all I can do right now.
But I really would like to see these guys play live sometime. That would be a good show.
Excellent work guys! Now isn't that much better than playing Cover songs?
Hatebreed/Devildriver coming to Mercury Ballroom:
Tuesday, October 18. Here is a brutal metal show that should be very good. I like Hatebreed and Devildriver. This is one not to miss!!! ATTN: Better get your tickets now cuz this will sell out!
Stryper Coming to Mercury Ballroom on Sunday November 6:
Christian rockers Stryper will be in Louisville for the first show in I don't know how long! I liked these guys a lot growing up and they are still kicking ass! I will definitely try to be at this one! Those guys are brilliant musicians.
Big Al, Get Well Soon my brother:
Everyone and their mother knows southend Big Al. He is the cat who sings for Boozer! He is the cat who makes some bitchin-ass tee shirts. He is the cat who would do anything for you. He is one cool MF. I've known Big Al since I moved to my home on 5th street in 1995 and we've never had a bad word. Well, Big Al almost died recently, due to colon complications. Thank god, he made it through all this, minus some of his colon. Big Al has a long road back to recovery, though, and I wanted to say to Big Al. We love you bro! Get well soon my friend! It won't be long before you are back onstage rockin' as you always do. So take it easy big guy!
The Black Dahlia Murder / The Return Of Incursion / Sadistic Creator:
Wednesday, November 23 at The New Vintage! This should be a pretty sick show, and equally brutal. I know the Incursion guys have been working towards jamming regularly again, and apparently that time has come. They haven't played out for a few, so I know they will be itching to let loose. Get your tickets in advance, this will probably sell out.
Five Finger Death Punch, Shinedown and Sixx A. M To Play KFC Yum! Center On Friday, November 18:
This sounds like a fun show! And you even get some Nikki Sixx thrown in for good measure! I recently saw FFDP bassist and former Kentucky native Chris Kael at The Mercury Ballroom, just checking out some music. He was signing autographs and talking to folks. I remember when that dude was playing in local bands around here. I would like to see Sixx A. M, I haven't seen them before. My RFK show is the next night so I might go to this and pass out flyers n' stuff, if the YUM center lets me. I will ask them first. Once at Freedom Hall, I almost went to jail for handing out flyers for a show! The security chief was an asshole back then!
R.I.P., Gin Sorrow:
Former Assisting Sorrow vocalist Gin Sorrow has died. She was a very nice lady and respected Louisville metal scene veteran and supporter. She left behind two children, so prayers go out to her family in this horrible time. I didn't know her that well, but she was always nice to me and waving hello. I liked her. She will be missed. R.I.P Gin.
Upcoming Shows
Diamond Concert Hall
Friday, November 3 — Red, Disciple, Spoken and Random Hero.
Sunday, November 6 — Soilwork w/ Unearth, Battlecross, Wovenwar and Darkness Divided.
Saturday, November 19 — Rock For Kosair 11. (See info above!)
Monday, December 5 — HedPE.
Headliners
Friday, October 21 — Mewithoutyou w/ Into It Over It.
Magbar
Friday, October 21 — Sheeva w/ God Of Nothing, Sons Of Medusa, Charming Demons and Jynx. 8 p.m.
The Mercury Ballroom
Thursday, October 6 — Coheed and Cambria.
Saturday, October 8 — Hairbangers Ball.
Tuesday, October 18 — Hatebreed w/ Devildriver and Devil You Know. 8 p.m.
Sunday, November 6 — Stryper.
The New Vintage
Sunday, October 9 — Islander w/ Bad Seed Rising, Foxbat, Concealler and Amongst The Waves. 7 p.m. $12
Monday, October 10 — Carnifex w/ Left to the Wolves, Gallifrey Falls, Ascend To Dust and You Won't Feel A Thing. 7 p.m. $12
Sunday, October 16 — Icon For Hire w/ Stitched Up Heart and The Placebo Effect.
Tuesday, October 25 — Satan, Cauldron and Savage Master. 8 p.m.
Tuesday, November 1 Touche Amore w/ Tiny Moving Parts and Culture Abuse.
Wednesday, November 9 — Metro Station w/ Palaye Royal, The Strive, Before The Streetlights and Mirror Eyes. 7 p.m. $15
Tuesday, November 22 — Citizen.
Wednesday, November 23 — The Black Dahlia Murder w/ Incursion and Sadistic Creator. 8 p.m.
Trixie's Entertainment Complex
Friday, November 3 — Born Of Osiris w/ I See Stars, Bad Omens and A Rumor Of War.
New Year's Eve — Flaw, Year Of The Gun, and others TBA.
Turn Table Bar and Grill (Bowling Green Ky)
Friday, October 7 — Gorgy, Mangled Atrocity and Fornicus.