October 2016 Articles
Cover Story
Paul Moffett
Columns
Mike Suttles
Eddy Metal
Eddy Metal
Blogs
Got Shows?
Send Them To Us
Bookmark Louisville Music News.net with these handy
social bookmarking tools:
Available RSS Feeds
- Top Picks
- Today's Music
- Editor's Blog
- Articles
Add Louisville Music News' RSS Feed to Your Yahoo!

Issue: October 2016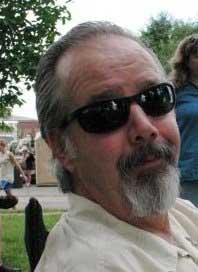 I've Got A Mind To Ramble
Bringing Festival Season To A Glorious End: The Garvin Gate Blues Festival
Just in the last day or so (it's September 27) when you walk outside in the morning there is a nip in the air. Not a chill, mind you, but a definite nip. And even though it is officially Fall by the calendar, it sure hasn't felt like it. Five days in a row of sticky, 92 degree weather does that. As I headed out this morning, the sky was clear, the sun just peaking above the trees. And there was that nip. The first thought that came to mind was this is what we need next weekend for the festival: The Garvin Gate Blues Festival, Louisville's signature blues festival that wraps up the outdoor season, the one festival organizers refer to as "one of the most prestigious blues festivals between Chicago and Mississippi." It's that time!
And let me tell you, I'm ecstatic it's here. (A disclaimer here: I am the Co-Producer and Music Buyer for the festival). While I am very excited for next weekend and two days of the best blues music you'll hear at any festival, I'm also greatly pleased and relieved that all of the long months of negotiations, meetings, disagreements, and downright hard work have come to fruition.
This is the 21st year for the festival and my 15th of helping run it. The word "helping" is what I'd like to focus on first. It is in the true sense of things, a team endeavor. The leader, Howard Rosenberg, is the man who runs the show. He is tireless, often juggling many projects at the same time. He does the most important job of all: he raises the money needed to put on the festival. Without that, there wouldn't be a Garvin Gate Blues Festival. Why? Did I mention it's a free fest? Always has been. And Howard and I agree that as long as we are involved, it always will be. Howard is our Most Valuable Player. Year in and year out. He sets a very high bar for the rest of us.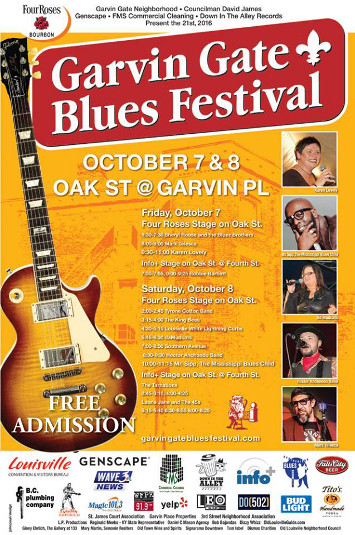 John Paul is another invaluable member of the team. John does all of the technology side of the fest. Manages the website. Takes photos. Makes posters and flyers. Does whatever odd job needs to be done during the festival. All any of us need to do is ask for something and John gets it done. Good to have on your side, indeed!
Our Marketing Maven is Lauren Hendricks. Lauren came on board with us last year and has turned around our entire approach to the marketing side. Lauren has taken the fest into a new realm. When she joined us last year, I had one goal in mind; an influx of new fans, particularly younger folk. She has introduced us to new avenues for advertisement and has hooked us up with new outlets to get the word out to a newer, younger crowd. We are involved in more social media than ever and it's paying off.
Jena Rosenberg is one of the team members you wouldn't know existed because she works behind the scenes. Jena is the Vendor Booth Coordinator. Over the past few years, our artist booths have grown considerably. And they are more diverse than ever. As the fest continues to grow, it's a given that the vendor booth area will grow with us.
As with any festival, all of the work mentioned above would go for naught if not for the sound and lights and the food service providers. Denver Clark of LP Productions joins us this year to provide the sound and lights. His company comes with high praise from many people in the festival/music business. We're looking forward to working with Denver and his company for years to come.
Adam Nugent is the key man from Festival Cuisine & Spirits. He provides the food and drink for the fest. Adam also has to be the most patient person in the world, listening to us offering suggestions! He continuously changes his menu and offerings to keep things fresh. Festival Cuisine & spirits has been with the fest the entire time, always offering quality to the fans.
Then there's me. I have the arduous task of picking the bands for the fest. Talk about your hard work (wink, wink). I have to go listen to music. At festivals, concerts, competitions and music clubs. Wherever the road and my notions take me. Plus, I emcee the fest. Up on stage with many of my friends and with musicians that I admire. Heady stuff.
And as great the fest is, the thing I am most proud of is our support for the diversity of the crowd. There is no other festival that I've ever attended that caters to people from all walks of life. It blows me away to see our community come together for their love of blues music. It's folk from all walks of life; old, young, black, white urban, suburban, male, female all dancing together digging the blues. It is a picture of what is right with our city. We are all there.
I've loved Garvin Gate from its inception, before I was involved in it. And, like the other members of our team, I love the end result of our hard work. A Blues Festival like none other. The Granddaddy of Louisville Blues Festivals. The Garvin Gate Blues Festival.
What's in store music-wise this year? Tons of talent. Local and national artists ranging from Florida to Oregon to the Midwest and Memphis. Guaranteed to entertain.
Sheryl Rouse and The Bluez Brothers return from last year's take-no-prisoners performance for what is sure to be a hot set. The "Songbird."and band open the festival Friday night on the Four Roses Stage.
Robbie Bartlett will play two sets on the Info+ Stage Friday night. She will perform as a duo with a jazzy blues set.
The Tyrone Cotton Band will open Saturday on the Four Roses Stage with his unique take on the blues. Great songwriting and the guitar work of Screamin' John Hawkins are reasons to get there early.
The King Bees are up next. Rick Cain and band will delight the crowd with their original songs, great interplay between the band and Cain's vocals and harp.
The Tarnations play two sets on the Info + stage Saturday showcasing Phillip Phillips' vocals and a tasty set of blues and R & B.
Playing three sets on the Info + Stage Saturday will be Laurie Jane and the 45s, the winner of the KYANA Blues Society's Band competition. That win sends the band to the International Blues Challenge in Memphis this winter. As always, you can expect a dynamic show from this outstanding band.
The local contingent is lead by daMudcats, celebrating their 31st year in the music biz. The Cats are always a crowd favorite. They will offer their take on House Rockin' Rhythm & Blues on the Four Roses Stage Saturday. To top it off, the band will be releasing their new CD, "Easy Does It," during the festival.
The national invasion of talent begins Friday with Florida's Mark Telesca. Over the last year and a half, Mark has really hit his stride, playing in numerous fests around the country. As a special treat for the Garvin Gate fans, Telesca is bringing along guitarist Frank Bang, an alumnus of Buddy guy's band and recognized as one of blues rock's best player. They will be joined on drums by Louisville's own Jeff McAllister.
Headlining Friday night is none other than Karen Lovely. Karen is making her return to Garvin Gate. In 2011 as a relative unknown to the local fans, Lovely simply tore the place down with her fiery vocals. She will be accompanied by Mark Bowden, one of Oregon's top blues guitar player. Rounding out the band will be local stalwarts Jimmy Brown and Jeff McAllister.
Originally from Louisville and a veteran of past Garvin Gates, Curtis Marlatt brings his band to town from Minneapolis. Those who remember Curtis know to expect expert guitar playing and a great set. Not to put any pressure on Curtis but a homecoming requires him putting on a show for the ages!
Next up on the main stage is Southern Avenue from Memphis. A band whose sound, while deeply rooted in the blues, explores soul, rock and gospel. Southern Avenue dispels the notion that young people aren't into the blues.
Another band that is leading the charge of young players into the blues scene is the Hector Anchondo Band. This is a fiery up-and-coming band from the Midwest. To quote a magazine, "His slide guitar is impeccable and voice, well, for a 30-something, it's mature for a blues singer..." Look out, Hector and crew just might be the hit of the festival.
Headlining and rounding out the fest will be Mr. Sipp, the Mississippi Blues Child. Since winning the 2014 International Blues Challenge and Gibson Best Guitarist, Sipp and band have toured non-stop and have garnered numerous national awards. What a great way to end the festival!
Check out the schedule for the 2016 Garvin Gate Blues Festival. See you down at The Gate!
Friday, October 7
Four Roses Stage on Oak St. @ Garvin Pl.
6:30-7:30 Sheryl Rouse and the Bluez Brothers
8:00-9:00 Mark Telesca
9:30-11:00 Karen Lovely
Info+ Stage on Oak St. @ Fourth St.
7:30-7:55, 9:00-9:25 Robbie Bartlett
Saturday, October 8
Four Roses Stage on Oak St. @ Garvin Pl.
2:00-2:45 Tyrone Cotton Band
3:15-4:00 The King Bees
4:30-5:15 Louisville White Lightning Curtis
5:45-6:30 daMudcats
7:00-8:00 Southern Avenue
8:30-9:3 Hector Anchondo Band
10:00-11:15 Mr. Sipp, The Mississippi Blues Child
Info+ Stage on Oak St. @ Fourth St.
2:45-3:10, 4:00-4:25 The Tarnations
5:15-5:40, 6:30-6:55, 8:00-8:25 Laurie Jane and The 45s