September 2016 Articles
Cover Story
Paul Moffett
Columns
Mike Suttles
Eddy Metal
Eddy Metal
Blogs
Got Shows?
Send Them To Us
Bookmark Louisville Music News.net with these handy
social bookmarking tools:
Available RSS Feeds
- Top Picks
- Today's Music
- Editor's Blog
- Articles
Add Louisville Music News' RSS Feed to Your Yahoo!

Issue: September 2016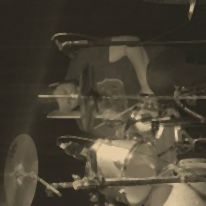 Dallas Tyler
Name: Dallas Tyler.
Age: 37.
Instrument: Drums.
Band/Former Bands: Suckerpunch, After the Fall, Buried on The Battlefield, currently Some Kind of Saint.
How long on instrument: About 25 years (I would of thought I'd be a little better at this after 25 years!).
Equipment: Gretsch drums, Meinl cymbals.
Influences: My dad, he was a drummer and introduced me to music. When I was starting out on the drums he would set the drums up in the living room and put headphones on me and play AC/DC and tell me to play along.
My First Gig: I think it was The Whistlestop in LaGrange about 20 years ago!.
Hobbies: Does chasing your kids around counts as a hobby? Hanging out with my wife and kids, playing drums, watching sports, trying to keep up with my daughter in video games.
Favorite Movies: Back to the Future, The original Batman, and the standard gangster movies everyone always mentions.
Favorite Food: Pizza!.
Favorite Place: Being on a nice beach with the family on vacation.
Favorite Sports or Team: NFL-Titans, and all UofL Sports.
What I'm listening to nowadays: I've been going through my parents records a lot lately, (Chicago Transit Authority, James Gang, Buddy Miles, old Neil Young) and pretty much just songs we have been working on at band practice. I also have to listen to DJX in the car, couldn't tell you who it is, but I know the song.
Coolest thing I've Done: After The Fall opening for Clutch at the famous Tek World, and with a little help from Mr. Eddy Metal, we got to open for Chevelle at Phoenix Hill Tavern.
Most Embarrassing moment: I would say when I tore my ACL wrestling at a bachelor party and having to explain to every nurse and doctor how it happened.
Bad Habits: None, I'm perfect.
What was your first concert: Eric Clapton, right after that unplugged album came out.
If you could meet a Rockstar (past or present), who would it be, and why: Ginger Baker, I saw a documentary on him and he seems like he would be entertaining to follow around for a day.
Who do you love: My family and Bud Light.